Gotta try this with some local crabbers next summer.
Wednesday, November 29, 2017: As boaters continue to pummel bass of all sizes, the beach is now fairly readily offering schoolies. A good casting session might offer half a dozen takers. Trick is to find some slews to the open ocean; often marked by roughed up water.
LBI Classic update ...
Teasers are now a must for beach plugging. Under "plugging" I include the likes of Avas, Kastmasters, Hopkins and spoons. It really helps to launch some distance casts, especially at low tide during the day. The small bass are often on the far side of the bars until the sun starts to go down. A couple regurgitating schoolies had been feeding on sand eels.
On the snowy owl front, it was kinda quiet in Holgate, made quieter by the flying off – toward Little Beach – of a huge, pure white male. This was absolutely not the same bird seen in Holgate the last few days. That was a smaller female with a load of spots. Didn't see her today. Maybe the male drove her off.
One cool bird sight for me today in Holgate was this settled-in American kestrel, a younger female, based on coloration. It seemingly had no fear of me whatsoever. I quickly realized that, fear-wise, I paled by comparison to a massive hawk that was cruising the same area … at top speed. It was one big-ass hawk even by big-ass hawk standards. The kestrel was so pinned to its spot that I could have had a cup of tea with it. "One lump or two?"
I'm told the FBI has packed up and left Mayetta, only some holes in the ground to show where they has been digging around.
In case you didn't pick up on it via pics, the togging is tremendous. Such is often the case when the keep-more-fish clock chimes. The problem is, some structure can be fished out very quickly. Of course, the winds this time of year can act as a form of protection for the blackies, holding toggers back at the docks.
Way back in the jetty days, I would often score beachline tog up until almost now, using sandcrabs. With more replen sand arriving via both the late-January federal work by Weeks (HC, SC and BB) and whatever company has won NJ's LEI dredge and beach replenishment project, the odds of jetties ever showing again are super slim -- even after big storms. Replen sand moves out into the nearshore water during blows and migrates back in within days, even hours, of storm's end.
+++++++++++++++++++++++++++++++++++++++++++++++++++++++++++++++++++++++++++++++++++++++++++++
+++++++++++++++++++++++++++++++++++++++++++++++++++++++++++++++++++++++++++++++++++++++++++
SEAFOODNEWS.COM [CBC NEWS] By Maria Jose Burgos - November 29, 2017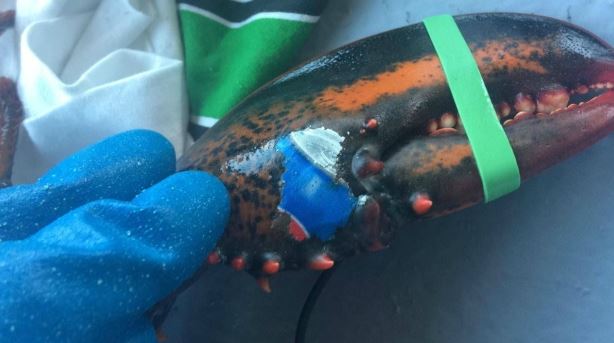 Marine debris a serious issue in New Brunswick, says Conservation Council baykeeper
Karissa Lindstrand had already spent five hours banding lobster claws on a boat called Honour Bound, off Grand Manan, when a blue and red logo she knew well caught her eye.
It was a Pepsi can image "tattooed on the lobster's claw," said Lindstrand.
Being a huge Pepsi fan — she drinks 12 cans every day — this image would have caught her interest anywhere.
But this was something she had never seen before.
"I can't say how he got it on," Lindstrand said. "It seemed more like a tattoo or a drawing on the lobster rather than something growing into it."
Different theories
She showed it to her crew that Tuesday, Nov. 21, and these past few days she has talked about it with others, including the "Pepsi guy who delivers Pepsi products all over Grand Manan."
They all have different theories about what could have happened.
"They believe that maybe there was a can in the bottom of the ocean and when [the lobster] was growing, it grew around the can."
She said others believe part of a Pepsi box stuck on the lobster when it was growing and stayed there.
"This tells me there is a lot of garbage in the ocean, if that's what's happening to the lobsters we get out from the water."
Lindstrand has been lobster fishing for four years.
'A unique instance'
"It's the first time I have seen garbage imprinted on an animal," she said.
It's also a first for Matthew Abbott, Fundy baykeeper and marine program co-ordinator at the Conservation Council of New Brunswick.
"This is really a unique instance," Abbott said. "I haven't seen something like it before, of such a clear imprint of a can on a marine animal."
He said this photo tells part of our oceans' story.
"Where [the lobster] was living, there was garbage infiltrating even into the deep water," said Abbott.
Garbage everywhere
Abbott said this is a serious issue. There's no week where he does not have a discussion about marine debris in New Brunswick's coastal waters.
Human garbage "is really widespread, just about anywhere," he said. "You can't really name one hotspot because it is well too widespread for that."
The problem with plastics, according to Abbott, is they break down and get small but don't go away.
"The smaller something becomes the more it looks like food to animals of various sizes. Once ingested, it can cause all sorts of problems."
Some animals have even died.
There is also the risk of entanglement. Once a marine animal is entangled in debris, it might not be able to carry out its regular functions.
"And so they won't be able to survive," said Abbott.
Abbott said the Conservation Council has been working with provincial and federal governments as well as other non-governmental organizations to try to tackle some of the issues with debris.
Yet animals like the lobster Lindstrand found are still dealing with garbage problems.
Lindstrand and her crew members sold the lobster with the Pepsi can claw along with the other ones that day.
"It is probably in Boston," she said. "It probably already crossed the border.
But Lindstrand still finds herself wondering how on Earth that lobster got that "Pepsi tattoo."
Photo Credit: Karissa Lindstrand
++++++++++++++++++++++++++++++++++++++++++++++++++++++++++++++++++++++++++++
Good stuff .. I get no compensation ... ever. Local shops carry this line.
This holiday season, update the gear that you, your crew, and your friends and family rely on by taking advantage of free ground shipping with code Holiday2017 and we'll surprise you with a gift in the box.