The little gelatinous, translucent blobs now making their annual appearance at New Jersey's beaches are known as salps, and they're harmless, an expert says.
Beachgoers along the Jersey Shore have reported seeing the seemingly endless salps, marine invertebrates, known as tunicates, that you might think are jellyfish, but they're not, according to Dominick Solazzo, a coastal ecologist.
The salps have made their annual appearance as nutrients increase, floating near the shoreline and collecting and glistening on the wet sand — causing some to confuse them with sea lice.
Solazzo says they're filter feeders that eat phytoplankton and move by pumping water through their bodies, which is a form of jet propulsion.
"Their slimness and appearance might be off-putting, but they're nothing to worry about," he says.
*******************************************************
***********************************************************
No... it's not Christmas in July. Hung icicles around the perimeter of our hatchery to keep the crows out!he babies will be hatching soon
Can't wait
Make sure to hook up with:  www.onthewater.com
The timing was right, the tide was right, and wind direction was ideal. The wind speed, however—20 mph sustained with gusts to 30—was anything but. I knew the fish were out there, but swimming a plug past their noses was proving impossible.
With my first cast, my favorite metal-lip plug was smacked out of the air by a gust of wind and dropped well short of the productive water. The next cast, with a darter, sailed farther, but the wind put a huge bow in my line and I couldn't tell if the darter was swimming past fish or just kite surfing along the surface.
On my third try, I clipped on a 3-ounce bottle plug and heaved it toward the dark eastern horizon, enjoying the satisfying feeling of the plug peeling line off the open spool as it sailed to deeper waters. The moment the plug touched down, I dropped my rod tip and reeled as fast as possible to take up the slack line and come tight. When the weight of the plug put a slight bend in the tip of my surf rod, I felt a familiar throbbing that let me know the plug was digging in the current and swimming the way it was designed to. Finally, I felt like I was fishing.
One of the biggest challenges of plug fishing is achieving confidence in what is happening at the other end of your line. A little feedback, especially when surfcasting in the dark of night, is invaluable.
My favorite thing about fishing with bottle plugs is that they let you know whether you are fishing them correctly, by telegraphing a tight vibration through your line and down your graphite rod blank to your hands. There's no wondering if a cast was long enough to hit a sweeping current, if you're retrieving fast enough, or if the plug has scraped bottom and fouled with weed. These vibrations—or lack of—give you your answer.
The bottle plug is the sledgehammer of the plug-caster's tool bag, the opposite of a finesse lure. It is a large, chunky, heavy plug that represents a sizeable meal, imitating a menhaden, scup, or other large baitfish, and as such tends to be a bigfish bait. It is a surfcaster's plug, made for heaving into the distance and swimming in moving water created by outgoing tides, sweeping currents, and crashing waves. It will cast well into an onshore wind, and it will dig in and swim in roiled surf, making it a choice plug for roughwater scenarios. In a stiff crosswind that grabs your slack line and makes it almost impossible to stay in contact with any other plug, the resistance of a digging bottle plug will let you come tight and maintain contact to feel a strike and set the hook.
In most surfcasting situations, the slower and perhaps more natural swimming action of a "finer" plug, such as a darter or metal-lip, will outfish a bottle plug. These should be the first plugs you pull from your bag, but if you find that the wind or surf conditions call for it, reach for a bottle plug. Make a long cast and crank to come tight to the plug. Reel just fast enough to feel the vibration of the swimming plug, letting you know that somewhere out there in the rough water where big fish feed, your plug is swimming correctly. Of course, the best feedback will come when one of those big fish takes a swipe at your bottle.
NorthBar Bottle Plug
northbartackle.com/
The 8-inch, 3-ounce wooden bottle plug from NorthBar is the largest one regularly available to fishermen. The lure casts well and gives off a big thump-thump-thump while kicking in the current, attracting big bass.
Super Strike Rattl'n Little Neck Swimmer
superstrikelures.com
Filled with metal bb's that slide to the back of the plug during the cast, the Super Strike Rattl'n Little Neck Swimmer casts like a dart and rattles like a maraca as it kicks through the current, calling in stripers.
Gibbs Casting Swimmer
gibbslures.com
Available in 3 sizes: 1-3 oz., the Gibbs Casting Swimmer is a classic that still catches today.
NorthBar BottleDarter
northbartackle.com
Combining the slanted head of a darter with the cupped lip of a bottle plug, the BottleDarter has a tight swimming action while sweeping out to each side in an S-pattern.
Sporting Wood BottleDarter
The smaller, wooden version of the BottleDarter is an excellent lure to imitate smaller bait being tossed around by big water.
Crabs Are Booming This Year, So Why Are They Still Expensive?
Copyright © 2019 The Washington Post Co.
By Fredrick Kunkle
July 29, 2019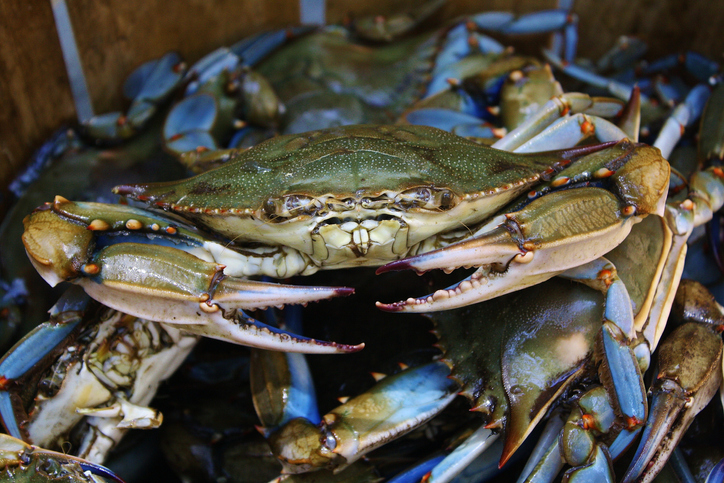 Chesapeake Bay crabs have been so plentiful this year - a 60 percent increase over last year, according to an annual population survey - that locals such as Maryland Gov. Larry Hogan (R) have cheered the bumper crop as a sign of good stewardship for the bay and its fisheries.
And yet market prices for blue crabs barely seemed to move.
Around the Fourth of July - when crabpicking reaches its peak - prices for premium male crabs known as jimmies were about as high or higher than they were last year, at $325 and up for a bushel.
Jimmy's Famous Seafood in Baltimore - a restaurant that has been in a running feud with PETA over whether to eat crabs - was advertising Friday a price of $79 for a dozen crabs, dining in only.
So why are prices so high, if there are more crabs skittering around the bottom of the bay than at any time since 2012?
The answer's complicated. Depending on who's talking, the reasons are normal market variations, market consolidation, fewer watermen, older watermen, stricter regulation of the catch and heavier-than-normal rainfall for much of the year. It's also about the size of the crabs - this year's population has many young'uns - and could have something to do with the blue catfish, an invasive species that eats just about everything in the ecosystem.
And yet by all accounts, there are a lot of blue crabs out there. In May, scientists from Maryland and Virginia released the annual estimate of the crab population that uses winter dredging data, saying there were nearly twice as many juvenile crabs in the Bay, compared with the year before.
All in all, the Chesapeake Bay Stock Assessment Committee's report estimated that the population had reached an estimated 594 million crabs, up from 372 million the year before. The survey suggested that the population was at the highest level since 2012.
Perhaps most important, the survey found that the number of females that had reached spawning age - which is key for a healthy fishery - has increased by 29 percent from the previous year, said Chris Moore, senior scientist for the Chesapeake Bay Foundation. He also said that for more than a decade now, the annual catch has fallen comfortably below the level that would raise concerns about overfishing, which had been a worry in the late 1990s.
"We're in a pretty good place with crabs right now," Moore said. "It was a good year all across the board in terms of a healthy population."
And, yet, those prices.
Robert T. Brown, president of the Maryland Watermen's Association, said he understands why people might think prices would fall if the crab population jumped by more than half. But Brown, who started crabbing back when a dozen of them went for 60 cents or so, said there's a lot more to it.
"There's plenty of crabs, the price should be easier because of this abundance of crabs," Brown said. "But most of these crabs are juveniles, and they won't be big enough until next season."
A wet spring and early summer have poured so much freshwater into the bay that the creatures' annual migration into the upper bay has been delayed, Brown said. And even if there were more crabs to catch, there are now fewer - and generally older - watermen out there catching them at a time when the regulations on their trade have intensified, also driving up prices at market.
"Unfortunately, the watermen don't get those high prices," said James Hudgins, who heads the Virginia Watermen's Association. He said that if anything, market consolidation has depressed prices, at least for the watermen, because there seems to be less competition for the catch.
"We have so few big buyers. You've got about six or seven big buyers in the state of Virginia now because the market has condensed so much," Hudgins said.
As if all that weren't enough, the watermen are also competing with the blue catfish, an invasive species that eats crabs and just about anything else. The fish - which is native to the Mississippi River and the Gulf of Mexico - has spread into the Chesapeake's watershed.
"They love everything. They eat crabs, they eat white perch, they eat shad, they eat herring, they eat menhaden, they eat spot, they eat rockfish," Brown said.
But Cameron Manesh, owner of Cameron's Seafood, said he thinks the prices have more to do with regular cycles in the market and the fishery. It's worth noting that this year's 60 percent jump followed a shortage of crabs last year, he said.
"It's up 60 percent from a drought," Manesh said. "Last year, we had a limited number of crabs. So we paid a lot higher last year than we are now."
Yet Manesh, too, said things should change soon for the better, from the consumer's point of view.
"The crabs are there," Manesh said. "It's just early."
Oyster Seeding: A 'Tangible, Physical' Way to Help the Water
Copyright © 2019 Associated Press
By Wayne Parry
July 30, 2019
Restoring oyster beds and helping keep the water clean isn't just for scientists and environmental groups anymore.
Students, younger children and those with no particular scientific background like the idea that something they do this morning can be helping the earth by this afternoon.
Kenna Allocco, 12, of Beachwood, New Jersey, recently helped remove bags of whelk shells with baby oysters attached to them from a bubbling tank in preparation for their journey to a Barnegat Bay reef, in between asking a dozen or so incisive questions of program leaders.
"I'm interested in how all the animal species interact with each other, and in biodiversity," she said. "We're learning about this in school. I made a speech about the problem of plastic pollution in the ocean, and I scared my entire class. None of them uses plastic straws anymore."
The efforts are part of a worldwide effort by scientists and volunteer environmentalists to dump millions of baby oysters into waterways where they once thrived before overharvesting and pollution virtually wiped out the shellfish.
In addition to helping improve water quality and stabilize shorelines against strong storms, many people involved in the oyster seeding projects say one of their best benefits is providing an immediate, easy way for people to get involved and help the environment.
"It's a very real, tangible, physical thing you can do and see that it is helpful to the environment," said Zack Royle, a habitat restoration co-ordinator with the American Littoral Society, a New Jersey coastal environmental group. "You place the seed oysters in the tank, you watch them grow and you put them into action when you dump them overboard."
The Littoral Society was one of two New Jersey environmental groups to carry out oyster seeding projects in the past two weeks.
The New York/New Jersey Baykeeper group is adding to an artificial reef it has built for oysters along the shoreline of the Earle Naval Weapons Station in Middletown, where the shoreline was ripped up by Superstorm Sandy in 2012. Both have been cultivating and growing oysters in New Jersey bays for years.
Meredith Comi, restoration director for Baykeeper, said the baby oysters attach themselves to the rows of concrete castles the group dumped a few hundred feet from shore. As the shells grow, they expand the mass and shape of the reef, providing "speed bumps against wave action during storms," she said.
A Baykeeper project in mid-July placed a million young oysters near the heavily guarded Navy pier. Over the past 10 years, they've set out 4 million of them in various spots.
Since it built the base of an oyster reef using empty whelk shells in Ocean Gate, New Jersey, in 2015, the Littoral Society has placed 6.3 million oysters on those shells, estimating that about 207,000 remain alive and growing.
At least 70 million more could be planted in the next few years, said Capt. Al Modjeski, an official with the Littoral Society.
Once they reach the water, the oysters have about a 10 per cent survival rate, scientists say.
Oyster restoration projects are underway or have recently been completed in San Francisco Bay; Puget Sound near Seattle; in coastal salt ponds in Rhode Island and the state's Narragansett Bay; in the Carolinas; in Florida and the other Gulf Coast states; in New Hampshire; and particularly in Chesapeake Bay in Maryland and Virginia, where some of the nation's biggest oyster restoration programs have been underway for years.
Since launching in 2014, an effort to restore oysters in New York Harbor called the Billion Oyster Project has planted over 28 million oysters, with the goal of reaching a billion by 2035.
In Europe, oyster restoration projects are being done in England, Scotland, Ireland, France, the Netherlands, Germany and Sweden.
The work usually involves scientific groups setting up tanks in which to cultivate baby oysters. Then they turn to volunteers to help put them into waterways.
"A really important part of this work is connecting people back to the environment," said Tim Dillingham, executive director of the Littoral Society. "This gives them an opportunity to become citizen-scientists and actually participate in oyster restoration.
"We call them 'oyster wranglers,' and there's a very real aspect to this: At the end of the day, the oysters you took out of a tank and removed from a bag and put into the water are on the bottom of the bay, doing what they do, filtering water and providing storm resilience, and you did that."
Fish Skins Could Mean Millions More Dollars for Alaska
Source: Fish Radio with Laine Welch
By Laine Welch
July 29, 2019
This is Alaska Fish Radio. I'm Laine Welch – Fish skins could mean big bucks for Alaska. More after this –
It's not too late to order a new RSW system for this year. IMS has stock units ready through Alaska. Integrated Marine Systems. Simple, reliable, built to last. Visit www.imspacific.com
The Hauler is Grundens new on the job jacket and bib. Double-coated PVC that takes anything the sea throws your way. Grundens – We are fishing. Visit www.grundens.com 
Those millions of fish skins getting tossed out each year could turn into millions of dollars for Alaska.
Most recently, fish skins are making international news for their proven ability to heal burns.
Last December tilapia skins treated the burnt paws of bears and mountain lions during the California wildfires. And this year a tissue-like product created in Iceland from intact cod skins is being used on patients in Europe, and is cleared by the FDA to treat burns in the US.
It's called Kerecis Omega 3 Burn Treatment, and when the fish skin is grafted onto damaged tissue, it builds up the body's own cells to rapidly regenerate healthy tissue. 
Kerecis credits omega 3s for the healing power. That, and collagen.
Fish skins contain the type of collagen protein that makes up most of our skin and body. Most collagen has traditionally come from livestock and is used in a wide array of products.
But the more remarkable properties of fish skins have experts pegging the value of marine collagen for the nutraceutical, cosmetic, food and medical market at $620 million in 2018 and nearly $900 million by 2023.
Reports say that fish skins have great appeal because they are available at a large scale, and come with no religious constraints.  
"They're fish – not beef or pork. So it satisfies kosher and halal dietary restrictions."
Cindy Bower is a former USDA food researcher at the University of Alaska at Fairbanks.
Brower also showed that pollock skins destined for collagen extraction can be stabilized with common drying agents to hold them prior to shipment and don't need to be chilled.
Alaska fisheries economist Dan Lesh of the McDowell Group said that for Alaska pollock, with catch volumes averaging over three billion pounds a year, that adds up to over 1.4 million pounds of skins, assuming a five percent yield.
For Pacific cod, skin yield percentages were similar, Lesh said, and in the 8 to 10 percent range for salmon.
Studies show the skins are loaded. Nearly 20 percent of collagen was extracted from salmon skins and 11 percent from cod, according to a 2017 Portuguese study. 
On the lighter side – salmon fish skins are making a huge splash as England's latest snack. Sea Chips are crispy salmon skins that are being cranked out at 100,000 bags a week.
Find links at www.alaskafishradio.com and on Facebook and Twitter.
(Bad news from an otherwise pure river ... Imagine when they catch the guilty party/parties, likely industrial in nature.) 
Wildlife officials confirm more than 1000 fish have been found dead near the Lièvre River.
This is the third wave of dead fish found in the last month. 
Intoxication was to blame for the first two waves of dead fish, and according to the Ottawa Riverkeeper, it is also to blame for this latest discovery of dead fish. 
It is not an infectious disease, but rather the fish were exposed to something toxic in their environment. However, the cause still remains unknown.
According to Quebec's Ministry of Forests, Wildlife and Parks, a team travelled to the Masson-Angers area Monday morning following a report from Garde-Rivière des Outaouais.
Ministry biologists took new samples for analysis and they were sent to the Quebec Center for Wildlife Health in Saint-Hyacinthe.
Officials say they have yet to receive the final report from the second wave of dead fish, but also suspect intoxication is responsible.