It was an odd honeymoon ...
Him ...
Her ...
***********************************
There's a wise-ass fish in every lake ...
*******************************************
As work is about to begin on a terminal groin ...
************************************
The ultimate leg tat for hardcore anglers:
Tuesday, September 25, 2018: This might be the windiest September on the modern weather books. And almost all the blowage is onshore. It does look as if less dramatic winds (from the NW to NE) will prevail this week, no real whoomph to them, i.e. more fishable conditions. Tomorrow's heat will give way to seasonable air temps.
Blowfish-seekers have had insane sessions. One boat had over 150 in short order, bayside. Chum is a must. Blowfish tails freeze up moderately well when dry frozen. I have never seen an accompanying showing of southbound blowfish in the surf, though I have caught them in spring, heading north.
While there have been some serious bursts of kingfish in the surf, the seemingly never-ending surf pound is ruining what is often a very short run of these top-shelf dining delights. Captain's Quarters Bait and Tackle Shop has heard of some being caught nearby on bloodworms. I had hoped for some kings to show inside the Holgate Rip but nothing to date.
If there can be an overload of snapper blues, we have it in spades. It is almost impossible to keep mullet or bunker from the smallest ones, even for those fishing blues in hopes of a few eater-sized. Using a gold spoon, I did get into some filletable-sized blues during the tide changes when I saw "the fin." I threw them back before I realized I could catch enough to smoke them … then the bite turned off.
I'm told there are enough weakfish in the bay to make it worth a fun (mainly) catch-and-release session. Chumming with grass shrimp is always the way to find them.
A mere spattering of stripers. That said, the Classic begins this coming weekend, so surfcaster angling pressure will be aimed at them. I'll get a far better overall read as that nine-week event produces winners.
HAVING A FIN TIME: I first heard about "the fin" last week. It was being seen in Holgate, usually cutting through the roughed-up Rip waters, almost always when low tide's outgoing bay waters collide with incoming ocean water during tidal change. Anglers often check out the riled-up Rip, usually eyeing the frenzied birdplay that takes place as baitfish get tumbled therein. It can sometimes offer high fishing potential. But the fin being seen represented a fish of a whole other size level, far beyond the largest striped bass. Then, I saw it … two days running.
My fin looks were distant glances but I immediately had my suspicions. Then, last Saturday, an answer was had. As George G. and I were throwing nets for bait, I saw George take off down the beach, where a huge ball of mullet had exploded out of the water right next to shore. While he never got a throw on the baitfish, he and a couple nearby anglers managed a stunning, close-in read on "the fin." It belonged to a sizable brown shark, one with an apparent taste for mullet – and likely any other forage fish on the migration trail.
I sure as hell don't recall there ever seeing a resident shark of any sort at the Rip. My job now is to get a photo of this tidal-change regular. Might it be caught, hook and line? For the umpteenth time, I'll report that there are more sharks out there than you can shake all your sticks at. The problem is you can't be fishing for specifically "the fin." It's illegal to knowingly target a hands-off species, like a semi-famed brown shark. However, rig up just right and throw out a chunk of meat and there is no doubt a shark of some ilk will salute.
Brown shark, aka sandbar shark (Carcharhinus plumbeus).
*******************************************************
FISH BLADDER MORE VALUABLE THAN COCAINE
It might be the ultimate indicator in how valuable smuggling animal parts can be. One of the highest-ranking members of the infamous Sinaloa Cartel was recently arrested for complicity in a fish harvesting network that used heavily-armed go-fast boats to run totoaba fish bladders for sale overseas. Even I can't make up s*** this insane.
The insanity begins with the illegal maze of nets being used to bag totoabas. The remorseless net network represents end times for the very few remaining vaquita porpoises swimming in the vicinity. How very few? It's thought that only 30 of these critically-endangered marine mammals remain in the Gulf of California, their sole watery haunts.
Below: Totoaba being held; DOA vaquita porpoise in net.
But, the killing off of these porpoise pales in insanity when compared to the tale of the totoaba bladders, once removed and shipped to – where else? – China. Inconceivably, a single bladder brings $30,000 once it reaches the Orient.
But, to me, the top madness is the fact that a filthy rich drug kingpin, known only as "El Parra" – roughly translated as "the clinging vine" – deals in bladders, as if the old billion-dollar standby, cocaine, is passé. The madness doth have reason. According to an article in dowjones.com/products/factiva, "Mexican and U.S. officials have called the totoaba bladder 'aquatic cocaine.' It's often more expensive, with about two pounds of dried bladder routinely selling for as much as three and a half pounds of the powder drug."
It remains to be seen if a recently captured El clinging vine will be catching endangered species legal hell akin to that leveled on an apex drug smuggler. Of course, if the vaquita connection doesn't get him hung out to dry like shark fins, there are also some other less-than-minor legal matters circling, like a netload of warrants for homicide being leveled against him.
Trafficking in wildlife body parts and rare living creatures is an annual $2 billion business in the U.S. It ratchets up to a $23 billion value on a global scale, placing it up there with the planet's most illicit trades.
************************************************
Coca-Cola and Walmart to Cut Plastic Pollutions in Oceans
SEAFOODNEWS.COM [Vietnnam News] - September 25, 2018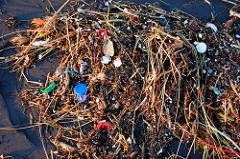 Coca-Cola, Walmart and other big multinationals pledged on Thursday to help reduce plastic pollution in the world's oceans in support of a campaign by five of the G7 industrialised nations.
Britain, Canada, France, Germany and Italy, along with the European Union, signed the Ocean Plastics Charter at a leaders' summit in Canada's Charlevoix region in June.
The United States and Japan abstained but non-G7 nations Norway and Jamaica are also backing the plan to ensure 100 per cent of plastics are recyclable by 2030.
The nations aim to develop more viable alternatives to plastic packaging, to work towards a goal of all plastics being recycled and reused by 2040.
On the second day of a G7 ministerial meeting in Canada's Atlantic port city of Halifax, Canadian Environment Minister Catherine McKenna announced "a new partnership with businesses" to reduce plastics waste.
Backers include Loblaws, Walmart, Nestle Canada, IKEA, Dow Chemicals, the Coca-Cola Company, BASF Canada and A&W Canada.
Unilever also announced that it was launching a non-profit entity to reduce consumer and business waste, while Volvo upped its target to make 25 per cent of the plastics in its cars recyclable by 2025.
The G7 group of the world's major economies are also looking to tackle a growing source of marine pollution: lost fishing nets and gear, which account for 70 per cent of plastic waste floating on the surface of the sea, Canada's Fisheries Minister Jonathan Wilkinson said.
About 640,000 tonnes of nets and other fishing gear are discarded in the oceans each year, killing an estimated 136,000 seals, dolphins, sea lions, turtles, small whales and other seabirds, according to the World Animal Protection group.
"This is a really big problem," Wilkinson said from the Halifax talks.
"There is a consensus among G7 countries that this is a very important issue... and there is a clear commitment to address it," he said.
According to the United Nations environment agency, 70 per cent of the large plastic waste that floats on the seas comes from fishing.
Josey Kitson, executive director of World Animal Protection, called the plastic debris "death traps" for many seabirds, fish and marine mammals, but expressed hope that the G7 will address the problem.
Wilkinson said G7 and other governments represented at the Halifax meeting are exploring fixes such as incentives for fishers to reuse gear and dispose of aging nets properly.
The aim is "to actually clean it up (but also) not discharge it in the first place," he said.
The G7 is also looking at ways of tracking discarded gear back to vessels in order to identify polluters.
Although no timetable has been set, the G7 ministers have agreed to "discuss this issue again" at the Blue Economy Conference in Nairobi in November, Wilkinson said.