Below: When Beach Haven Inlet tried to make it on its own, 1920. Within a couple years, the impromptu inlet had migrated over a mile south, eventually ending up where the North Cut, aka Beach Haven Inlet, currently resides.
The above erosion-based BH Inlet set-up is simply nothing like what we're now seeing at the Forsythe Refuge (below). Today's frequent beach-to-bay overwashes are something unique to modern times ... and could be far more destructive -- and lasting -- in the long run. Also, notice the westward migration of the entire south end, which I often write about. Eventually, the farthest east side of Holgate will be west of the rest of LBI. Then what? If the Holgate frontbeach isn't filled in, it will mean a whole other type of Holgate separation, unlike traumatic and temporary post-storm breakaways.
Tuesday, September 18, 2018: Skies were mighty downpourish out there. Huge thunderheads rumbled in from mainland, cooling summerish sun and temperatures (85 degrees) we had going for us. Of course, it is still summer … until Saturday.
There were flood advisories floating in with the rain, thanks to the remnants of Flo. Flooding? What else is new. We either get it in a freshwater way (rain downpours) or a marine manner (saltwater). Hey, if cars aren't floatin' I'm not frettin'. I should copyright that seeing how flooding everywhere just keeps rising.
Winds were pretty brisk, out of the south, most of today, keeping small-craft advisories in play. They'll be swinging from the north tonight, also to an SCA degree. Later tomorrow they'll do a 180, shifting back out of the south. Look for some honking south winds again by Thursday but then backing off to offer a somewhat fishable weekend. Water temps are in the low- to mid-70s.
***************************************
I fished the 34th Powder Puff Tournament at the Long Beach Island Fishing Club. I am so proud that they named the tournament after my John for he started it over 34 years ago. How it warmed my heart to see that his name was on the trophies. I won for the most fish caught and ladies -1st place. A sincere thank you to Steve Pirrello for making it such a success and to Terri who was the member who did all my casting. Thank you.
MIGHT BE WORTH IT: So, I went through the rigamarole to get aboard the NJ Striped Bass Bonus Program. I got to it by Googling "NJ Striped Bass Bonus Program." I also got an email reading, "Time is limited to apply for a 2018 Striped Bass Bonus Program (SBBP) permit. Please visit the SBBP page for application and program information. Deadline to apply is October 31, 2018." Exact address is: https://www.state.nj.us/dep/fgw/pdf/marine/sbbp_application.pdf
If I've done the paperwork properly – I just mailed it in, along with a self-addressed stamped return envelope -- I should soon be allowed to keep a highly edible striped bass of 24 inches and under 28 inches. That's along with keeping one striped bass 28" to less than 43" AND one fish 43" or greater – should I choose to do so … which I don't.
Here's a 24-incher ... Why Knot Fishing Blog
Here's the www.njfishandwildlife.com SBBP language: "With a bonus permit, anglers can keep one fish 24 inches to less than 28 inches from September 1 through December 31, 2018. Reporting bonus harvest within 24 hours is mandatory. Please note the order of fish harvested does not matter (Bonus fish can be the 1st, 2nd, or 3rd fish). Visit the Marine section of the Regulations page to check current Federal and State possession and season regulations for striped bass fishing in your area."
Written in bold is the permit command: Reporting bonus harvest within 24 hours is mandatory. I'll positively report in … once I catch a fat 24-incher.
The "reporting" is meant to keep close tabs on the poundage being taken via the program. "Current allocation from ASMFC is 215,912 pounds to be distributed between individual anglers and party/charter boats. Should NJ overshoot this quota in 2018, any overage would be subtracted from the 2019 quota," reads the regs.
As you likely know, we haven't been coming anywhere near the annual NJ allotment via the SBBP. I could get persnickety by asking why the poundage from decades of under-catching allotted bass hasn't been added into the allowed take for future years, just like any overages will be subtracted from the following year's quota. For now, I'm just keeping my eye on the 24-inch prize – knowing a highly healthy 18-inch minimum might someday evolve forth.
While F&W "encourages catch and release whenever possible so this species can prosper for future generations," I'm thinking that allowing a smaller more edible fish implicitly keeps down the keepage of larger fish.
BASS BAKING AND FORESAKING: Stripers are quite delicious … mainly when smaller fish are eaten. It becomes only fair tasting after being frozen and thawed. Thawed bass is decent for BBQ'ing, making fishcakes and combining with other seafood in stews or bouillabaisse.
The larger the striper, the lower the tastiness/goodness – and the higher the contaminants. Speaking of which, here's the NJ advisory of eating stripers.
Estuarine and Marine Waters

Striped Bass

General Population:
One meal per month
That sensibly warned, I beg to differ. Not in an overall way but simply to note that eating carefully-filleted smaller bass – 18 to 24 inches is a sweet range –can cut the contaminant load by as much as 75 percent.
The most important preparatory part after the initial filleting is removing any and all red meat, starting with the surgical removal of the bright red lateral line -- by making "V-cuts" to excise that deep-down dark meat. After that, use thin side-angle cuts to slice off surface red patches. When done, the fillets need a full rinse under cool water.
Cooking: Manicured fillets should be thoroughly baked – preheat oven to very hot -- in a slotted oven pan. This allows contaminated fatty juices to drain off. Barbecuing is an excellent way to off the juices. I further boost the offload of bad stuff by cutting the fillets into strips before baking or BBQ'ing. By the by, adding bacon strips atop a fillet can actually hold bad stuff in-place, as it combines with bacon fat. Also, marinating can seal in the evil. Deep frying is the worst. Note: It's best to cook bass all the way through, not allowing the center of the fillet to be rawer than the surface areas. Making surface slices in the fillets can help even the cooking.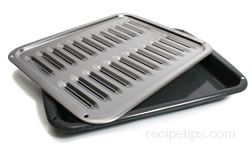 After striped bass is fully cooked, lay fillets on paper towels -- pressing paper towels down on the up-facing side.
You can see how all this can lessens the chemical load.
One other factor – an utterly indeterminable factor – is how some smaller bass can be just about adulterant-free, based on their foraging lifestyle. Bass that are heavily bunker oriented tend to gather badness. Those focused on crustaceans and bivalves can sometimes fare much better, chemically, unless they're bottom-feeding up Hudson Bay way. Again, it's impossible to tell contaminant content by just looking at a fish.
Raw striped bass really shouldn't be eaten. Nor should it be casseroled, unless precooked, per the above method. Same goes for bass fishcakes.
**************************************
'Stoned and Steamed': Maine Restaurant Using Cannabis to Provide Lobsters With 'Kinder' Death
SEAFOODNEWS.COM [Independent Online] by Colin Drury - September 18, 2018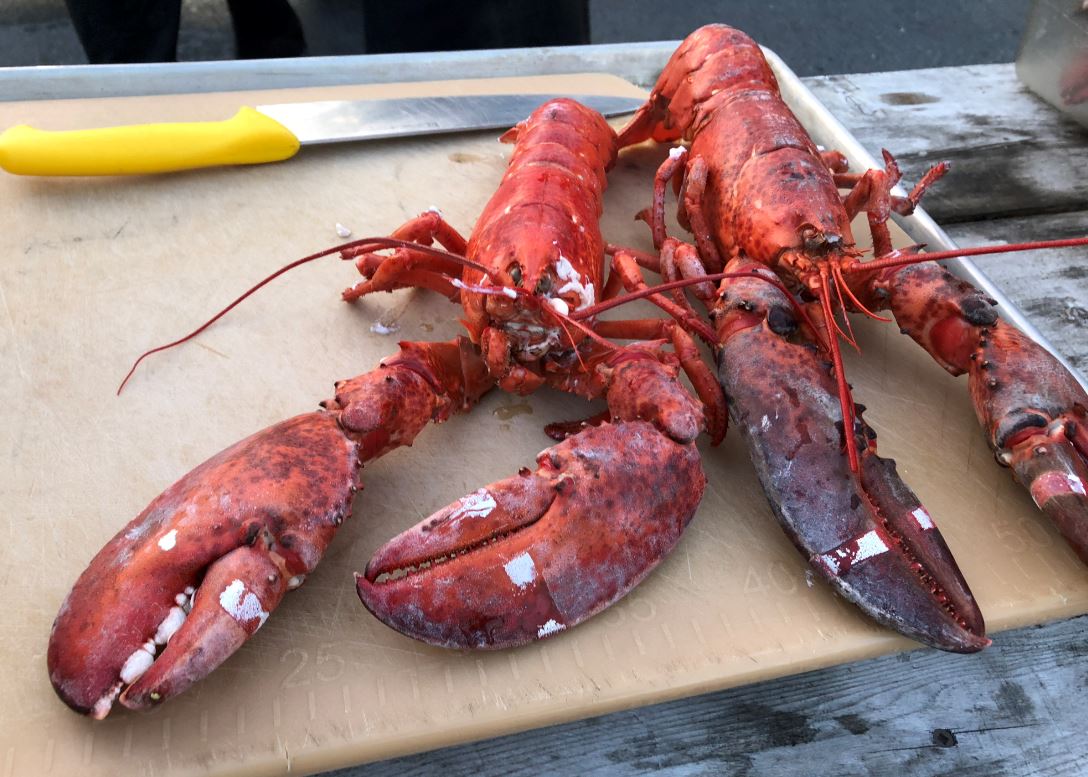 Owner says technique provides a 'kinder' death - and the meat is tastier
Some might argue the most humane thing to do with a lobster would be to just not eat it.
A restaurant in the US, however, is taking another approach to being merciful: it gets the crustaceans stoned before steaming them alive.
"The animal is already going to be killed," says Charlotte Gill owner of Charlotte's Legendary Lobster Pound in the Maine island town of Southwest Harbor. "It is far more humane to make it a kinder passage."
The idea is that the creature, fresh from having marijuana smoke pumped into its water, is sedated to the point it feels far less pain while being cooked.
The restaurant says it has perfected the technique this year – partly to ensure no residual cannabis gets into the meat – and hopes all customers will go for 'stoned and steamed' over 'boiled' next season.
"I feel bad that when lobsters come here there is no exit strategy," Ms Gill told the Mount Desert Islander website. "It's a unique place and you get to do such unique things but at the expense of this little creature. I've really been trying to figure out how to make it better."
In other parts of the world, where boiling alive is outlawed, electrocution or stabbing through the brain are used to kill the animals ahead of cooking.
But Ms Gill – who holds a licence to grow medical marijuana – did not fancy either of those.
"These are both horrible options – if we're going to take a life we have a responsibility to do it as humanely as possible," she said before adding that, in any case, a happier lobster was a tastier lobster.
"The difference it makes within the meat itself is unbelievable," she said. "Everything you put into your body is energy."
******************************************
Wow!!!! Only in Ship Bottom NJ !!! You will not believe what happened to me today. I pulled in to get gas...Having only cash I had to pay inside. As I was walking in, I noticed these 2 cops watching a customer who was smoking while pumping gas. I saw him and thought, "is this man drunk, stupid, or just crazy?!! With the 5-O right there too?!"
But anyway, I went inside and paid. As I was checking out, I heard someone screaming, I looked to see what was happening. I looked out the window and the man's arm was on fire! He was swinging his arm and running around going crazy! As I went outside, the officers had to take him to the ground and they put the fire out with their coffees!!
Then they handcuffed him and threw him in the police car. I, being the curious person that I am, I asked the cops what they were arresting him for... The officer looked me square in the eyes and said ... "WAVING A FIREARM!"
Now, which of my friends will actually read this to the end!?? Then, copy, paste and see who believes you!! Change it to your city and pass it on!
***************************************************
Fully Farmed Bluefin Tuna Ready for Wider Sales Beyond Japan
SEAFOODNEWS.COM [Nikkei Report] by Hiroki Minai - September 18, 2018
Fully farmed bluefin tuna offers the best of both worlds to sushi fans: delicious food without depleting tuna stocks and threatening the survival of the species.
Several companies in Japan are perfecting the techniques for farming tuna bred from eggs, and they have reached the point now where they can begin to expand exports and service other markets besides Japan.
For example, Maruha Nichiro will soon begin exports to the European Union, and seafood distributor Kyokuyo is adding Europe to a menu that now includes exports to the U.S.
Japan proposed increasing the fishing quotas for Pacific bluefin tuna at a meeting of an international committee earlier this month, but the committee rejected the proposal and left the catch unchanged, reflecting worries about the threat posed by the global sushi boom to natural tuna stocks.
Against this backdrop, Europe's broad interest in environmental protection has prepared the ground for the acceptance of fully farmed tuna as a responsible menu option.
Fully farmed tuna are tuna bred from eggs spawned by tuna themselves artificially hatched. Kinki University reported the world's first full-cycle farmed tuna in 2002 and began sales in 2004. After that, other companies entered the business including Maruha Nichiro and marine products giant Nippon Suisan Kaisha.
The growing interest in fully farmed tuna is only natural. Most farmed tuna is produced by capturing juvenile fish at sea and fattening them in pens. In Japan, farming accounts for some 30% of all supplies of bluefin, considered the best of the tunas. But catching juveniles leads to depletion of tuna stocks, just as with adults, so Japan has imposed restrictions on any further expansion of tuna farming facilities using wild juveniles.
Maruha Nichiro has bases for fully farmed tuna in Saiki, Oita Prefecture, and in Kushimoto, Wakayama Prefecture. Both operations have been certified as safe for exports to Europe and the company plans to begin by shipping tuna to the Netherlands starting within the year.
Maruha Nichiro shipped roughly 300 tons of fully farmed tuna in fiscal 2017, generating sales of 900 million yen ($8.05 million). The company has figured out ways to increase the survival rate of juveniles reared from eggs and expects the business to become profitable in fiscal 2018, giving it reason to begin exports. Europe was chosen because it is in the midst of a Japanese food boom, according to company executive Akira Ito.
Kyokuyo and Feed One, a supplier of formula feed for livestock and fisheries, set up a company in 2012 to produce fully farmed tuna, and now the two co-parents are ready to expand exports using their separate sales channels. The two companies expect to ship a combined total of about 35 tons of the tuna to the U.S. in fiscal 2018, but going forward Feed One intends to target Singapore and other markets of Asia, while Kyokuyo will set its sights on Europe.
It was thought that farmed tuna would not eat formula feed, but Feed One developed a feed for tuna, and Kyokuyo provided the technical wherewithal to farm the fish. Farmed tuna also need foods like mackerel and sardines to grow, but if formula feed can account for a larger percentage of the diet, that will help protect these other fish resources in the wild. "Distributors overseas like the idea because they care about wildlife conservation," explained Kyokuyo President Makoto Inoue.
The problem with tuna fishing is that it threatens conservation by capturing tuna before they have a chance to breed. According to a fisheries white paper, the global catch of bluefin tuna was less than 50,000 tons in 2016, which is just half of the peak.
Recent restrictions have helped restore stocks, which is why Japan proposed a 15% increase in the quotas allotted to individual nations at the meeting of the northern committee of the Western and Central Pacific Fisheries Commission held in early September in Fukuoka.
However, the U.S. and other nations were against the proposal and the quotas were left unchanged.
This emphasis on marine conservation creates business opportunities for fully farmed fish. In the Netherlands, where the Aquaculture Stewardship Council is located, more and more supermarkets are stocking certified marine products. To gain certification, the producer must prove that farming does not impact the surrounding ecosystem. In Japan, retail giant Aeon is already selling some kinds of ASC certified fish. The ASC has not certified any tuna yet, but companies like Maruha Nichiro hope to win that stamp of approval for their fully farmed tuna and use that to expand regional sales.
In Japan, fully farmed tuna retails for about 3,000 to 3,200 yen per kilogram, which is around 15% higher than regular farmed tuna. The higher price is partly because of the higher costs. Shipments of fully farmed tuna exceeded 1,000 tons in 2017 for the first time, but that accounted for less than 10% of the total shipments of farmed tuna, according to the Fisheries Agency.
What is needed to send this market into orbit is a boost in production coupled with the support of consumers interested in resource conservation.
**************************************************