"Nice throw, dude! Now, you can just go and get it ..." 
... "We want to go see what games Johnny has to play. Oh, boy!"
Why does John Hurt instantly jump to mind!! ??????????
Tuesday, October 03, 2017: Just like that, the mullet turned on, a bit spigot-like. This is not to say a prolonged run is now pouring our way but I captured 181 dozen in just an hour – then spent just as long monotonously packing them out. What a pain.
Below: Count me!
Although the mullet are running, the surfside angling has not even remotely responded. This once again confirms a mullet run is not a major big-bite activator,  not nearly as dynamic as when rainfish, spearing or peanut bunker hug the beachline while migrating.
It should be noted that mullet tend to migrate when the water is warmer. This isn't the temps when larger gamefish get all riled up. Quite likely, this is nature's way of siding with Florida-bound mullet.
As to the sudden push of mullet, they're still mainly net-foulers. They're so small they get gill-netted in the castnet. It can take a load of effort to manually snatch them from the grip of mono.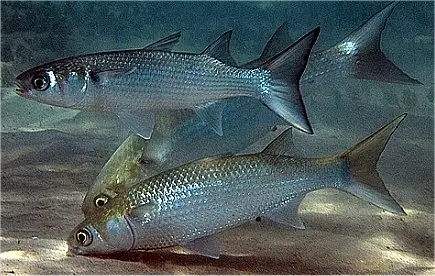 We are seeing the smallest-sized run of fall mullet I've seen in my modest 25 years of throwing. Many folks having thrown for twice that time agree.
I was chasing a big school of mullet and my net had so many mini-mullet trapped in the holes, it would barely sink when I threw it. I had to take five prime-time minutes to clear the net. Words were spoken as I did so.
Nostalgically recalling, I've followed reddish clouds of rainfish along the beach as they were being actively attacked by huge bass the entire distance from Barnegat Light to just before Holgate. Now that's a migration that matters.
They look like spearing but the huge mouth says their rainfish, aka bay anchovies.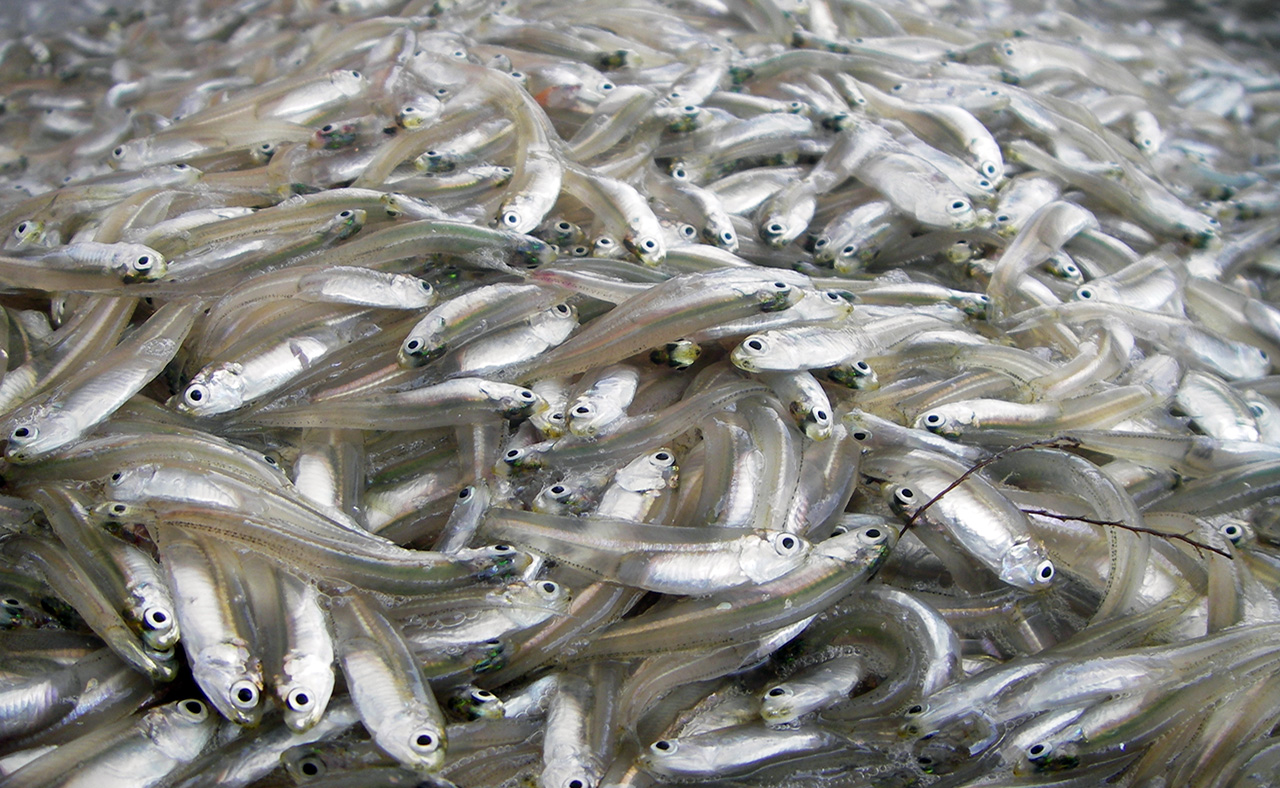 Also, we've all utilized snag-and-drop techniques to fully confirm that trophy bass  lurk beneath pods of on-the-move peanut bunker, pinned in close.
This is some sweet peanut bait: 
Admittedly, there were past days when thick mullet schools would be put upon by bass sniping the east ends of jetties. Nonetheless, overall, there just isn't much of a gamefish hubbub over mullet migrations.
BUGGY BANTER: Short of a small narrow patch of beach in Brant Beach, the beach drive from Surf City through Beach Haven can easily handle three lanes of traffic – both north and south. It's that wide.
I've never seen Ship Bottom beaches so expansive, even back in the day when I'd drag my 10-foot surfboard across the hot and seemingly endless sands of "The Circle" beach, where summer daytime surfing was allowed.  
Of import: While driving the beaches is a breeze, the sand at the base of ramps, where traffic comes on and off the beach, is already getting torn up. There is even a bog-down danger with some of the ramps.
DO NOT come at these ramps from the side -- doing a tire sideswipe action to turn onto them. You can see how that half-circle sideslip rips things up, royally. Since the ramps all have a south-facing entry, when heading south, bypass the ramp, do a gentle loop a bit further down the beach and come northward toward the ramps, straight on. Please. Pretty please.
That said, there will be those who have to macho out and plow things up … on purpose. Therefore, take care at the base of the ramps, knowing the sand is sinky.
I know this sounds trite but drive responsibly. The weather is due to get real mild again. Folks aplenty will be using the beaches. Although there's plenty of room for buggies and beachgoers, there will still be a ton of interplay, whereby the beachgoers/pedestrians hold all the cards, so to speak. Playing nice makes driving the beaches easier and friendlier for all involved. I notice a simply wave – a friendly one, that is – can instantly enhance the feel between buggyists and beach folks.
SUGGESTION: Buggyists should avoid Beach Haven beaches during weekends, especially around Centre Street and such.
WHAT'S A-CATCH: I'd like to speak of fishing but outside small snappers I just haven't seen or heard of much being caught, short of a few shorts (bass) taken on plugs and jigs thrown in deeper near-beach waters.
I did have a solid hit – and a miss – on a jig and fake-o eel, tossed in a trough, not far south of the parking area of Holgate. I'd like to think it was a bass but not long after another plugger (a walk-on) said he had jigged up a couple fluke earlier. A fluke grabbing a jig can give the initial impression of a larger hookup.
Birds were going bonkers in the Rip area yesterday and today. They were too far out to reach, even by casting metals. Surprisingly, no boats were out there to see what was causing the ruckus. Recently, there has been quite a few boats working that birdplay.
Down below is LBT's rules of the beach-driving road ... 
[Adopted 
8-2-1974

 as 

§ 4-8 of the 1974 Code
]
Each operator shall be required to obtain a permit to operate a four-wheel-drive vehicle on the strand or ocean beach. Application for the permit shall be made to the Chief of Police, who may require from the applicant complete information as to his or her ability and competence to operate a motor vehicle in an area in a safe and prudent manner so as not to endanger the lives and safety of others using the beach. The information shall include the applicant's age, driving record and experience.
[Amended 
9-18-2009

 by 

Ord. No. 09-16C
]
B. 
The operator's permit is required to be in physical possession of the operator at all times while the vehicle is being operated on the beach.
C. 
Permits shall not be transferable.
[Added 
9-18-2009

 by 

Ord. No. 09-16C
]
D. 
Requests for replacement decals must be accompanied by a paid receipt and "old" decal, regardless of its condition.
[Added 
9-18-2009

 by 

Ord. No. 09-16C
]
A. 
Every person desiring to operate a four-wheel-drive motor vehicle on the strand or ocean beach of this Township shall first register the same with the Chief of Police.
[Amended 
9-18-2009

 by 

Ord. No. 09-16C
]
B. 
The person registering any vehicle shall be issued a special plate or other identifying insignia serially numbered for identification purposes and to be displayed in a conspicuous place on the vehicle while being operated on the strand or beach. The registration shall be issued only to vehicles having four-wheel drive, of the type known as "beach buggy" or "jeep," which vehicle shall be registered and licensed to be operated on the highways of the United States and so equipped as to be capable of passing the motor vehicle inspection requirements of the State of New Jersey. No permit shall be issued to any vehicle which is designed or equipped for sleeping or living purposes, commonly referred to as "campers," "camp trailers," "camper buses" or "trucks with camper bodies."
[Amended 
2-24-1978

 by 

Ord. No. 78-5C
; 
1-16-1981

 by 

Ord. No. 81-3C
; 
9-18-2009

 by 

Ord. No. 09-16C
]
A. 
The applicant shall pay to the Police Department a nonrefundable registration fee of $50 at the time of filing the application for an annual permit or a fee of $25 which will be applicable for the term of the Striped Bass Derby. The vehicle registration shall expire on December 31 in the year in which it was written.
Violators of the Code regarding motor vehicles on beaches may have permit privileges suspended without a refund.
The following shall apply.
[Added 
7-18-1997

 by 

Ord. No. 97-16C
]
 ++++++++++++++++++++++++++++++++++++++++++++++++++++++++++++++++
Environmental Groups Fear There Isn't Enough Data to Certify the Menhaden Fishery as Sustainable
SEAFOODNEWS.COM [Associated Press] BY PATRICK WHITTLE - October 2, 2017
A big decision about the future of a little fish is attracting the attention of ocean conservation groups who say they are concerned about whether menhaden fishing can be considered sustainable.
Industry players are petitioning the London-based Marine Stewardship Council to offer its well-known sustainability certification to the Atlantic Ocean and Gulf of Mexico fisheries for menhaden, a schooling fish that plays a vital role in the ocean food web.
But menhaden is a little different than many of the species verified by the council, which mostly certifies food fish that are well-known to consumers, such as tuna and sole. Menhaden isn't served in restaurants or seafood counters – it's used for products such as fish oil, pet food, aquaculture feed and bait.
It's also the subject of one of the biggest fisheries in the United States. Fishermen from Maine to Texas have caught more than a billion pounds of menhaden every year since at least 1950, with most coming to shore in Louisiana, Virginia and Mississippi in recent years.
Environmental groups such as the New Orleans-based Recirculating Farms Coalition say they are concerned there isn't enough data to certify the fishery as sustainable and they fear certification is being rushed through. Recirculating Farms Coalition and Gulf Restoration Network, also of New Orleans, have both called for the certification to be denied.
"If they get certified, it will increase usage of their product and increase the need for Gulf of Mexico menhaden," said Marianne Cufone, executive director of the Recirculating Farms Coalition.
The Marine Stewardship Council's sustainability marker, prominently displayed on seafood packages in grocery stores, is one of the most recognized seafood labels in the marketplace. The company requesting the certification is Omega Protein, which is the largest harvester of menhaden in the Atlantic and the Gulf.
A sustainable certification for menhaden is important because companies that use menhaden products are starting to require it, said Ben Landry, a spokesman for the Houston-based company. He said it's becoming especially common for aquaculture firms to require that feed be certified responsibly harvested.
Landry said the company is hopeful to obtain certification sometime in early 2018.
"It's the gold standard in seafood certification. It signals to consumers that you're truly a sustainable company that harvests these fish," he said.
A third-party auditor called SAI Global is assessing the menhaden fishery, said Jackie Marks, spokeswoman for Marine Stewardship Council. She said the fishery must be assessed for its impact on the ecosystem and the quality of its management before it can be certified.
++++++++++++++++++++++++++++++++++++++++++++++++++++++++++++++++
Rep Young's Magnuson Bill to Move Ahead with Input from Calif. Rep Huffman; Aim is No Poison Pills
SEAFOODNEWS.COM [SeafoodNews] by Peggy Parker - September 27, 2017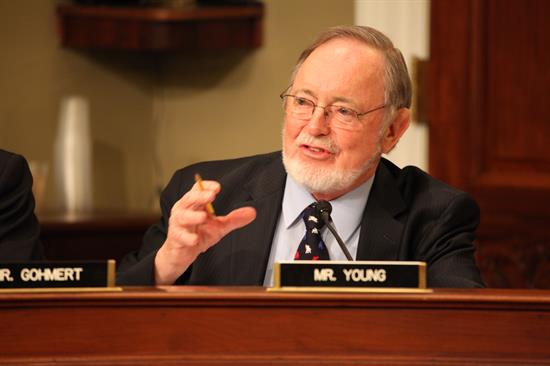 Alaska's Representative Don Young closed Tuesday's hearing on four fisheries bills, by remarking to the panel, "We are going to use the vehicle of [HR] 200. I'm going to work with Mr. Huffman and see if we can't come to some conclusion.
"The basic skeleton of the Magnuson Act ... we're going to keep the skeleton whole. Get those comments and suggestions to us, because we're going to try to get something moving by October or November this year," Young said. 
Rep. Jared Huffman (D-CA) introduced a discussion draft called "Strengthening Fishing Communities through Improving Science, Increasing Flexibility, and Modernizing Fisheries Management Act." The discussion paper includes sections on Council transparency, flexibility in rebuilding fish stocks, Saltonstall-Kennedy Act reform, red snapper cooperative research and others. 
Rep. Jared Huffman said after the hearing Tuesday that Democrats and Republicans have many agreements when it comes to fishery regulations and management.
However, he said previous attempts in recent years to amend and reauthorize the law have stalled because of "poison pill" riders that would exempt fisheries from conservation policies such as the Endangered Species Act and National Environmental Protection Act.
"Instead of making meaningful improvements to our most important fisheries statute, this process has focused on weakening fundamental environmental protections in place of making meaningful improvements to our important fisheries management framework," Huffman (D-San Rafael) said in his opening statement at the committee hearing. "This partisan process does a disservice to hardworking fishermen across the country including those in my district."
Members from both sides of the aisle were in agreement that the law — known as the Magnuson-Stevens Fishery Conservation and Management Act of 1976 — has worked to prevent overfishing and replenish overfished stocks as was intended upon its passage.
Two other bills were discussed and commented on at the hearing by invited witnesses. HR 3588  and HR 2023 are focused on modernizing recreational fisheries and managing red snapper in regional ways, respectively.
The hearing was before the Water, Power, and Industry Subcommittee of the larger House Committee on Natural Resources.  
Witnesses included Chris Oliver, Director of NOAA Fisheries; Mayor Johnathan Mitchell of New Bedford; Mike Merrifield, Southeastern Fisheries Association; Susan Boggs, co-owner of a charter operation out of Alabama, and others.
Chairman Doug Lamborn (WY) opened the hearing saying "Many of you here today probably consider this to be a fishery hearing, but I assure you it is much more than that. ...whether we are talking about a commercial, recreational, or charter boat operation, the working waterfront that provides shore side support, a boat manufacturer or your local mom and pop bait and tackle shop, today's hearing is about supporting American small business. It's my hope today that we will create a strong, bi-partisan MSA that supports jobs and our fishermen, and that supports the science data and process used in federal fisheries management."
Jonathan Mitchell, Mayor of New Bedford, pushed back on the concept of "flexibility." 
"The term "flexibility" should not be understood as a euphemism for deregulation," Mitchell said. "The councils are in the business of finely calibrating decisions in light of relevant environmental and economic data, and their own experience and expertise. 
"In the discharge of their duties, they tend not to win friends either in the fishing industry or in the conservation community, and given the goals of Magnuson-Stevens, that's probably the way it should be," Mitchell said. 
Susan Boggs, co-owner in a charter boating operation in Alabama, supported the current MSA.
"I am here today to tell you that MSA is working. This law was written to bring fisheries back from collapse, to ensure long-term sustainability for future generations, and to provide a conduit for stakeholders to be a part of the management process.
"There are several species of fish that are critical to the charter/for-hire sector in the Gulf of Mexico, but perhaps none more than red snapper. Since 2007, when annual catch limits became a requirement, the recreational sector's quota for red snapper has tripled. MSA has worked for us.
"A suggestion that I would offer to this committee that would have a meaningful impact on the management of this fishery would be a Federal Red Snapper angler license," she said. 
"No one can tell you how many anglers target Red Snapper in the Gulf of Mexico. This license does not have to be cost prohibitive. Even a $10 fee would provide better data on the number of anglers targeting this species and could generate millions of dollars that could be used for cost recovery, stock assessments and better landings data which should include more real-time reporting using current technology from private anglers."
Chris Oliver listed challenges to NOAA, nationwide and how MSA can tackle them.  "We face formidable challenges managing recovering stocks to benefit both commercial and recreational user groups with fundamentally different goals and objectives, and who are experiencing increased fish interactions due to the strong management measures that have improved historically overfished populations. 
"Together with our partners, it is essential that we continue to explore innovative, science-based management approaches and regional management tools. We must remain dedicated to exploring ways to maximize economic opportunities from wild-caught fisheries for commercial and recreational fishermen, processors, and communities. We are committed to working with Congress on the bills put forth by this subcommittee, to ensure that annual catch limits, accountability measures, stock rebuilding, and other aspects of our management construct are working, while protecting the overall, long-term conservation and sustainability of the nation's fishery resources."
 +++++++++++++++++++++++++++++++++++++++++++++++++++++++++++++++++++++++++++++++=
Barnegat Bay Action Update - Special Announcement                                                                                                                             
23rd ANNUAL FALL FORESTRY FESTIVAL TO BE HELD SAT. OCTOBER 7th                                                                                                   
NJ Department of Environmental Protection (DEP)                                                                                                                                                   
October 2017                                                                                                                                                                                                            

23rd ANNUAL FALL FORESTRY FESTIVAL TO BE HELD SAT. OCTOBER 7th                                                                                         
Popular DEP Event Features Nature Hikes, Crafts and Demonstrations                                                                                                  

Outdoor enthusiasts, crafting devotees, and fans of all things arboreal will gather again on Saturday October 7 at the Department of Environmental Protection's Forest Resource Education Center in Jackson Township, Ocean County for the 23rd Annual Fall Forestry Festival. The festival will be held from 10 a.m. to 3 p.m., rain or shine. Admission and parking are free.                                                                                                                                                                        

"We invite all New Jerseyans to visit our Fall Forestry Festival to learn about trees and enjoy the outdoors," said DEP Assistant Commissioner for Natural and Historic Resources Richard Boornazian. "The festival's nature-themed activities and programs are sure to entertain and delight children and parents alike."

"This festival is also a great time for birders, scouts, hikers, and anyone who appreciates forests and woods," added State Forester John Sacco. "This event is here for people to gain a better understanding of New Jersey's vast forest resource."                                                                                                             

Visitors will get the chance to meet beloved outdoor mascots Smokey Bear and Woodsy Owl, take a hayride, visit the New Jersey Tree Nursery, or join one of the many guided hikes scheduled throughout the day. Professionals in the natural resource field will also be on hand to give tips on water and soil conservation, composting, invasive insects and diseases, maple sugaring, managing your backyard forest, and more.                                                                              

Children, teens, and parents alike can plant acorns, build a wooden craft, make music in "Sounds of the Forest," and even put on a harness and climb the old white oak tree. Plans are in place for demonstrations of the center's sawmill and the utilization of logs from storm and/or insect damaged trees from around the state to be milled into useable lumber.                                                                                                                                                                                   

On the forest safety side, fire wardens will be on hand showcasing firefighting tools and equipment, as well as demonstrating how homeowners in our wooded areas and forests can help make their property "firewise."                                                                                                                                           

"Living in our forested areas means living with the potential for wildfires impacting their homes and property," said State Fire Warden Steve Holmes. "We will be providing information on firewise gardens, which is the practice of making smarter landscaping choices to best protect our homes from wildfires."    

In 1994, the Department of Environmental Protection's Forest Resource Education Center in Jackson hosted the first Fall Forestry Festival, drawing attention to the work the center does in educating the public about forest stewardship - managing New Jersey's forest resources so that we have healthy trees and forests, clean air and water, and places to learn about and enjoy the outdoors. Food and beverage will be available for purchase at the Festival. Sturdy hiking shoes and insect repellant are encouraged.                                                                                                                                                                                                           

Parking is available for the festival at 370 E. Veterans Highway, Jackson. For driving directions to the Forestry Festival, call the Forest Resource Education Center (FREC) at 732-928-2360 or visit www.forestrycenter.nj.gov                                                                                                                                           

The Forest Resource Education Center (FREC), operated by the DEP's NJ Forest Service, is committed to providing exceptional conservation education programs that promote benefits of trees and forest stewardship to all age groups at no cost. It is the sole public facility in NJ focused on forestry education. Located on 875 acres, the FREC also offers miles of trails for hiking, biking, and nature watching.                                                                                                              

The Toms River, which runs through the FREC, is regularly stocked with trout to provide an exciting fishing experience for anglers. For more information, please visit the FREC's website at www.state.nj.us/dep/parksandforests/forest/njfs_frep.html .  Many programs may fulfill requirements for scouting badges. To be added to the scout mailing list, email FREC@dep.nj.gov                                                                                                                                                 

The New Jersey Forest Tree Nursery, co-located on the same property, grows 300,000 seedlings yearly for reforestation efforts across the state. The Nursery has grown and distributed more than 220,000 tree seedlings for the Tree Recovery Program, providing them to New Jersey residents to replace trees lost in Superstorm Sandy. It also provides trees and seedlings for Arbor Day events and also boasts seedlings that flew in space on the Shuttle Columbia in 1997.             

To learn more about the New Jersey Forest Tree Nursery, please visit their website at www.state.nj.us/dep/parksandforests/forest/nj_forest_nursery.htm          
--------------------------------------------------------------------------------
Norway, Japan Begin Offshore Salmon Farming
SEAFOODNEWS.COM [Jiji Press]  October 2, 2017
Projects are under way in Norway and Japan to raise salmon in large numbers in big offshore pens, by adopting next-generation aquafarming technology.
Offshore farming aims to avoid the infestations of sea lice that often accompany conventional small and overcrowded coastal farms, as well as water contamination caused by leftover feed.
Prices of salmon are rising due to the growing popularity of sushi in the United States, Europe and Asia outside Japan, as well as poor catches. At the Tsukiji wholesale fish market in Tokyo, Norwegian Atlantic salmon is priced 15 pct to 20 pct higher year on year.
Moves to increase the production of salmon are therefore gaining momentum. In major cultured salmon exporter Norway, however, production was cut in half in 2015 after a sea lice epidemic hit some 30 coastal farms.
The Norwegian government launched a program in the year to develop an environment-friendly next-generation farming technology that prevents outbreaks of sea lice. Under the program, salmon farmers authorized by the government after screenings are allowed to use farming water areas free of charge for up to seven years to conduct experiments and commercialize farming operations.
SalMar ASA, a Norwegian fish farmer with a foothold in Japan, won a license from the government and will build a floating pen 20 kilometers off Trondelag, a central region of Norway, in October to raise 10,000 tons of salmon per year.
Avoiding the risk of sea lice, SalMar will raise salmon at depths of 100 to 300 meters in the floating pen, which will have a manned control room at the center to feed fish by monitoring their movements via an underwater camera. The pen will measure 110 meters in diameter, holding 250,000 cubic meters of water.
The company hopes to begin harvesting salmon from the farm in the second half of 2018.
A natural resources developer that was involved in the exploration of an oil field in the North Sea will participate in the SalMar project.
Norwegian Fisheries and Coastal Affairs Minister Per Sandberg, who visited Japan in June, said the new aquafarming technology is expected to be exported when completed.
Norway aims to increase its annual production of cultured salmon to 5 million tons by 2050 from 1.3 million in 2016, according to Sandberg. To reach this goal, "we have to do some regulations" to ensure that production will increase "in a sustainable way," he said.
In Japan, Nippon Steel & Sumikin Engineering Co. launched a demonstration experiment on offshore farming in a pen some 3 kilometers off Sakaiminato, Tottori Prefecture, in December 2016 in cooperation with leading Japanese marine products company Nippon Suisan Kaisha Ltd. Using an automated feeding system, the project is raising coho salmon at a depth of 15 meters.
With feed provided through a pipe from a silo on the sea by remote control, feed needs replenishing only about once a week and there is almost no need to sail in rough weather. The pen utilizes technologies that the engineering company built up through the construction of offshore oil pipelines and steelmaking plants.
The project represents Nippon Steel & Sumikin Engineering's first entry into the primary sector of industry. "Although we face some difficulties, we hope to sell the next-generation aquafarming technology in Japan and other countries where sites for coastal farming are becoming saturated," said Takuro Kariya, senior manager of the company's aquafarming system project.
Coho salmon were harvested from the pen in March for the first time and tasted good, Kariya said.
+++++++++++++++++++++++++++++++++++++++++++++++++++++++++++++++++++++++++++++++++++++++++++++