"Allow me to demonstrate my method of scaling a jump bar of that nature ..."
"With the litheness of a gazelle, I maintain a firm bite on my prey whilst poetically launching myself onto the ... "
+++++++++++++++++++++++++++++++++++++++++++++++++++++++++++++++++++++
"Having lost none of my primordial wild feline qualities, I spring forth with the nimbleness of a wild ...
"Watch, as I show that cat how to properly launch one's body across an abyss ... "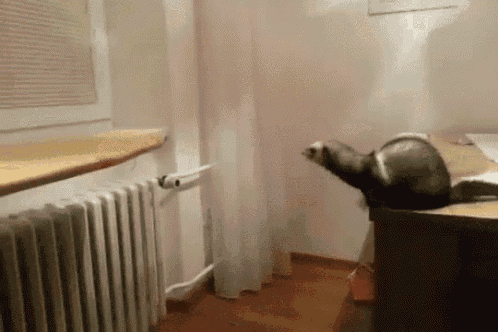 "And I'll show that dumb-ass ferret how a leap is meant to be executed ..."
+++++++++++++++++++++++++++++++++++++++++++++++++++++++++++++++++++++++++++
Tuesday, November 21, 2017: The ocean is again stirred to hell and back. The southwest winds are behind the roil. And they've been honking to high heavens. There is clean water moving in, late-day. As to fish … Did I mention it's time to think about a long Thanksgiving weekend? It looks decent, weather-wise. The winds might even back off enough to allow boat bassing.
HOLIDAY FILLETS: Maybe this will be the holiday the bass come to dinner. I'm not even thinking in terms of trophy bass, just trying to sniff out perfect 28-inch bring-home fish.
Whenever I bring seafood items to holiday gatherings, they run out immediately.
As for striper meat, when it's served, it gets the same response: "Wow. I didn't realize how good striped bass can be. What did you put on it that makes it so delicious, Jay?"
"Uh, salt and pepper."
I won't even get into the times I'd bring hundreds of clams to a feast and it was akin to piranhas attacking a river-crossing horse. "Cover the children's' eyes, they shouldn't see adults wolfing down food like this."
For folks thinking in terms of nabbing some Holgate clams for the holiday, I'll warn right now that the scratching on the south end mudflats thoroughly sucks. Both keyholing and area raking is crappy, even on the far-back mudflats -- which demand a long, slippery hike to reach.
I'm resorting to some old-timer tricks to grab what few clams are still available, though well-hidden.
By the by, do not even ponder driving to the back, through the grasses. A few have tried -- and have turned around, defeated and badly mudded.
It is easier to hike to the closest back points through the grass instead of slip-sliding along the muddy bank. Once you reach the first point, you then need to walk the beach around to the far back. You can't cut through those grasses. You might never be seen again. I think there might be tigers in there.
+++++++++++++++++++++++++++++++++++++++++++++++++
One of the Special Cash prizes in the Classic is given away on Thanksgiving.(Nov 23rd)
This year the Hoagland family is giving $250 to the largest bass caught on Thanksgiving in Memory of their husband, father, grandfather and now great grandfather Bruce.
Many of you remember Bruce as the former owner of Bruce and Pats ( now Surf City Bait and Tackle) or from fishing with him on the beach.
Recent Classic weigh-ins ...
+++++++++++++++++++++++++++++++++++++++++++++++++++++
Check out this exceptional "rope jig" video made by Jersey Jim (McRea) Fish
https://www.youtube.com/watch?v=bma-h-_r5O8
+++++++++++++++++++++++++++++++++++++++
NOAA Fisheries
Announces a Final Rule to Establish the Quotas, Opening Dates, and Retention Limits for the 2018 Atlantic Shark Commercial Fishing Season
NOAA's National Marine Fisheries Service (NOAA Fisheries) announces a final rule that would establish quota levels, opening dates, and retention limits for the 2018 Atlantic commercial shark fisheries.
The 2018 quotas, adjusted as appropriate to account for over- and underharvests, are summarized in Table 1 by management group. Adjustments based on over- and underharvests depend on stock status. The final rule uses landings data received as of October 23, 2017. All dealer reports that are received after the date of the final rule will be used to adjust the 2019 quotas, as appropriate.
Who is affected?
This action could affect:
Any commercial shark fishermen in the northwestern Atlantic Ocean, including the Gulf of Mexico and Caribbean Sea.

Any dealers who buy or sell sharks or shark products in these areas.
What will it do?
The final 2018 adjusted quotas, retention limits, and opening dates are:
*1 mt dw = 2,204.6 lb dw
**Baseline quota adjusted based on over- or underharvest in 2017.
Circle Hook Reminder
The final rule for Amendment 5b to the 2006 Consolidated HMS FMP (82 FR 16478; April 4, 2017) implemented, among other things, a requirement for all HMS directed shark permit holders using bottom longline to use circle hooks, which becomes effective on January 1, 2018 (http://www.nmfs.noaa.gov/sfa/hms/documents/fmp/am5/a5b_index.html).
This notice is a courtesy to the HMS fishery participants to help keep you informed about the fishery. Copies of these documents are available upon request from the Highly Migratory Species Management Division, 1315 East-West Highway, Silver Spring, MD 20910 (phone: 301-427-8503, fax: 301-713-1917) or on the HMS website at: http://www.nmfs.noaa.gov/sfa/hms/. For further information on this final rule and its requirements, contact Guý DuBeck, Gray Redding, or Karyl Brewster-Geisz at 301-427-8503. The information will also be posted on the HMS website at: http://www.nmfs.noaa.gov/sfa/hms/species/sharks/news/shark_news_201....
+++++++++++++++++++++++++++++++++++++++++++++++++++++++++++++++++++++++
Help us continue the inspiring recovery of America's national symbol here in New Jersey!

Our scientists helped Bald Eagles come back from the brink - now a generous matching grant can strengthen one of our greatest success stories in conservation history.
If it wasn't for the inspiring dedication of scientists from Conserve Wildlife Foundation and the Endangered and Nongame Species Program, you could almost call it a miracle.
Bald eagles have rebounded from just a single nesting pair in the 1980s, to over 200 pairs today!


However, bald eagles' recovery is far from secure - these magnificent raptors continue to face other manmade threats including developers clear-cutting their nesting trees, power lines electrocuting the birds, and ingestion of plastic or lead.


Right now, eagles are starting to build their nests for this year's nesting season.

If our team isn't able to find and monitor their new nests, we can't protect the eagles.


Our Bald Eagle Project must raise $6,000 by year-end to offset a funding decrease and allow us to keep this vital project moving forward at full strength for the 17th year!

A generous donor has offered us an exciting opportunity by matching contributions to this fundraiser - meaning we only need $3,000 to make this survey a reality! So if you give $500, we receive $1,000. Your gift of $100 would mean $200 for our eagle work. And a gift of $25 brings us $50. Any amount would help! And all donations are tax deductible.

A message from CWF eagle biologist Larissa Smith

As a biologist in New Jersey, I have studied, banded, and cared for bald eagles in the wild for over a decade. Nothing compares with the awe-inspiring feeling of holding a young eagle in your hands, knowing that we nearly lost them in New Jersey for good not that long ago.

Our devoted scientists and volunteers work tirelessly to locate, monitor, and protect remote bald eagle nests in the fiercest weather and most daunting conditions!

Our active role is vital to the bald eagles' success. With limited funding and manpower at our nonprofit, we rely on a highly trained volunteer team to act as "the eyes and ears" of the
New Jersey Bald Eagle Monitoring and Public Outreach Project
. In partnership with the Endangered and Nongame Species Program, we coordinate this team and record their findings in order to protect our nesting eagles from disturbance.
With your support, we can work to ensure that bald eagles always have a place in New Jersey - so that the next generation can experience that same feeling of awe upon seeing a mighty bald eagle fly across the sky.

Thank you in advance for your support! Let's keep our bald eagles flying high in New Jersey in 2018!
--Larissa

+++++++++++++++++++++++++++++++++++++++++++++++++++++++++++++++++
East Coast Green Groups, Fishermen at Odds over New Menhaden Rules
SEAFOODNEWS.COM [Gloucester Times] By Patrick Whittle, Associated Press - November 17, 2017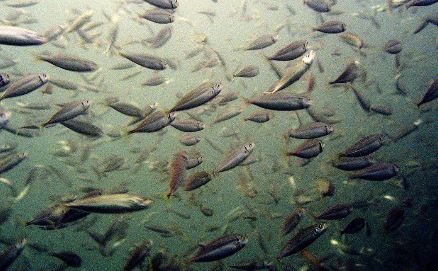 Environmentalists and commercial fishing groups on the East Coast are divided over a decision to increase the amount fishermen can catch of an ecologically vital small fish.
The Atlantic States Marine Fisheries Commission approved changes to menhaden fishing rules on Tuesday, including increasing the East Coast's fishing quota by 8 percent, or some 35 million pounds of fish.
The decision followed a string of public hearings and weeks of debate about how to manage a fish that is important for such industries as fish oil for human supplements and meal for aquaculture, but is also a vital food source for whales, dolphins and large fish.
The commission had been considering several new ways of managing menhaden, some of which included potentially reducing the quota — an idea environmental activist groups supported.
The pro-industry Menhaden Fisheries Coalition said the commission's decision to offer a modest quota increase followed "best available science." The increase in quota won't bring the fishery close to the point of overfishing, the commission said.
But environmental groups, including Pew Charitable Trusts, said the move fails to account for menhaden's key role in the food chain.
"Wildlife on the East Coast will suffer for these choices, as will people who enjoy fishing for striped bass or watching whales," said Peter Baker, Northeast director of U.S. ocean conservation for the Pew Charitable Trusts.
Menhaden are one of the most-caught fish in the U.S., dwarfing popular food fish, such as tuna and flounder, in terms of sheer volume of catch. They're also a popular bait fish, and are used on Cape Ann as lobster bait when herring prices are high.
Fishermen caught more than 1.7 billion pounds of menhaden in 2016. On the East Coast, the industry is based largely in Virginia, but it is caught from Maine to Florida. Menhaden fishing is also very common in the Gulf of Mexico.
The Atlantic States commission also had a chance to adopt a more "ecosystem-based" approach to managing menhaden, but chose instead to continue managing it as a single species. The way menhaden is managed in the future could hinge on a scientific assessment of the stock that is scheduled for 2019, said Tina Berger, a spokeswoman for the commission.
The commission's decision about the menhaden quota "balances menhaden's ecological role with the needs of its stakeholders," said Robert Ballou, chairman of the commission's menhaden board.