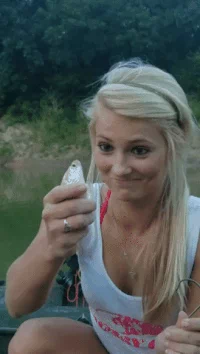 ++++++++++++++++++++++++++++++++++++++++++++++++++
"What, you think a couple fingers can fix this mood!?" =========================================

Not bad ...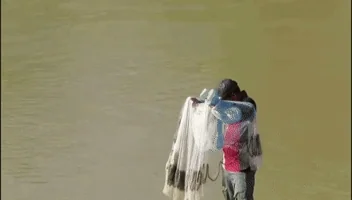 ... Now, let me show you how I do it ...
Tuesday, November 07, 2017: This has become one of the chilliest days of the fall; 41 to 44 degrees along the shore. With the icy rain factor, the ocean temps are going to dip quickly, likely falling out of the low 60s into the upper 50s, though some coastal NJ beach sites are showing the water at 64 (toward Cape May). It'll take some doing to get those into the 50s.
The wind is once again having its way, pushing 25 mph out of the north. This inclement weather will move out by Thursday, followed up by some meaningful coolness, with night temps (Thursday, Friday) into the 20s -- though this weekend will feel a quick warm-up to near 60.
I know I always wax optimistic but this time I really do see very high castigating potential for Friday through Sunday, especially if the winds come south, which can spark a bite this time of year.
Hey, why not take a vet fishing this semi-holiday weekend.
The bay has loads of small bass. I base that on the Walt P. report below and also a couple trolls (bridge folks), a bayside nightcaster (south end), some Rosemma types and the modest luck I've been having bayside Holgate and also near the Morrison's area (late-day and just after dark).
Short of Walt's one boat-based keeper, none of the fish have been even close to take-home material. Still, one fellow I chatted with had dozens over the past few days – forced bayside due to beach winds and surf.
Here's a bayside tip from Walt P.
I've been off the WIFI grid since Comcast put me on seasonal. I fished last Wednesday with spot along the north jetty and came up empty. It was too snotty to head outside so I saved my remaining spot and headed back bay SB on Thursday morning. Tried my favorite spot and was instantly into 25-28" fish. Used up my spot and had just as good action on a 6" storm shad. 10-12 fish total. Fished the same spot on Friday morn after the fog lifted and another 5 or 6 until the sun got too high. Gave my one keeper to my friend. Tried again Saturday morning at first light and only managed two with the wind cranking against the tide. My friend cleaned the fish and said it was full of 1-2" blue claws. It now makes sense because my drift spot was just 20' down tide from a crab pot with the bass probably just waiting for the bit to draw in the small crabs. WP.
Here's an out-of-frame video of a flurry of small bass I got into.
https://www.youtube.com/watch?v=QSY8WmXW4_c&t=6s
While jigs are the call on small stripers, there are still enough snappers to make plastic tails a short-lived accent for the leadheads.
BELOW: I'm hot on this synthetic rope tail by Jim McRea. I wrote: "Jim, Fascinated by the rope jig. Is it a DIY? I see by your FB intro you know bluefish. I see the rope jig as being ideal for jigging around blues. In fact, the more the rope rips, the more enticing it would become from fraying."
RESPONSE: "Yes Jay, I made them myself, in a not so highly technical operation, after seeing Luke from CATS ANDCARP.COM unsucessfully fishing a completely frayed jig for stacked up gar. Now I was thinking the braiding closely resembles scales and preserved some of this patterning with head cement.. trading some of the fluid motion for texture and profile... So wait.. YOU watched one of my movies?!! While I am ironically not big into social media and reports, my brother John has been following you for years and is a big Jay Mann fan! Oh wait, you mentioned fb.. I made a youtube movie detailing the whole experience and process. When I post it I will send you the link( likely later this week) ...."
+++++++++++++++++++++++++++++++++++++++++++++
TO THE MAX(IMILLIAN): I want to pass on a "job well done" to the Maximillian Foundation folks.
Despite only one bass (11-pound) and one 1.5-ounce blue being caught during Saturday's tourney, the group held a fine after-party and, most of all, used the event to get out tons of good PR for its effort to stem drug abuse, in a time when opioid use has gone insane – across all age groups!
Speaking of which, I'm stunned by the awful stories I'm receiving about older folks who have led drug-free, pristine lives only to now be hopelessly hooked on the likes of OxyContin … via doctors – doctors sanctioned by a merciless Big Pharm, a cartel that makes the Columbian and Mexican drug lords look like cotton candy vendors.
May the Maximillian fight carry on.
Here's the group's post-event release: "The Maximilian Foundation announces the winner of its 2017 Boat Tournament! A picture of the winners is attached:
"Approximately 300 tickets were sold. The Foundation is still in the process of determining total funds raised but it is anticipated that the funds raised from tickets, sponsors, 50/50 and silent auction will easily put the Maximilian Foundation in a position to continue to grow and support the programs we have put in place.
"The donations raised will be utilized to fund local prevention programs such as Southern Regional School District's (SRSD) STYLE (Student Team Building Youth Leadership & Experience) program for the 2017/18 school year. The Foundation also implemented 'Steered Straight' assemblies for the elementary schools that send to Pinelands Regional School District (PRSD), as well as Pinelands Regional Middle and High Schools. Steered Straight (steeredstraight.org) shares a message of reality about life-choices and the importance of consequential thinking so that kids understand that there are consequences to their actions."
To contribute to the group's effort go to http://www.themaximilianfoundation.org.
Below: Winning 11-pound bass, which took all three striper prizes = $3,500.
++++++++++++++++++++++++++++++++++++++++++++++++++++++++
A ride-about down Holgate way. Nothing dramatic ... which is how I like it.
https://www.youtube.com/watch?v=LjRr_huSVQY&feature=youtu.be
_______________________________________________________________________________________________________
UPBEAT ECO-MATTER: Congrats to Long Beach Township for adopting a plastic bag ban. OK, so maybe it's closer to trying out a plastic bag ban for size. It's definitely a "Now let's sit back and see what happens" legal thingy.
As a beach buggyist, I can attest to the number of feral plastic bags always on the loose. There's no trap-neuter-release program that'll work on them. A ban is the only way to fly, i.e. to keep them from flying about.
As to the synchronized formation of a LBT Plastic Bag Swat Team, that's not in the immediate offing. In fact, enforcement will necessarily be a bit iffy at first. However, many a green eye will be big-brothering about, a-look for any inappropriate plastic bagging. Even I'll be a bit snoopy – in a newsy way, mind you.
Simply hosting a plastic bag test ban, just to see who salutes, is a mighty fine – and daring – start toward a far cleaner Island. By the by, in other USA places that have enacted such bans, the courts have upheld them.
It's very hard to say how bag-happy Wawa will take the news but, surprisingly, Acme seems to be willing to give it a go. A spokesperson said, "We will comply with all applicable ordinances of Long Beach Township.
Thanks to Alliance for a Living Ocean for taking a helpful-agency stance, offering its services to answer any questions businesses might have on implementing the ban, based on the actions of other towns – and even other countries. They can be contacted at 609-494-7800, or Google ALO NJ.
Read the whole story tomorrow in The SandPaper.
+++++++++++++++++++++++++++++++++++++++++++++++
Michele Capri goes too-large-to-keep on a red drum ...
++++++++++++++++++++++++++++++++++++++++++++++++++++++++++++++
Folks risk it all to walk the beach ...
+++++++++++++++++++++++++++++++++++++++++++++
New York Businessman Gets 1½ Years for Dealing in Black Market Eels from Virginia
SEAFOODNEW.COM [Virginia Pilot] By Scott Daugherty - November 6, 2017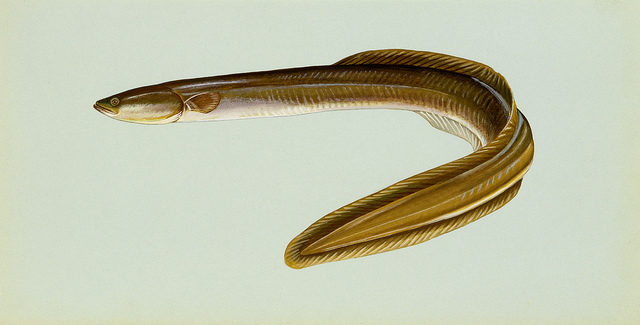 Tommy Zhou knew what they were doing was illegal, according to court documents.
American eel stocks were low as Asian markets rushed to buy more, and strict caps were being imposed on U.S. fishermen.
But Zhou told the undercover officers who came to his New York office in 2013 that selling him black market eels from Virginia wouldn't be a problem as long as no one developed a "big mouth."
And, he said, he was willing to spend $200,000 to have them killed if they betrayed him.
Zhou, 42, of New York, was sentenced Friday to 1½ years in prison for illegally trafficking more than $150,000 worth of juvenile American eels, also known as "elvers" or "glass eels."
Federal guidelines recommend a sentence of at least one year and four months.
Trial Attorney Shane Waller of the Department of Justice's Environment and Natural Resources Division declined to comment, as did Zhou's attorneys.
According to court documents, Zhou established a seafood distribution company in 2010 in New York. The company, known as Wilson Group Sea Trading LLC, imported and exported seafood.
Elvers, which may only be legally harvested in Maine and South Carolina, became a large part of that business as they became particularly popular in Hong Kong, Japan, Korea and other East Asian countries. The elvers must be alive when they are exported to Asia. There, they are raised in captivity and eventually used in sushi and other foods.
In 2013, Zhou obtained an elver dealer license for Maine, court documents said. He then used it as cover to purchase and export elvers harvested from Virginia in violation of the state's law.
"Knowing the lucrative nature of the elvers, defendant continuously sought more for export," prosecutors wrote in court documents.
They noted that Zhou told undercover officers from the Virginia Marine Police and U.S. Fish and Wildlife Service he wanted them to bring him elvers every Saturday. They added that Zhou later asked them to recruit other poachers.
Zhou paid legal harvesters of eels as much as $2,400 a pound for their catch, court documents said. Poachers were paid about $1,500 a pound.
"The demand for eels is a constant – the supply of eels is not," prosecutors wrote, arguing the American eel population can only be effectively managed if fishermen follow the harvest limits.
Waller asked Chief District Judge Rebecca Beach Smith to lock up Zhou for at least 16 months to send a message to others who deal in black market eels. They noted that Zhou was charged with a similar crime in Maine in 2014 when he was caught with five pounds of elvers without a license.
"When glass eels fetch $2,500 a pound at export, fines are only a cost of doing business for poachers," prosecutors said in court documents. "The only way to create a true disincentive for eel poaching is through the imposition of a term of imprisonment."
Defense attorney David Stern countered his client should not be incarcerated, in part so he could keep running his business and take care of his family.
He said Zhou didn't realize the 2014 citation in Maine was serious. It resulted in a $2,420 fine.
"That was treated as if it was nothing," Stern said, explaining his client viewed it like a "speeding ticket."
He stressed Zhou now understood and was sorry for his actions.
Before ruling, Smith said Zhou should have thought about his actions before he broke the law. She noted that this wasn't his first offense.
"You did it for profit, and you did it repetitively," she said.
And for at least the first three years after his release, she said, Zhou can't work in the seafood exportation business.
"He's going to have to find something else to do," Smith said
++++++++++++++++++++++++++++++++++++++++++
The Norwegian Institute of Nutrition and Seafood Research (NIFES) and the Icelandic research institute Matís has conducted a study to compare fresh and frozen cod. The results? Frozen is better than fresh. However, there is a catch.
The researchers discovered that frozen fish can be just as good as fresh fish as long as it is frozen and thawed properly. For starters, the fish have to be frozen before rigor mortis sets in. It should then be kept at a "stable and low temperature" before being thawed in 10 degree water over a period of six hours.
The reason for the study was to find if a "real alternative to supplying live whitefish throughout the year" existed. While the process of freezing and thawing seems like a lot of work, one of the researchers pointed out that even in season, fresh fish can often take days to reach the sales counter. Meanwhile, frozen fish that is thawed and refrigerated can remain at "top quality" -- regarding texture, color, airiness and consistency – for up to 10 days.
==============================================================================================
Mixed trawl fishing on the Viking Rose...bait skate, dogfish,scup,Blue fish, Fluke, squid....everything gets saved...not a whole lot of money, but it's something.
What about the three nautical mile line? The Three Nautical Mile Line is retained on NOAA charts because it continues to be used in certain federal laws.
So what does this have to do with fishing? In an effort to keep the striped bass fishery sustainable, NOAA does not allow harvesting of striped bass in the EEZ of the Mid-Atlantic region. NOAA's website says that they are increasing their targeted enforcement efforts to protect the species from illegal poaching activities this fall and next spring. Be warned.
Been on the water a lot the last few days. And fishing has been slow, (bad news) but we still have been bringing some bass over the gunnels of the Debbie M. Like yesterday's trip with the Frank Joie clan. And calling them a clan is exactly who they were. Frank, Fred, and Jerry. Bunch of good friends having a good time. I took them all over the bay to put a catch together. No big bass, but bass well earned. Oh and for the good news. Bait, inside, outside, up and down the beaches. And with their predators just to our north, I predict this week will be the breakout week for us fishing the LBI area. Off for teacher convention this week so I have some prime dates/tides still open from Wednesday on. Give me a call to get in on the action. Also, contact me if interested in sailing in an open boat spot for availability and competitive pricing.
Screaming drags,
Capt. Alex
www.LighthouseSportfishing.com
Barnegat Bay, NJ
609-548-2511
++++++++++++++++++++++++++++++++++++++++++++++++++++++++++++++++++++++++++++++++++++++++++
+++++++++++++++++++++++++++++++++++++++++++++++++++
Current situation ... video of removal follows
https://www.facebook.com/tom.best.351/videos/pcb.10155058059992844/...
_________________________________________________________________________________________________________
U.S. Groups Threaten Canadian Snow Crab Imports over Right Whale Deaths
SEAFOODNEWS.COM [National Post] by Mia Rabson - October 25, 2017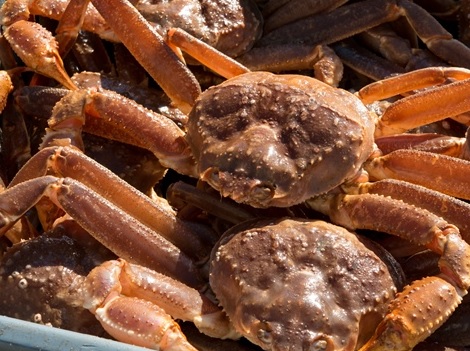 OTTAWA — An alliance of U.S. environmental groups is preparing to ask Washington to ban imports of Canadian snow crab unless Ottawa steps up its efforts to save the endangered Atlantic right whales.
Another right whale was found dead in the Atlantic this week, bringing to 16 the total number of the endangered mammals which have died off the East Coast of Canada and the U.S. this summer.
Examinations show most of the whales died after being hit by ships or getting tangled in fishing gear and 13 of those deaths occurred in Canada's Gulf of St. Lawrence.
There are fewer than 450 right whales left in the world and scientists fear if extraordinary measures aren't taken to stop the slaughter they will disappear entirely within 20 years.
Kristen Monsell, a senior attorney at the Center for Biological Diversity, said a provision of the United States Fishermen's Protection Act allows the White House to ban imports of fish or seafood from a country if that catch is affecting conservation efforts of an endangered species.
Monsell said snow crab is the target, because Canada has no mandatory regulations in place for snow grab gear or lines that could help keep whales from getting caught in them and Canada itself has acknowledged seven whales got tangled in snow crab lines this summer, and two of them died.
On Sept. 18, a dead right whale was towed to shore still attached to a large snow crab trap.
She also said Canada doubled its quota for the snow crab fishery this year.
"We can't know that's what caused the deaths, but we do know there was an increased amount of gear in the Gulf of St. Lawrence and it was there longer, so it overlapped with whale season in a way it hasn't before," Monsell said.
She said the groups are only in the early stages of considering how to handle the Canadian problem so they haven't yet approached the U.S. government about banning the snow crab.
Snow crab is Canada's second most valuable fish export and about three-quarters of Canada's crab exports go to the United States, meaning the threat of losing access to that market is significant.
Monsell's group was one of four which together issued a 15-page letter to Prime Minister Justin Trudeau and Fisheries Minister Dominic Leblanc on Oct. 2, asking for urgent action. She said they haven't yet received a response.
In a statement to The Canadian Press LeBlanc said the government is considering all options to protect the whales, including fisheries management.
"Our government takes the protection, conservation and recovery of the North Atlantic right whale very seriously and we are committed to taking every step necessary to help prevent future whale deaths," said Leblanc.
Leblanc is hosting a meeting of officials from the fishing, tourism and shipping industry, as well as environmental groups, Indigenous communities and U.S. officials in Moncton, N.B., on Nov. 9, where he says "the sole agenda item will be how to prevent this summer's deaths from recurring."
The Canadian letter acknowledges Canada has taken some action, including imposing a temporary speed limit for larger vessels in the Gulf of St. Lawrence, although the conservation groups say that speed limit has to be made permanent.
Monsell said the speed limit is the same as one imposed in U.S. waters, which scientists believe has helped protect whales from being hit and killed by ships.
The groups have also served notice to the U.S. government of intent to sue if the American government doesn't live up to its obligations to protect the whales. The 60-day required notice period before a lawsuit is filed ends in early December.
"We need action from both Canadian and U.S. governments," said Monsell. "It's incredible how many right whales have died this year."
+++++++++++++++++++++++++++++++++++++++++++++++++++++++++++++++++++++++++++++
NMFS Substantially Increases Scup Quotas in New England for both Commercial and Recreational Harvest
SEAFOODNEWS.COM by John Sackton November 7, 2017
Scup, a popular fish in Rhode Island and Southern New England, is on a three year management cycle. 2018 is the final year for the current plan, and NMFS agreed to review 2018 quotas based on updated information.
A new stock assessment shows a big increase in the biomass, and a consequent ability to increase TAC's for both commercial and recreational fishing.
NOAA has put out for comment a federal register notice saying they plan to increase the commercial quota after the stock survey showed a biomass 2.1 times the target level and fishing pressure just 63% of OSY.
The new Allowable Biological catch is between 36 and 39 million pounds for 2018 and 2019, a 45% increase over the prior period.
The recommendation is for a commercial annual catch of 24 million pounds for both 2018 and 2019, up from the prior projection of 17.3 million pounds.
The recreational harvest limit will go from 5.2 million pounds to 7.37 million pounds. A minimum size of 9" for commercial harvest will be retained.
+++++++++++++++++++++++++++++++++++++++++++++++++++++++++
I had return client Ross Alber, his brother Rich and son Riley, along with Zach Blum on a 5hr Striped Bass charter. We started working the backwaters and Zach hooked a real nice fish which he fought for awhile. The hook popped due to the strong current and winds as it got close to the boat. On the next drift, Rich caught a 31-inch Striped Bass. With the tide beginning to rip, we tried some other areas and released a few in the 19-21 inch range. We moved closer to the inlet and hooked a few fish in the new area. Ross struck first with a 30 inch Striper, followed by Rich's biggest to date a solid, 36-inch 20 pound Bass. The guys kept 4 for the table and they did an awesome job in pretty tough conditions.