Unfamiliar with something called recoil, Saddle Brook's Gordon Shuntmeyer relied fully on the store clerk's guarantee this was the best small-game shotgun money could buy.  
Speed limits have been lowered on LBI. Slow down. You don't want to see this in your rear-view mirror -- or in any mirror for that matter.
Tuesday, May 14, 2019: It's tough fingering a specific bite patterns when I now field reports from all over the state – and nearby states – with nobody big on offering whereabouts. Still, it's fun to see fish being caught … close enough to matter to LBI and vicinity.
I'm seeing some spurts of much sought-after eater bluefish. Where they're spurting, takes have reached a dozen fish. That many makes a major load of dried/smoked bluefish bits. The problem is you can't just run to any piece of bay or ocean water and fill the bucket, as it used to be.
I'm going bluefish hunting after work tonight, trying some after-dark bayside spots where I used to score eater blues back when. At night, plastic work better than poppers or shallow divers. Sure, the plastics get ripped after a couple hits but I have my bulging bag of "bluefish plastics," weighing pounds. Those are raunchy plastics that have typically discolored or even melted a bit. I've had tackle boxes all but ruins from plastic tail/worm that melt downs within. Of course, blues don't care what a plastic looks like, as long as it has some seductive sway. Once that sway is bitten off, even if much of the plastic remains on the jig, blues lose all interest. It seems to be one of the few times they're highly picky – that and when they've bitten just the tails off rigged mullet.
I know I'm going to jinx things but we seem to be nearing a lengthy stint of light to null winds. I'll doubly jinx it by noting that the entire upcoming weekend – beginning Friday, as is now the common case – will barely get much above mildly breezy. Staying on a jinx-it roll, we could see one of the best boat and surf fishing pushes of the entire spring, based on the current availability of bass, blues and black drum. It might also be ripe for plugging, should the water warm even a tad. Jigging should shine. Don't forget the potential for wreck fishing and nearshore sharking.
Surf temps: 55 degrees. 
Late surfcasting report: "Had nothing for most of the day then a run of smaller blues one after another. Will drop off fillets. Message me ..."
You'll be getting some of the final jerky-like jerked product. It's a combination of jerk spices and placement in a veggie dehydrator. If dried just right, it come out amazing; just an hour too long and it comes out dry and stringy, going from delicious to barely so-so.  
My final product is just like jerky, tears juts like it. However, it's not technically jerky, which entails a whole other grinding and extrusion process. Here's a look at jerked salmon.
Note: Dried bluefish flavor -- and even how it dries -- comes down to ingredients ... including some light sesame oil to hold ingredient on. To get a smoked taste, top-grade organic liquid smoke does the trick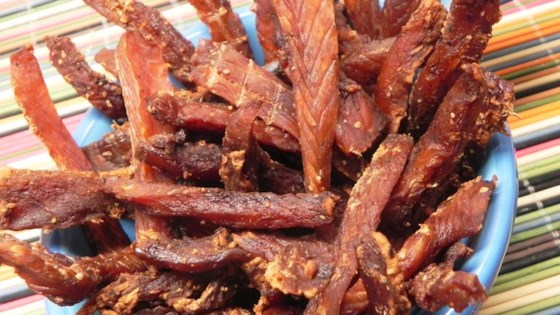 **********************************************
The notion of an Island-wide beach badge has been bandied about -- almost steadily -- for over 30 years. As logical as the one-badge-fits-all notion seems -- and as brilliant as minds have gotten -- the math behind divvying up profits is apparently beyond Einsteinesque.
************************************************
Gettin' closer, literally hours to go! Got a sea bass boat picked out yet?
************************************************************
**************************************************************
Southern Regional High School Rams fishing team showing its stuff today in Surf City. Nice work Coach Hoch ... seen here multitasking with an apple. Some bluefish greeted the Rams -- all released.
**************************************************************
Get your bikes ready ... I'm in ... when I retire in 2080. 
There's no single unified route made for cycles that spans the continent. That may soon change: On Wednesday, the Rails-to-Trails Conservancy gave the grand reveal for an entirely car-free way to get across the country—the Great American Rail-Trail—that would connect Washington, D.C., to Seattle. The path runs through 12 states: Maryland, Pennsylvania, West Virginia, Ohio, Indiana, Illinois, Iowa, Nebraska, Wyoming, Montana, Idaho, and Washington.
The launch event kicked off at Capitol Hill in D.C., near where the Capital Crescent Trail begins the cross-country route, as part of a live-streamed broadcast of events at stops along the way, including Columbus, Ohio; Three Forks, Montana; and South Cle Elum, Washington.
***********************************************************
Here's LBI's 2019 beach badge pricing. Important: Most towns have discounts for seniors, military, children. Check websites. 
Long Beach Township Season Badges
Adults - $30 before June 15th .... $40 after that date.
Weekly - $20 Daily Beach Badge $7
Seniors - 65+ - $ 5 Children 12 and Under - FREE
The following towns are within Long Beach Township: High Bar Harbor, Loveladies, North Beach, Brant Beach, Beach Haven Crest, Brighton Beach, Peahala Park, Beach Haven Park, Haven Beach, The Dunes, Beach Haven Terrace, Beach Haven Gardens, Bay Vista, Spray Beach, North Beach Haven, Beach Haven Heights, Silver Sands, Beach Haven Inlet, & Holgate .....
http://www.lbtbp.com/beach-badges/
***************************
Surf City Season Badges
$40.00 Season ($30 if purchased before May 31st)
Children 11 years of Age and Under and Seniors 65+ are FREE
Daily Beach Fee $8
http://surfcitynj.org/surf-city-beach-badges/
***************************
Ship Bottom Season Badges
Season - $35 prior to May 31st ... $45 thereafter
Daily Beach Fee $7
http://www.shipbottom.org/beach-badges.html
***************************
Harvey Cedars Season Pass
Season - $30 prior to June 15th or $40 thereafter
Weekly - $20
Children 11 and Under are FREE
Daily Beach Fee $7
http://www.harveycedars.org/Cit-e-Access/webpage.cfm…
***************************
Barnegat Light Season Badges
Season - $30 before June 5th .... $40 thereafter
Weekly - $22
Daily Beach Fee $5
Beach Badges are required for all beach patrons 12 years-old and over.
http://www.barnegatlight.org/…/2018-Beach-Badge-Order-Form.…
***************************
Beach Haven Season Badges
Adults - $30 prior to June 15th ... $40 thereafter
Children 12 and under and seniors 65+ - FREE
Daily 
http://beachhaven-nj.gov/depa…/recreation/beach-information/
***************************************************