These are lures that have hooked humans into an ER  ... 

On a far prettier note ...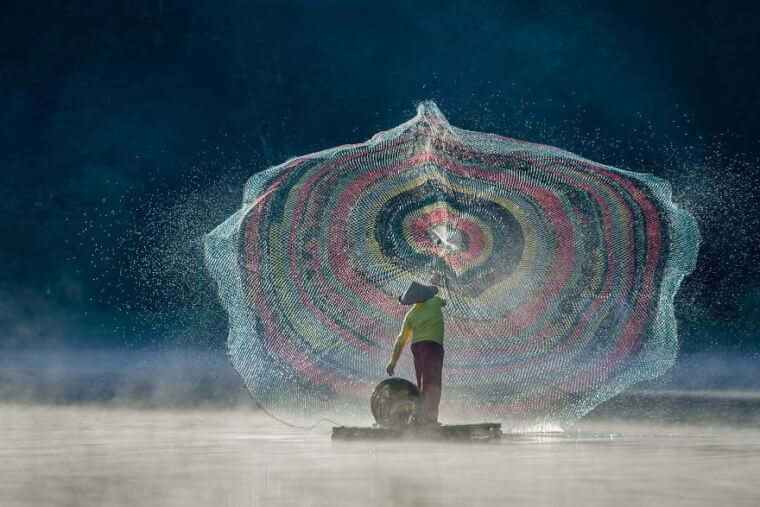 Tuesday, June 15, 2021: I think I'm one of the last seed planters, meaning I forego buying flats of pre-grown herb and veggie plants. By going bare roots, I have a strategy. The seeds grow so slowly that I know my ADHD will set in and I'll lose interest in the slow growers. Thereafter, I won't be bothered by a whole summer of tediously tending growths, including weeds.
Of course, I let the seedling commence with their growy thing, helped along mainly by summer rains. My hands-offishness make them grow up tough, having to do root combat with every encroaching weed.
If my seeds somehow miraculously grow -- and I do go with some Miracle Grow early-on -- they're bad asses, meaning they more kick-ass health properties than their pampered equivalents.
And if the drought comes for July, August and September? That's the one time I've been known to take some pity by setting up my power sprayer, so I can then non laboriously sit on my back porch steps and leisurely shoot some soothing spray over their way. I think some of the parched plants hang out their tongue just to get an extra drip.
But I digress – from what, I have no idea.
Below is a fairly lengthy fishing rundown. Prior to that, I talk about running down deer. No, not on purpose!
FYI, there's a supremely high likelihood that anyone inclined to purposely run over or torture animals just for the sake of seeing them suffer has dangerous homicidal/psychopathic tendencies – and should, therefore, be … run over and tortured. Hmmm.
DEER DOs, DON'Ts, AND DENTS. The deer roadkill toll has been typically gruesome of late, as evidenced by DOAs lying on roadway shoulders, as if just comfortably resting, which is exactly what some friends of mine would tell their easily traumatized kids when passing sprawled out roadkills.
Considering how many folks pass through high deer-kill areas when driving here for visits -- with almost as many locally traveling Route 9, deer-strike central -- I'll offer a quick primer on driving deer-safe in a state with more whitetails per square mile than anywhere else in the nation.
Unfortunately, there is no magical avoidance advice to assure motorists from what can be a very costly metallic meet-up twixt vehicle and a large, muscular, oft-bounding mammal. Yes, deer are very muscular, close to being hard as rocks when hit.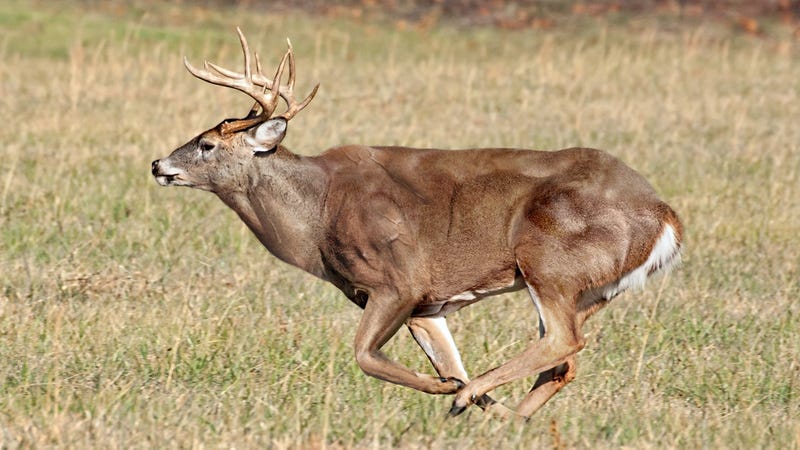 Obviously, driving vigilance reigns supreme when in known deer-crossing points. Those points can range from heavily pinetreed forests to increasingly common semi-developed residential areas ripe with heavily vegetated yards. That pretty much means that all of off-Island Ocean County presents a constant deer-crossing danger.
Per insurers, most deer strikes occur at sunset and throughout the night. That said, not long ago I cringingly watched a large doe get hit under the midday sun on Radio Road, Little Egg Harbor, near the golfer crossings. It seemingly survived, which is sometimes the outcome of deer hit at lower speeds. This evokes the old driving adage that speed kills. In the case of deer strikes, speed also costs, repair-wise. The speedier the hit, the more damage to all involved.  
Now to some insider deer-avoidance advice, gleaned from chatting with those who contend with deer crossings at every local turn.
The most vital pass-along is the maxim, "It's the second one that gets you." So true. The deer seen crossing safely ahead often belies what is yet to come. Less verbalized are cases where it's the third or fourth crossers that meet a car's grill, ruining a ride. This time of year, subsequent crossing deer are frequently young with no road smarts whatsoever, often hot on mom's hooves.
This youngster has unpredictability written all over it. Go into red alert if seen when driving.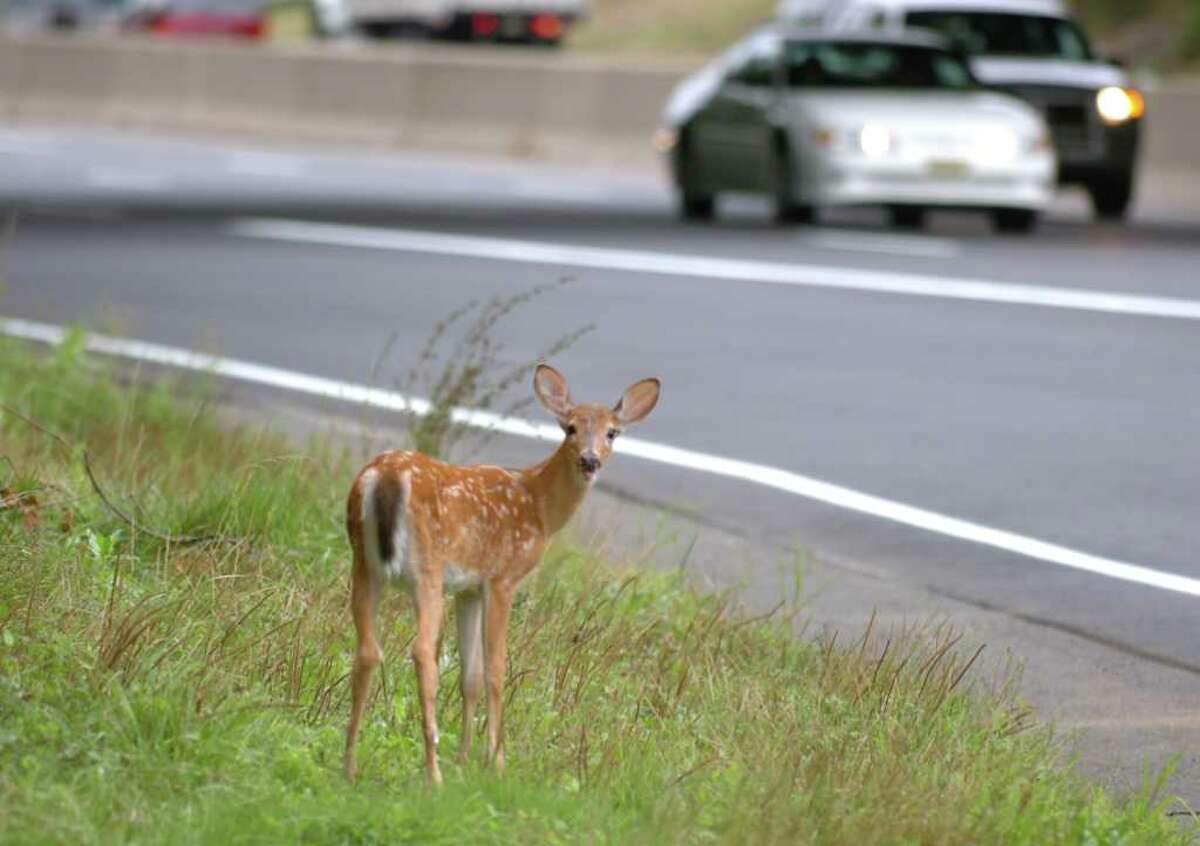 Another bit of advice flies in the face of some piss-poor advice found at insurance websites, like Insurance Information, which suggests "Slow down and blow your horn with one long blast to frighten the deer away." Another insurance company tries to go all naturey, advising, "Honk your horn when you see a deer near the road. This is the most effective way for deer to know where the car is coming from and where they are headed. Their instincts should do the rest."
Oh, please. As if a deer – sporting hearing as acute as it comes -- needs to know which direction a vehicle is coming from … or headed. As to instincts, that's what gets them suddenly bolting across the road toward a place they feel safer.
Do NOT beep the horn when Jersey deer are standing about on roadway shoulders. There's a far greater likelihood of such a sound-off sparking otherwise calm deer into suddenly scrambling every which away – and all at once! Again, young deer are most inclined to bolt homeward, right in front of traffic, at the sound of a horn.
Thinking in terms of deer seen lollygagging about on the shoulder of a highway, most motorists, upon smartly slowing, can often get a read from a deer's eyes and body language. Seriously, you don't need to be an animal behaviorist to detect a deer with spooked eyes or, most of all, tensed body posturing, both being signs of a bolt-ready creature.
Below: These deer are observant but not overly antsy. Bolt across threat is low to moderate. Which one is most tensed? Drop to 30-mph-ish. 
FACTOID: A deer on the brink of bolting offers virtually no bodily movements or changes in stance indicators … before going balls out, even in the case of a doe. Never should it be said, "It was standing perfectly still so I didn't expect it to jump out." A dead-still deer indicates it's emotionally locked and loaded.  
This deer is eyeing the road with bad intent -- Do not trust that look for an instant. I'd drop to 10 mph. 
Just as telling – and relieving – is a deer calmly feeding roadside, head bent toward the ground, barely raising head or eyebrow with a vehicle's approach.
Returning to a motorist's observational skills, a deer chewing on grass, even with head raised, is almost always a safe drive-by.   
Below: It's admittedly a subtle read, but this deer is calm,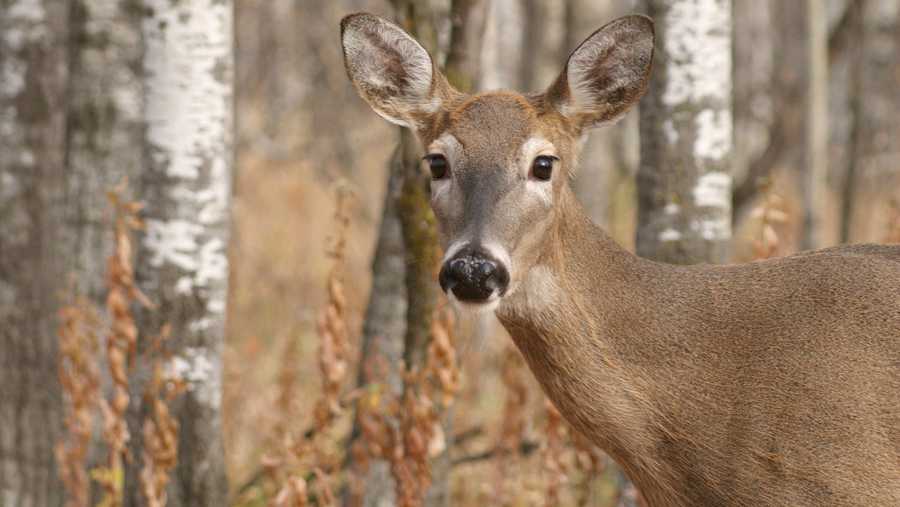 As opposed to these yarders ... which are tensed as all get-out. 
This brings up one of the long standing potentially deadly motoring decisions regarding deer – or any form of wildlife – suddenly bounding across the highway. Should a driver swerve to avoid a strike? I can only offer logic and the law of survival averages, which dictates never swerving off the road, or, seemingly obvious, into oncoming traffic.
Just the headline from an theyeshivaworld.com/ article says it all:
"Large Family Hospitalized After Their Van Swerves To Avoid Deer On Garden State Parkway."
(Photo is after Jaws of Life opened the van like a tin can.) 
Remember that Geico commercial were squirrels were purposely forcing vehicles off the road to then give each other high fives? Not that funny when you listen closely to the subsequent screech of brakes and the breaking glass impact when the driver goes the swerve route. It's always a motorist's call but heaven forbid there's family onboard and a swerve route is taken.  
Circling back to the fact that most deer v. vehicle incidents happen in low light or night conditions. If there's an upside to nighttime strikes, it's how quickly they play out, seldom allowing for swerves or such. However, I know of a nearby nighttime case where two bicyclists were hit when a small truck swerved onto the shoulder to miss an injured deer in the road. The driver never saw the bikers, who had stopped to help the deer.
As to what should be done when a deer hit has occurred, the advice of insurance companies is to get pics, take down information, and contact the local police. Do not approach a downed deer -- though one famed case has a damaged deer instead approach the driver. Here's something from Buzzfeed:
Deer Hit By Car Attacks Driver Because Hell No

Jason WellsBuzzFeed News Reporter
I'd say most deer hits go unreported -- at least officially, to the police. Reports to insurance companies is a whole other almost-always-done matter.
Please realize that there is a degree of human kindness in reporting a struck deer to police since the animal might have only been injured, not killed. Worse, it might still be in the roadway, presenting a road hazard, as was the above-mentioned accident scenario.
Another assistance police can offer is how to utilize a DOA deer, as in butchering. On that subject, things get a tad complicated.
Per an nj1015.com/ article, 
"The Garden State is one of 27 states in America, according to NBC News, that has some kind of roadkill consumption law on the books, but is the only one that restricts regulations to deer only.
"J.B. Person of Game Butchers in Lebanon both processes locally-killed deer, and sells legally inspected venison meat from New Zealand.
"He said anyone who wishes to have their deer processed, whether it was hunted by someone with a valid license or just picked up off the road, must either call a special state hotline (855-I-HUNT-NJ) or go online to register the animal.
"As far as roadkill is concerned, Person said it's helpful to know what town you're in when you pick up your deer. 'Road kills can be processed as well, but whoever picks it up or wants it done has to obtain a possession permit from the local police department,' he said.
All that information can be found in the state's annual Hunting & Trapping Digest, issued by the state Division of Fish and Wildlife.
Read More: Roadkill deer in NJ — You can eat it, but there are some rules | https://nj1015.com/roadkill-deer-in-nj-you-can-eat-it-but-there-are...
Below: Should I wonder if this would still qualify as surfcasting? I say it does, more so on the premise it's surely not boat fishing. 
Dave DeGennaro <hiflierfishing@verizon.net>
Fishing has been pretty good. We are catching a mixed bag of 18 to 26 inch stripers at the inlet and on the sod banks. Casting and jigging. There are also 2 to 5 pound bluefish mixed in at the inlet. Fluking is producing both shorts and a few keepers in the bay. If we do it all in the same trip it works out to be some good action. 
Running Open Boat or Charter Friday June 18, Saturday June 19, and Monday June 21. 
7AM to 1PM. $175 person. 4 people max. All fish are shared.
Waiting patiently for a weather window to get offshore for some tuna fishing. I don't see that perfection weather I am looking for this weekend but we are constantly watching the marine forecast for that opportunity. There has been a decent bluefin bite at the 35 to 45 mile range from our inlet. 
RUNDOWN: Speak of the devils and they arrive … speaking of bluefish. While a good week doth not a spring season make, a surge of medium-sized blues, mainly cocktails with some near slammer size mixed in, suddenly showed up, especially around Barnegat Inlet – or is it Bonicutt  Inlet? The arrival delighted anglers who had been trying day after day to find these toothy critters.  
Last week, while rating the bluefish season as piss-poor overall, I had mentioned a serious push of blues up in the Raritan. While it doesn't seem likely that same biomass sank down this way, going counter to spring's northerly migration pull, it's not impossible for these super speedy buggers to change venues in a matter of nothing flat. More likely, though, ours was a different impulse of fish, possibly coming out of the east.
Regardless of arrival direction, some folks maxed out on them, a tasty accomplishment, though bluefish flesh does not always freeze up that well. It's far more functional to dry, smoke or jerk. Amazingly delicious.  
Bigger bass are persisting along the beachfront. I saw pics of a couple impressive cows, one caught on a green-tailed Ava jig. That's an oddity considering the fish was pushing 50 pounds, a size rarely taken on metals. Other smaller bass have also come to light. That makes it well worth getting the heck out there to throw some bait and plugs -- before things get too touristy to easily ply surfside waters.
I saw a photo of a major tiderunner weakfish. It was a bona fide beauty, though an accompanying comment, "Maybe they're making a comeback" might be pushing things a bit. It's still fine to see such meaty weakie.
Anglers working The Dike at High Bar Harbor have had no such luck with weakies. If there is a comeback in progress, Myers Hole should be loaded with sparklers. Nonetheless, that one big hookup has sparked me into getting back to throwing jigs at Myers, though it's tougher and tougher to find a time when boats haven't settled in thereabouts, anchoring almost flush to shore, dropping off beachgoers. No, I'm not griping. I'll never stop enjoying the sight of folks having a slew of fun. I can always get up at sunrise on a weekday if I wanted plugging solitude.
A highly noticeable slew of comely black drumfish moved into the Island Beach State Park surflines. At least one of the dozen or more taken by surfcasters was pushing 50 pounds. I know of only two recently caught on LBI.
Looking a load into it, these black drum might be a whole new pulse, above and beyond the push earlier this spring. That's a potentially very good sign. Times ago, when this was a prime gamefish species on LBI, anglers reported they traditionally arrived in waves, right into summer -- where it was alleged that they fouled up bayside clamming. Crabbing, maybe. Clamming, nah. Rays present a far greater threat to clam beds than black drumfish ever did.    
 (((((((((((((((((((((((((((((((())))))))))))))))))))))))))))))))))))))))))))))
Nice day fishing the Great Bay!!!! 5 keepers today, Dad caught his limit!!! Fish 22, 22, 20, 18.5, and 18 inches!!!
((((((((((((((((((((((((((((((((((((((((((((((((((((((()))))))))))))))))))))))))))))))))))))))))