========================================
Today's concussion protocol candidate: 
++++++++++++++++++++++++++++++++++++++++++++++
The real reason the Dark Side often wins ... 
======================================
Wins at Pocono 400 on Sunday and Mayetta-bred Martin Truex Jr. is out fishing smallmouths on Monday. 
=========================================
Tuesday, June 05, 2018: Fun stuff on northern snakeheads down below. I love researching stuff like this … and adding in the anecdotal.
For you mainlanders, don't be deriving any off-Island pleasure from seeing this real nice weather setting in. No need to run and grab your rod … or the boat key, hanging from the  key-ring buttressed by a miniature red-and-white floatable buoy. While the honking NE winds and 8-foot waves have backed off, a very testy southeast wind has taken over, re-annoying the surf from another direction. It's honking. Ocean boating is out, while bayside fluking is no bargain, unless you know how to work the lee sides of sedges and such. This wind does have a positive fishing effect on Graveling Point and vicinity.
Stuck in the office, I can coyly say "Let it blow." That also vicariously applies to the upcoming Striper Shootout for this weekend. Get the crap winds out of the way, allowing a nice settle-down for Saturday. Ignore forecasts for at least another 48 hours. In fact, a sure-fire weather read won't be had until early Friday.
http://hpvfc.com/fishtourn.html
hiflierfishing@verizon.net
MOTORIST ALERT: As a service to LBI-bound folks, I must warn that the single-lane closures on the Causeway Bridge have begun. I know this from the inflow of bitching I'm hearing, via calls and emails to The SandPaper. For now, it's eastbound lanes backing up, way westward. But, coming closures will cut in both directions ... for many weeks to come.
I can't possibly light on all the sundry and complex politics behind the highly inadvisable "summer lane closures." Read The SandPaper articles by Gina Scala. I will aside the fact there might very well be bona fide politics involved. I have even heard "Bridgegate" being bandied about, i.e. there's some sort of Democratic political payback coming out of Trenton, aimed at our Republican-strongheld landscape. That, of course, is nonsense … or not so much. I don't do politics so all that is way over my apolitical comfort zone. Whatever lurks at the roots of the recent forceful announcement of summer lane closures by the DOT, today – a slow traffic day overall – proves how haywire the highway flow might go come summer-traffic times. Can't help business since day-trippers are economically huge ... and they'll be put-off most when either closing or going from LBI. I think I'll buy some stock in Manahawkin Lake.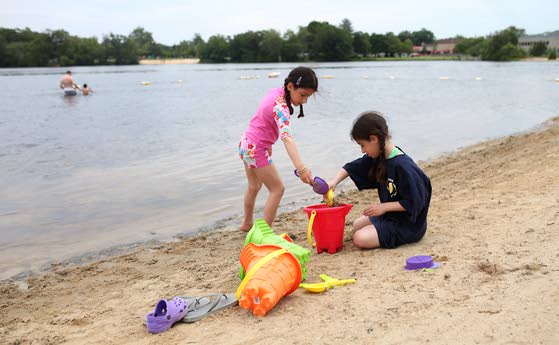 Regarding the Causeway Bridge project, I need to tred where I probably shouldn't, which is both fun and a tad risky, professionally. It has to do with the growingly controversial closing of Causeway lanes during the summer. I'm pretty sure such close-downs were contractually forbidden. But from what I'm now hearing, even contract language is being brushed aside in the name of an "emergency."
The NJDOT has rather briskly declared the summer lane closures to be part of an "emergency" action. While that smacks of melodrama, there's more. The emergency is predicated on a DOT-stated fear that the old bridge is in danger of structural failure. There's no guessing if that means it's in danger of collapse, or something less catastrophic, maybe just chunks of concrete raining down into the bay below. There's also partial structural failure, where an entire section or two can fall away. I'm just guessing at those but my guesses are based on info I dug up regarding "bridge failure" language used by the state in the past.
Under that "emergency" umbrella, LBI can get soaked, so to speak. Tourism-costly closures can come wherever and whenever, though I'm betting the NJDOT won't press its luck. And, yes, a strong case can be made that the closures create an emergency situtaion on the Island. Ask any and all first-responders. 
IT'S A WAR OVER SNAKEHEADS: You can't believe the online ruckus caused by a single snakehead fish caught not that far from us. To see the lengthy exchange regarding snakeheads, go to Betty and Nick's Bait and Tackle website: www.betty-n-nicks.com. ;
Fish in question: Notice the elongated "lower" fin. 
Snakeheads, arriving with a slew of other émigrés-non-grata species from Asia, are an elongated, flat-headed, amazingly fast-growing, thoroughly savage fish. The maniacally aggressive creatures have become, at once, hated and highly beliked. The way snakeheads annihilate fishing lures affords many an angler a freshwater fishing rush far beyond the damn-decent action offered by our piranhas of the pines, the chainside pickerel. What's more, oft-plump snakeheads fry up mighty fine – for an invader, that is. Pickerel? The only palatable food item I ever tasted was a pickled pickerel … I kid you not. It was made by a way-out-there Piney family from back in the day. They were so out there that, for a treat – and if they were good – the kids would now-and-again be taken into the city … Chatsworth.
Great penny candies in jars back-when. 
Back to snakeheads, it was believed the species first appeared in Florida, via either the pet trade or a purposeful stocking/planting by folks who covet their fillets, i.e. Asians. For whatever further reason, the Potomac river basin quickly became epicenter for them. Maybe the fish took their technical name seriously, that being the northern snakehead. Also, those Potomac waters might best match the snakehead's Yangtze River basin roots.
As snakeheads expand their range, naturalists and wildlife officials are duly alarmed. These fish are such an eco-dominating species they can eat every living thing in a lake, including feathery species swimming on the surface. A full-grown snakehead can easily take down a duckling in a single swallow; full grown ducks are not out of the question for three-foot models.  
Remaining technical, the invading species is Channa argus. Yes, they can grow to over three feet in length. However, that upper-end measurement is derived from their homeland Asian size range, where natural forces work against them getting any larger. Loosed here, in an environment where they're the top food-chain dog, and those Oriental size restrictions could be dead meat.
Not that I'm hyping snakeheads as gamefish, but I'll bet the Buddha statue that the USA will soon become holder of IGFA's world's largest snakehead honors. An example of transplanted fish surpassing normal growth parameters comes via striped bass. Stripers stocked in large land-locked freshwater lakes are about to surpass the current world record saltwater-based bass. 
Oops! Just read about this: "World-Record Snakehead Fish Caught In U.S." NPR.
A Virginia man has caught the largest northern snakehead on record with a rod and reel, landing a 17-pound, 6-ounce specimen of the fish often called "Frankenfish" for their monster-like appearance and tenacious survival skills.
Caleb Newton, a plumber who lives in Spotsylvania County, Va., caught the fish in June during a tournament on Aquia Creek, a tributary of the Potomac River that's near the Quantico Marine Corps Base, according to the Fredericksburg, Va., Free Lance-Star.
Below: Potomac snakehead. Many of this modest size are being caught there. And they're growing daily. 
Of import, New Jersey has a close snakehead look alike, the native bowfin, Amia calva. As you can see by the Latin, the two fish are not even slightly related .. but just try to tell them apart at a glance. Not easy. The dead giveaway is the anal fin. In the snakehead, this fin is continuous and elongated, almost as long as the lengthy dorsal fin. Admission: I would have never known we had bowfin in NJ. They can't be all that common.
National Geographic has referred to snakeheads as "Fishzilla" and the National Geographic Channel reported the "northern snakehead reaches sexual maturity by age two or three. Each spawning-age female can release up to 15,000 eggs at once. Snakeheads can mate as often as five times a year. This means in just two years, a single female can release up to 150,000 eggs."
I'd be remiss not to re-note that the highly aggressive demeanor of snakeheads has endeared them to a certain cadre of anglers, who have self-assigned themselves to free invaded waters of the beasts – though the use of catch-and-release by some casters does give pause as to why they're really seeking the snakeheads. Sport over dispatch.
As to their famed-in-Asia edibility, I'll gladly try one, despite being dead-set against eating NJ's freshwater fish. Follow me here: Even though they live in the same waters as NJ's chemically put-upon species, snakeheads are so new to the area and grow so rapidly that there is no way they can take on a dangerous chemical load, at least nowhere near that carried by other nearby species. I almost ate one in Florida; the only one I ever caught. I took it from inland waters west of Cocoa Beach, where I was staying. A nearby angler – yep, an Asian – all but begged me for it. I handed the ugly thing over … and maybe got a lead on who had introduced the species thereabouts.
In the Facebook banter over snakeheads, a segment of commenters swears up and down you can be fined in NJ for releasing a caught snakehead back into the wild. They've been met, word-on, by others who angrily dispute that such a no-release regulation even exists, at least not in a criminal vein. One chimer-in, qualifying himself as someone who has fished with Fish and Wildlife Enforcement officers, says there is no punishable mandate requiring landed snakeheads to be besnakeheaded. Amidst this on-line repartee, it's obvious there are those who find this species the cat's meow when it comes to high-drama fishing in ponds … including ponds where the snakeheads have eaten every other species and have begun eyeing up each other with relish.
Now to the language of state: The possession or release of live, potentially dangerous fish is prohibited. These species include Asian swamp eel, bighead, grass (diploid) and silver carp, brook stickleback, green sunfish, flathead catfish, oriental weatherfish, snakehead and warmouth. Anglers MUST destroy these species if encountered while fishing and are directed to submit specimen(s) or photos to a Fish and Wildlife Bureau of Freshwater Fisheries biologist for verification. To reach a biologist, call(908) 236-2118 for north Jersey or (609) 259-6964 for south Jersey.
One must assume that "MUST" in capital letters is telling. For a better in-context read go to http://www.njfishandwildlife.com/pdf/2018/digfsh18-regs.pdf.
=============================================
NEW JERSEY FISH AND WILDLIFE ANNOUNCES 3RD ANNUAL STATEWIDE YOUTH FISHING CHALLENGE AND FREE FISHING DAY ON SATURDAY, JUNE 9
(18/P46) TRENTON - Recreational anglers and those new to the pastime can try their hand at freshwater fishing during a statewide challenge and Free Fishing Day, both on Saturday, June 9, the Department of Environmental Protection announced today.
The DEP's Division of Fish and Wildlife's Hooked on Fishing - Not on Drugs Program is hosting the Youth Fishing Challenge statewide to introduce families to New Jersey's outstanding freshwater fishing and to encourage children to avoid drugs, alcohol and tobacco by pursuing fun activities. The free event will be held rain or shine.
"New Jersey has some of the best freshwater fishing, and introducing young people to this activity now can help them build skills that will last a lifetime," DEP Acting Commissioner Catherine R. McCabe said. "Enjoying the sport of fishing and spending time outdoors is a healthy way to connect with nature and appreciate the beauty of our surroundings."
The Hooked on Fishing - Not on Drugs Youth Fishing Challenge is geared to participants age 20 and younger. There are 24 challenge locations in 13 counties. Rules, age requirements and event times will vary by challenge location. Winners are eligible to receive prizes for the fish they catch and must be present at the end of the event to claim prizes. Parents and guardians are encouraged to enjoy fishing during the challenge but are ineligible for prizes.
The statewide Free Fishing Day allows anglers of all ages to fish on June 9 without having to buy a license or a trout stamp. Other regulations, including size and daily catch limits, will remain in effect. A second Free Fishing Day is scheduled Oct. 20.
"Free Fishing Day is a fantastic opportunity to introduce those who have never had the chance to fish or those who haven't fished in a while to try it again for the day, without having to purchase a license," Division of Fish and Wildlife Director Larry Herrighty said. "The Youth Fishing Challenge also is a fun way for friends and families to create lasting memories while enjoying the pleasures of fishing and time together outdoors."
Trout fishing will be especially exciting with nearly 607,000 fish added to waterways during the recently completed spring trout stocking season. Many fish remain available in trout lakes and other waterways in the northern section of the state.
Hooked on Fishing - Not on Drugs is an interdisciplinary, hands-on youth fishing education program for school-aged children sponsored by the Division of Fish and Wildlife. The goal of the program is to redirect youth from the temptation of using alcohol, drugs and tobacco by getting them involved in socially positive activities such as fishing, learning about the importance of clean water and supporting community service initiatives through stream cleanups and planting trees.
Also on June 9, the city of Trenton is partnering with DEP to host its Youth Fishing Derby from 9:30 a.m. to 1:30 p.m. at Stacy Park in Trenton. The free event will be held rain or shine and is open to Trenton youth in grades 2 - 8.
Each child must register in advance to compete in the Trenton derby and be accompanied by a parent or adult guardian. Trenton's fishing derby includes a 60-minute fishing derby competition with trophies along with fishing instruction and open fishing for youth; interactive displays, equipment and vehicles related to water quality and aquatic habitats; and free food and drinks for children.

To volunteer to help with fishing instruction and other program needs for the Trenton Fishing Derby, call DEP employee Tanya Oznowich at (609) 984-9802. For details about the derby, visit www.nj.gov/dep/seeds/fishingderby.htm
Participants in the Statewide Youth Fishing Challenge are encouraged to preregister with a host site and to check if the host organization has its own rules or required information. To learn more about the event, including locations, registration information, rules and an event flyer, visit www.youthfishingchallenge.nj.gov
For details about the Hooked on Fishing - Not on Drugs Program in New Jersey, visit www.njfishandwildlife.com/hofnodnj.htm
For a comprehensive list of trout fishing information, including directions to more than 300 trout fishing access points, visit www.njfishandwildlife.com/trtinfo.htm
To learn more about Free Fishing Days, visit www.njfishandwildlife.com/ffd.htm
Anglers are urged to respect private landowners who allow fishing on their properties by obeying boundary signs and not littering. Fishing regulations may be found in the Freshwater Fishing Digest at www.njfishandwildlife.com/digfsh.htm
======================================================
Haven't been out since the blow came through on Sunday. We did sail Saturday with a full boat. I had some good intel from friends up north that Deal and Long Branch were giving up nice stripers so we got an early start and made the left out of Barnegat Inlet. Thirty miles later we put the lines out and we trolled for hours without a hit. The radio echoed the same sentiment of "what happened?". There's nothing worse than getting there to hear that. We went as far as the Shrewsbury Rocks and then we headed back to Barnegat. Stopped at the North Barnegat Inlet jetty and did really well casting light spinning rods with soft plastics for 2 to 4 pound bluefish. Fortunately the guys I had on board were having fun doing that.
What does that mean for this week? Absolutely nothing. Whether you are new or seasoned, you have to know that the bite doesn't stay off for long. The only way to see those epic days is to chalk up a few slower ones. Sure there are trends you can exploit if you have the luxury of being able to leave the real world behind at a moments notice, but that isn't always the case. The reality is the fish are still here, things got screwed up by the funky weather systems for a few days and now it's time for the next round. You can either be there or read about it.
The long term weather and marine forecast looks great. We will be fishing for stripers on the oceanside and fluke and blues in the bay if everyone wants.
Sailing Open Boat or Charter: Wed (tomorrow), Thurs, and Fri, June 6, 7, and 8, Noon to 7PM.
Sat, Sun, and Mon, June 9, 10, and 11, 6AM to 1PM. $175 person, 4 people max, all fish are shared.
Everything is provided. You can call me on my cell right up until we leave to see if there is room.
Capt. Dave DeGennaro
Hi Flier Sportfishing
732.330.5674 cell
hiflier.com
=============================================
Conservationists Alarmed by Plans to Increase Fish Harvest in The Bahamas
SEAFOODNEWS.COM [The Bahamas Weekly] - June 5, 2018
Conservationists in the Bahamas are pushing back against plans to double Bahamas' seafood exports.
Bahamian Minister of Agriculture and Fisheries Renward Wells told local media in April he wanted to double Bahamas' fisheries exports to USD 200 million (EUR 171.5 million) from the current figure of around USD 100 million (EUR 86.8 million) annually.
That announcement was at the time welcomed by the Bahamas Commercial Fishers Alliance vice-president Keith Carroll, who said that the Bahamas "was only scratching the surface of its fisheries potential."
But Save the Bays Director and Chairman Joseph Darville issued heavy criticism of the move.
"This export would quickly obliterate much of our marine resources; already our grouper, lobster and conch are seriously threatened," Darville told SeafoodSource. "This delicate system is always held in a precarious state of balance; the slightest ill-conceived, heavy-handed move on the part of government could bring it all toppling down.
Darville said while he agreed that species not normally fished in the Bahamas, which exports lobster and conch, could be profitably harvested in larger quantities, "these species, about which they speak, are found in the relatively deep part of our ocean; only those fishermen with large vessels and expensive gear can access them."
"We are not concerned about the increase in obtaining resources from the ocean; our serious concerns are based upon the methods proposed by the minister," he said. "Those methods have long been outlawed in the Bahamas, which has resulted in the protection of our endangered species."
He explained that longline fishing was banned in the Bahamas and seemed to be among the methods being considered for the expanded production.
"The mere mention of several over-fished species was bad enough; the suggestion that Bahamians expand into fishing pelagic species, with the attendant threat of dreaded longline and other mass fishing techniques is a truly terrifying prospect," Darville told The Bahamas Weekly. "The minister's comments were as outrageous as they were uninformed."
Though poachers, mainly from Florida, U.S.A., and the Dominican Republic, continue to put pressure on it, he said, the current state of Bahamas' fisheries was sustainable "as long as we can maintain the present level of fishing our waters, while maintaining the legal closed seasons on a number of species."
He noted, however, that the conch population continues to decline.
----------------------------------
Making Sure Swimming Water is Clean
Ocean County Freeholder Director and Ocean County Board of Health Liaison Gerry P. Little is pleased to remind all Ocean County residents and visitors that the Ocean County Health Department's water sampling program is in full swing.  "Each year the Ocean County Health Department has a full team of water samplers who visit 72 recreational swimming beaches on the ocean, bay and rivers and lakes throughout the county to take samples of water for testing to the lab located at the Ocean County Utilities Authority facility in Bayville," according to Freeholder Director Little.  The test results are compiled and sent to the State lab for review and publication.  "Results for each testing site may be viewed on the website of the Ocean County Health Department, at www.ochd.org, providing full transparency and up to date information," according to Daniel E. Regenye, Public Health Coordinator for the Ocean County Health Department.
Freeholder Director Little expressed the importance of the County Health Department's water sampling program stating: "The residents of Ocean County and all our visitors should be aware that we are vigorous in ensuring that our swimming beaches are clean and safe."  "Reports of beach closures elsewhere in the State naturally raise concern but Ocean County has for many years tested our swimming areas throughout the County continuously from before Memorial Day weekend to after Labor Day weekend so our residents and visitors can feel safe going into the water," added Freeholder Director Little.  Freeholder Joseph Vicari, liaison to tourism in Ocean County, expressed the importance of water sampling and publication of results: "Visitors to our many fine beaches and recreational areas deserve to know that Ocean County has a history of monitoring all our swimming areas for water safety and we are rigorous in insuring that our swimming areas are clean and safe."
Public Health Coordinator Regenye explained that excessive rainfall does have the ability to impact water quality due to the natural runoff of water into some of the more local lakes and rivers and if testing results ever show less than acceptable results, such a swimming area would be temporarily closed for swimming and testing will continue daily until results demonstrate water quality safe for swimmers.  "Public Health requires that we are vigilant in our efforts to make sure the public is protected by knowing that the water is safe before people jump in," explained Regenye.  "Last year over 450 inspections were conducted throughout Ocean County to insure safe swimming can be enjoyed by all residents and visitors," added Regenye.  "We are fortunate to have some of the best beaches and recreational swimming areas right here in Ocean County and we will remain vigilant and committed to protecting this natural treasure by continuously testing and monitoring throughout the summer," concluded Freeholder Director Little."
------------------------------------------------
Animal Welfare and Public Safety Advocates Applaud Senate Action to Restrict Possession of Dangerous Big Cats
Lions, tigers and other exotic felines are kept as pets, photo props and roadside zoo spectacles across the U.S.
WASHINGTON (June 5, 2018) – The Animal Welfare Institute, Big Cat Rescue, Born Free USA, the International Fund for Animal Welfare, The Humane Society of the United States and Humane Society Legislative Fund are celebrating the introduction of the Big Cat Public Safety Act (BCPSA) in the U.S. Senate.Championed by Senator Richard Blumenthal of Connecticut, the bill would ensure that unqualified individuals, including chronic animal abusers, are prohibited from obtaining and keeping dangerous big cats like tigers, lions, leopards and pumas. 
By reintroducing the BCPSA, senators from six states across the nation are joining more than 130 bipartisan members of the U.S. House of Representatives in calling for an end to the unregulated trade in "pet" tigers and nationwide abuse of captive big cats. Recent national headlines have documented public outrage at the inhumane display of a tiger at a high school prom, alarm as federal agents discovered a tiger cub in a duffel bag, and confusion when a young tiger was spotted roaming a Texas neighborhood. Such examples underscore the public's growing concern about the treatment of big cats­­—and the sponsors of the Big Cat Public Safety Act have made it clear that they are listening. 
The bill, if enacted, would keep dangerous big cats out of the hands of private individuals, as well as breeders and exhibitors with egregious, ongoing Animal Welfare Act violations, and unscrupulous businesses that have historically taken advantage of loopholes to circumvent existing restrictions. The BCPSA would close these loopholes while providing exemptions for qualified wildlife sanctuaries and exhibitors licensed by the U.S. Department of Agriculture that meet basic standards intended to protect the public and animals. 
According to Kate Dylewsky, senior policy advisor at the Animal Welfare Institute, "across the country, thousands of big cats are kept in miserable and unsecure conditions by irresponsible owners. It's a problem that causes immeasurable animal suffering and appalling threats to human safety. The solution is simple. Big cats should not continue to end up in facilities or with individuals who are ill-equipped to handle them. The Big Cat Public Safety Act is a smart solution to a dangerous and cruel situation." 
Prashant Khetan, CEO and General Counsel of Born Free USA, added: "This common-sense bill is an urgently-needed answer to the problem of big cats kept in unsafe and abusive situations around the country. Thousands of big cats are currently owned as pets or maintained in ill-equipped roadside zoos and menageries, which pose a severe risk to the safety of people in surrounding communities, as well as the welfare of the cats themselves. It's about time that we had a federal law that can serve to stop this inhumane practice around the country." 
Nicole Paquette, vice president of wildlife for the Humane Society of the United States, said, "Tigers, lions and other big cats should not be kept in peoples' homes or backyards. In order to protect the public, there needs to be strong oversight of these private owners who, in most cases, do not have the expertise needed to properly care for these animals in captivity. Some states have few or no laws regarding the keeping of big cats and it's time for a uniform federal law that ends this dangerous industry once and for all." 
Carson Barylak, campaigns officer at the International Fund for Animal Welfare, noted that "there are now more tigers in backyards, roadside zoos, private menageries, and other unqualified facilities across the U.S. than remain the wild worldwide. They are often kept in inhumane conditions, deprived of even the most basic needs such as adequate nutrition, veterinary care, stimulation and space." In addition to jeopardizing the wellbeing of countless captive big cats, she explained, "the poorly regulated trade that the Act seeks to address also threatens the public and first responders, who are left to handle dangerous—and sometimes deadly—escapes, attacks, maulings and other emergencies driven by the captive big cat trade." 
"Relying on accredited sanctuaries to take in unwanted and usually neglected big cats is not a viable solution to the big cat crisis in this country," said Carole Baskin, founder and CEO of Big Cat Rescue. "When big cats are wrongly kept as pets or cruelly exploited in entertainment businesses, they often endure tremendous suffering for years in deplorable conditions with inadequate nutrition and little, if any, veterinary care. Then when owners no longer want the cats or they are seized by authorities, the substantial financial burden to house, feed and provide long-term vet care for these big cats falls upon sanctuaries. It costs Big Cat Rescue $10,000 per year for food and vet care for one tiger. The Big Cat Public Safety Act will finally address the inhumane treatment of the vast majority of big cats in America." 
Facts:
·         There have been more than 700 dangerous incidents in the U.S. involving tigers, lions and cougars, including hundreds of human injuries, maulings and deaths. In many cases, the animals were shot and killed, often by first responders who are not equipped to deal with these situations. Among the most dramatic examples was an October 2011 incident in Zanesville, Ohio, in which a private exotic animal owner released dozens of big cats near a community, requiring law enforcement to kill the cats—and risk their own lives—for the sake of public safety.
·         Big cats are wild animals and suffer when kept as pets. They are often purchased as babies, and private owners typically are not able to manage them once they're fully grown. Consequently, the animals are frequently left to languish in grossly substandard conditions and are often deprived of sufficient space, adequate veterinary care, a nutritious diet, and enrichment.
·         It is standard procedure for some roadside zoos to separate babies from their mothers so they can charge the public to pet and play with the cubs. This is an inhumane and unhealthy practice that can cause lifelong physical and psychological problems—or even death—for the cubs. Young cats, who very quickly outgrow their usefulness in the cub handling industry, end up warehoused at substandard "zoos," sold into the exotic pet trade, or possibly even killed and sold for parts—all while a vicious cycle of constant breeding churns out more babies to be exploited.