Tuesday, July 16, 2019: The soup just gets thicker. Wait until you see this bout of heat. We will likely see heat indices up to 110, mainly on the mainland -- though LBI will feel the burn, mainly before noon, prior to slightly cooler sideshore winds move in off the ocean. If winds hang around for an entire day, we'll fry.
SOCK ME!: Anyone recall those "sand socks" I talked about months ago? Well, bust 'em out if you bought them … or hit any local shops that carries them – and aren't sold out.
I was told that last scalding westwind day ravaged the feet of some folks so badly they're still out of beachgoing commission. That's horrible for one-week vacationing folks, which is exactly what happened to a family visiting Harvey Cedars, where the way-wide beaches punish any barefooted sand-crossers.
As to daring to walk barefoot on the Island's black macadam roads surfaces, who in their right minds – short of me – would even try that? Sand socks also work fine on road surfaces.
HYDRATE TO THE MAX: Island towns are trying to encourage hydration. I'm the perfect bad example of improper hydration, as I play beach volleyball for hours on end, sun beating down, and merely sipping drinks. I'm getting better about hydrating but have learned that by the time you're crazy thirsty, you're way beyond quick recovery.
There's also an activity point where there's no taking in enough moisture to compensate for that being lost. Years back, a volleyball partner and I (Sean S.) had to feebly bow out of a two-man tournament in Asbury Park when we both just ran dry – without losing a set … until that go-no-more drop-out point. We were pretty pathetic, as we dragged ourselves off the beach for the long drive home.
Weirdest dehydration events for me were after marathon surfing days, most memorably in southern Mexico. I guess I figured I was somehow absorbing moisture. Nope. Coming out of the water I was soon suffering the dizziness, confusion and unsteadiness of full-blown dehydration – more than heat prostration. I'd stagger to my room and lie in bed utterly spent, drinking water until it came out my ears. That was in my prime. If I went that far today, it would be off to the ER for intravenous hydration. Tally up that bill.
RUNDOWN: Fishing-wise, there's the desperate need to be sun safe, using sunscreens that don't leach mean-spirtited chemicals into your body, as many of them do. I go with clear zinc oxide, Badger brand. Google the many "dangerous sunscreens" that can be hurtful in the long run.
The schools of roving cow-nosed ray – with much larger species intermingled – have begun showing up on surfcasters' hooks. They're sorta fun to catch but the novelty wears off quickly should a second or third one latch on -- and demand half an hour to bring in, followed by the need for a sting-wary unhooking.
I'll absolutely guarantee that Southern Ocean Medical Center (formerly SOCH) will treat a couple stingray victims. That's based both on the angling past and the increasingly large showing of rays. Note: No swimmer has ever been stung by one, just folks messing with them once the rays are hauled out of the ocean. In fact, saw a selfie today where an beach angler had the end of the tail confidently pinned down – and the uncontrolled sting part (near the body) loose and poised to strike.
I need some input on this but it sure seems Spanish mackerel are going a bit nutso this summer? I'm seeing bucketloads of them being caught, all small fish. There seems to be some interplay between the macs and small blues, though I'm betting that's simply a case of both similarly-sized predatory species going after the same forage. No love lost between macs and larger blues.
As to dining on Spanish mackerel, many folks go gaga over them but – and for a change -- I'm not overly wild about their somewhat strong taste. This is not to say they're not quite edible and even epicurean, just not my taste. Boston macs? Now there's a tasty dang mackerel! Never had a king mac.
CIRCLE THE WAGONS: I was asked if there are any easy outs when new striped bass regs arrive next year?
I have a surefire personal favorite: a circle hook requirement. I'll even momentarily play the nonsense card that tons of bass die after catch-and-release. Well, circle hooks should easily compensate for any overfishing caused by DOA releases. Ah, but notice how those proposing draconian cutbacks on taking larger bass balk at such a simple – and proven -- solution, even though circle hooks are documented life savers.
Below: Gotta love he Gamakatsu .. 
Face it, big bass will likely be out, at least to some conservational degree. The rationales behind that are borderline irrational but there's no fighting squadron of squeaky wheels, meaning those who want cow bass to be saved far more than a healthy maintenance of the overall bass fishery.
I'll repeat an upside: Bass stocks are actually so healthy that any conservational effort will instantly manifest in a veritable stock overrun. There might not be an immediate showing of cows but the biomass will become onerously large in nothing flat, mangling other struggling species in the process.
I'm hyping a better-late-than-never effort to manage fish from an ecosystem aspect, meaning all members of the marine biosystem will be equally important in rebalancing humanly damaged marine environments. Sorry, but mothering bass and fluke will loss face -- giving way to nurturing weakfish, tautog, black seabass and dozens upon dozens of other also-swams, right down to vital forage fish. Hell, even seahorse will be conserved if holistic ecosystem management comes about, as it must to compensate for current biosystem imbalances created by current management methods.
As important as stripers ... 
*******************************************
Very sadly, for me and many others, a road-kill fully banded peregrine falcon was recently found atop the Causeway Big Bridge(s) by Scott J. He removed the bird after stopping to see if it might still be alive.
Photo: Jim V. (exit63.files.wordpress.com) ...
It's easy to get vicariously attached to theses majestic raptors, especially with the ongoing info forwarded by those monitoring nests and such, especially Ben Wurst.
I contacted Ben about the DOA and he retrieved it from Scott.  "It's a juvie male. We fostered it at that nest a couple weeks ago. It's from AC. This is the second to die from vehicle traffic on the bridge this summer," said Ben.
That begs the obvious question of what peregrine-killing evil might lurk within the new spans. Ben made a great observation, pointing out something I had noticed during by recent photo sessions of the Causeway Project.
"One thing that has been taken away are good (safe) perching locations down away from the roadway on the new "string of pearls". There are bird spikes on all of them," he said, adding, "We're going to see what DOT can do about it."
Can't be sure where that NJDOT thing might go but even a non-expert like myself knows that the likes of peregrines are quite satisfied with just one or two top-notch perches. There's no need to remove the Causeway's extensive system of bird spikes.
As you likely guessed – and I'll play Mr. Obvious – the spikes are there to keep mainly gulls from, let's say, fouling the light poles, bridge railings, and such. Apparently gull crap is highly caustic – not to mention highly unsightly when dripped in volume. Removing spikes from a couple of the highest perches might make them susceptible to gull sittings but, should a raptor come along, no gull in its right mind will fight it for the best seat in the house. As to other raptors wanting the limited prime perch, that dominance thing naturally plays out all the time, thus it would help with a secondary almost-as-prime perch.
Here's a related tale of a peregrine lost to Causeway traffic. https://exit63.wordpress.com/2018/07/17/the-short-life-of-a-flower/
*************************************************************
***************************************************************
Went riding around this morning and came across this nice 25" trout on a mirrolure Purple Demon. 7/16/2019 www.fishfcc.com
*************************************************************
Congressmen Young and Van Drew Introduce Bipartisan Magnuson-Stevens Act Reauthorization
Representatives Don Young (R-AK) and Jeff Van Drew (D-NJ) introduced H.R. 3697, the Strengthening Fishing Communities and Increasing Flexibility in Fisheries Management Act. Today is exactly one year from the day of last action on the same bill in the 115th Congress which passed the House on July 11, 2018 and and was received in the Senate on July 12, 2018. That day, the bill was read twice before being referred to the Senate Committee on Commerce, Science, and Transportation.
The bipartisan legislation introduced today reauthorizes the Magnuson-Stevens Fishery and Conservation Management Act – landmark fisheries management and conservation legislation adopted in 1975. The Magnuson-Stevens Act (MSA) was last reauthorized in 2006.
"Alaska's seafood industry is one of the primary drivers of our state economy, and for over forty years, the Magnuson-Stevens Act has allowed our fishermen, processors, and coastal communities to thrive," said Congressman Young. 
"I am pleased to work across the aisle with Congressman Jeff Van Drew (D-NJ), industry leaders, and stakeholders in Alaska and throughout the country to update this important law. Future generations must have access to our ocean's renewable resources," Young said. 
"Fisheries have long been the lifeblood of the South Jersey economy and culture," said Congressman Van Drew.
"Our marine resources support the largest commercial and recreational fisheries in the Atlantic Coast, contributing more than $2.5 billion very year to our state's economy. The Strengthening Fishing Communities and Increasing Flexibility in Fisheries Management Act ensures that we have healthy fisheries, keep anglers in the water and keep fishermen fishing."
Several groups lauded both Congressmen as the bill was introduced, including the West Coast Seafood Processors Association, Southeastern Fisheries Association, the Garden State Seafood Association, the Recreational Fishing Alliance, and the Congressional Sportsmen's Foundation. 
"The fundamental goal of the Magnuson-Stevens Act is to balance stock productivity and economic prosperity," said Lori Steele, Executive Director of the West Coast Seafood Processors Association.
"WCSPA members believe both can be achieved through enacting the Strengthening Fishing Communities and Increasing Flexibility in Fisheries Management Act. Mr. Young's bill provides the councils much-needed flexibility to design management systems to better meet all of the standards set forth in the Act," she added.
"The NJ commercial fishing industry is grateful for the leadership and bipartisan efforts of Congressman Van Drew and for his commitment to productive fisheries and a prosperous industry achieved through quality science and sound management," said Wayne Reichle, President of Lund's Fisheries in Cape May.
"The Garden State Seafood Association has been advocating for MSA reform since 2009. We sincerely hope that Congressman Van Drew will receive the support he deserves from all of the national recreational and commercial fishing groups," said Greg DiDomenico, Executive Director of the Garden State Seafood Association.
The legislation tailors federal fishery management actions to give Regional Fishery Management Councils the proper tools and flexibility to manage their fisheries effectively. The bill specifically:
• Affords flexibility by allowing Councils to base fishery stock rebuilding time frames on science rather than the one-size-fits-all approach; 
• Increases transparency in science and management by allowing the public to play a greater role in the development of science and Fishery Management Plans; 
• Gives stakeholders a voice in the management process and requires the Secretary of Commerce to develop a plan for implementing cooperative research with fishermen and outside groups; and 
• Seeks to further improve the science and data on which Councils base their management, including key provisions relating to the collection of data from the recreational saltwater fishing industry. 
"Thanks to Congressman Young and Congressman Van Drew for their continued efforts to improve federal fisheries management," said Congressional Sportsmen's Foundation President Jeff Crane.
"There are several provisions in the bill that would benefit recreational anglers and build upon the Modern Fish Act that was signed into law last year, including the ability for annual catch limits (ACLs) to be based on a three-year average to account for natural population variability and amending Section 407 to provide the Gulf States with certification of state recreational harvest data programs."
This bill passed the House of Representatives in the 115th Congress on a vote of 222 yeas (with 9 Democrats supporting) and 193 nays (with 15 Republications opposing.) The bill, HR 200 with the same title in last year's Congress, was sponsored by Rep. Young and co-sponsored by nine Republicans from eight states and two Democrats, both from Texas. 
**********************************************
As we posted last September, an Environmental Police Officer (EPO) from DEM's Division of Law Enforcement (DLE) boarded a vessel associated with repeated hunting and fishing violations during a routine patrol in Point Judith. The front of the vessel appeared to be dipping low, as if there were considerable weight in the bow.
A common illegal practice is for Massachusetts commercial fishermen to fish the area around Block Island for striped bass under the guise that they are fishing recreationally and then transport them back to Massachusetts where they are sold. In an effort to curb this, a new regulation was adopted in 2015 that requires striped bass larger than 34 inches (the minimum commercial size) that are caught recreationally to have their right pectoral fin removed immediately. It is then illegal to sell or purchase a striped bass with a cut pectoral fin in both Rhode Island and Massachusetts.
The occupants of the vessel had stored their illegal catch in a hidden storage compartment in the bow. Once discovered, the EPOs seized 13 striped bass – 11 over the daily limit allowed with two persons aboard a vessel.
The seized bass were photographed and donated to the Amos House, the Providence-based social services agency that runs the state's largest soup kitchen. The estimated value of the fish, had they been sold, is around $2,000. In addition, 5 fishing poles that were used were seized as evidence. A plea agreement was entered on July 11th, with the owner of the vessel being fined $1,506.75.
Adhering to the rules is not only good for the health of our fisheries, it's the law. For sizes and possession limits, visit dem.ri.gov/marine.
A Fish Tag That Knows it's Been Eaten is Helping Endangered Atlantic Salmon
Copyright © 2019 CBC/Radio-Canada
By Paul Withers
July 16, 2019
New tracking devices inserted into Atlantic salmon reveal that up to 48 per cent of the critically endangered fish are being eaten while leaving Nova Scotia's Stewiacke River on their ocean migration.
The insight is the result of acoustic tags that can tell when a tagged fish has been eaten.
"It certainly is high, and it's somewhat higher than some work that was done by some colleagues of mine about 10 years ago using similar tags, but without the predation detecting capability," says David Hardie, a marine biologist with the Department of Fisheries and Oceans.
Each spring for the past three years Hardie has implanted 50 salmon smolts with predation tags before they run to the ocean.
The tag is equipped with a small dab of polymeric coating that, once eroded by the stomach acids of a predator, changes the signal emitted by the tag.
Receivers moored in the Stewiacke River and Minas Basin in the inner Bay of Fundy record a different acoustic signal from a digested and undigested tag.
Eaten on the Way to the Sea
"In the past two years between 38 and 48 per cent of the smolts that we tagged and released here at the head of tide at Stewiacke River Park were triggered as predated before they reached the mouth of the Shubenacadie River at Maitland," said Hardie.
A previous study has estimated between seven and 27 per cent of tagged salmon smolts in the Stewiacke were being eaten while leaving the river.
That was based on the behaviour of tagged smolts that suddenly started acting like striped bass, moving up and down the river with the tides during bass spawning in the spring.
The predation tags cost $600 each are manufactured by InnovaSea Systems of Bedford, N.S.
They were developed in collaboration with the chemistry department at Dalhousie University in Halifax, said Innovasea president Mark Jollymore.
"Like any new technology it requires a lot of research and development so it takes it takes effort and time to make it into a scalable, reliable commercialized product," Jollymore said.
It's now being used on several rivers in eastern North America.
Striped Bass the Main Predator
It's not clear whether the higher predation level in the Stewiacke River is the result of better tracking technology or the booming striped bass population.
The spring smolt run to the ocean coincides roughly with the arrival of spawning striped bass.
"Striped bass have been coexisting with salmon in the entire Bay of Fundy for a long time but striped bass are doing quite well in this river in particular, and it's a spawning site," said Hardie. "The smolts are running through the gauntlet of these striped bass."
This year, Hardie and team members inserted the tags 60 kilometres back from tidewater, and away from striped bass spawning, to try to give the smolts more time to recover from the tag insertion.
The fish are anesthetized for the surgical operation, which would be equivalent to a soda can being inserted into a person.
"Most of our smolts, over 80 per cent of them, made it here to the head of tide and we only had four or five so far confirmed that were predated in the freshwater reach. So that was somewhat encouraging."
Invasive chain pickerel have now infested one upper branch of the river.
Advanced genetic test used for first time on Stewiacke River
For the first time this year, the study is using a new genetic test that can tell whether the fish was vulnerable before it was eaten.
Dalhousie University grad student Daniela Notte took a tiny gill sample from each smolt as it was being tagged.
The Ribonucleic acid (RNA) test provides a snapshot of the physical condition of the smolt at the time and can detect a wide range of stressors from warm water temperatures to disease to trouble adapting to salt water.
Notte will analyze the results in the fall.
She wants to know if there are shared weaknesses among the eaten.
"We're looking for commonality between the smolt that have been predated versus the ones that have survived to reach the sea," she said.
"That can give us an idea of a possible river restoration or population management."
Trying to Solve a Mystery
One thing has not changed: Atlantic salmon remain in deep trouble in the inner Bay of Fundy rivers where they are wiped out or on the brink of extinction.
If it weren't for a federal fish hatchery, Atlantic salmon would have gone extinct years ago in the Stewiacke River.
Every year, tens of thousands of young salmon are released into the river as part of a Live Gene Bank program.
Many survive two, sometimes three, years to become smolts. That's when their bodies adapt to saltwater.
The problem is almost all, at least 99 per cent, die at sea.
No one is sure why.
Thanks to the live gene bank, researchers like Hardie still have Atlantic salmon they can study.
"We have what inner Bay of Fundy salmon should be like, that are representative of what we've been working so hard to conserve. So anything we can do to characterize how they do, or sadly in most cases don't, survive out at sea is helpful for the broader research."
Hardie hopes findings from this study can tell them where improvements in a river system can increase the odds of salmon survival.
What it Takes to Disentangle a Right Whale: Three Boats, Two Aircrafts and a Lot of Manpower
Copyright © 2019 Postmedia Breaking News
July 15, 2019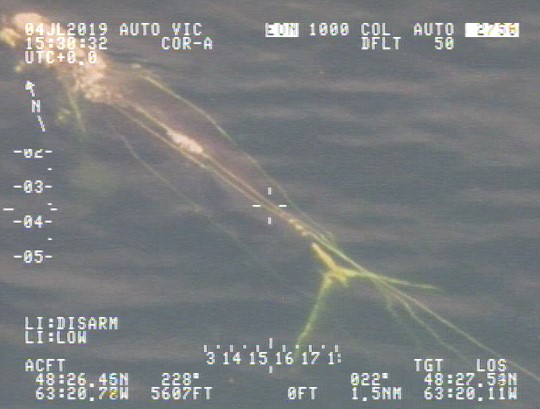 At 5:30 a.m. on Thursday, a boat left a wharf at Shippagan, N.B. It was a nine-foot boat named Scamper with five people on board, and it was searching for a right whale longer than it.
An aircraft was deployed from Moncton and located the whale 65 kilometres off the coast. The aircraft shared the whale's location with the boat crew. The five-year-old whale was tangled in fishing rope and trailing fishing gear. Scamper, operated by the Campobello Whale Rescue Team, had the job of disentangling the whale using poles, buoys and specialized knives - while the whale was swimming.
"It's like going to the dentist for a root canal, but while the dentist is doing it, you're running down the street," says Moira Brown, a scientist with the Canadian Whale Institute who was on land on Thursday.
The mission involved three boats, two aircrafts and seven institutions, Brown explains, including Canadian and American federal departments and researchers from Halifax and Boston. The Canadian Coast Guard spotted the whale on July 4 off the coast of New Brunswick, although it likely became entangled before entering Canadian waters.
The number of right whales today is approximately 400. They have been migrating north in recent summers from the Gulf of Maine to the Gulf of St. Lawrence due to warming water temperatures, and in recent weeks, six whales have died in Canadian waters. While necropsies show that three of the deaths were due to vessel strikes, fishing gear can also cause the whales to drown, and the task of disentangling them is dangerous and complex.
Aggravating the mission on Thursday, the whale was not tagged; it was not near the coast and weather the day before had prevented the team from going to sea. To locate the whale, known as right whale 4423, an aircraft from the United States National Oceanic and Atmospheric Administration deployed from Moncton. The aircraft was in the region to do research in the Gulf of St. Lawrence, and Scamper met up with the aircraft around 8 a.m.
Brown was not at the scene, but she describes how most disentanglement operations work. An aircraft shares aerial photos with the boat crew, showing where the lines are caught. The tail, fin and mouth are common catch points. The crew then consults biologists to plan the cutting process.
The boat should never be directly above the whale, so in most disentanglement operations, Brown says, the boat drives alongside the whale and throws a "control line." The line does not control the whale, but it has a buoy that pops out of the water when the whale is about to breach, warning the crew that it is near the surface.
"There's waves. You can't see the whale underwater. You've got to approach slowly," Brown says. "We usually try to start at the head and work our way toward the tail."
The team has poles with knives that they reach out to cut the fishing rope. They also throw cutting grapples attached to their own ropes, and the action of towing the rope through the water helps the grapple cut.
Transport Canada puts speed limit on ships after yet another right whale death around the Gulf of St. Lawrence( https://nationalpost.com/news/canada/transport-canada-implements-sp... )
Not one right whale has died this year thanks to govt. measures, say officials( https://nationalpost.com/news/bid-to-reduce-right-whale-deaths-has-... )
This type of operation can be fatal; in 2017, Joe Howlett, a volunteer with the Campobello Whale Rescue Team, died while disentangling a whale. The new boat is named Scamper because it was Howlett's nickname for his grandson.
"He's on all of our minds every day," Brown says of her late friend.
The boat was custom-built last winter in Dartmouth, N.S., by a company called Rosborough, with a grant from the Department of Fisheries and Oceans. It has a fibreglass hull and inflatable tubes on the sides. To name the boat, the Canadian Whale Institute created a contest for children on Campobello Island to submit suggestions, one of which came from Howlett's grandson.
Brown says some researchers are trying to find weaker rope for the fisheries to use so that ensnared whales could more easily break free. Transport Canada and Fisheries and Oceans Canada have increased surveillance and expanded slowdown zones for ships, but a federal study shows the measures are not sufficient to prevent the whales from being hurt or killed in the Atlantic.
The team managed to partially free the whale on Thursday, and weather prevented them from returning on Friday. Two other entangled right whales were recently observed in the Gulf of St. Lawrence, but disentanglement has not yet been possible.
"We are trying to save the species, basically one at a time," Brown says.