You gotta have an arriving mom with an amazing sense of humor to try this railway prank ...
+++++++++++++++++++++++++++++++++++++++++++++++++++++++++++++++++++...
Request: Original intent?
"Sure, just go up and pet them. They like humans."
Tuesday, January 30, 2018: A wet snow makes for a sightly lookabout. It also politely melts away in a flash.
It remains the winter of my discontent, weather-wise. On the other hand, it has vicariously helped my artwork, forcing me to at least begin works I might have put off until who-knows-when. I'll share in here when done.
The near future doesn't looks all that sunny and cozy. Lots of cold still in the system, so much so that we might see a couple more faucet-running nights coming up. Drat.
Further below, I'm including a segment on tomorrow morning's triple-rare eclipse of a blue/blood moon. However, unless you can soar above the cloud cover, the eclipse will likely be lost to us grounded types.
Forecast: Clouds and snow flurries. Nonetheless, the skies are lightening up a bit (3 p.m.) so I'll likely rise up at about 6:00 mañana, just to see if I can get a peak through the overcastness. If not, time for a little nap.
CHANNEL CHANGING: Double Creek channel has been dredged. I have (ongoing) calls in to see when aids to navigation will appear there-along – and along other channel areas that were part of the completed project. The state DOT is on it, I'm told.
Thinks are far more uncertain within the now-being-built Little Egg Inlet navigational channel.
I'm going a bit batty trying to find a map showing the exact proposed layout/positioning of the channel. Yes, it's going east-to-west and vice versa … but where? Did I mention exactly? Will it be closer to Little Beach or more toward Holgate? Inquiring minds want to know.
I'm guessing the inlet's North Cut will not be impacted, though who knows how the sands even remotely impacted by the new channel will react to what will be, essentially, a long void along the bottom. Both currents and sand seem to hate bottom voids.
To be sure, nobody – and I doubly mean nobody – knows how Little Egg Inlet will take to a channel being dug within it. I'll even play the stick in the bay mud by suggesting a few decent storms could make short order of the deeper water of the channel. At the same time, the channel will very likely offer safer passage than was there before the project.
As to whether or not the federal Aids to Navigation folks will find the new channel worth of its markers – the inlet having failed to pass muster prior to the dredging -- that still remains to be seen. Since the channel building is not a federal project, it isn't necessarily being done to federal marker-worthy standards, though odds are quite high that fed navigational aids will be placed. The state will surely do its part in marking of NJ waterways.
Release:
DEP LAUNCHES PROJECT TO REPAIR BEACHES ON LONG BEACH ISLAND USING MATERIALS DREDGED TO MAKE LITTLE EGG INLET CHANNEL SAFE
U.S. ARMY CORPS OF ENGINEERS ALSO LAUNCHES PROJECT USING MATERIAL DREDGED FROM NEARBY BRIGANTINE INLET TO REPAIR STORM-DAMAGED BEACHES
(18/P8) TRENTON - The Department of Environmental Protection's Division of Coastal Engineering has launched a major project utilizing sand dredged to create a safe boat channel for Little Egg Inlet to repair beaches and dunes on southern Long Beach Island that have sustained significant erosion from storms.
"This project is designed to have the multiple benefits of restoring beaches that are economically vital for shore tourism and storm protection while making it safe for boaters to again use Little Egg Inlet," said David Rosenblatt, DEP's Assistant Commissioner for Engineering and Construction. "We look forward to having the project completed in time for the next tourism and boating season."
Oak Brook, Ill.-based Great Lakes Dock and Dredge Co. on Jan. 18 launched the $18.4 million project that is utilizing sand from the southern portion of the inlet to repair beaches and dunes in Holgate and Beach Haven. The inlet is a major thoroughfare for recreational and commercial fishing boats between southern Long Beach Island and Brigantine. The project is funded by the DEP's Shore Protection program.
The DEP is also partnering with the U.S. Army Corps of Engineers and Brigantine to pump 755,000 cubic yards of sand from the much smaller Brigantine Inlet, south of Little Egg Inlet, to repair beaches and dunes in that city that were damaged by a nor'easter in January 2016. The project began Jan. 19. Brigantine Inlet is not a navigation channel but has accumulated large shoals that can be utilized as a "borrow" area to provide sand for beaches and dunes.
Cranford-based Weeks Marine is implementing this $10.6 million project for the Army Corps of Engineers, which is providing $9.8 million in funding. The project will repair beaches and dunes from north of 14th Street south to Roosevelt Avenue. The DEP and city are cost-sharing the balance.
The much larger Little Egg Inlet is one of the widest inlets in New Jersey, and is extremely dynamic with shoals constantly shifting with the seasons. It provides access to the Little Egg Harbor portion of Barnegat Bay and Great Bay.
The channel has never been dredged. Over the years, the Coast Guard would mark the safest natural channel through the inlet. In March 2017, the Coast Guard removed navigational buoys because shoaling was so severe that no safe channel could be marked.
The Little Egg Inlet project will clear a mile-long portion of the previously marked channel that is 24 feet below mean sea level, using this sand to restore beaches in Beach Haven and Holgate on Long Beach Island. The Dredge Texas is working in conjunction with two large booster pumps to pump sand onto beaches.
Sand replacement work began near Susan Avenue in Holgate and is working north toward Beach Haven. Work has progressed to the area near Jeffries Avenue in Beach Haven. Work in Beach Haven will take about two more weeks, depending on weather.
Upon completion of work in Beach Haven, the dredge will begin operations near Rosemma Avenue in the Holgate section of Long Beach Township and will work southward to the Forsythe National Wildlife Refuge border. Pumping in this section should take about three weeks.
Depending on weather, the expectation is that all work and demobilization will be completed by mid-March. In total, some 700,000 cubic yards of sand will be moved from the inlet to the beaches, with an option to move an additional 300,000 cubic yards if necessary.
Each of the municipalities will be re-establishing sand fences, crossovers, and dune grass once the contract work and demobilization is completed.
"I TELL YA, I SAW ONE!": Back in my waveriding days, I surfed with a fine fellow from Australia. Sitting in the water, I was mesmerized by his tales of a truly strange doglike creature that purportedly haunts Tasmania and the outback of Aussieland – even though it has been declared extinct.
He told me it was called a Tasmanian tiger, though it took at least a dozen repeats before I finally registered what the hell a "tie-ga" was.
Despite being mainly doglike -- the size of a moderately large canine – the creature gets the "tie-ga" moniker from well-marked stripes along it's back and hindquarters. It also has a long, thick tail that almost reaches the ground.
The animal definitely existed, somewhat recently, based on the last known photos, showing a pair of them in a Hobart zoo, circa 1930.
For a live look:
https://upload.wikimedia.org/wikipedia/commons/transcoded/8/80/Thyl...
I have kept up with the Tasmanian tiger, technically known as a thylacine (Thylacinus cynocephalus), the largest known carnivorous marsupial, going back to prehistoric times. But modern times are where the story of the Tasmanian tiger shines on.
Ask folks from "Tassie" (Tasmania, in Aussie-speak) and they'll swear up and down that it still exists. Who knows, maybe there are assorted degrees of extinction, i.e. extinct … but not to the hilt.
In recent years, there have been increasing reports of tigers being spotted in both Tasmania and even the Australian outback. Google "Tasmanian tiger" and read tons of news reports of sightings – some by priests … just sayin'.
Anyway, I have long longed for a Tasmanian tiger of my very own; by that I mean, a declared-extinct creature that, in ghostly fashion, still mysteriously flashes forth, imagination-like, before vaporishly vanishing into the thick bush. Just this week, my longings were met.
The U.S. Fish and Wildlife Service has officially declared the eastern cougar (Puma concolor couguar) to be dead, as in extinct. It has, therefore, been taken off the endangered species list. While you never want to be on the "endangered" list, you sure as hell don't want to be on … well, you can see where I'm going with that.
Here's a proud hunter displaying the last eastern cougar shot in the state of Vermont. Hmmm.
But back to my being given my very own neo-mystical, thought-extinct, vaporous creature. I'm on it like stripes on a Tasmanian tiger. "Here, kitty, kitty."
For the moment, I'll only touch on the fact that I'm among those who have seen a Jersey cougar – and not all that long ago, in extinction terms, i.e. 1970s. That sighting story is for another day. For now, I'm just hellbent on capturing photographic proof of an extant eastern cougar. Time to clean up my trail-cams. I'll keep you posted. Yes, I'm interested in vid-cam looks at one of the many eastern cougars we must surely still have hereabouts ... based on "I saw one!" reports.
+++++++++++++++++++++++++++++++++++++++++++++++++++++++++++++++++++++++++++++++++++++
Per www.accuweather.com: North America will be treated to a blue moon, supermoon and a lunar eclipse all at once during the early morning hours of Wednesday.
"These three lunar events separately are not uncommon, but it is rare for all three to occur at the same time," AccuWeather Meteorologist and Astronomy Blogger Brian Lada said.
Lada stated that the last time all three events lined up for North America was on March 31, 1866.
5:51 am
Wed, Jan 31
Penumbral Eclipse begins
The Earth's penumbra start touching the Moon's face.

6:48 am
Wed, Jan 31
Partial Eclipse begins
Partial moon eclipse starts - moon is getting red.
Moon close to horizon, so make sure you have free sight to West-northwest.

7:00 am
Wed, Jan 31
Maximal Eclipse visible in Atlantic City
The maximum part of the eclipse occurs when the Moon is close under the horizon. The best time to view the eclipse in Atlantic City would be around this time.
Since the Moon is near the horizon at this time, we recommend going to a high point or finding an unobstructed area with free sight to West-northwest for the best view of the eclipse.
++++++++++++++++++++++++++++++++++++++++++++++++++++++++++++++++++++++++++++++++++++++++
NEW FISHING SHOW! - I am more than amped to finally spread the word that after months of planning and shooting, Saltwater Underground with Nick Honachefsky is going to go live! I've been blessed to partner up with the dedicated team at TackleDirect, the world's premier fishing outfitter, where viewers will be able to watch the 8 to 12 minute episodes online, whenever, wherever they want via the TackleDirect website. Stay tuned for upcoming teaser reel, film shoots, swag to purchase and details about our launch party premiere on Saturday March 3rd! It's time for a fishing show that all walks of life can relate to, follow the new movement - Saltwater Underground.
SEAFOODNEWS.COM [Newsday] by Mark Harrington - January 29, 2018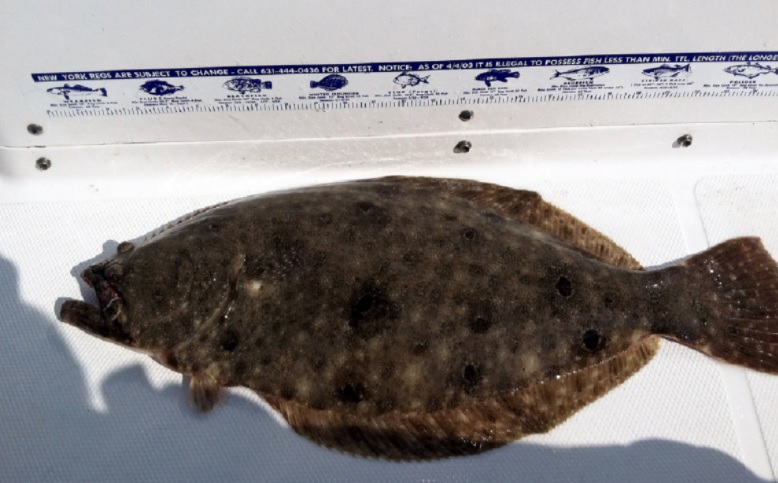 The first criminal trial of a Long Island fisherman charged in connection with a federal probe of a controversial fish-auction program is set to begin, but a report detailing fisheries enforcement abuses by the government has been barred from the trial.
Lawyers for Northport fisherman Thomas Kokell, charged in a multi-count indictment with overharvesting fluke, argued in pretrial motions that a 2010 federal inspector general's report detailing abuses and "overzealousness" by the National Marine Fisheries Service was vital to the defense.
The Environmental Crimes unit of the U.S. Department of Justice has reached plea agreements with seven Long Island and New York City fishermen and fish dealers in connection with the six-year probe.
Most have been charged with mail fraud, wire fraud, conspiracy and false reporting crimes. Five received prison time or home detention, including a 74-year-old Mattituck fisherman charged with taking $78,000 in illegal fish. Fines and restitution have ranged from $150,000 to $932,000 and most lost their fishing or dealer permits.
In November 2016, Kokell was charged with conspiracy, mail fraud and falsification of federal records in connection with the illegal harvest of more than $400,000 worth of fluke. He is the first to fight the charges in court. The trial is set to begin next month.
His lawyers have argued that Kokell's case should be handled as a civil, not criminal, case, citing findings from the inspector general's report and the federal Magnuson-Stevens Act, which governs the fisheries.
Kokell, who was fined $120,000 in a 2006 case involving overfishing, had been a vocal critic of the marine fisheries agency's enforcement and legal practices.
He and his wife appeared with Sen. Chuck Schumer (D-N.Y.) at a Port Washington dock to demand action against the fisheries agency, a unit of the National Oceanic and Atmospheric Administration.
++++++++++++++++++++++++++++++++++++++++++++++++++++++++++++++++++++++++++++++++++
Latest North Atlantic Right Whale Found Dead Was a Female of Breeding Age
SEAFOODNEWS.COM [CBC News] By Bobbi-Jean MacKinnon - January 30, 2018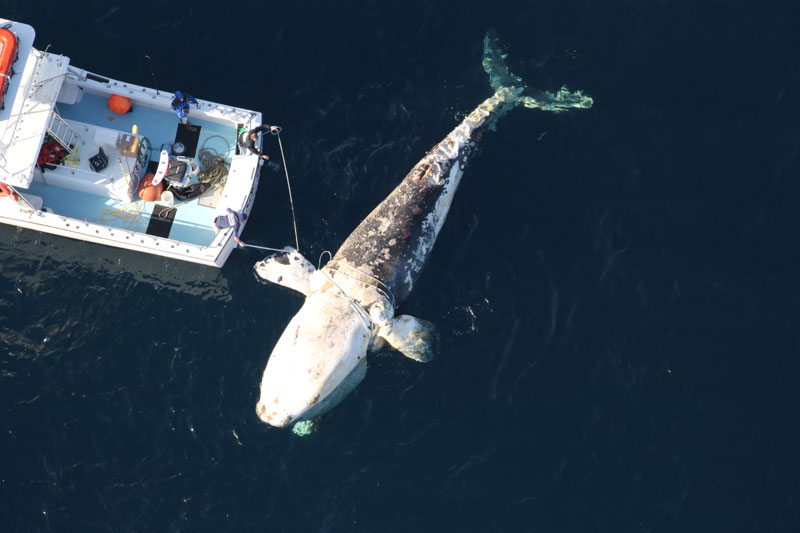 Carcass identified as a 10-year-old last seen in Gulf of St. Lawrence in July, says U.S. agency
The dead North Atlantic right whale found off the coast of Virginia last week was a female of reproducing age last seen in the Gulf of St. Lawrence last summer, say U.S. fisheries officials.
"Preliminary observations suggest that the whale died due to the entanglement," the National Oceanic and Atmospheric Administration (NOAA Fisheries) said in a statement.
The entanglement was "chronic," spokeswoman Jennifer Goebel said in an email to CBC News.
NOAA's law enforcement office is investigating the latest death and scientists are analyzing samples collected during a necropsy performed on Sunday.
The necropsy results could take several weeks to months.
"After a devastating number of mortalities in 2017, the already critically endangered North Atlantic right whale is in crisis," the statement said.
"NOAA scientists, resource managers, and partners are co-ordinating closely to solve this urgent conservation challenge."
There are only an estimated 450 North Atlantic right whales left in the world. Of those, only about 100 are reproducing females.
At least 17 North Atlantic right whales were found dead last year — 12 in Canadian waters and five in U.S. waters. Scientists believe human activity, including shipping and fishing, was the primary cause.
The latest dead whale — the first confirmed death of the year — has been identified as #3893, a 10-year-old female last seen in the Gulf of St. Lawrence on July 29, 2017, said NOAA.
At that time, she was gear-free, the U.S. agency said.
The normal life expectancy of North Atlantic right whales is about 70 years.
"We are of course always sad to lose any right whale, but especially so when it's a female of breeding age, as this one was," said Goebel.
Ten years old is when females typically start to breed, she said.
"With about 100 breeding females in the population, every one is important to the survival of the species."
The 39-foot carcass, reported on Jan. 22 and located by officials on Jan. 26, was in a "moderate" state of decomposition, said NOAA.
"The whale appears to have been wrapped in line in a manner that, based on past observations of entanglements, suggests the whale was alive and swimming when it encountered the line," the statement said.
The lines were removed from the whale for analysis.
"Until we get necropsy results, we won't have more details to share about cause of death," said Goebel.
Four live North Atlantic right whales were spotted in the same general area last week. NOAA is asking mariners travelling 86 nautical miles east-southeast of Virginia Beach to slow down to 10 knots or less or to route around. The voluntary slow-speed zone remains in effect until Feb. 7.
Fisheries and Oceans Canada Minister Dominic LeBlanc announced last week four changes to the snow crab fishery in the southern Gulf of St. Lawrence to protect North Atlantic right whales from entanglement.
The changes, which took effect immediately, include reducing the number of fishing rope floating on the surface and mandatory reporting of all lost gear, as well as using colour-coded rope and sequentially numbered buoys to identify the gear's place of origin.
LeBlanc has also instructed the Canadian Coast Guard to come up with a plan to use ice-breakers to help start the snow crab fishing season earlier than the usual mid-April, in a bid to get the gear out of the water earlier and out of the whales' way sooner.
In addition, Transport Canada will "most likely" impose speed restrictions for vessels again this year, when the whales return to the gulf, LeBlanc has said.​
+++++++++++++++++++++++++++++++++++++++++++++++++++++++++++++++++++++++++++++++++++++++++++++
High Mortality of Right Whales Represents Threat to Crab and Lobster Fisheries
SEAFOODNEWS.COM by John Sackton – January 29, 2018
Out of a population estimated to be around 450 North Atlantic right whales, with only 100 being breeding females. 17 whales have been killed in 2017, according to NOAA. 12 were killed in Canada, and 5 in the U.S. This has prompted NOAA to declare an unusual mortality event for Right whales, the first since 1996.
Another whale was found dead off the coast of Virginia this past week, the first right whale death in 2018.
Scientists say that without further mitigation of these mortalities, the population could be extinct by 2040.
The two primary causes of mortality are ship strikes and entanglement in fishing gear.
Of seven dead Canadian whales where necropsies were performed, three appeared to have died from entanglements with fishing gear, and four from ship strikes.
Most of these whales were killed in the Western Gulf of St. Lawrence.
The Canadian report stated that recent analyses on the effects of snow crab gear entanglement in North Atlantic right whales demonstrate that the extreme weight of snow crab gear inflicts debilitating drag forces upon even healthy individuals. Over time, the whales become weakened and they can drown.
In addition to the identified whales, there were five additional incidents of whale entanglement in the Gulf of St. Lawrence, of which three resulted in the whales being freed.
According to studies 82.9% of North Atlantic right whales have been entangled at least once in their life and, on average, 25.9% of adequately photographed animals acquired new wounds or scars each year.
NOAA's response has been to require reduction in ship speed to 10 knots during certain times of the year, and to monitor ship traffic for violations when notices are posted about right whales.
However, the right whale is an iconic whale and supports New England tourism and whale watching. If the public gets the impression that the problem of whale mortality is not being adequately addressed, there is the possibility that advocacy groups will turn on the fishing industry, specifically lobster and crab harvesters, demanding changes to end whale entanglements.
Earlier this month, three environmental groups sued NOAA for failure to act to prevent right whale deaths.
In 2015, NOAA finalized a rule for lobster traps, requiring all traps being fished outside of an exemption zone along the coast of Maine to have multiple traps per buoy. The idea is to minimize the amount of vertical lines in the water. The exemption zone covers about 70% of Maine's coastal waters. This follows a rule in 2007 that required the use of sinking lines between lobster pots.
In Canada, new rules for this season will require less floating rope on the surface, a possible reduction in the number of crab traps, and potentially an earlier start to the season.
The regulations also minimize the length of rope between traps, and require weights on the buoy rope to keep it vertical.
Conservation protection officers will be inspecting gear "rigorously" on wharves and at sea before and during the season, said Canadian Fisheries Minister Dominic LeBlanc.
"We're expecting 100 per cent compliance," he said, pointing out some of the new measures were suggested by the industry itself.
"They have shown an enormous desire to collaborate with us," said LeBlanc. "So I don't imagine there will be much tolerance from the fishing industry for members … who choose not to respect these conditions."
If these mitigation efforts are not successful and 2018 is another year of high mortalities, the fishing industries in both countries will be called to undertake further measures.
Study Shows Omega-3 From Marine Sources 8 Times More Effective in Fighting Cancer Than Plant Based
SEAFOODNEWS.COM [University of Guelph] - January 29, 2018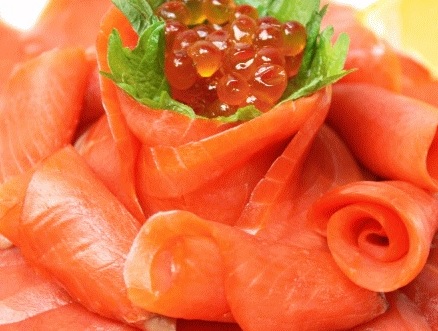 Omega-3s from fish pack a stronger punch than flaxseed and other oils when it comes to cancer prevention, according to a first-ever University of Guelph study.
Prof. David Ma has discovered that marine-based omega-3s are eight times more effective at inhibiting tumour development and growth.
"This study is the first to compare the cancer-fighting potency of plant- versus marine-derived omega-3s on breast tumour development," said the professor in the Department of Human Health and Nutritional Sciences. "There is evidence that both omega-3s from plants and marine sources are protective against cancer and we wanted to determine which form is more effective."
There are three types of omega-3 fatty acids: a-linolenic acid (ALA), eicosapentaenoic acid (EPA) and docosahexaenoic acid (DHA). ALA is plant-based and found in such edible seeds as flaxseed and in oils, such as soy, canola and hemp oil. EPA and DHA are found in marine life, such as fish, algae and phytoplankton.
Published in the Journal of Nutritional Biochemistry, the study involved feeding the different types of omega-3s to mice with a highly aggressive form of human breast cancer called HER-2. HER-2 affects 25per cent of women and has a poor prognosis.
Ma exposed the mice to either the plant-based or the marine-based omega-3s, beginning in utero.
"The mice were exposed to the different omega-3s even before tumours developed, which allowed us to compare how effective the fatty acids are at prevention," said Ma. "It's known that EPA and DHA can inhibit breast tumour growth, but no one has looked directly at how effective these omega-3s are compared to ALA."
Ma found overall exposure to marine-based omega-3s reduced the size of the tumours by 60 to 70 per cent and the number of tumours by 30 per cent.
However, higher doses of the plant-based fatty acid were required to deliver the same impact as the marine-based omega-3s.
Omega-3s prevent and fight cancer by turning on genes associated with the immune system and blocking tumour growth pathways, said Ma.
"It seems EPA and DHA are more effective at this. In North America, we don't get enough omega-3s from seafood, so there lies an opportunity to improve our diet and help prevent the risk of breast cancer."
Based on the doses given in the study, Ma said humans should consume two to three servings of fish a week to have the same effect.
Besides certain foods containing EPA and DHA, supplements and functional foods, such as omega-3 eggs or DHA milk, can offer similar cancer prevention effects, he added.
The next step is to investigate the effects of omega-3s on other forms of breast cancer.
"Seeing the significant benefits omega-3s can have in combating a highly aggressive form of breast cancer means omega-3s will likely be beneficial for other types of cancer."