Two-part harmony ... "Like a bridge over troubled waters ..." 
While life also begins ... 
Below: By Jason Lock on 17th August 2021
Tuesday, August 17, 2021: It can't possibly be back-to-college time. I haven't even bought my new beanie. There's a ruinous side to college students going back to classes, namely, a catastrophic thinning of an already thin labor force. Some restaurants could be forced to close in September. 
Though I once again missed summer, per se, I'll soon be getting my LBT buggy pass for 2021. Here's hoping my amazing Chevy Silverado can drag its 135,000-mile body through another demanding beach driving season, beginning on or about Sept 1, when the Forsythe Refuge removes summer beach fencing. Even then, it is unlawful to walk on the posted vegetated areas of that Wilderness Area, except down at the clam walk-over trail. As is always the case, dogs are forbidden on the beach adjacent to the refuge. 
Down below, you'll see a typical summer alert about boating and whales. However, I have it on very good authority that special effort will be made by enforcement folks to make moves on an vessel that gets too up close and personal with whales or even dolphins.
Why so?  
Along with the need to keep an ever-growing number of boat enthusiasts from harassing marine mammals, there has been a load of hullabaloo over the deadly meetups of boats and right whales, termed "conflicts." Enforcement is responding to public demands.  
Sticking with the enforcement theme, our state conservation officers (COs) have been all eyes around Barnegat Bay. This is well received by most of us, especially in regard to the poaching of illegal fish, be it size or bag limit offences. Illegal clamming remains in the crosshairs – and should be.  
Note well: All whales in U.S. waters are protected by the Marine Mammal Protection Act, which makes it illegal for people to harm, injure, kill, chase, or harass whales or any other marine mammal. Harassment includes any activity that results in changes to the whales' natural behaviors, such as feeding. Violating the Marine Mammal Protection Act can result in fines up to $20,000 and up to one year in prison.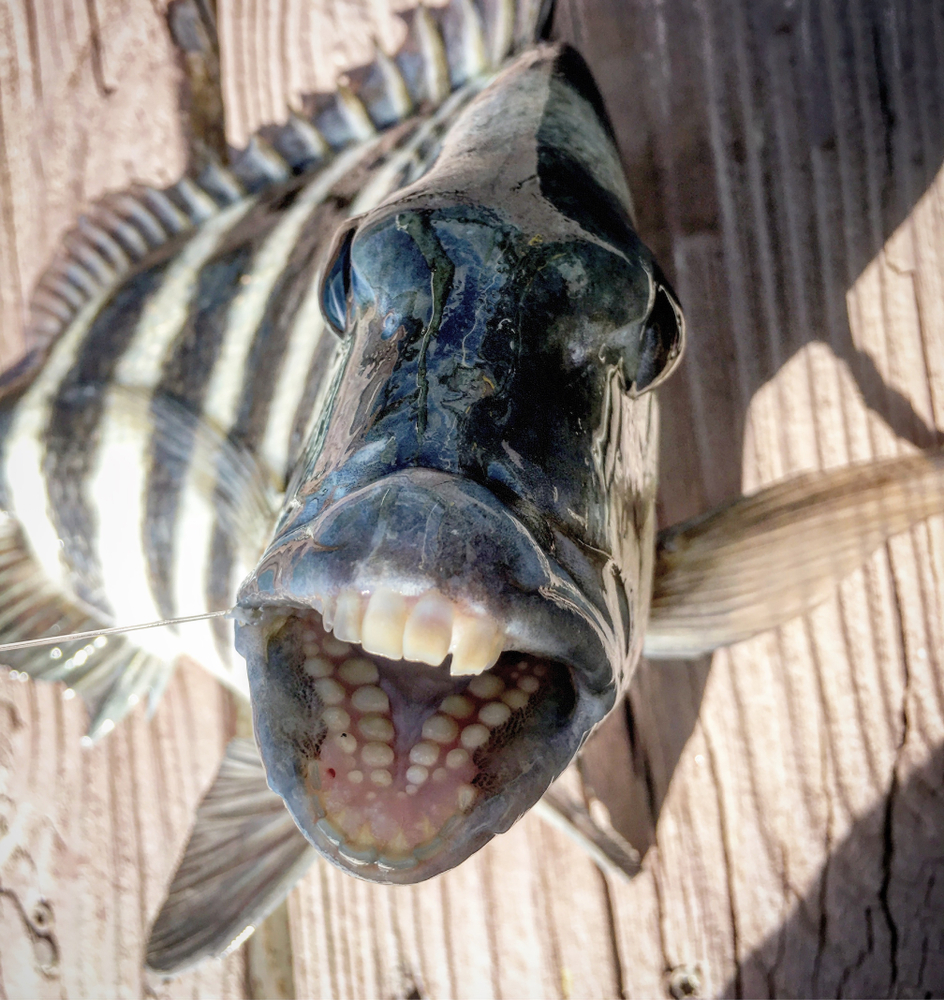 I always like sharing tales of the take, such is the case with a fine black drum caught by Sloane Endick. She is on a mission to nab a sheepshead. In fact, I'll let her tell you about it:
"I'm a Manahawkin local, and consider myself a regular up at the jetty...you can find me up there just about every weekend and occasionally after work. Been on a Sheepshead mission for a few years now, but have yet to succeed.  
"Saturday night I gathered a bucket full of local Asian Crabs at low tide, and set out Sunday morning to hit the rocks once again in hopes to complete my mission. The conditions were not favorable whatsoever. Hard NE wind, and I was absolutely drenched head to toe from getting pelted by waves all morning coming over the rocks. 
"After a few small Tog, I hooked into something that got my blood pumping and I thought to myself, this is it. My drag started to scream and this fish took some wild runs all around the rocks coming in, and racing back out multiple times. I was shaking, hyperventilating, and trying to stay as calm as possible. As he got close I saw some lighter-colored stripes in the water but knew it wasn't my Sheep...instead my First Black Drum! Not what I was initially hoping for, but I was pleasantly surprised and beyond excited to have landed him, especially from the rocks. He was safely released to fight another day and nonetheless, my Sheep mission continues on... 
Added: "The day I got my Drum, 2 Sheep were caught from the rocks that I saw. Just gotta keep putting my time in, and hopefully can make it happen. Yes, I've heard of some monsters caught in our bay, they love all that structure. It'd be ideal to bounce from piling to piling in a small boat or kayak. I'll have to do that one day."
I got back to her, writing,
"I'm a sheepshead aficionado, though more on the observational side than the angling, watching them when diving. 
While it is far easier to see the sheepsheads swimming the Barnegat jetty rocks than hooking them, they are there, though not showing all that well this year. They are showing decently out on the reefs, though even there they aren't aggressive biters. 
Where they can be caught with some regularity is in Manahawkin Bay near the Causeway bridges. A small group of regulars have nabbed some jumbos this summer -- all from boats. 
I used to dive along the Causeway bridge pilons back in the day. A couple summers those structures were loaded with sheepsheads -- dozens and dozens -- as large as they come, anywhere. Have not been there since the Causeway rebuild. 
Get this: The NJ state record for sheepshead is 19-3, while in Florida -- thought of as sheepshead central -- the largest ever caught was a mere 15-2.  
NJ's state record was only one ounce off the world mark set in Louisiana. 
By the by, our sheepshead are different than the California variety. Also, they do not go back to Florida come winter. They only move a bit south than out to sea."
I'm putting in this water chart to kindly note areas (lime green) near LBI that cannot be clammed in the summer. I've recently seen folks in Island lagoons and off bayside street ends picking hard clams. That's not only prohibited but is an invite to catastrophic gastric distress if those clams are eaten raw; not so much if well cooked.  
RUNDOWN: Two hot bites remain in play for those of a panfishing persuasion. My favored surf zone has begun offering a tempting selection of species. Dedicated surfcasters are besting blowfish, fluke, porgies (oddly), (a small) red drum, black drum, spot, Spanish macks, skates, dogfish, and kingfish – possible in one bloodworming session. Nabbing all in just one sitting? I await your photo evidence – taken before releasing.
As to how to target suds-side panfish, it gets no easier. Use light to medium surfcasting equipment, even plugging gear works. Get you a pompano or kingfish rig; floats optional. Go as lightly leaded as waves and currents will allow. Obviously, this type fishing is for calmish sea days. If splurging for real live bloodies, all that is needed are smaller pieces, though frequent hook checks are needed to monitor crab takes.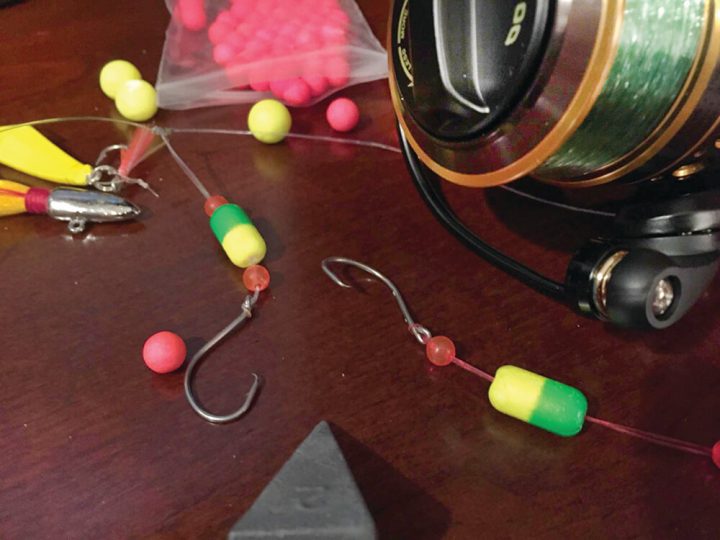 As to the other bite, bayside blowfish continue to wax gonzo. I'll daringly be a tad more site-specific by suggesting going far west on Oyster and Double creeks.
Also, some south end bayside bulkheads are starting to offer typical late-season array of small stuff. Great fishing for kids. Again, know your size and bag limits.
I saw a couple pics of bayside kingfish and they're impressive. I hope not to jinx it, but the fall run of these top-taste panfish could be a return to old days when kingfish were as vital a fall fish as any other species, per my dad. And could my mom ever fry them up! By the by, the 2021 LBI Surf Fishing Classic will again have kingfish as a major player in prizes and prestige.
The Spanish mackerel bite has been going off, though seldom with any predictability. This is another fish of high dining pleasure, though it was once thought of as a junkfish. I probably shouldn't mention this, but when chunked these macks makes a fine bait for bass and blues -- and a super chum for big game.  
There are one-pound bluefish showing in cloud blitz numbers, mainly Barnegat Inlet area with some craziness overflowing onto the nearby BL shoreline. Some of the surface bluefish action harkens back to old days. I see bluefish jerky in my September future. Make sure to check out "SUMMER BLUEFISH MAYHEM!" a video produced by Dillon L. Fishing. See youtube.com/watch?v=-FPiJYae7TY, or, YouTube the title, "SUMMER BLUEFISH MAYHEM." If that doesn't get your angling juices gushing you need an excitement transfusion.  
Outtakes ... 
((((((((((((((((((((((((((((((((((((((((((((((((()))))))))))))))))))))))))))))))))))))))))))))))
AS I SEE IT ... LOOKABOUTS ON LBI ... 
Tuna Fishermen and Boaters Advised to Watch Out for Whales
NOAA Fisheries reminds all fishermen and boaters to keep a safe distance from whales. Whales can get hooked in tuna rigs or tangled in monofilament line. We recommend boaters keep a distance of at least 100 to 300 feet from all whales (and at least 500 yards from endangered North Atlantic right whales, as required by federal law).
Recently, we have received an increasing number of reports of tuna fishermen trolling their gear too close to humpback whales. This can result in injuries to both the whales and the people.
Humpbacks create bubble clouds to corral their prey and then lunge through the center to swallow the small fish. Fishermen or boaters in these bubble patches run the risk of colliding with a massive 79,000-pound humpback whale as it rapidly approaches the surface. When a whale collides with a vessel, it can be gravely injured and die from its injuries. Collisions with whales have also thrown boaters from vessels, causing injuries and even death. 
In addition to the potential risk of a collision, the close proximity of a boat may cause a whale to stop feeding. 
East Coast Fish Councils Prepare for Climate Change
Copyright © 2021 Gloucester Daily Times / Community Newspaper Holdings, Inc.
By Sean Horgan
August 16, 2021
The New England Fishery Management Council is joining other East Coast marine management councils to plan for a future marked by the continuing detrimental impacts of climate change.
The project, called East Coast Climate Change Scenario Planning, is a response to the accelerating and debilitating impacts on fish stocks and marine habitats caused by the effects of climate change.
"No one knows for sure what the future holds, but a continuation or acceleration of climate change has the potential to strain our existing fishery management system and alter the way fishermen, scientists, and the public interact with the marine environment," the NFMC stated. "Scenario planning is a way of exploring how fishery management may need to evolve over the next few decades as climate change becomes a bigger issue."
The other organizations participating in the initiative are the Mid-Atlantic Fishery Management Council, the Atlantic States Marine Fisheries Commission, NOAA Fisheries' Gloucester-based Greater Atlantic Regional Fisheries Office, the Northeast Fisheries Science Center and the South Atlantic Fishery Management Council.
The Northeast Regional Coordinating Council, which consists of leadership from the MAFMC, NEFMC, ASMFC, GARFO, and NEFSC, will be the primary decision-making body for the initiative, with the addition of South Atlantic representatives.
"Over the next year, scenario planning organizations, guided by the Northeast Region Coordinating Council, will be bringing together fishery participants, fishery managers, researchers, and other stakeholders to discuss climate change issues," the council stated. "The intent is to emerge with ideas and recommendations for how fishery management can adapt to climate change."
The council stressed that the initiative is part of the long game to prepare fishery managers for all eventualities and possibilities.
"Nothing will happen immediately," the council stated. "Managers will need to discuss the recommendations from the scenario planning project and figure out next steps. This initiative is an exercise in preparing for the future under a variety of 'what if?' scenarios."
A seven-member core team of representatives from various fishery management organizations, formed in the first quarter of 2021, will be the primary technical group responsible for research, planning, coordination and the compilation of materials.
The NEFMC representative is Deidre Boelke, the council's lead fishery analyst for Atlantic herring.
The core team also will spearhead the project's solicitation of public opinion from fishing stakeholders, starting with three 90-minute webinars that will provide details on the overall project.
The webinars are set for Aug. 30 from 4 to 5:30 p.m., Sept. 1 from 6 to 7:30 p.m., and Sept. 2 from 10 to 11:30 a.m.
Advanced registration is recommended and can be completed at https://midatlanticfisheriesmc.webex.com/.
Oystermen Overcome Pollution, Pandemic to Thrive in LI Sound
Copyright © 2021 The Associated Press
By Pat Eaton-Robb
August 16, 2021
Norm Bloom enjoys watching his 5-year-old grandson, Jack, out on one of their oyster boats dressed in his little waders, helping the crew as they pull in dredge cages full of the shellfish from the bottom of Norwalk Harbor.
"He'd be out there on deck all day every day if he could," Bloom said, during a recent harvesting trip with his son, Jimmy. "Or maybe it will be Jack's little sister Grace; she loves to get dirty. She might end up being the next oysterman in the family."
Whatever the case, Norm and Jimmy Bloom are confident that Copps Island Oysters, the family's 12,000 acre (4,856 hectare) oyster farming business that has been in Norwalk since the 1940s, will have a next generation.
That wasn't always clear. Connecticut's oyster industry is once again thriving, about 25 years after it almost disappeared, decimated by MSX, a parasitic disease that attacks oysters. Government and private efforts to clean up Long Island Sound, develop disease-resistant shellfish and find new markets have helped aquaculture become a $30 million a year business in Connecticut, with oysters accounting for about half of that, state agriculture officials said.
"We're the Napa Valley of oysters," Gov. Ned Lamont said last month, while signing a bill that will give tax breaks to the industry, treating oystermen much like farmers on land.
There are aquaculture farms up and down the Connecticut shoreline, where ideal habitats exist, especially at the mouths of rivers where the fresh water spills into Long Island Sound.
They are all helped by the state of Connecticut, which maintains more than 17,500 acres (7,081 hectares) of natural shellfish beds. Oystermen get permits to work those public beds, harvesting seed oysters to transplant to their own grounds. It's a system that helps keeps the industry going, even in bad years, agriculture officials said.
And there have been bad years, when parasites have killed oysters. Large storms like Sandy and Irene have overwhelmed sewage systems, polluting the harbors while churning up shellfish beds and burying them under silt, where the oysters suffocate and die.
Over the past three decades, the state has been working with municipalities, industry experts, local harbor management and shellfish commissions and environmental groups such as Harbor Watch to monitor and improve the water quality of the Sound, the rivers that flow into it and their estuaries.
Dick Harris, who founded Harbor Watch, monitors the water quality in seven harbors for Bloom's company. He said frequent testing and subsequent investigations have led to the closure of numerous illegal connections to storm drains, where companies had been dumping raw sewage into the water.
That has meant cleaner water and far fewer days that oystermen have had to suspend operations because of high bacteria counts.
"When I first started this thing, Norwalk Harbor was a disaster," Harris said. "Low oxygen levels, multiple fish kills every year because of the lack of oxygen, extremely high bacteria counts. Today' we're in a position where the counts in the outer reaches of the harbor on a normal day are zero."
But the industry continues to face threats, from old sewage infrastructure to climate change.
Tessa Getchis, an aquaculture specialist with Connecticut Sea Grant, a University of Connecticut-based program that supports the aquaculture in Long Island Sound, said the biggest concern she hears from oystermen is the increase in frequency of extreme storms and the associated closing of shellfish harvest areas because of runoff and contamination.
"Even a moderate storm can wreak havoc on businesses," she said. "Not only can there be extended harvest area closures, but in many cases, boats and equipment may need to be temporarily relocated to avoid impacts."
But modern farming techniques are helping with that, she said. The Blooms, for example, are building an oyster hatchery in New Haven, which will help make sure their farm always has a steady supply of seed shellfish.
Last year, when restaurants closed due to the coronavirus pandemic , the oyster market dried up. But some companies were able to adapt. At Indian River Shellfish, a small oyster company on the Madison-Clinton line, owners Mike Gilman and George Harris opened a fish stand so they could sell directly to customers, helping to make up lost revenue.
UConn's Sea Grant also helped keep oystermen afloat by hiring them to rehabilitate the state's natural beds. They would find oyster shells that had been buried in silt and mud and relocate them to areas where oyster larvae could attach to them and begin growing.
More than 1,800 acres of those beds were rehabilitated in 2020, officials said.
Gilman is pushing the state to do more to help small operations such as his. This year's aquaculture legislation included funding for a shellfish council and money for marketing.
"I'd like to the state establish an oyster trail, like the wine trail they already have," Gilman said. "That way people can go up and down the coast from place to place, sampling all the different oysters we have. Then we'd really be the Napa Valley of oysters."