While somewhere in Stayathomeville ...  
This is one "other usage" notification the Duck Tape Company would rather not have gotten ... 
Tuesday, April 28, 2020: Trying to offer fishing report nowadays find me stuck between rock and a heavy metal place. That would be great if this was a music blog, i.e. bring on Frog Eyes (NFE … not for everyone.)  However, the overabundant bans on beach going, boating and park visiting, have made many a catch unreportable, without my possibly tipping off the man. Just my going whole hog on hyping some quite decent surfside and bayside bassing can easily be misread as my wantonly encouraging visitors – which I do! Nonetheless, I have to live with those who think dead opposite when it comes to being visitor friendly right about now. This Island is still a mighty small place in the off-season.
Less threatening, reporting-wise, is one of the better runs of black drumfish in many years. It's obviously barely being tapped. While boaters are tiding away frozen fillets, bayside bank anglers are also nabbing our other striped species. "Never caught one here before but have (caught) three in three days," was an emailed report from (vaguely, please) Tuckerton Bay.
Of ecosystem import, a couple of the edible-ized black drum have been loaded to bulkiness with all sorts of small crabs, from blue claws to (unwanted) greens to ladies to Jonahs and rocks. I guess that might bode well for the overall health of the bay.
Going a few weeks back, I had noted the somewhat early arrival of fluke. They're really coming on strong. Along with a photo of a by-caught doormat that I'm using in my weekly column, other big-ass flatties have been going after artificials meant for bass or blues. The season is closed. Here's the reopening rundown.
I will persist with my researched belief that there is absolutely no shortage of summer flounder … period. Whether or not we'll have a shortage of summer flounder fishermen when the season arrives remains to be seen. I'm stumping heavily to get charters and headboats out there in full force – and fully fared.
Got out this morning for what looks like the last tog trip for this season. Ran out to 60' determined not to keep any females after the two females I kept Saturday where loaded with eggs. Not a drop and reel bite the bite was scratchy. Did manage 3 males. Nothing big and released some bigger females to 5 pounds all loaded with eggs. So I'm wondering why the powers to be do not keep blackfish season closed until they spawn and open it up after they spawn? Not sure when they spawn but I would think it would be soon by the size of their belly's.
GIVE RIGHT: I recently went on a soul-elevating mission to donate most of my federal recovery check to good causes. I think I did great by sticking to causes where the money truly went toward, well, goodness. Always go big with Danny's group. At the same time – and with the help of folks knowledgeable in charities – I was schooled on how many scams are not only out there but thrive … for decades. I won't mention names but having only 10 percent of a donation go to the actual often heart-wrenching cause is deplorable. One famed group blames office costs and the overall overhead of running the organization. Oh, blow it our your nonprofit you-know-what. Fire everybody, including your seven-figure head and start all over!
Anyway, I was readily warned of instant COVID-related scams. Now, I'm sure there are some sincere ones but if you're going the C-19 route, do plenty of homework. Going online helps. In this day and age, it doesn't take long for social media to ferret where the scams reside.
Again, I feel I managed to give my donations to truly good groups simply by doing what amounted to minimal background checks. If you feel like giving … do it! Just use a load of emptor.
Here's a segment from my weekly, since it is ripe for herein: 
MID-ISLAND TWEAKING: The Ship Bottom surfcasting news is good, bad and ugly. The good is quite so, as surfcasting is now allowed from 6 p.m. to 10 a.m. The bad: It's permission-by-placard only. The ugly is the way many longtime/lifelong casters from the mainland are now forbidden to tred the sands they have so long loved.
I'll be passively protesting that last point by boycotting the beach, even though I'm jonsing to toss plugs from my hometown street end. My boycott does not mean I'm not highly appreciative of the soft reopening offered by our fishing buddy Porky (mayor) and other town leaders. I simply cannot, in good consciousness, freely fish while so many of my people aren't free to do same. Let my people go … or is it let my people come? Whatever. I nonetheless encourage placard-tottin' types to take advantage of the redacted opening to the seafront.  
Admittedly, I'm not nearly the sign-rattling protester I was back in the day. Hell, I never missed a "Burn the Bra!" protest. My dedication had no bounds. All too true: I was at a "Ban the Bra" rally and was asked on live TV why I was marching. Without hesitating -- or thinking -- I told the female reporter, "I'm here to offer them support." There was a pregnant pause before the newscaster and I both cracked up so badly they had to send the broadcast back to the station. I quit doing those anti-bra rallies when interest started to sag … Oh, s***, there I go again. Commercial break!
2020 SUMMER FLOUNDER REGULATIONS

WATER

SIZE

DAILY LIMIT

SEASON DATES

NJ Coastal Waters

18-inch minimum

3

May 22 through September 19

Delaware Bay and Tributaries

17-inch minimum

3

May 22 through September 19

Island Beach State Park

 

(shore fishing only)

16-inch minimum

2

May 22 through September 19
Is it just me or can this slogan easily be taken the wrong way. Asking for someone.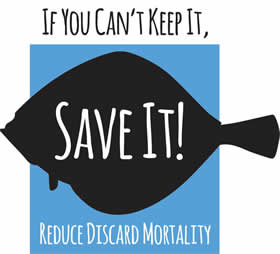 2020 SUMMER FLOUNDER REGULATIONS

WATER

SIZE

DAILY LIMIT

SEASON DATES

NJ Coastal Waters

18-inch minimum

3

May 22 through September 19

Delaware Bay and Tributaries

17-inch minimum

3

May 22 through September 19

Island Beach State Park

 

(shore fishing only)

16-inch minimum

2

May 22 through September 19
WEIRD SHARE (SURFING-STYLE): Last weekend, while metal detecting, I dug an ancient quarter-sized, hand-engraved button, dating back to at least America's Federal Period (1790 to 1830) -- if not the Colonial Period (1607–1776). I had found coins at the same place dating back to 1755 (British). As I cleaned the gorgeous relic, I was a goodly bit stunned to see, carved into the lower right side, what surely looks to be a surfer totally shredding.
Jay..
Avid reader of yours since forever... and not because I am a fisherman... always enjoyed your "philosophies" on everything in general..
Anyway... I write to you now as  you are what I would consider the premier wildlife expert on LBI.... 
I live in Barnegat Light... and was walking my Golden Retriever down the 13th street boardwalk early this morning, when he ran off into some shrubs and flushed what I swear was a female (or immature) Ring Neck Pheasant !!!
I am an amateur bird watcher, and grew up in Virginia hunting those buggers with my trusty .410... 
I NEVER would have expected one in the dunes down here !!  Do you think it was possible ?  Or... is it "Quarantine Psychosis"???
Provide Volunteer Angler Survey Data!
You can help manage our marine resources by reporting your fishing trips through the NJ Volunteer Angler Survey while the Atlantic States Marine Fisheries Commission (ASMFC) evaluates the status of the Marine Information Recreational Program (MRIP) during this unprecedented time. It's confidential and all trip information is important, so please report trips even if no fish are caught. Information on the number and size of both kept and released fish is vital and may support management strategies that increase fishing opportunities. For your convenience, you can submit a report in a number of ways:
Survey Frequently Asked Questions can be found here
E-mail completed Log Sheets and questions to marine_survey@dep.nj.gov
We appreciate your participation!
We are finally starting the daily fishing and conditions report. I will give the annual disclaimer, these are OUR personal observations and readings from the USGS buoy in the bay and NOAA buoy off of Atlantic City for ocean temp. Fishing reports are from my personal experience OR reports from customers who have proven over time they are trustworthy. These are not open for debate, so please read these reports in the spirit they are meant. Thank you, now that is out of the way:
...
We are open for curbside delivery! We have bloodworms and a fully stocked store to meet your needs! Call the store, pay by card, and pick up outside! Looking forward to seeing you all soon!
First fresh bunker delivery of the season!!!
First striper of the year! Not a keeper but boy was it nice to feel that tug and breathe some fresh air
Getting ready to lay down some paint.