Below: Now that's a capture!!! Nonlocal. SC? 
Nearby sign (Stafford) : Subtle but effective ... If only we still had honeybees. 
Tuesday, April 06, 2021: Not to get off on a low point but damn have I lost a lot of LBI people close to me, some through age, other misfortune. But, as the saying goes, we sure had some damn good times.
Over Easter: Deeply saddened by the passing of a world traveling buddy, Gary Baldwin. We would rock Rio de Janeiro like never before. They're still surely talking about us down there, Gary. I have the classic videos we took. Then, so many fine times on LBI -- too many to count, among them closing up the Ketch in the wee hours before heading off to breakfast. You represent as much a time as a compadre -- dating back to our sudden hookup that time on the streets of Santa Barbara: "Jay, is that You?!" "Gary, is that you?!
((((((((((((((((((((((((((((((((((((((((((((((()))))))))))))))))))))))))))))))))))))))))))))
Switching to the bright side of things, this is my favorite time of year, not just the warming weather but the de-hibernating feel of busting free from chronic indoorness. And I've been doing some decent busting loose, spending every nonworking/nonsleeping minute in the well-watered outback, having bowed out of the Holgate end escapement, knowing the bird closure was drawing neigh. How's that old bubblegum song go: See you in September.
Referencing that "well-watered," if you're an off-roader (the good kind who respects the woods to the hilt) you might want to stick with only the highest and driest of dirt roadways. Many of the more secondary "secondary roads" have puddles/ponds that will swallow smaller, even medium-sized vehicles whole.
The worst road water pits have been made hideous by bad off-roaders, compelled to hit them hard and deepen them with each high-splash passage.
If in doubt, get out and use a branch to test for deepness, though that doesn't always indicate the depth of the bottom mud. Also, you get through one pond and all too often hit another and another .. until you're defeated. Now, you have to somehow turn around – which is hell on wheels in its own right – and go back through the ponds you barely made it through first-go. DIM (did I mention), take the highroads.
TAR, NO FEATHERS: My weird outback effort this spring has been quite painstakingly collecting sap from bleeding pine trees. It's not as bad as it sounds since the bleeding sap is most often a sign of successful wound repair done by the tree. The healing has taken place and the sap is hardened and no longer needed – except by me.
Tar is not all that easy to come across, despite our most common pines being pitch pines, named after their willingness to pitch in with their plenty of pitch. There's also a tendency of these generally shorter pine trees to be kinda gnarly to the point of growing a bit crooked, diminishing their value as lumber.  
Collecting pine pitch/tar/sap/resin dates back to the first Native Americans, who used it medicinally and also for entertainment, as chewing gum … though I tried chewing it and won't be doing that again any time soon. I'm guessing it was an acquired taste.
So far, I've melted down about a quart of vintage NJ tar … the good stuff, made better by the labor of gathering it, hands and pants becoming so sticky in the process that loose stuff, like pine needles and dirt, clings to my hands and clothing for hours.
My final plan is to follow an olden pine tar salve recipe (https://thenerdyfarmwife.com/old-fashioned-pine-tar-salve/) then market the final natural ointment, which I'll give signature touch of patchouli. By the by, I use the term "market" facetiously since I've never sold anything, short of the gold jewelry I used to find when underwater metal detecting.
While on the subject of the pines, I've been stopping by a couple thought-well-hidden pickerel ponds to find out pinelands piranhas as spring-crazed as ever but, sadly, very small. This tells me they're being fished and poorly handled in the catch-and-release process, during which far too many numbnuts just yank out plugs caught up in gills. Lazy bastards. May a plague of ticks fall on your faces. 
Below: This is a nice lip hook. However, pulling these fairly delicate fish that far out of the water often means doom -- though the grass is damp which is a very good thing. So this picture/effort gets a solid B+ rating.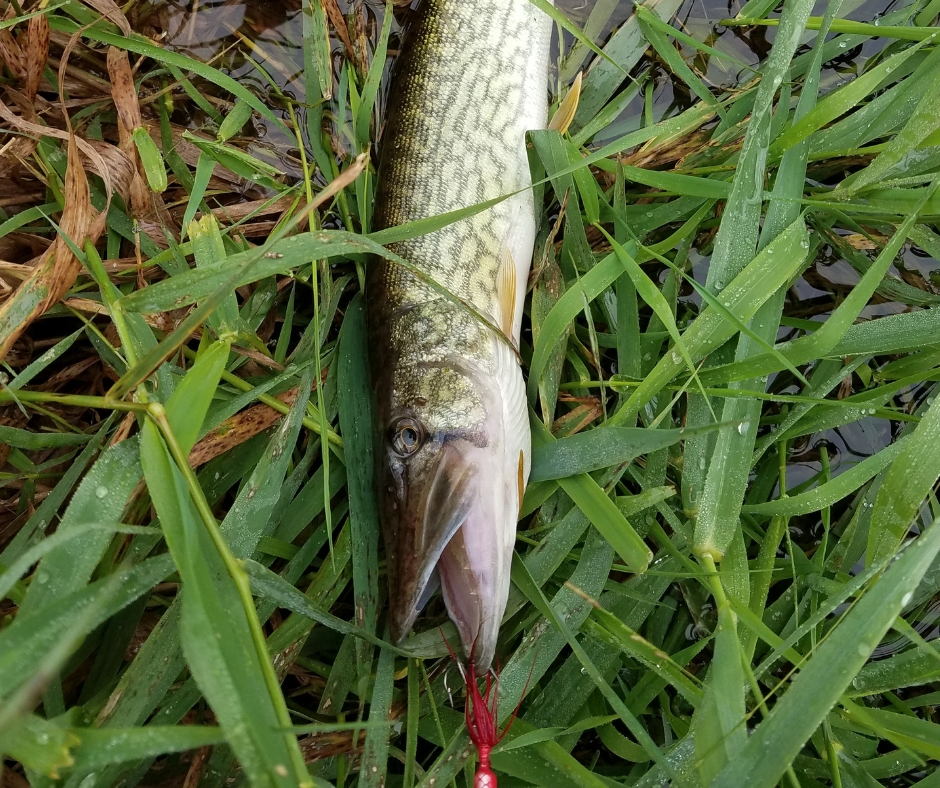 (((((((((((((((((((((((((((((((((((((((((((((((((((((((((((())))))))))))))))))))))))))))))))))))))))))
My weekly SP column is into fishing. It's based on reports of rather astounding showing of bayside schoolie bass. Parts of the Mullica have been putting out, but there are also substantial schools far closer to LBI, as in parts of both the true and the extended Barnegat Bay. The "extended" part is my begrudgingly giving into the effort by Barnegat Bay groups to include Little Egg Harbor and even Great Bay in their sphere of influence.
I had been snarky about that name expansion from the get-go and now see where many others are displeased over the confusion it can create, including during rescue situations. Below: Barnegat Bay map per https://www.researchgate.net/.
The Causeway bridges are offering shorts, though it takes some understanding of the tides to make it worth the lost sleep to tap into them after dark. I will include this excerpt from my weekly column.
DON'T: Please, for cryin' out loud, don't highway fish from atop the south sides of the Causeway trestle bridges, most notably the last bridge onto LBI, known as the East Trestle Bridge, or the Hochstrasser Bridge. It's illegal to even walk thereatop, much less lollygag in a nighttime fishing manner. All it takes is one inattentive driver drifting onto the bridges' narrow shoulders to send an angler flying into the icy water below, arriving in the drink already worse for wear. Yes, I've seen some fishing folks frequenting thereabouts.
I didn't even mention white perch in my weekly maintain a tradition of not loosing folks toward the very few top perching sites hereabouts. Maybe the shops will clue you in if you really want to get at these late-day biters by using grass shrimp and bobbers. I'll note that there are a couple hard-to perch spawn spots off the Road-to-Nowhere, Manahawkin. Lagoon-related creeks are the main gathering holes.
Not jumping the spring gun, but there is apparently a decent biomass of blues, mainly cocktails, to the south. However, some theorists have our spring blues coming in off the ocean more than up from the Carolinas.
From Jim Hutchinson Sr.:
Spring has officially sprung in the Beach Haven area despite some lingering winter-like temperatures. The captains of the Beach Haven Charter Fishing have begun preparing for their spring and summer fishing adventures.
One welcome sign is the Association's announcement that their much-acclaimed Junior Mates Program will be resuming this year after being suspended in 2020 due to the Corona Virus.
Association President Captain John Lewis announced all classes this year will be held outside at the Beach Haven Marlin and Tuna Club. Mask usage and physical distancing will be utilized to maximize safety standards. The first class will be held on Thursday, June 24, at 7pm..
The Junior Mates Program is designed to provide youngsters with a variety of expert teaching and hands-on experiences to educate them about fishing and provide them with the background necessary to become a mate on a fishing boat. Complete information on the Junior Mates and paperwork can be found on the BHCFA website at https://www.bhcfa.net/junior-mate-program.
Meanwhile, Captain Gary Dugan of the "Irish Jig" has splashed his boat and already brought some fish aboard in a shakedown cruise. Some short striped bass provided nice first of the year action for Captain Gary.
Captain Alex Majewski of "Lighthouse Sportfishing" kept occupied over the winter hitting small ponds in the Pine Barrens. He had productive days with catches of pickerel and largemouth bass. Perhaps getting ready for the new regulations on striped bass, he tried circle hooks with live minnows for pickerel with some "excellent" results.  His boat, the "Debbie M" has been upgraded with a Rhodan trolling motor, allowing him to stay positioned over wrecks.
Captain Brett Taylor of Reel Reaction Sportfishing took time this winter for some long-awaited projects including a new house and a hew garage. He did construct an electric hoist for his spare Minn Kota trolling motors. He says he is now ready to start fishing.
Captain John Lewis of the "Insatiable" is now ready to resume making boat deliveries to mark time while he is not fishing. Captain John has been making deliveries for both dealers and private owners for many years and makes many yearly trips back and forth from New Jersey to Florida for boat owners.
Additional information on the Beach Haven Charter Fishing Association can be found at www.BHCFA.net
I feel this constant compulsion to pass on the most minutiae of all minutia. Here a tidbit you really need to know: Those tiny black dots around the edge of your windshield are called frit. They are a type of enamel infused into the glass which act as tiny anchor points for the adhesive essential to tightly seal the window to the frame. You're welcome.
DEP ANNOUNCES START OF TROUT FISHING SEASON IN NEW JERSEY
Official Trout Seasons Opens Saturday, April 10
Pre-Season Catch-and-Release Runs April 1 through April 9
(21/P10) TRENTON – More than a half million freshly stocked rainbow trout will be available when anglers cast their lines in New Jersey waters this April, Department of Environmental Protection Acting Commissioner Shawn LaTourette announced today.
The official Trout season kicks off at 8 a.m. on Saturday, April 10, offering an excellent opportunity to spend quality time outdoors while enjoying some of the best trout fishing on the East Coast. In the Murphy Administration's continuing efforts to promote social distancing and reduce the spread of COVID-19, DEP's Division of Fish & Wildlife implemented an accelerated trout stocking schedule that will enable fish and anglers to spread out in advance of opening day. To further ensure good public health measures, like the avoidance of crowds and social distancing, a pre-season catch-and-release period for trout will run from Thursday, April 1 to Friday, April 9. 
"Thanks to DEP's Division of Fish & Wildlife, which has been hard at work with advanced trout stocking, New Jersey residents and visitors can enjoy trout fishing while avoiding crowds and maintaining social distancing, because the trout raised at our Pequest Hatchery have already had time to spread out themselves," Acting DEP Commissioner Shawn LaTourette said. "I encourage anglers young and old, experienced and novice, to take full advantage of our quality stocking program. Having access to excellent trout fishing and the beauty of New Jersey's great outdoors is a wonderful way to safely spend a day with family and friends. But please, remember to mask up!" 
To reduce the risk of COVID-19 transmission, this year's trout stocking is being done over a four-week period that began March 15. Anglers are reminded to maintain a 6-foot distance from one another while fishing and to wear face masks or coverings.
An additional 70,000 to 75,000 trout will be stocked during the week of May 10, bringing the spring stocking total to more than 570,000 trout. There will be no in-season closures on any waters. Most trout being stocked will average 10½ inches in length.
From April 10 to May 31, the minimum legal catch size is 9 inches, with a daily limit of six trout in most trout waters. Beginning June 1 and continuing through March 20, 2022, the catch size will remain the same and the daily limit will drop to four trout.
The Bonus Broodstock Program is suspended for 2021 due to the accelerated stocking program. Instead, approximately 6,000 two- and three-year-old broodstock, ranging in size from 14 inches to 26 inches and weighing up to 7 pounds will be stocked this spring in waters across the state that are suitable for fish of that size and which do not conflict with management goals.
"Fishing has never been better, and word is spreading about the quality of the trout we stock," said Division of Fish and Wildlife Director Dave Golden. "Every New Jersey county has waters that are stocked with trout, which means that excellent fishing opportunities and access to great places to fish are always close to home."
For spring trout fishing information visit www.njfishandwildlife.com/trtinfo_spring.htm.
Rules and regulations regarding freshwater fishing in New Jersey can be found in the 2021 Freshwater Fishing Digest at www.njfishandwildlife.com/digfsh.htm. Print copies of the Digest are also available at license agents.Click to edit this placeholder text.
Anyone age 16 or older must obtain a New Jersey Fishing License and Trout Stamp to fish for trout. Anglers may purchase these at www.nj.wildlifelicense.com/ or through license agents. For a list of agents, visit www.njfishandwildlife.com/agentlst.htm.
Anglers may also save money through the Buddy Up and Save! Program. Introduce a family member or friend to fishing by getting a Fishing Buddy License. This license offers both an existing angler and new angler (or even two new anglers) an opportunity to receive discounted fishing licenses. For information about the Fishing Buddy License, visit www.njfishandwildlife.com/fishbuddy.htm.
The Division of Fish and Wildlife's Pequest Trout Hatchery is supported with proceeds from the sale of fishing licenses, trout stamps and federal funding from the U.S. Fish and Wildlife Service's Sport Fish Restoration Program.
The dedicated funding received from the purchase of a fishing license and fishing equipment enables the Division of Fish and Wildlife to enhance fishing opportunities in New Jersey and protect the quality of the state's waters for fish, wildlife and people.
Like the Division of Fish and Wildlife's Facebook page at www.facebook.com/NJFishandWildlife/.
Follow the Division of Fish and Wildlife on Instagram @newjerseyfishandwildlife.
Follow the DEP on Twitter @NewJerseyDEP.
Striped Bass Bonus Program 
Reopens on May 15, 2021