Wasps and friends love snakeroot plant ... (Little Egg Harbor)
(Quickly pumped this out so overlook typos) 
Thursday, September 12, 2019: We're in for another inconvenient blow, mainly bearing winds out of the NE and E. Look for gusts to over 25 mph. In fact, I see the potential for some gusts exceeding the ultra-glancing blow by Dorian. Along those same fast-moving lines, we'll once again de-gust by the weekend. Look for a quick stint of light west, fallish winds showing. Today proved the hazard or offshore winds. The black flies moved in so badly there was no way to fight them off in Holgate. I got half way to the Rip and my truck was coated in them. Never got out. I got the last laugh, though. That squall line out of the north not only switched the winds to side-ass onshore but also loosed a couple minute of downpourish rain. That combination cleared the air of those flying biters.
As to fishing this blow, it's unlikely there are enough bass or mullet on the move to offer storm stripering. With water temps holding in the low to mid 70s, there's not enough autumnal appeal to the sea. Feeding frenzying are still off in the horizon. In fact, I'm reversing my early sense of fall coming sooner than usual. The jet stream patterns now seem to lean toward summer lingering. That means length-of-day (shortening) will need to be the main migratory spark to get stripers here. As to chopper blues (should they opt to honor us with their presence), they'll need a significant water temp drops; more so than bass.
In the interim, there remains a decently remarkable showing of one-pound-ish blues. Aggravatingly, snapper blues have moved in with vigor. These bait stealers can take some of the hooking fun out of surfcasting chunks and such. I'll still optimistically suggest that a load of snappers might draw in southwardly migrating choppers. On the downside, the spring run of big blues blew past New England and headed far north, possibly further than usual. If they go too far past Nova Scotia, their flip-flop will be way out at sea. Let's go with this being the year big-shouldered blues return to their coast/beach-skirting ways – right in time for the 2019 Long Beach Island Surf Fishing Classic.
That leads to my next advisory on the Classic, in the form of a reminder that you really need to quickly sign up. You don't want to miss it this year. Through the hard work of the event's committee members, it's going to be a whole other level of prize-heavy fun … for all. I base that on the emerging reality that even small bass – of a legal size, of course -- can be worth a tidy sum of cash and prizes nowadays. In a way, we might be prepping for future Classics, when stricter maximum size regulations move in next year. While it's great to have trophy bass come to the scales, as they have for so many decades, there can still be a load of intense competition for the Classic's prize money when any qualified fish can bring big bucks and bonuses?
TRAFFIC PATTERN FALLOUT: I got some feedback both for and against the traffic direction changes soon coming to the Boulevard and Central Avenues in Ship Bottom. The areas near the circle where these roadways currently have one-way traffic will be converted to two-way flows, north and south. I won't get into the specifics again – just check out this earlier post – but I'll offer the NJDOT overall thinking leading to the lane changes being included the current Causeway rebuild. Per https://www.state.nj.us/transportation/commuter/roads/rte72manahawk... : "The street system in Ship Bottom was designed when traffic volumes were lower. It includes one-way streets that force motorists to make multiple turns to get to where they are going. All these extra turns can cause extensive traffic delay, especially since the out-of-date traffic signals are not coordinated. The NJDOT would reconstruct several streets to convert them to two-way traffic, improve turns, and coordinate the traffic signals on Long Beach Boulevard and Central Avenue. This would improve the traffic flow on Long Beach Island. In addition, NJDOT would replace the storm sewers along the reconstructed streets and connect them to a new stormwater pump station. The pump station would reduce flooding and reduce the number of times the Causeway would be closed during small and moderate storms."
I see the benefit of road changes to enhance traffic flow but exactly how a single pump station will handle our insidious flooding is suspect. As I mentioned before, the immense offloading of street floodwater into the bay could have significant and immediate impacts on those areas where pump station pipes let loose. This is not to say environmental chaos will ensue since floodwater already flows into the bay. Simply, the pumping station needs to be watched closely to nip immediate impact problems in the bud.
Relatedly, there will need to be far greater attention paid to the likes of dog feces, Island-wide. It doesn't take much to contaminate bay-bound floodwaters, as was the beach-closing bayside case in Barnegat Light this summer. Final tests proved the dangerous bacteria count in the borough's swimming area was due to pet owners failing to cleanup as the walked Fido. That's quite disgusting – and makes me want to go on the watch.
Aquaculture Industry is Headed for a Sea Change
Copyright © 2019 Business in Vancouver
By Nelson Bennett
September 12, 2019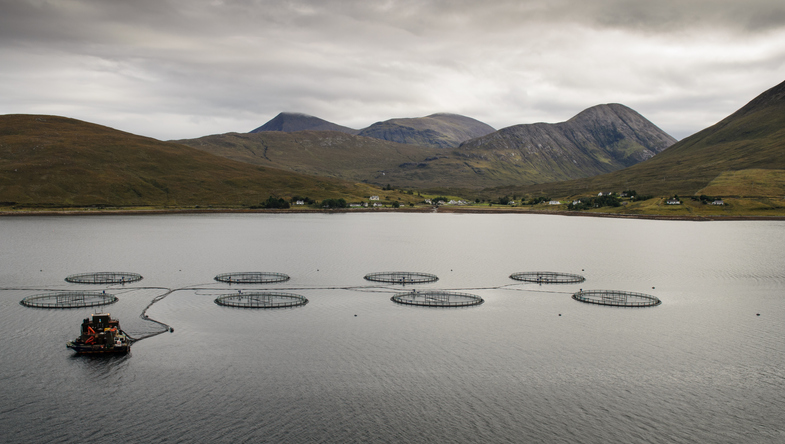 With a complete 2019 closure on Fraser River sockeye, due to dismal returns, your options are to buy Alaska sockeye or farmed Atlantic salmon.
And, as the world's population continues to grow, and wild-capture fisheries either are maxed out or decline, farmed seafood options will become an increasingly important source of animal protein, according to a new Nature Conservancy and Encourage Capital report.
Towards a Blue Revolution is largely aimed at the investment community and lays out the opportunities and risks, noting that certain next-generation systems like land-based recirculating aquaculture systems (RAS) or ocean-based fish farms will require impact investors to take the lead before more risk-averse investors follow.
Aquaculture is already a $244 billion industry, the report notes, and is the fastest-growing sector in the global food industry.
"Conservative estimates suggest that by 2030, the aquaculture sector will require an additional $150 [billion to] $300 billion in capital investment to expand production infrastructure capacity to meet projected demand growth," the report states.
"While private investors of all types express growing interest in the aquaculture sector, many tend to shy away from capital-intensive investments such as RAS and offshore aquaculture, especially for technologies that are unproven at scale and for first-time businesses implementing those technologies."
For a country like Canada, which already has an aquaculture industry and 80,000 kilometres of marine coastline, there could be significant potential, not only in conventional salmon farming, but also in shellfish production, as Don Noakes detailed in his Oceans of Opportunity report last year.
The Nature Conservancy report notes that 60% of the world's wild-capture fisheries are harvested at their maximum sustainable levels, and 33% are overfished. Climate change already appears to have hurt some wild fisheries – southern range Pacific salmon being one of them.
"With the world population expected to reach 9.7 billion by 2050, global demand for seafood is likely to grow rapidly, and aquaculture will account for most, if not all, of that growth," the report states.
Pound for pound, farmed salmon has a significantly lower environmental impact than beef, pork or poultry.
"Aquaculture can have a lower environmental footprint than most meat production in terms of freshwater use, CO2 emissions, and land usage," the study says.
Whereas it takes one pound of feed to produce one pound of farmed salmon – a feed conversion ratio of 1:1 – the ratio for beef is 8:1, pork 4:1 and chicken 2:1.
The report acknowledges that there may be "bona fide impact investment strategies" in the area of conventional coastal open-net fish farming, but it largely skirts the topic to focus on three other areas:
•land-based recirculating aquaculture systems;
•open-ocean fish farms; and
•shellfish and seaweed production.
From an investor's perspective, shellfish farming is the easiest and least capital intensive. Shellfish farming in B.C. is already a thriving subsector of aquaculture (valued at about $270 million per year), with room to grow.
It's unclear whether there is opportunity for growth in B.C.'s conventional salmon farming, and that doubt could discourage the investment needed to develop next-generation aquaculture.
Environmental groups have campaigned intensively against salmon farms in B.C., which may leave some investors skittish about investing in the province's aquaculture sector.
Both the BC NDP government and Justin Trudeau's Liberal government are taking steps to close fish farms down in certain areas of the Broughton Archipelago, and the B.C. government has imposed a moratorium on new fish farms for several years.
Both levels of government support the notion of land-based salmon farming. But attempts to develop land-based salmon farms in B.C. and elsewhere have not had a lot of success.
"A legacy of failed projects, high capital requirements, a lack of experienced operators and unproven economics at scale has left many investors and industry players skeptical until recently," the Nature Conservancy report states. "Our view is that the sector will remain risky in the short term, but not prohibitively so in all cases."
John Paul Fraser, executive director for the BC Salmon Farmers Association, noted that RAS systems are already used in B.C. to raise salmon to fry stage before they are introduced to open-net pens. He pointed to the potential to develop hybrid systems that would reduce the amount of time salmon spend in open-net pens.
One land-based farm, Golden Eagle Aquaculture in Agassiz, raises small numbers of coho in a land-based system, and Kuterra in Alert Bay, owned by the 'Namgis First Nation, raises a limited number of Atlantic salmon.
Built largely with public and non-governmental organization money, Kuterra has struggled to find the private-sector investment needed to scale the project to the point where it would make a profit.
Earlier this year, Emergent Holdings, Whole Oceans' parent company, offered to become a major shareholder and expand the operation. The 'Namgis rejected the offer earlier in July, but a Kuterra representative said the 'Namgis and Emergent are still talking.
Despite their huge capital costs and engineering challenges, large open-ocean fish farms have attracted more investment capital than land-based systems.
Just as it led the development of open-net salmon farming, Norway has also been the leader in developing open-ocean salmon farms.
Capitalizing on Norway's expertise in salmon farming and offshore oil drilling platforms, SalMar – a Norwegian fish-farming company – has built the world's first open-ocean salmon farm, 40 kilometres off the coast of Frohavet, Norway.
These open-ocean systems ease some of the concerns associated with coastal open-net fish farms, one of them being that they reduce the chance of migrating wild fish interacting with penned fish. That lowers the chances of disease transmission.
Designed by SalMar and built by China Shipbuilding Industry Corp., the Ocean Farm 1 fish farm is the first of a series of open-ocean pens to be built, at a cost of US$300 million. The first Ocean Farm 1 pen contains up to 1.5 million Atlantic salmon.
While there may be opportunities for such open-ocean systems in Atlantic Canada, the B.C. coast might not be suitable for the open-ocean systems.
Fraser said one of the challenges is B.C.'s ocean depth.
He said one option for RAS is a hybrid model, in which the salmon would be reared for longer periods on land before being introduced into open-net pens.
"We are getting extremely good at RAS, and at other technologies to raise fish in a land environment," Fraser said.
But he warned that investor uncertainty could curb improvements in fish-farming technology.
"There are a bundle of challenges that are involved in land-based aquaculture that I don't think we've fully addressed, and that needs to happen," Fraser said. "And the best way for it to happen is for companies to remain active and profitable and growing so that those revenues can be generated and targeted towards new and different kinds of aquaculture."
Testing the Waters on New Aquaculture Technology
One of the biggest concerns with open-net salmon farms is that a heavy concentration of fish in close confinement can lead to outbreaks of sea lice or viral or bacterial infections that can then spread to wild fish, especially if those fish get inside the net pens.
Cermaq Canada is trying to address those concerns with investments in new technologies.
One is a hydrolicer, which essentially washes sea lice off infected salmon with pressurized water without using pesticides. The $13 million system is now being used in Tofino, where about 70% of Cermaq Canada's salmon farms are.
"We are just basically now getting to know the machine," said David Kiemele, Cermaq's managing director.
The other investment Cermaq Canada is planning to make is in a semi-closed containment system.
A semi-closed containment system is a pressurized polymer bag that is placed under and over a conventional net pen. It creates a barrier between the ocean and the fish, reducing the chance of penned and wild salmon interacting.
Cermaq Norway has been testing the new system in Norway and Cermaq Canada is now trying to get government approval to test one for its Canadian operations.
"I'd like to trial one, if not two, over the next five years and then understand if the technology delivers the results that we're after to make it economically viable for us to pursue it in a larger way," Kiemele said.
But the closed containment system costs $5.5 million. Cermaq Canada has more than 100 net pens, so enclosing every one of them might be prohibitively expensive. In fact, it might be cheaper to build the kind of multimillion-dollar open-ocean farms that SalMar is building in Norway.
Asked if that's even on the radar, Kiemele said, "The offshore piece is something we're taking a deeper dive into and having strategic discussions around whether or not it's something we'd like to pursue.
"Would there be an opportunity in British Columbia for this sort of technology? Perhaps. Any time you move into these new technologies, whether it be land-based or whether it be offshore … you really have to look at the whole value chain. It might be something that's utilized closer to our markets."
In other words, if companies like Cermaq decided to invest in either open-ocean salmon farms or land-based systems, it might not be in B.C., but closer to their primary customers: California, for example.
Photo Credit: JoeDunckley/iStoc
A Comprehensive Review of the Causes of Global Warming
Posted on 20 January 2012 by dana1981
At Skeptical Science, we have examined several recent studies which have used a number of diverse approaches to tease out the contributions of various natural and human effects to global warming.  Here we will review the results of these various studies, and a few others which we have not previously examined, to see what the scientific literature and data have to say about exactly what is causing global warming.
All of these studies, using a wide range of independent methods, provide multiple lines of evidence that humans are the dominant cause of global warming over the past century, and especially over the past 50 to 65 years (Figure 1).
Figure 1: Net human and natural percent contributions to the observed global surface warming over the past 50-65 years according to Tett et al. 2000 (T00, dark blue), Meehl et al. 2004 (M04, red), Stone et al. 2007 (S07, green), Lean and Rind 2008 (LR08, purple), Huber and Knutti 2011 (HK11, light blue), and Gillett et al. 2012 (G12, orange).  This has been added to the SkS Climate Graphics Page.
Note that the numbers provided in this summary post are best estimates from each paper.  For the sake of simplicity we have not included error bars, but we have provided links to the original research for those who would like to see the uncertainty ranges in each estimate.
A Quick Look at the Various Effects on Global Temperature
Most of the studies discussed below looked at the same few influences on global temperature, because they are the dominant effects.
As we know, human greenhouse gas (GHG) emissions warm the planet by increasing the abundance of greenhouse gases in the atmosphere, thus increasing the greenhouse effect.
Solar activity also warms or cools the planet by increasing or decreasing the amount of radiation reaching the Earth's atmosphere and surface.
Volcanic activity generally cools the planet over short timeframes by releasing sulfate aerosols into the atmosphere, which block sunlight and reduce the amout of solar radiation reaching the surface.  However, unlike many greenhouse gases, aerosols are washed out of the atmosphere quickly, mostly after just 1-2 years.  Thus the main volcanic impact on long-term temperature changes occur when there is an extended period of particularly high or low volcanic activity.
Human aerosol emissions (primarily sulfur dioxide [SO2]) also tend to cool the planet.  The main difference is that unlike volcanoes, humans are constantly pumping large quantities of aerosols in the atmosphere by burning fossil fuels and biomatter.  This allows human aerosol emissions to have a long-term impact on temperatures, as long as we keep burning these fuels.  However, because aerosols have a number of different effects (including directly by blocking sunlight, and indirectly by seeding clouds, which both block sunlight and increase the greenhouse effect), the magnitude of their cooling effect is one of the biggest remaining uncertainties in climate science.
The El Niño Southern Oscillation (ENSO) is an oceanic cycle which alternates between El Niño and La Niña phases.  El Niño tends to shift heat from the oceans to the air, causing surface warming (but ocean cooling), whereas La Niña acts in the opposite manner.  As we'll see, a few studies have begun examining whether ENSO has had a long-term impact on global surface temperatures.  Because it's a cycle/oscillation, it tends to have little impact on long-term temperature changes, with the effects of La Niña cancelling out those of El Niño.
There are other effects, but GHGs and SO2 are the two largest human influences, and solar and volcanic activity and ENSO are the dominant natural influences on global temperature.  Now let's see what the scientific literature has to say about the relative influences of each effect.
Tett et al. (2000)
Tett et al. (2000) used an "optimal detection methodology" with global climate model simulations to try and match the observational data.  The inputs into the model included measurements of GHGs in the atmosphere, aerosols from volcanic eruptions, solar irradiance, human aerosol emissions, and atmospheric ozone changes (ozone is another greenhouse gas).
Tett et al. applied their model to global surface temperatures from 1897 to 1997.  Their best estimate matched the overall global warming during this period very well; however, it underestimated the warming from 1897 to 1947, and overestimated the warming from 1947 to 1997.  For this reason, during the most recent 50 year period in their study (shown in dark blue in Figure 1), the sum of their natural and human global warming contributions is larger than 100%, since their model shows more warming than observed over that period.  Over both the 50 and 100 year timeframes, Tett et al. estimated that natural factors have had a slight net cooling effect, and thus human factors have caused more than 100% of the observed global warming.
Meehl et al. (2004)
Meehl et al. 2004 used a similar approach to Tett et al., running global climate model simulations using various combinations of the different main factors which influence global temperatures (GHGs, solar activity, volcanic aerosols, human aerosols, and ozone), and comparing the results to the temperature data from 1890 to 2000.  They found that natural factors could account for most of the warming from 1910 to 1940, but simply could not account for the global warming we've experienced since the mid-20th Century.
Meehl et al. estimated that approximately 80% of the global warming from 1890 to 2000 was due to human effects.  Over the most recent 50 years in their study (1950-2000), natural effects combined for a net cooling, and thus like Tett et al., Meehl et al. concluded that human caused more than 100% of the global warming over that period.  Over the past 25 years, nearly 100% of the warming is due to humans, in their estimate.
Stone et al. (2007)
Stone et al. actually published two studies in 2007.  The first paper examined a set of 62 climate model simulation runs for the time period of 1940 to 2080 (the Dutch Meteorological Institute's "Challenge Project").  These simulations utilized measurements of GHGs, volcanic aerosols, human aerosols, and solar activity from 1940 to 2005, similar to the Tett and Meehl studies discussed above, and then used projected future emissions from the Intergovernmental Panel on Climate Change (IPCC) to project future global warming.  Whereas Tett and Meehl examined the climate response to each individual factor (and/or combinaton of factors), Stone compared these 62 climate model runs to a series of energy balance models, each representing the climate's response to a different effect.  Over the 60 year period, Stone et al. estimated that humans caused close to 100% of the observed warming, and the natural factors had a net negative effect.  As with Stott, their model did not fit the data perfectly, though they had the opposite result, underestimating the observed warming.
In their second 2007 paper, Stone et al. updated the results from their first paper by including more climate models and more up-to-date data, and examining the timeframe of 1901 to 2005.  Over that full 104-year period, Stone et al. estimated that humans and natural effects had each contributed to approximately half of the observed warming.  Greenhouse gases contributed to 100% of the observed warming, but half of that effect was offset by the cooling effect of human aerosol emissions.  They estimated that solar and volcanic activity were responsible for 37% and 13% of the warming, respectively.
Lean and Rind (2008)
Lean and Rind 2008 used more of a statistical approach than these previous studies, using a multiple linear regression analysis.  In this approach, Lean and Rind used measurements of solar, volcanic, and human influences, as well as ENSO, and statistically matched them to the observational temperature data to achieve the best fit.  Analyzing what is left over after summing the various contributions shows whether the most significant contributions are being considered.
LR08 did this over various timeframes, and found that from 1889 to 2006, humans caused nearly 80% of the observed warming, versus approximately 12% from natural effects.  As with the previous studies discussed, this doesn't add up to exactly 100% because the statistical fit is not perfect, and not every effect on global temperature was taken into consideration.  From both 1955 and 1979 to 2005, they estimated that humans have caused close to 100% of the observed warming.
Stott et al. (2010)
Stott et al. (S10) used a somewhat similar approach to LR08, but they used their statistical multiple linear regression results to constrain simulations from five different climate models.  S10 calculated regression coefficients for greenhouse gases, other human effects (dominated by aerosols), and natural effects (solar and volcanic), and estimated how much warming each caused over the 20th Century.  The average of the five models put the human contribution at 86% of the observed warming, and greenhouse gases at 138%, with a very small natural contribution.
Stott et al. also corrobarated their results by looking not only at global, but also regional climate changes by reviewing the body of scientific literature.  They note that human influences have been detected in changes in local temperatures, precipitation changes, atmospheric humidity, drought, Arctic ice decline, extreme heat events, ocean heat and salinity changes, and a number of other regional climate impacts.
Huber and Knutti (2011)
Huber and Knutti 2011 implemented a very interesting approach in their study, utilizing the principle of conservation of energy for the global energy budget to quantify the various contributions to the observed global warming from 1850 and 1950 to the 2000s.  Huber and Knutti took the estimated global heat content increase since 1850, calculated how much of the increase is due to various estimated radiative forcings, and partition the increase between increasing ocean heat content and outgoing longwave radiation.  More than 85% of the global heat uptake has gone into the oceans, so by including this data, their study is particularly robust.
Huber and Knutti estimate that since 1850 and 1950, approximately 75% and 100% of the observed global warming is due to human influences, respectively.
Foster and Rahmstorf (2011)
Foster and Rahmstorf (2011; FR11) implemented a very similar statistical approach to that in Lean and Rind (2008).  The main difference is that FR11 examined five different temperature data sets, including satellites, and only looked at the data from 1979 to 2010 (the satellite temperature record begins in 1979).  They also limited their analysis to the three main natural influences on global temperatures - solar and volcanic activity, and ENSO.  What remains once those three effects are filtered out is predominantly, but not entirely due to human effects.  For our purposes, we will classify this remainder as the human contribution, since FR11 removed the three largest natural effects.
Using the temperature data from the British Hadley Centre (which was used by LR08, and is the most frequently-used temperature data set in these studies), FR11 found that the three natural effects in their analysis exerted a small net cooling effect from 1979 to 2010, and therefore the leftover influence, which is predominantly due to human effects, is responsible for more than 100% of the oberved global warming over that timeframe.
One key aspect of this type of study is that it makes no assumptions about various possible solar effects on global temperatures.  Any solar effect (either direct or indirect) which is correlated to solar activity (i.e. solar irradiance, solar magnetic field [and thus galactic cosmic rays], ultraviolet [UV] radiation, etc.) is accounted for in the linear regression.  Both Lean and Rind and Foster and Rahmstorf found that solar activity has played a very small role in the observed global warming.
Gillett et al. (2012)
Similar to S10, Gillett et al. applied a statistical multiple linear regression approach to a climate model - the second generation Canadian Earth System Model (CanESM2).  They used data for human greenhouse gas and aerosol emissions, land use changes, solar activity, ozone, and volcanic aerosol emissions.  In their attribution they grouped some of the effects together into 'natural', 'greenhouse gas', and 'other'.  The authors estimated the effects of each over three timeframes: 1851-2010, 1951-2000, and 1961-2010.  For their attributions over the most recent 50 years, we took the average of the latter two, and used their 'other' category as an estimate for the influence of human aerosol emissions (which will result in somewhat of an underestimate, since most 'other' effects are in the warming direction).
Gillett et al. estimated that over both timeframes, humans are responsible for greater than 100% of the observed warming.
Human-Caused Global Warming Consensus
The agreement between these studies using a variety of different methods and approaches is quite remarkable.  Every study concluded that over the most recent 100-150 year period examined, humans are responsible for at least 50% of the observed warming, and most estimates put the human contribution between 75 and 90% over that period (Figure 2).  Over the most recent 25-65 years, every study put the human contribution at a minimum of 98%, and most put it at well above 100%, because natural factors have probably had a small net cooling effect over recent decades (Figures 3 and 4).
Additionally, in every study over every timeframe examined, the two largest factors influencing global temperatures were human-caused: (1) GHGs, followed by (2) human aerosol emissions.  This is a dangerous situation because as we clean our air and reduce our SO2 emissions, their cooling effect will dissipate, revealing more of the underlying GHG-caused global warming trend.  Note that not all studies broke out the effects the same way (i.e. only examining 'natural' and not solar or volcanic effects individually), which is the reason some bars appear to be missing from Figures 2 to 4.
Figure 2: Percent contributions of various effects to the observed global surface warming over the past 100-150 years according to Tett et al. 2000 (T00, dark blue), Meehl et al. 2004 (M04, red), Stone et al. 2007 (S07, green), Lean and Rind 2008 (LR08, purple), Stott et al. 2010 (S10, gray), Huber and Knutti 2011 (HR11, light blue), and Gillett et al. 2012 (G12, orange).
Figure 3: Percent contributions of various effects to the observed global surface warming over the past 50-65 years according to Tett et al. 2000 (T00, dark blue), Meehl et al. 2004 (M04, red), Stone et al. 2007 (S07, green), Lean and Rind 2008 (LR08, purple), Huber and Knutti 2011 (HK11, light blue), and Gillett et al. 2012 (G12, orange).
Figure 4: Percent contributions of various effects to the observed global surface warming over the past 25-30 years according to Meehl et al. 2004 (M04, red), Lean and Rind 2008 (LR08, purple), and Foster and Rahmstorf 2011 (FR11, green).
There was a period of warming between 1910 and 1940 which was predominantly caused by increasing solar activity and an extended period of low volcanic activity, with some contribution by human effects.  However, since mid-century, solar activity has been flat, there has been moderate volcanic activity, and ENSO has had little net impact on global temperatures.  All the while GHGs kept increasing, and became the dominant effect on global temperature changes, as Figures 3 and 4 illustrate.
A wide variety of statistical and physical approaches all arrived at the same conclusion: that humans are the dominant cause of the global warming over the past century, and particularly over the past 50 years.  This robust scientitic evidence is why there is a consensus amongst scientific experts that humans are the dominant c....