Now that we're down to getting only one minute of fame ...
Thursday, February 23, 2017: I'll be luxuriating in the 70s weather on the mainland today.
Interestingly, some blog readers are a tad put off by my frequently-referenced mainland jaunts, kinda like I'm abandoning ship. That's crazy. For my entire life on LBI, it's the overall experience of living here that makes it rocks, including times spent in the bay, backbay, creeks, pines, and mountains. Well, at least the Forked River Mountain. It's a blast to have all that funness and the Island and ocean to boot, all without seeing my fuel gauge move much at all, even on my beloved gas guzzling 8-cylinder truck. I will state the obvious that my heart is always anchored on the beach.
But speaking of the mainland, this arriving (and predicted) bubble of mildness will set the always early-arriving wood frogs to singing, with maybe a couple/few spring peepers mixed in. For those species, even a couple below freezing nights to come (next week) won't hurt them at all.
"Oh, I'm fine being frozen like this ... but it still sucks!"
Below: Our local wood frog already wooing the ladies despite the cold ...
Nor will any night chills bother the feral daffodils – and they are legion through once-inhabited sections of the woods. Bulb plants are hearty as hell.
++++++++++++++++++++++++++++++++++++++++++++++++++++++++++++++++++++++++++++++++++++++++++++++
RIDE THE BUS FOR PROGRESS TO THE PINELANDS VOTE!
The PINELANDS COMMISSION has scheduled the final vote on the SJG PIPELINE on FRIDAY, FEBRUARY 24th @ 9:30 AM.

The meeting is scheduled for the CHERRY HILL CROWN PLAZA HOTEL. Clearly, the CHERRY HILL site is a deliberate attempt to discourage public participation. But we have them outsmarted!

Our good friends at the BUS FOR PROGRESS will be providing r/t transportation from TOMS RIVER, JACKSON and BARNEGAT to the meeting for a very reasonable suggested donation of $20.00 p/p. So don't be stopped in speaking out against this environmental outrage to our precious PINELANDS.

To purchase tix or for more info contact ANDY (EM: [masked]). Seats are strictly limited to 25 passengers.

See: https://www.meetup.com/SIERRA-CLUB-OCEAN-GROUP/events/237831273/?rv...
++++++++++++++++++++++++++++++++++++++++++++++++++++++++++++++++++++++++++++++++++++++++++++++
+++++++++++++++++++++++++++++++++++++++++++++++++++++++++++++++++++++++++++++++++++++++++++++
Below: Important read ... striped bass angle ...
Nantucket Fishermen Want Ban on Fish Draggers, Scallop Dredges to Rebuild Dwindling Squid Stocks
SEAFOODNEWS.COM [Cape Cod Times] by Doug Fraser - February 23, 2017

For the past couple of years, Nantucket fishermen have had a hard time finding striped bass in the rips and alongshore where they were accustomed to catching them.

They think they know why: no squid.

"This was where all the bass were caught. Now, no bait, no fish, no stripers to speak of," said Pete Kaizer, a charter boat captain and commercial tuna fisherman.

Kaizer and other Nantucket fishermen petitioned the state Division of Marine Fisheries to prohibit fish draggers and scallopers that tow nets or large metal dredges along the ocean bottom from state waters, up to 3 miles out from shore all around the island. The ban would run from May 1 to Oct. 31 with the idea of protecting spawning longfin squid.

Kaizer said squid boats target the squid when they spawn because they come together in large schools and are easier to catch. Following mating, female squid drop to the bottom and put down a sticky substance that adheres to the sandy bottom, rocks or vegetation. They then deposit tubelike sacks containing over 100 embryos apiece, that stick to that patch and can resemble an underwater chrysanthemum, but are prosaically known as "squid mops."

Nets or dredges towed across the bottom can dislodge these mops or even bring them up to the surface along with fish or squid. There is some debate about whether any young can survive this, but some lab studies have shown that older embryos hatch prematurely when the mop is dislodged from its adhesive anchor and tend to die, said Lisa Hendrickson, a fishery biologist specializing in squid with the National Oceanic and Atmospheric Administration Fisheries Science Center in Woods Hole.

"That explains why guys fishing the beach or in small boats aren't seeing any small squid, the size of a quarter, from mid-July to September, for the last two to three years," Kaizer said. "We're seeing none."

The Nantucket fishermen have an online petition, signed by over 1,200 people, asking state DMF director David Pierce to enact the Nantucket fishing prohibition. State Sen. Julian Cyr, D-Truro, also filed a bill last month that accomplishes the same thing should the DMF not adopt the rule.

Commercial fishermen at a Feb. 8 public hearing in Buzzards Bay were almost universally against the Nantucket proposal. They found it too broad because it also impacted other fisheries like fluke and flounder.

"We need this area to maintain our fishery through this dark time in groundfishing," said commercial fisherman Tim Barrett, president of Northeast Fishing Sector 10.

Pierce said there was little science to back up the proposal, and said he opposed it and would not forward it to his state Marine Fisheries Advisory Commission for approval.

"(Nantucket) is an area where squid spawn, but they do so in many areas inshore and offshore from Long Island, Rhode Island, Buzzards Bay. They are not restricted to any area," Pierce said.

He is worried this proposal will encourage other towns to create their own regulations, engendering a patchwork approach that would undercut the effectiveness of the DMF to sustainably manage stocks statewide and regionally through cooperative agreements with the Atlantic States Marine Fisheries Commission.

Kaizer pointed out that other spawning closures exist all along the coastline of Cape Cod and the state to protect fish species, and said Nantucket just wanted the same treatment. But Pierce said the large summer closure to scallopers and fish draggers in state waters along the Cape shore was a throwback to the 1930s and didn't have any scientific basis.

He said his staff found there was no way to conclude that squid fishing was having negative impacts on other species.

The real problem is in the federal waters south of Nantucket, Pierce said.

Nantucket fishermen also worried about relatively large draggers off their southern coastline for the past two summers. Squid live for only six to eight months, and the amount fishermen are allowed to catch each year is divided into three seasonal time periods so that no one portion of the population, born at a particular time of year, is disproportionately affected.

The second trimester quota is caught in the summer in federal waters south of the islands. It is a smaller quota, in part, due to concerns about fishing too heavily on spawning squid in the summer.

Last year, squid fishermen came far short of their spring quota. Regulations allowed them to add that amount to the summer catch. Plus, the regulations allowed vessels to continue fishing, landing 2,500 pounds per vessel per day, even after they reached 95 percent of the quota. Together, both measures meant fishermen caught nearly 19 million pounds, almost 12 million more than their summer allocation of 8 million pounds.

That prompted concern with scientists and with the Mid-Atlantic Fishery Management Council, which regulates squid fishing in federal waters.

While longfin squid mate and spawn year-round, the relative importance of summer spawning is not known, Hendrickson said.

Pierce said he wanted to see that 2,500-pound daily limit reduced, and that is part of a new proposal being readied by the Mid-Atlantic council, said fishery management specialist Jason Didden. Solutions include eliminating or reducing the amount of quota that could be rolled over from spring to summer; reducing the daily limit after boats have caught 95 percent of the summer quota to 250 or 500 pounds; and creating a buffer zone in federal waters south of Nantucket.

Hendrickson is preparing a new stock estimate for May that will update one that used 2009 data and showed that squid were doing well, and that fishing was likely having little impact on the stock, Didden said.

The DMF will hold a public hearing on the closure petition on Nantucket on March 22, Pierce said. The Mid-Atlantic council will hold public hearings on their new squid proposal in April in Point Judith, Rhode Island, Hyannis and Gloucester. The council will vote on the measure in June with implementation expected next January, Didden said.

+++++++++++++++++++++++++++++++++++++++++++++++++++++++++++++++++++++++++++++++++++++++++++++
Now for something really out there ....

How Do Your Deceased Loved Ones Reach Out?
Top 10 Signs From Deceased Loved Ones
1. Visitation Dreams.
Dreams are one of the most common ways in which your deceased loved ones in spirit will reach out to connect with you.
visitation dreams
is communication… Your loved one will likely relay a message, and let you know that they are ok. They will appear healthy, and vibrant (regardless of their state when they died) and after sharing their love with you, and communicating a message, the dream will end.
2. Strange Electrical Occurrences.
3. Feeling Their Presence.
4. Smelling their Signature Scent.
5. Showing Up As an Insect or Animal.
6. Moving Objects or Placing Objects on Your Path.
Dimes and pennies
, crystals or stones,
feathers
, flowers and keys are common examples of the types of objects deceased loved ones may move onto your path.
6. They Communicate A Message…
9. Synchronicity
10. Visions
___________________________________________________________________________________________________
Just remember, when you think you're having a bad day,, someone else can always one-up you ... On a one-to-10 scale, how much do you believe his reason???
BLUE SPRINGS, Miss (WTVA) - Some scary moments for a New Albany man.
Union County Sheriff Jimmy Edwards say Shane Treadaway was sent to a Tupelo hospital Tuesday night.
Authorities found him hanging upside down from a tree naked with a cable wrapped around him.
He had been suspended from the tree in the woods off of County Road 253 in Blue Springs for four hours.
Treadaway's girlfriend knocked on several doors trying to get help.
"I was out walking my dog and just came home and a lady comes running down my brother's drive. I was thinking my brother was in trouble so I go out there to help after about three minutes in the woods I saw this man hanging upside down in the tree butt naked," said Jerry Feathers.
"We had to cut some trees out of the way set a ladder up and do some rope rescue rigging to secure the patient, get him extricated from the cables, and lowered down to the ground," said Steve Coker, New Albany Fire Chief
An ambulance transported Treadaway to the hospital. Meanwhile, the Sheriff's Office is still investigating the incident.
Sheriff Jimmy Edwards believes Treadaway lost his clothing as he was falling down the tree.
Treadaway told a deputy he had climbed the tree looking for a dog and fell.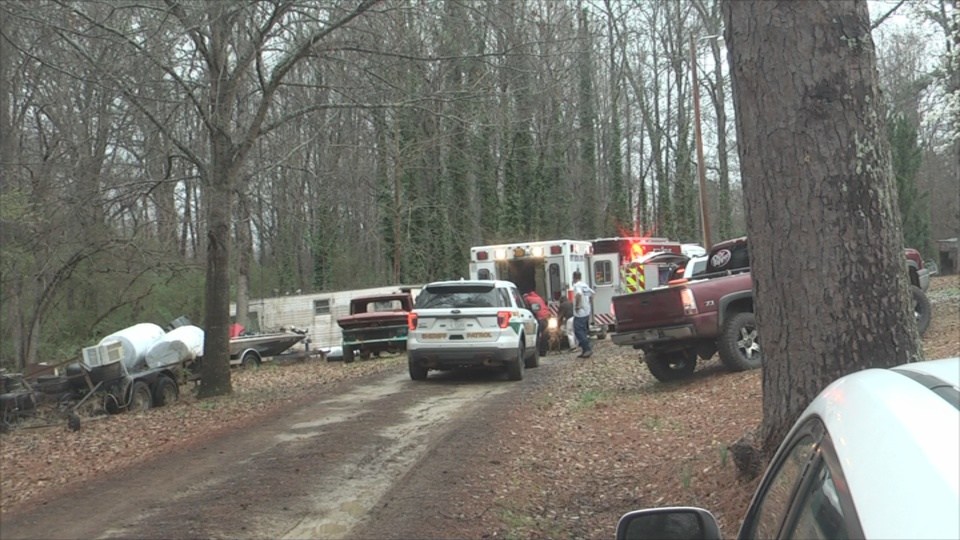 Sorry for those who couldn't get through to last post because of Facebook hack. I tacked it on at the bottom of this one. Things are now fixed.
When gender equality rears its ugly head ...
++++++++++++++++++++++++++++++++++++++++++++++++++++++++++++++++++++++++++++++++++++++++++++++
Fired the next day for displaying this rampant racism ...

Tuesday, February 21, 2017: We're in that tweener time of year: it's mild enough to think fishing but, then again, it's not. Some folks have been working Graveling. I don't know to what avail. I'll be doing a drive-down this week.
A few surfcasters tried the LBI beachfront. Best I can note there are skates – at least I found one washed up on the beach, DOA.
How about the next bout of balminess; right on schedule, by my thinking. I guarantee that frogs and flower bulbs will be total confused by the arriving four or five days in the 60s. I'm in there, digging-wise. Large cents here I come. By the by, we'll likely be hearing those early T-storms I forecast last month.
Folks have been asking me about Scott's Bait and Tackle. I guess some have yet to hear:
Bait Shop is CLOSED for winter. Reopen 3/1/17 (unless sold)
Parts Dept. is OPEN! (Side Door) Mon. & Weds. to Sat 10am-4pm
Call Ahead for parts! 296-1300 ext 1 Parts Dept. CLOSED Sun., Tues.
"Hello Folks, As you may have already heard by now through the grapevine, Scott is planning to sell the bait & tackle side of the business. We are planning to semi-retire and just specialize in selling our Penn reel parts and a few Penn products at our other building locally. (via PennParts.com)."
Yet another soul who knows when it's time to get out. I'd be among those. I simply have no exit strategy, i.e. one that pays the bills. Good luck Scotty ... and Margaret … and the Gilberts … Sigh.
For buggyists, a reminder that Holgate closes at the end of March. If you want to grab some clams or see some birds, you might want to update your buggy permit, though there's not a whole lotta checking going on. but, if your luck is like mine, the one time a permit checker is driving down there …
MORE BUMPY ROAD PRATTLE: After writing about the tough go over the Causeway, someone suggested I point out the dangerous change in road surface as you first come onto the Causeway, Stafford, heading eastbound. That rough surface is what remains of the original concrete divider, there since 1958. It's bumpy -- and if hit in a smaller vehicle pushing 60 mph, it could get gnarly.
Tom R. emailed me asking about the not-long-ago showing of croakers, out the kazoo, and how that bite aligned with changes in shrimping regs down south.
Researching retrospectively, I was able to align those couple/few years of insanely good croakering with what was a decline in shrimp boat activity due to an economic downturn in the market. Stricter regs also entered into it, somewhat.
Recently, shrimping has heated up … to new highs.
I have it on good scientific authority that even with the current stringent bycatch laws, the loss of young croakers remains inanely insane; we're talking hundreds of millions of young fish lost.
Just this week, the matter comes to the fore in North Carolina, where the N.C. Marine Fisheries Commission has been petitioned by conservation groups to curb shrimping effort to protect all juvenile fish that are routinely destroyed as bycatch in shrimp nets.
"The amount of finfish bycatch in the North Carolina shrimp trawl fishery is unsustainably high, and the negative impact of shrimp trawl bycatch is felt coast wide," wrote N.C. Wildlife Federation CEO Tim Gestwicki in a personal petition.
Gestwicki added that studies indicate North Carolina shrimpers discard four pounds of juvenile finfish (croakers, flounder and spot) for every pound of shrimp they keep.
I'm among the few who listen to the shrimping industry claims that new excluder devices are steadily moving the industry toward less harmful harvesting methods. But there's no turning a blind eye to the unreal, and unrealistic, bycatch killing of, face it, millions of young-of-year fish, annually.
Backtracking a bit, there isn't a fully documentable correlation between those banner croaker years we saw and the near-concurrent changes in shrimp harvesting pressure, at least not to the exclusion of natural causes and typical population cycles in all fisheries.
I'll limb-out a bit by guaranteeing there are some severe impacts on angling when both juvenile gamefish and forage fish are neutralized (like that term?) for the sake of shrimp cocktails. All I ask, as if anyone is listening down south, is clean up the shrimping act. We're a nation of geniuses. We should be able to find some way to catch wild shrimp without killing everything else in sight. I, for one, will pay extra for low-bycatch shrimp.
--------------------------------------------------------------------------------------------------------------------------------------------------------------
Below: Pilot Kevin Scott Douthitt took this shot of the controlled burns in the Pinelands.
WHAT' SMOKIN': Prescribed burns, that's the technical name for the intentional burning of designated Pinelands areas, done by NJ Forest Fire Service.
The blazes, begun with accelerants like gasoline, are meant to reduce highly-flammable underbrush, which can hold the equivalent of thousands of gasoline cans.
"The New Jersey Pinelands is a fire adapted ecological community that is one of the most hazardous wildland fuel types in the nation. Fuel loadings exceed twenty tons per acre in some locales. This has been equated to having over 1,300 gallons of gasoline per acre!" explainswww.state.nj.us/dep/parksandforests/fire, where updated info on the burns can be found.
Such controlled blazes have already filled the skies over numerous areas of the Pines. Adding to the smoke was a hot-burning wildlife in Manchester Township on Sunday. Forest Fire Service member had to be pulled off prescribed burns to extinguish that stubborn blaze, which charred approximately 575 acres.
Prescribed burns will be taking place through the end of March, though that time-frame could be extended.
"Since 1928, the Fire Service has used fire as a tool to protect the lives and property of our residents living near the forestlands of New Jersey. We do this by setting fires under exacting conditions to reduce the underbrush in areas that are prone to fire …"