Ostrich learns when it has pushed things too far ...
Thursday, December 03, 2015: As predicted, the west winds have knocked the mick out yesterday's large wind swell. That's because it was purely a localized wind swell and, unlike last week, there wasn't a storm-generated groundswell from out at sea. Check out "groundswell" segment down below.
We're in for some highly striperable surfcasting conditions -- for the quite a few days to come. I do see a real weatherly downswing for early next week – but hell the classic is over by then so what the hey. Not true. I enjoy the low-pressure plugging and jigging of the schoolie days. I'll also enjoy my legal 24-inch bonus bass. It lowers the bar to where even I can get over/under it.
For now, conditions have both schoolie and even cow-bassing written all over them. The boating side of things will kick in by as early as tomorrow an should shine through the weekend.
I drove the beach this a.m. and even with the help of binocs couldn't see any surface stir -- be it bunker, whales or dolphin. That's a bit unusual of late. It had been hopping out there. I'm certain high-viz marine life will liven up real soon.
Above: www.fios1news.com
We're running late this fall – in a good way. Warmer water and the ongoing mild effects of El Nino is offering more of a Novemberish mood and mode. (see story below)
Below: Nick Alfonse
I'm not sure conditions will allow trips out to wreck and bottom structure sites but that bottom bite (seabass and tog) seems very brisk. Closer in, I got word of hake near the sandbars. Those small-hook targets are ideal for kayakers drifting close in. I used to school half a dozen, quickly. Talk about a fine white meat. I have also dried them, though that takes some practice if drying the whole hake. It comes out much like very costly dried whiting.
THE ROOTS OF GROUNDSWELL, THE WORD: I got a Facebook comment asking how it can be called a groundswell, seeing it's out at sea. I had no idea where the term came from so I looked it up. I'm offering, below, a highly plausible theory playing off of early maritime language.
Note: I greatly prefer the colloquial term of groundswell to the technical expression for waves generated from distant storm and wind systems: surface gravity waves as dictated by the Miles-Phillips Mechanism.
Here's a cool read from one of the experts etymologists at http://www.worldwidewords.org:
"… Groundswell was originally a sailor's word for a deep ocean swell, such as might be generated by a distant storm or earthquake. It's an odd term, and I had to hunt around to find out why it was so named.
"It seems that the first sense of the word ground in English was that of a place covered by water. It was used especially of the bottom of the sea, and turns up in this sense in the early epic poem Beowulf. Two nautical phrases preserve this sense: to break ground, meaning to heave the anchor clear of the bottom, and to run aground. This second phrase predates by several centuries the use of ground to mean dry land. So a groundswell was presumably one so huge that its troughs seemed to reach the bottom of the ocean.
"The figurative use grew up at the start of the nineteenth century to describe some kind of political or social agitation, an obvious allusion to the effect on a ship of encountering such a swell. This example is from 1856: "The religious world was rocking still with the groundswell that followed those stormy synods". It has since shifted meaning to refer to any up-welling or build-up of opinion in a section of the population, taking its reference from the peaks of the swell rather than from its troughs."
(((((((((((((((((((((((((((((((((((((((((((((((()))))))))))))))))))))))))))))))))))))))))))))
I still have the real-time police transmissions from San Bernardino echoing through my brain this morning. I sat in my office yesterday mind blown over what had happened and how the emergency response was playing out. My source was a scanner website.
Last year, I was one of the first folks aboard a then-new scanner website called Broadcastify, at http://www.broadcastify.com.
I obviously use the site for local feeds. But the site also notifies me via email when big news stories are "scanning." Such was the case yesterday with that military-style mass murder. No sooner had the first frantic phone calls come into the San Bernardino police, than Broadcastify alerted me to "an active shooter" in California. At first, I somewhat casually listened in, knowing that many of those calls can be as innocent as random gunshots in a bad neighborhood. It didn't take much listening to recognize all hell breaking loose with transmissions like "many possible fatalities" and "possibly three shooters … still on the loose." The "black SUV" watch began very early. I can assure, you didn't want to be driving a black SUV anywhere in San Bernardino County yesterday afternoon. They were pulling all of them over at gunpoint … with impunity. I can't blame the cops for that.
The spooky and mesmerizing part was how the entire story and eventual shootout – which could be heard in the background of police calls coming into dispatch -- played out so clearly on the scanner. That main dispatcher should be awarded the highest honor given to dispatchers. Her coolness and alacrity through what soon became an insane influx of hectic police communications was astounding.
And it wasn't just me and the cops listening into the dispatching. Broadcastify lit up with listeners, many first timers, as word of the horror hit the broadcast media. I surely added to the rush. I Facebooked friends the website link to the main dispatcher. I personally activated other San Bernardino dispatches but the prime dispatcher was most understandable and informative to first-timers. While there is always code and abbreviation lingo in police and emergency communications, this day much of that shop talk was abandoned for highly understandable everyday speak.
I ended up sitting for literally hours, following the insanity -- as if it was just down the block. Thankfully not.
Don't think for a minute I was amused or even entertained. I was mainly stunned. To be trite, I liken it to the mesmerizing and proverbial train wreck. I couldn't turn away.
One thing I'd like to point out from a media standpoint is how important the public's help was throughout the search for those crazed killers; not just in the hunt for the SUV but also for insights into where the public was trapped – and hiding in buildings. I'm not being even remotely wise-assed when saying it takes a village to hunt down terrorists. And they were terrorists regardless of their ultimate motivation. Even when the dispatcher announced that a call-in witness pegged one of the shooters as a "fellow employee," I wasn't willing to differentiate one iota between a jihadist and a crazed coworker. It's all terrorism.
(((((((((((((((((((((((((((((((((((((((((((((((((((())))))))))))))))))))))))))))))))))))))))))))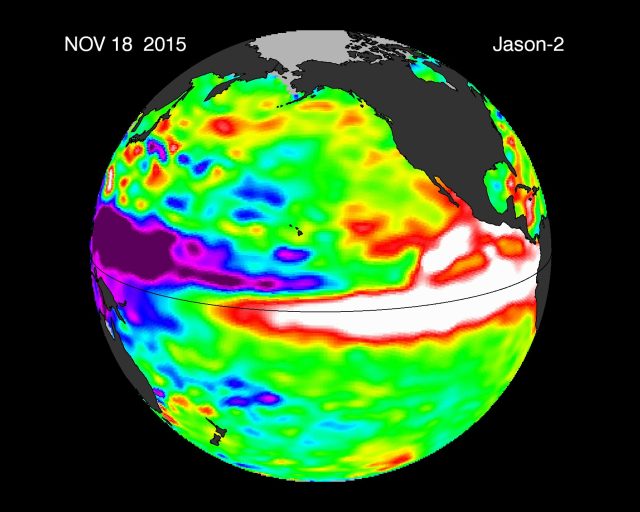 After setting a record for a single-week period in mid-November, El Niño has continued to produce record warm temperatures in the Pacific Ocean. This climate pattern, characterized by an abnormal warming of the equatorial Pacific Ocean, has already contributed to a large number of weather effects around the planet, including increased hurricane activity in the Pacific Ocean and heat across much of the United States.
Of the metrics used to gauge the strength of El Niño, the most straightforward is to look at temperatures between 90 degrees west and 160 degrees east longitude, and 5 degrees north and 5 degrees south of the equator, known as the Niño 3.4 region. Back on November 16, the National Oceanic and Atmospheric Administration reported that this area of the Pacific had a weekly average temperature that was 3.0 degrees Celsius above normal, a record high, topping the 2.8 degrees Celsius anomaly recorded during the week of November 26, 1997, the last really strong El Niño.
During the last two weeks, the temperature in this key region of the Pacific has stayed at or slightly above 3.0 degrees Celsius, NOAA says. The agency's Climate Prediction Center predicts that El Niño will likely peak during the Northern Hemisphere winter 2015-16 and will transition to neutral conditions during the late spring or early summer 2016. Forecast models predict a peak later this month.
FURTHER READING
Much of the United States has seen very warm conditions as a result of El Niño. Meteorological fall, which runs from September through November, was the warmest on record for National Weather Service stations in Los Angeles, San Diego, Salt Lake City, El Paso, and New York City. Most of the United States should see continued warmer-than-normal conditions through most of December.
El Niño's effects were also felt in the tropics. Overall, the Atlantic basin—which includes the Atlantic Ocean, Caribbean Sea, and Gulf of Mexico—saw a quiet season. Although there were 11 named storms, as measured by their total duration and intensity, the season's activity was well below normal. This is to be expected as El Niño increases wind shear over the Atlantic tropics.
Meanwhile, in the Pacific Ocean, a number of records fell.According to NOAA, this is the first year since reliable record keeping began in 1971 that the eastern Pacific saw nine major hurricanes. Hurricane Patricia became the strongest hurricane recorded in the Western Hemisphere in terms of both maximum winds, at 320kph, and lowest air pressure, at 879 millibars. Hurricane Sandra, which formed in November, was the strongest hurricane in the eastern Pacific so late in the year, with a maximum sustained wind speed of 235kph.
The central Pacific, too, saw its largest number of storms since the satellite record began in 1971, including eight hurricanes. Three major hurricanes—Ignacio, Kilo, and Jimena—spun at the same time east of the International Dateline, the first time that has ever been recorded.