CHECK OUT: https://www.thefisherman.com/new-jersey-video-fishing-forecast-nove...
Below: I just caught a glimpse of this clever hider ... 
Photo of stripers on the attack ... 
A sense of where you are ... A Bill Bradley pooch if ever ... 
ALERT: Pres release lbift.com ...
With true fall-like temperatures finally showing up and water temperatures dropping into the mid and lower 50's, the striped Bass action in the 67th annual Long Beach Island Surf Fishing Classic is showing an uptick.
Although no bluefish have been entered in the contest yet, the number of striped bass entered continues to rise.
While the bite along with weigh-ins in the Classic has been spotty at times, there have been enough good catches scattered in to inspire optimism for the upcoming days. In addition, fish caught by anglers registered in the contest, other fish have shown up the length of Long Beach Island.
In fact, the three top fish on the leaderboard have been caught in the past week. Currently sitting on top is a bass weighing 18.02-pounds caught by Nick DeGennaro on November 20 in Barnegat Light. Taken on an artificial presentation, the fish measured out to 34.5-inches.
Richard Bergman rests in second place with an 18.0-pounder also caught in Barnegat Light on mullet. Merle Van Liew beached a fish weighing 17.06-pounds on bunker in Beach Haven good for third place at the moment. The fish measured out at 37 and seven-eighths inches.
With the four-day Thanksgiving weekend on the horizon and plenty of prizes left in the Classic, there seems to be optimism for action to pick up.
Aimee Welsh from Surf City Bait and Tackle says she is keeping her fingers crossed that the ocean water temperature continues to drop. "If the cooler weather continues, I think the action will get better and better." She feels the action will be strong right into 2002.
Connor Smilon from Jingles Bait and Tackle in Beach Haven says he expects the 4-day Thanksgiving weekend to be a good one for catching bass on the beach. "I am looking forward to a push of bigger stripers and maybe even some bluefish." He added that he has heard of some large blues appearing north of Long Beach Island.
Smilon also stated that he anticipates striper action in December to be much like last year when the fish were around throughout the month.
One problem that has been plaguing surf anglers this fall has been a surge of spiny dogfish that attack natural bait. Their aggressive presence makes it difficult at times keeping the bait around long enough for the stripers to get to it.
Although the stripers continue to prefer natural bait, artificial presentations have been catching fish. Greg Cudnik from Fisherman's Headquarters endorses the use of artificials to avoid the pesky dogfish. One of his customers picked up one on a Kettle Creek soft bait paddle-tail on a lead-head. The same anglers also beached a linesider on a diamond jig.
The Classic's current leader. Nick DeGennaro landed his fish on an artificial fishing in Barnegat Light.
The Classic will run until December 12. It is not too late to register for the contest. Registration can be handled at any of the bait and tackle shops mentioned above. Complete information on the contest can be found at www.LBISFC.com. Recent history has shown that the next two or three weeks ahead produce the most fish weighed in for the tournament.
(((((((((((((((((((((((((((((((((((((((((((((()))))))))))))))))))))))))))))))))))))))))))))))
Sunday, November 21, 2021: Sorry I haven't written in a while. I needed to take a break from myself, in hopes of reducing the constant bickering. It seems to have worked … or has it?
Saw a goodly skin of ice inside ye olde water bucket next to the well, i.e., a five-gallon fishing bucket next to this little ceramic well meant for toads should they ever return to LBI and need a place to hide. Where have all the toads gone, long time passing? 
I had also taken a rest from mulling over weather computers for hints at what's to come -- allowing the sky to play out as it sees fit. Then I came across some new meteorological software I just had to try. It's geared to 10- to 20-day upper atmosphere projections, though making no forecasts. It simply shows upper level trends originating as far away as Wake Island and thereabouts.
Factoring in the Pacific Decadal Oscillation, along with a near certainty that La Niña will be quite stanchly in place through February, the next 10 to 20 days are just about as uneventful as we can hope for, marked by nothing overly cold – with maybe a couple overnight lows down to 30, mainly on the mainland. The high temps, ushered in on a train of west winds – some southerlies on LBI – will be spot-on for this time of year, reaching the upper 40s and low 50s, though a tiny shift of winds to the south could see some mildish stints.  
Conditions should be very good for fishing and bundled up beachgoing.
I gifted myself a load of calm-down time, most of which I spent forest bathing -- a freaky concept whereby one heads into the wildest of woods, tearing off all nonessential clothing, before rushing, screaming gibberish, into the underbrush … until thoroughly ripped to shreds by green thorns and sprawled out after tripping over some form of wildlife. Quite Zen-ish.
Closer to reality, though not nearly as exciting, I've been metal detecting to some decent ends, as I shared on Facebook with this find:
I've now found half a dozen similar Tuckerton Railroad tags, though this is the only one having to do with the Island. Here's a couple that hit close to home ... note the "Manahawken" old spelling. 
Though made by a luggage tag company, these were used exclusively as cargo/freight markers, otherwise thousands would have been made to cover all the personal baggage carried during the line's history from 1871 to 1936.  
Metal detecting in NJ: My original FB post of this find got me five separate calls/emails about where to buy a detector, with three asking if I offer instructions. A tad too busy for lesson-giving, I will confidently pass on that all new entry- and mid-level detectors are so user friendly that they're turn-on-and-go. Advanced machines, to be used to their fullest treasure-finding extent, can have quite a learning curve, made easier by virtually any and all detectors having "unboxing" videos on YouTube. 
Here's the machine I use. It is moderately prices but is far-and-away the toughest best deep-seeking machine out there -- and can take the hellcious abuse I loose upon a detector. 
 EXTRA GAB: I call this find a cargo or freight tag, even through the company that makes them also makes "Luggage tags." If this was a luggage tag, there would have been so many made that I could have found dozens over the years. These were important in showing where entire pallets or crates, were headed or originated.
Per usual, some folks wanted to know what the TRR, Beach Haven tag was worth. I have heard of similar tags going for as much as $250 when a couple auction bidders went at it. I'll agree with that worth, knowing there sure as hell aren't many of them around.
That said, worth can also come down to how many people really can't live without owning one? Also, people into RR collectibles at a national level have been known to go gaga over even minor items from minor lines. It gets no more minor than the Tuckerton Railroad. That hikes the proverbial "insurance replacement value" to between $400 and $450, despite there being nothing available to replace it. 
Now to some technical TH'ing stuff. 
I made this rare TRR/BH find in an area I had gone over many times with the detector. That brings up the metal detecting notion that it is sometimes the direction you approach a buried item, especially if it's in close proximity to rusty iron, which can cloak a reading, reducing its signal to near nothing. Come in from the right angle and a reading can pop where it only crackled before.
As to cleaning found items, there is a huge difference between restoration and conservation at least in a dug artifact sense. (I'll keep art out of the picture since these two terms have a whole different meaning in that context,)  
Restoration is wild and woolly methodology to make something old look new again, the exact look and feel it had when first made. It almost always entails grinding, sanding, even cutting, to reach the base material. It forsakes all but the most rudimentary historic form, causing the loss of nearly all historic value, which might have already been near zero anyway if the item was corroded to hell and back. In other words, if it's historically irretrievable, then why not take it make to its bare roots.  
This is a mesmerizing watch ... if you have the time. https://www.youtube.com/watch?v=cwMg8QSdUIM
Conservation is the name of the collectible's game. It is a complex procedure used to essentially remove dirt but leave desirable tarnish and patina, both of which highlight the age of an object. Conservation is complex. A good bout of it can greatly increase the value of a dug item. A failed effort can annihilate its worth. One of the most sensitive conservations involves old coins. Removing patina in the conservation process instantly leads to a 90 percent plus loss of value. Rendering a coin dirt free and numismatically viable is the ultimate in coin conservation.

((((((((((((((((((((((((((((((((((((((((((((((((((((((()))))))))))))))))))))))))))))))))))))))))))))))))))
Although the 2021 fishing season is winding down, some of the captains of the Beach Haven Charter Fishing Association are still putting some good catches of migrating striped bass on the open ocean and blackfish on structure. 
The bulk of the striper action is through trolling a variety of bunker spoons, umbrella rigs, and Mojo's although some have been taken jigging and casting artificials. 
Captain Max Goldman has had a couple of outstanding days in the past week on the "Starfish" looking for stripers in the ocean. His most recent trip resulted in 5 bass released and another 4 kept. Three of these were slot fish and another utilized a bonus tag. The party also picked up a pair of big bluefish. Assisting Captain Max was first mate Jonathan Kelly. 
Captain Gary Dugan of "Irish Jig Sportfishing" reports drop and reel action on blackfish with mostly small fish but enough keeper fish to put together fish dinners. He has also been putting in time after striped bass.
Captain Brett Taylor of "Reel Reaction Sportfishing" reports a busy few days with stripers and blackfish combination charters. Most of the trips have seen up to 5 keeper bass with blackfish ranging from 9-12 keepers. Some of the tog have been in the 8-pound range, and he has been releasing some big females. Green crabs have been lights out for the blackfish.
 Additional information on the BHCFA and its reef program can be found at www.BHCFA.org.
((((((((((((((((((((((((((((((((((((((((((((((((()))))))))))))))))))))))))))))))))))))))))
The word of the week is "churn."
Despite its simplicity and seeming unrelatedness to fishing, it is actually at the heart and soul of angling's underpinnings. I'll explain. 
Churn is a newish term assigned to explain the way fishermen come and go, often unpredictably. It might even be verbally toyed with by saying it represents the churnover rate.
A study of such comings and goings, done by Southwick Associates for the American Sportfishing Association, defines churn as "The number of anglers who transition in and out of the sport from year to year."
Per findings, that number is surprisingly high. Fishing's overall churn rate is a significant 46 percent. Among young adults (ages 18 to 24), it's well over 50 percent due to life commitments, like college, marriage, the military, and newly established occupations.
Older anglers, those 45 to 64, had the lowest churn at 41 percent. That is obvious in the surfcasting realm.
While churn rate studies focus on freshwater anglers, where license purchasing offers a clear data point, there is a viable and abiding connection to saltwater fishing, especially surfcasting.
I'll venture a guess that modern saltwater boat fishing has one of the lowest churn rates, meaning the regularity of boat fishermen has never been sounder, the same faces faithfully reappearing year after year. A huge factor in that repeatability is the short and intense marine boat fishing season. Nonetheless, as many as 40 percent of boat fishermen take hiatuses, replaced by those either ending hiatuses or arriving new to the scene.
If there's a poster child for a high churn rate, it's surfcasters. The discipline is so participation optional that there is simply no pegging who'll show on the sand from year to year. Before refuting that by bringing up the faces you annually see surf fishing, the study confirms there is always a solid core group in most fishing sectors, so seeing the same surfcasters year to year half applies. It's the other half, comprised of sometimes whimsical comers and goers, that offer a unique angler makeup from one year to the next.
The quirkiness of churn can mean a ton to bait and tackle businesses, which rely on old customers, while knowing the potential of new and occasional patrons who need to be updated -- and sold new goods.
As might be guessed, the churn rate can be as high as 60 percent among nonresidents. While the research focuses on out-of-staters purchasing state fishing licenses, it also reflects saltwater fishing where visitors from other states are equally inclined to take hiatuses, based on everything from weather forecasts to having had a bad experience during the last coastal angling go 'round.
To complicate the entire churn concept is the fact that overall participation tends to hold steady, meaning the total number of folks angling keeps an even keel with only the faces changing. It's the old shark's teeth concept.
Regarding that trend, the American Sportfishing Association study reads, "The fact that overall fishing participation numbers are quite stable from year to year could lead to the erroneous conclusion that anglers are consistently taking part in the sport. Studying the churn rate shows that the pool of individual anglers actually fluctuates greatly—about the same number of people comes into and leaves the angling population from year to year. This shows that anglers may not be as avid as expected and suggests great potential to grow the sport if more anglers are retained from year to year. Female anglers, those between the ages of 18 and 24 years, and urban residents are most likely to lapse."
Take special note of that "retained" angle. It feeds into the newly developed "3R" strategy being fostered by many states. It stands for "recruitment, retention, and reactivation" of anglers – hyped by efforts to hold onto dedicated participants while attracting new ones. In a way, it's an effort to break the cycle of break-even comings and goings -- by having more folks stay put while attracting both newbies and returnees. That has a definite business ring to it. Adherents are marketing the sport, knowing the more the merrier when it comes to license revenues -- along with the revenue dollars gained by states via angling-related businesses.
After thought: There's a load of us who can fully relate to the churn concept, thinking back to years when once constantly used rods and reels lay lonely and untouched in garages. I had a monumental churn when I went from fishing my brains out with my dad to suddenly committing to a life so bound to college and surfing that fishing was backburnered for many decades. When I churned back to rediscover my pubescent love of fishing, the sport was like an old awaiting friend, only requiring some fresh line and buffing up on all my dad had taught me, though he was no longer there to share the return. Churns can be tough that way.
HOLGATE HAPPENINGS: I've only done a couple quick trips to far south end, during which I mainly grabbed some clams and a few oysters (just a few).
Of birding interest, with hunters surely taking note, there are some unusually large flocks of pale-bellied brant, just "brant" to us. This year's showing of these small geese is uncommonly high for even LBI, where they love to hang out for the winter.
Expert counters say the total North American brant population is about 250,000, with the main population breeding in northeastern Canada before wintering along the Atlantic coastline. With numbers like that, the species is of "least concern" in a conservation sense.
If anecdotal amounts to anything, our local brant numbers seem to be taking off, though not nearly to the degree of Canada geese, which have been over perpetuating.
Brant dine heavily on eelgrass and sea lettuce, only occasionally going whole hog on other vegetation.  Canada geese are animals when it comes to eating, the devour the roots and stems of their many targeted forms of vegetation, which includes grasses, sedges, aquatic plants and even critters that get in the way of their munching.    
Of south end wildlife import, there is a stunning showing of coyote prints on the refuge, primarily the area associated with the Clam Trail. While there is usually a few coyote tracks thereabouts, I peg the current showing to represent four or five separate individuals, heading both north and south. One set of prints was closer to coywolf size.  Below: Dog, coyote. 
No, these were not pet prints. I've gotten very proficient at distinguishing the tight prints of wild canines (including foxes) from the wider prints of Fidos. Interestingly, I had written about the sudden return of coyote sightings on LBI, aligned with summer's end. Now I wonder if maybe the summer-absent town coyotes had hung in the wilderness area waiting for the crowds to leave.
((((((((((((((((((((((((((((((((((((((((((((((((((((((()))))))))))))))))))))))))))))))))))))))))
Deer hunting season is upon us. If you're woods-bound, wear enough orange to light up the forest. Hard to believe but there are some hunters out there who shouldn't be allowed to own a loaded peashooter much less a gun.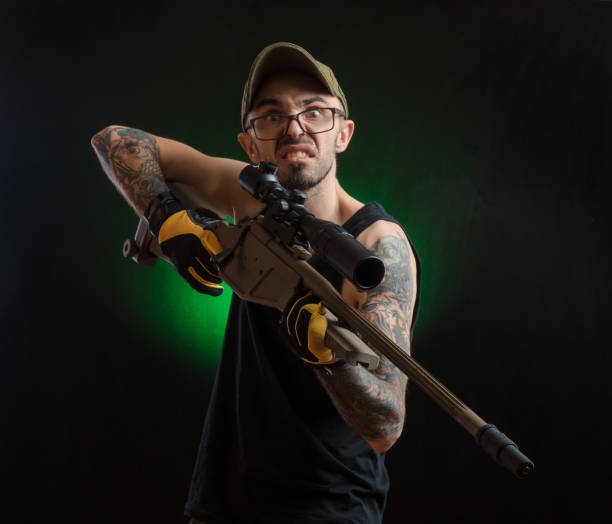 While I understand the remorse of smacking the stuffings out of a deer, I assure it is not as if some wildlife rarity has been done in. NJ's deer count continues to overflourish on the grasses and exotic shrubberies supplied by buildout and over development. What's more, deer can often kill. They are far-and-away the most dangerous animal in America, killing, on average, 200 people per year due mainly to motor vehicle collisions.
This brings up the essentialness of thinning the deer population, be it through hunting or even roadkill. You can just forget the more natural coyote predation factor. It is of such low affect it isn't even included in scientific studies of deer predation.
New Jersey deer hunters harvested 54,980 deer during the 2020–2021 seasons, 20.4 percent higher than the 45,650 deer taken in 2019–20. Then there are as many as 30,000 falling to collisions with vehicles.
It is proven that 150 years ago, deer were a rarity. There were only a few thousand throughout the state. Most of those were confined to deciduous forests in the north part of the state.
While I'm not out there shooting them, I'm behind educating the public on the ecological necessity to keep the whitetail population in check for the sake of many other wildlife species that are barely hanging on. 
Deer are proliferating at a possibly unhealthy rate due their being an "edge species," geared to prosper in places with borders, like the boundaries made by man, including homesteads and farmlands.
It's hard to believe but deer have an aversion to wide open spaces, like our great Pinelands expenses. Such homogeneous stretches of forest drive deer to seek more enclosed haunts. This is one of the reasons behind the NJDEP clearcutting woods to create fields to attract feeding deer, like the dozens of manmade (Quail) fields off Rte. 539 in Lacey.  It is hoped the fields will stem the flow of deer into developed areas, though that is not working well at all.
Possibly related to an over abundance of deer ... 
BAD EHD YEAR: We're about to see the end to a very abnormal Epizootic Hemorrhagic Disease year in New Jersey. The disease caused the demise of over 700 whitetails so far in 2021. That's the highest number since studies of EHD began in 1955. Only guesses as to why EHD is becoming deadlier, though the overall increase in deer population is surely a factor.
The transmitters of the disease, the much-hated no-see-um gnats, part of a complex genus known as Culicoides, will be frozen out soon. EHD ends after the first hard freeze, though the disease has shown a greater and greater tendency to quickly reemerge with the spring thaw, when the infected biters again take to the air.
EHD cannot be transmitted to humans. What's more, authorities report, "There are no known health risks of eating meat from a deer infected with EHD." That's important since many EHD infected deer can remain asymptomatic (unknown percentage).
WORD ON "CULLING:" I have been among many writers who have possibly misused the term "culling" when speaking of reducing the deer population through hunting.  
On further review (I've been watching a lot of football lately), the term culling, though not fully inappropriate when referencing wildlife management, should be confined to the purposeful and specimen specific removal of, say, whitetail deer in an effort to remove less desirable specimens for more desirable ones. The concept is being tried, albeit unsuccessfully, to essentially weed out feebler or less hardy members of a biomass.  
In a realtree.com article titled "Deer Hunting Debate: Does Culling Really Work?" Matt Ross, a biologist with the Quality Deer Management Association, said, "My opinion is that 'culling' is too often used by deer hunters as a means to an end. The term 'cull' is thrown out there frequently to justify why they chose to kill a certain animal. There's no need to do that. Be proud of your harvest. Every legal kill on a deer is a good one, and should be celebrated."
Dr. Grant Woods, a deer biologist and host of Growing Deer TV told realtree.com, "There's been multiple detailed research projects about culling white-tailed bucks with hopes of improving the herd's average antler size," Woods said. "To date, all the projects that I'm aware of show the only result of culling wild free-ranging deer is that fewer bucks reach maturity. This is because a pedigree (knowing who bred who and the results) is necessary to have a predictable outcome from genetic selection (culling). It's been proven many times that hunters and land managers can improve the average antler size substantially by allowing bucks to mature and improving the habitat."
Below: These deer didn't get word that culling is out. They're holding on to the presumption that the best racked bucks would be spared by hunters -- and also allowed the pick of the ladies.