First we have ... 
Then, there's Pedro ...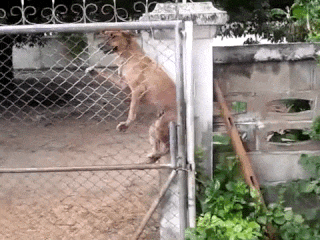 Followed by a retriever who doesn't get only going in knee-deep ...   
Sunday, November 19, 2017: That was a woolly wind last night, as in wild and woolly. There was one frontal passage wins that blew near 50 mph. The ocean has gone coffee-colored. With the wind still honking out of the west, it is far from ideal surf angling. Very few folks are even trying. In fact, the hardcore Surf City surfcasting contingency is nowhere to be seen, a rarity.
The surf is still pushing three to five feet – short-period southerly wind swell -- but should get blown small real fast. As for the water cleaning up, that will take some doing.
After hanging in the "too mild" range for so long, the ocean temps have plummeted into the 40s. Just like that, we're lowering out of the comfort zone for larger bass, which tend to move a little further out to sea, seeking the milder thermocline water … and the bunker balls. 
The LEI dredging has gone out to bid. It is happening. That said, I have this sense it is going to be mainly the east end of the inlet. I need to see the plan to get a better sense of how far inside the inlet (westward) it's going to go. Also, I'm wondering how far north it will be placed, i.e. closer to the North Cut.
Then comes the question of it being re-dredged when needed, via hopper dredgers, like those used in Barnegat Inlet. Talking with Corps folks, it would be the ideal to recycle migrating sand -- moving it back onto the beaches as quickly as it fills in the inlet channel. I wonder how practical such an inlet-to-beach sand transfer will be for, say, touch-ups to the channel. 
From a fishing angle, will the depth drop-off, where the new inlet dissects the shoals, be marked enough to allow fishing where the bass will surely learn to ambush forage?
Below is the latest SandPaper info: See https://thesandpaper.villagesoup.com
The U.S. Army Corps of Engineers issued a permit on Nov. 6 to clear shoals from Little Egg Inlet, and the N.J. Department of Environmental Protection is reviewing bids for the work, according to DEP press officer Lawrence Hajna.
DEP Commissioner Bob Martin said earlier this year that dredging the inlet, which is a major thoroughfare for boat traffic off southern Long Beach Island, is necessary to "make it safe again for everyone who needs this vital access for fishing and recreation."
The project will focus on shoaling on the ocean side of the inlet. An estimated 1 million to 1.5 million cubic yards of sand will be dredged to create a channel 25 feet below mean sea level. Local officials hope the dredged sand will be used to replenish beaches on portions of southern LBI.
While the state's Division of Coastal Engineering said earlier this year that it hoped to expedite the dredging, the Army Corps of Engineers had to first review the DEP's permit application, which included a public comment period and consultations with environmental resource agencies. —J.K.-H.
Here's the state's comments:
DEP PREPARING PLANS TO DREDGE BOAT CHANNEL FOR LITTLE EGG INLET
PROJECT WILL ADDRESS SERIOUS SHOALING THAT JEOPARDIZES SAFE BOATING
(17/P15) TRENTON – The Department of Environmental Protection's Division of Coastal Engineering is expediting a project that will clear dangerous shoals from Little Egg Inlet, a major thoroughfare for boat traffic between southern Long Beach Island and Brigantine to the south. The sand will be used to replenish beaches on portions of southern Long Beach Island lost to storms over the past several months.
At the direction of Commissioner Bob Martin, the Division of Coastal Engineering is developing permit applications, design plans and contract specifications with the expectation of going out to bid for the multimillion-dollar project next month.
The U.S. Coast Guard this week pulled buoys marking the channel due to concerns that buildup of sand in the channel has gotten too severe for safe passage of boats. The Coast Guard warned boaters that if they use the inlet they would be doing so at their own risk.
"This situation has become critical so we are moving forward, using state money, to dredge the channel and make it safe again for everyone who needs this vital access for fishing and recreation," Commissioner Martin said. "We need to take action to get this channel dredged for the safety and enjoyment of the public this summer season."

One of the widest ocean inlets in New Jersey, Little Egg Harbor Inlet is extremely dynamic, with shoals constantly shifting with the seasons. A federally marked waterway, the inlet has never been dredged. Instead, the Coast Guard every year would use buoys to mark the deepest and safest natural route through the inlet, which provides connections to the Little Egg Harbor portion of Barnegat Bay, Great Bay and the vital Intracoastal Waterway.
The project that the Division of Coastal of Engineering is designing will focus on shoaling of sand that has taken place on the ocean side of the inlet. The Coast Guard-marked channel in this area has at times extended as far as a mile into the ocean.
An estimated 1million to 1.5 million cubic yards of sand will be dredged to create a channel that is 25 feet below mean sea level. In many places, the channel had become less than six feet below mean sea level, making navigation very difficult, especially when factoring in the rolling of waves in the ocean.
The project, which will require U.S. Army Corps of Engineers permits, will be designed to have negligible to no impact on the nearby Forsythe National Wildlife Refuge or migrations of fish. The sand will be used on beaches on southern Long Beach Island that sustained erosion as the result of storms since the completion last year of a major beach fill and dune project.
++++++++++++++++++++++++++++++++++++++++++++++++++++++
Overall, it's more of an NFL and NASCAR kinda day.
Regardless of what Mayetta (Stafford Twp.) native Martin Truex Jr. does today in the final winner-takes-all race, he has fully aced the season by my thinking. I need nothing more. Thanks, MTJ,  for the amazing feeling of victory lane … and the best burnout donuts in the business.
+++++++++++++++++++++++++++++++++++++++++++++++++++++++++++++++++++++++++++++++++++++
Quick look at latest Classic weigh-ins ... 
++++++++++++++++++++++++++++++++++++++++++++++++++++
Jim Hutchinson Sr.
The schools of striped bass have finally traveled far enough south for the captains of the Beach Haven Charter Fishing Association toget in on the action, and several of the captains did an excellent job finding the fish. With the water finally cooled off, and large numbers of fish still to the north, this strong bite should continue into December.
Captain Ray Lopez had the "Miss Liane" out last weekend with Willard Zahler of Bluffton, SC, and the John Senker group from Waretown aboard. The anglers enjoyed a fantastic day on the water. In total the group managed to boat three beautiful striped bass with the largest weighing 30-pounds. The group did their fishing north of Barnegat Inlet.
Also finding some big striped bass last weekend was Captain Fran Verdi on the "Francesca Marie." His group was four for four on fish with a 36-incher, 2 42-inch fish, and the largest, one stretching out to 45-inches.
Captain Gary Dugan of the "Irish Jig" was another who traveled north after the bass. He had several fish on and managed to bring home a nice 42-inch fish.
Anglers who enjoy the thrill of catching a real sport fish like striped bass, should take advantage of this fishing in the next couple of weeks before they pass us by for their winter quarters.
Additional information on the Beach Haven Charter Fishing Association can be found at www.BHCFA.net.
https://www.facebook.com/GoHappiest/videos/1942179746108641/
+++++++++++++++++++++++++++++++++++++++++++++++++++++++++++++++++++++

Crazy striper fishing going on up and down the coast. Bunker snagging, casting lures, and trolling are all working. Inside Barnegat Inlet we are connecting with live spots. The range of size varies from place to place, hour by hour. There are still some 20 to 40 lb fish on the bunker pods, 6 to 15 lb fish in the inlet, and every size fish on the troll. The migration fish have arrived and are colliding with the bigger bunker pod fish. It's a great time to go striper fishing. The water temp is 53 to 54 degrees so we should be looking at a nice long run........hopefully until Christmas!
Sailing Open Boat and Charter every day. We have one open boat spot for tomorrow, Monday, Nov 20. 5:30 AM to 12:30PM. 
We will be sailing Wednesday, Nov 22 10AM to 5PM.
Also Thursday, Thanksgiving morning, Black Friday, Sun, Nov 26 and Mon, Nov 27 6 AM to 1 PM. $175 person, 4 people max on Open Boat trips, all fish are shared. These dates are also available for your own private charter.
Capt. Dave DeGennaro
Hi Flier Sportfishing 
+++++++++++++++++++++++++++++++++++++++++++++++
Every time my wife goes away I move the fish to a different spot this time in the bedroom
++++++++++++++++++++++++++++++++++++++++++++++++++++++++
+++++++++++++++++++++++++++++++++++++++++++++++++++++++++++++++++++
For my angling friends that enjoy the stomach contents shot..... this is what was in Ryan's striper.
Whole bunker, several mantis shrimp, several small winter Flounder, some type of pipefish or sand eel, crabs, etc.
New personal best for Ryan.
LBI Surf Fishing Classic
24.36 lb striper brought to the scale by 15 year old, Merchantville Fishing Club member, Ryan O'Connell. Caught in BL on bunker
+++++++++++++++++++++++++++++++++++++++++++++++++++++++++++++
+++++++++++++++++++++++++++++++++++++++++++++++++
A New Season – and a Report from the Arctic
---
Welcome to the 2017-18 winter season for Project SNOWstorm! As many of you are aware, there have already been an unusually large number of snowy owls reported in the Great Plains, Midwest and Northeast, some as far south as Oklahoma and Virginia. It looks like a very exciting winter lies ahead. We're ready, and will share more about our plans for this season in the days ahead.
We had a little warning that this might be a big season, though, because of reports from the Arctic and subarctic this summer — and we're pleased to kick things off this season with the following report from up North by SNOWstorm team member Dr. Jean-François Therrien, senior research biologist at Hawk Mountain Sanctuary in Pennsylvania, who has been studying snowy owls in the Arctic for years with Laval University in Quebec.
———————————————-
Our research and monitoring of the tundra ecosystem continued during summer 2017 on Bylot Island (Nunavut, Canada), where for more than 25 years, my colleagues at Laval University in Quebec and I have been studying snowy owl nesting activities. Our team is pretty unique as it includes expert researchers scrutinizing almost every living organism in the ecosystem, from plants and lichens to insects and spiders, all the way through lemmings, songbirds, shorebirds and geese, and finally to predators like ermine, foxes, seagulls, jaegers and raptors. In addition, a set of weather stations continuously record every possible environmental variable throughout the year while glaciologists and geomorphologists keep track of glaciers and land mass movements. To say that we have the ecosystem under surveillance would be an understatement.
The greatest thing about being part of such an extended team is exactly as the saying goes: The whole is greater than the sum of its parts. Because we have colleagues studying in great detail the fluctuations in lemming numbers, we can concentrate in studying the raptors that depend on lemmings — like snowy owls — in detail. And the reverse is also true. By knowing precisely how many raptors nest and how many prey they eat, our colleagues can infer the predation rate that lemmings face. With many emerging pressures facing our environment, such scientific collaborations are crucial in order to understand changes threatening species and ecosystems.
Those of you following this blog probably remember the amazing breeding success that was recorded on our long-term study area of Bylot Island in summer 2014 (116 snowy owl nests) followed by a much slower breeding year in summer 2015 (no nests) and an intermediate year in summer 2016 (five nests). Well, it seems that both lemmings and snowy owls have read the same textbook. Indeed, with a periodicity of about four years, 2017 was supposed to be a quiet one in terms of lemming and raptor numbers on Bylot Island. And so, it was. Colleagues surveying the study area in early June sent a few emails warning us: Very few lemmings, no owls to be seen." They were right; a grand total of zero snowy owls nested in 2017 on Bylot Island, our main study site.
A very similar report came from our colleague Denver Holt, conducting long-term monitoring in Barrow, Alaska: "Lemming numbers very low, not a single snowy owl nest to report." Although disappointing, this situation is part of a natural phenomenon, a periodic fluctuation in the numbers of both herbivores like lemmings, and their predators. But if not a single snowy owl was reported from our study site — a place that can host more than a hundred nests in a good lemming year — where did they go? Are they breeding somewhere else? Indeed, as many of you now know, we have discovered using satellite transmitters that snowy owls disperse over huge distances annually, and can settle in far distant places to nest where lemmings are abundant. So if snowy owls were nowhere to be seen both on Bylot Island and Barrow, they must have been somewhere!
Indeed, earlier this year I received emails from researchers working at two sites in Nunavut, Canada — one team under the supervision of Alastair Franke from the University of Alberta, on Rankin Inlet in the northwest Hudson Bay, and another team at Igloolik, north of Hudson Bay on the Foxe Basin. Both sites reported nesting owls, but the most exciting news came from people surveying a large region in northern Quebec called the Ungava Peninsula.
If that name sounds familiar, it's because the last time snowy owls nested in the Ungava was in the summer of 2013, just before that massive winter irruption that actually triggered Project SNOWstorm. In fact, that's where this famous picture of a snowy owl nest surrounded by 78 lemmings came from.
Well, it seems that four years later, snowy owls again settled in that region. Wildlife biologists studying caribou covered the region from a helicopter and reported seeing snowy owls in the same area we surveyed four years ago. Our colleagues from a mine company in the region (Glencore-Raglan) also confirmed seeing lots of snowy owls there. Unfortunately, we weren't able to send someone up there to assess lemming and owl densities as well as their clutch size and nesting success, but this nonetheless indicates that there was some breeding activity across that region.
But the early appearance in recent weeks of dozens of snowy owls in the Great Plains, Great Lakes and Northeast — and as far south as Virginia in the past few days — suggests this could be another very exciting winter in eastern North America.
I've said this over and over again: snowy owls have a tendency to surprise us. We'll have to wait and see how many birds show up at our latitudes, but Project SNOWstorm is already gearing up for perhaps our most ambitious winter season ever. Our team members are poised from the Dakotas to southern Canada and New England, and in the days and weeks ahead we'll be sharing our plans for this winter season, and the years to come. As always, we'll keep you updated as the winter of 2017-18 unfolds, but we're sure it's going to be thrilling, and will add to our growing understanding of the ecology of these magnificent birds.
— Jean-François Therrien