The king of all he surveys ... 
Or all he steals ...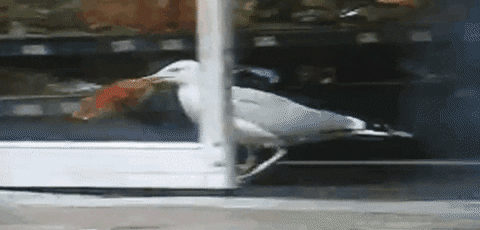 ... Hey, it's not that funny ... 
Sunday, November 11, 2018: No surprise that the west winds have put the brakes on the surfside striper bite. That sure as hell hasn't cooled the jets of anglers responding to all the weighted in fish by heading out to find their very own weigh-ins. The LBI beachline, north to south, is shining with surfcasters. I drive along with a smile on my face since I really do enjoy seeing so many fishing folks taking in what is a very fine typically cool fall day. OK, so maybe there are some semi-frustrated looks on the faces of those who realize they missed the fast-moving bass blitz but I got word of a couple small fish in the morning mix. Those schoolies keep the interest juices flowing.
While I'm not getting much radio chatter from boat bassers, my binocs show me many a captain is on the hunt. With the water rapidly cleaning, those hunts will surely be tracking down the bass that have blown back out to sea. It's still a tad soon for bunker balls to become apparent, surface-wise. By tomorrow, nearshore boat bassing might burst open. Trolling could be the call with early-day glassiness.
While emails and such have fallen to a slow drip – with many fishing folks having shut down for the season – I got a follow-up regarding the AWOLness of any and all big blues. "Jay, There is nothing new about bluefish disappearing. It happens constantly. My dad remembers when people didn't know what a bluefish was," he wrote. Then came the clincher. "I'm glad to see them gone. They mess up bass fishing." Hmmm, why did I sense that was coming?
A while back I passed on the segment seen below from a Dick Clements' Beachcomber column.
This piece is from whence I first began exploring the notion that beachline forage is everything when it comes to drawing in big stripers. Dick focuses on sand eels, which I forgot to mention in my suspicions that disappearing surfline forage is ravaging our fall bassing.
Sand eels were once the numero uno foodstuff for near-in gamefish. I had them in the 1980s. When I used to throw net off jetty/groin rocks, I kept a very small mesh net to throw on larger sand eels. The smaller ones slimed through. I wasn't big on using nasty-ass eel rakes, with vicious prongs meant to skewer sand eels just below the sand surface. 
Sand eels were in the swash in goodly numbers not that long ago. The effectiveness of eel lookalike lures, mainly plastics, were meant to imitate sand eels, not American eels as is sometimes thought. Well, sand eels are also no longer with us, though every midwinter I see clouds of them in waters around Little Egg Inlet. Again, they seem to be among those creatures now turned off by something in our seaside sands. (No, I'm not giving up this notion that something is seriously wrong in the swashes of LBI, be it freshets or simply the oppressive constantly changing replenishment sands.) 
++++++++++++++++++++++++++++++++++++++++++++++++++++

There are still many weeks to go in the "Derby" with big and moneyful fish to be had. 
************************************