Come on, you know you've wondered about this ... 
Below: I often do this with my Chevy Silverado truck ... 
================================================
Below: Not a damn thing fake about that punch. Ya buncha disbelievers. 
==============================================
Just in: This is surely a snakehead. Check out the insane banter the fish has caused at the Betty and Nick website. 
fish ID? caught this on a jig and it had a x-rap hanging out of its mouth!
Sunday, June 03, 2018: Well, the weather did it again ... turning crappified on a dime. And this turnabout might be the most frustrating yet, within this weather-crazed spring. Why so? Some hot bites had begun to surface on many a fishing front, highlighted by south bay waters (Little Egg Harbor), where some of the best fluking in many a year had settled in. Calmer weather helped make that prime flattie zone a breeze to fluke-fish. One down side, yesterday, were the waves … as in wave after wave of biting gnats. No-see-ums love dead calm air.
By the by, as insanely annoying as no-see-ums are, these biting gnats do not transmit diseases to humans in the U.S. However, they've been found to be a primary transmitter of a nasty disease called Blue Tongue disease, which hits horses quite hard.
And for those allergic to the spit of no-see-ums: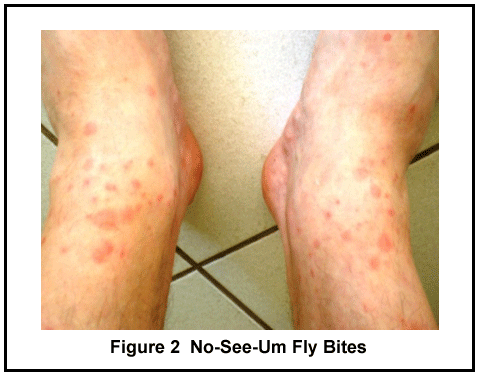 As to where these tiny-ass biters reside while awaiting a good bloodsucking session compliments of human skin, experiments show they are poor fliers, at best. The ones attacking you when you're out hanging towels in the backyard are essentially homegrown, living their entire lives and times well within your midst. However, heading out on no-see-um extermination missions, cocked and loaded spray can of insecticide in hand, will likely have a minimal overall impact on theirs numbers. Such target-unseen spraying will end up exterminating loads of useful bugs, the types you need in a home/garden/yard ecosystem. It should also be pointed out that skin-based insect repellents, even those capable of warding off mosquitoes, are oddly ineffectual in thwarting biting gnats, at least for any decent length of time. This could be partially due to the fact that any small area of skin that hasn't been protected with repellent offers more than enough surface meat for these minuscule flies. Many a lathered up angler will attest to that after Saturday's Attack of the no-see-ums. 
Back to fishing, boat bassing was tossing trophy stripers (50 pounds on one occasion) to topwater anglers. The big gals were being taken at a fair clip, though not lights-out by any stretch. A load of smaller bass are hanging along the beachfront and even around inlets. There are still nighttime schoolies, bayside – which might be the only fishable place with this brisk blow, pushing 30 mph out of the ENE.  
For those going after black sea bass, another "meat fish," the takes remain excellent, bordering on epic for at least one angler I know -- who happens to know the ideal spots/structures and when to tap them. Amazing what a difference a tide can make even when fishing structure.
Got word that a sizable deceased sturgeon washed up on a south end beach. It was likely a bycatch fatality, since these are generally powerful survivors. It's a shame.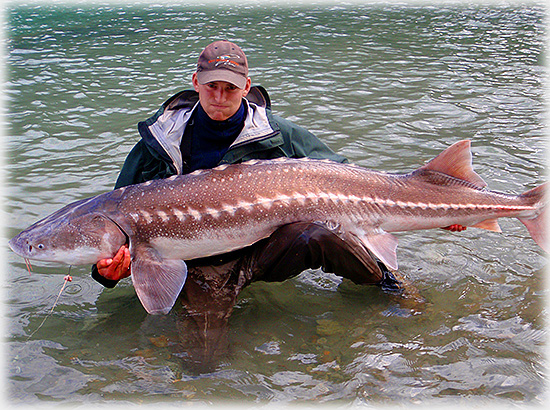 FLUKE CHAT: I read a Facebook remark about how chubby the keeper fluke have been, seen best when filleting.  This shows how early – and often – they feed when coming out of a relatively low-eating winter stay in deeper waters off NJ and NY.  Considering they'll eat just about any living creature they can bite down upon, it doesn't take much time for them to put on ounces, then pounds.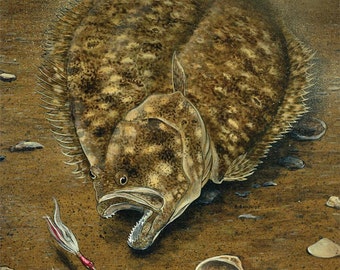 There's often a bit of a misconception about summer flounder, many folks thinking they come into the bay and shoreline waters in spring to get ready for a summer spawn, like many/most other gamefish. Au contraire. Fluke are dedicated followers of fall spawning – and not bayside. From mid-September through early November, reproduction takes place at depths of 60 to 160 feet, as the further-fattened fluke move out toward their deeper-water wintering grounds. They get friskiest, spawn-wise, in waters between 53 to 66 degrees.
Summer flounder's spawning migration is linked to sexual maturity (reached at age two or three, at lengths of about 10 inches). The oldest and largest fish migrate first, spawning with other older and larger fluke. That offers some insights into why it's a wise management move to allow flatties an unmolested fall period to do their thing at those water depths.
Below: Hold down "Ctrl" and "space" at the same time, then use mouse wheel to make chart larger.

=========================================
Jim Hutchinson Sr. 
Memorial Day has come and gone at the Jersey shore, and, despite some nasty weather, anglers were out on the water catching fish. The one big factor on the fishing scene was the variety of fish caught by the boats of the Beach Haven Charter Fishing Association (BHCFA). 
In the ocean big striped bass were trolled up while black sea bass were biting on the inshore wrecks and reefs. Meanwhile in the bay waters good catches of summer flounder and bluefish were happening. 
Captain Brett Taylor of "Reel Reaction Sportfishing" put his anglers on both striped bass and fluke. He had Art Diebel and son Bruce out for some striper action. Bruce is a 7th grader who caught his first ever striper along with some feisty bluefish. On another trip, Alison Mack with her brother Jon and 10 year old boys Eoghan and Rogan did some fluke fishing. Using bucktails they boated over 30 fish with 3 keepers to take home. Rogan also caught a short striped bass. 
Captain Carl Sheppard fished the "Star Fish" for fluke on Friday and black sea bass on Saturday. Captain Carl had five keeper fluke out of a total of 12 caught. He found moving baits working the best. On Saturday he looked for striped bass and then turned to black sea bass. The stripers were scarce but he found enough sea bass to keep his fishermen happy.
==============================================
Didn't exactly light the fishing world on fire on Saturday, but had a great time as always fluking with my dad Hutch, Sr. and nephew Riley Harris. And there is fresh fish for dinner, so there is that!
 

— withJim Hutchinson Sr.
=========================================
Lucky Stripes and OB1 are on the board with 39.22 and 39.42 Stripers. Nice work fellas!
=================================================
==============================================
Dylan & Brayden put our first kingfish dinners of the season in the cooler this afternoon. Even added a side dish of weakfish. Great time of year to get kids out fishing!
==========================================================
I had return client Mike Galindo out on a 4hr Fluke/Striped Bass charter with his two boys, Bennet and Mason. We worked the backwaters first and I would've thought the Fluke bite would've been better, but it was a tough bite today. The trio ended with one solid 22 inch keeper amongst the 20+ shorts. All the Fluke were caught on the S&S BigEye bucktail. We ended the trip fishing the Barnegat Inlet to release a 23-inch Striped Bass and Bluefish to 24 inches. We had a few run-offs that were mostly likely short bass. Tough day, but the guys still hit a Barnegat Bay slam (Bluefish, Striped Bass, Fluke).
========================================================
=====================================================
Jeff Warford
 called an audible last night and it was a money move for sure! 
Ilan Shemesh
 and his family from Israel who had NEVER fished before and handled the trip like pros! Bigeyes and Tripleheader Yellowfins. Starting to get the hang of this cockpit thing! Was able to land all fish, all 8 guys were pumped and seem like they would Deffinitely go out again! Awesome seeing all of the hard work and training paying off!
========
Another "MAGICAL" afternoon for backbay Fluke on the S&S BigEye bucktail - I had return client Erik Hansen of Doylestown with his two buddies, Rodger Gensec and Michael Miele. We started working the backwaters for Fluke and the trio caught over 25 shorts with 4 keepers to 23 inches. We lost a nice fish boat side that was estimated at 26-28 inches (7-8 pounds). We finished the trip working the jetty with fresh bait for Striped Bass and the guys caught 3 Stripers to 26.5 inches. A great day on the water!!
=================================================
======================================================
 just missed the 50lb mark
=====================================================================
Dear Jay Mann,
This week, The Rutherford Institute secured a rare and critical Fourth Amendment victory before the U.S. Supreme Court, which ruled 8-1 in Collins v. Virginia that police need a warrant to search vehicles on private property.(You can read the ruling here.)

In arguing against a dangerous expansion of the "automobile exception," The Rutherford Institute filed an amicus brief in the case urging the Supreme Court not to provide law enforcement with a warrantless means of bypassing the Fourth Amendment right of citizens to be secure within the privacy of their homes.

Under the "automobile exception," police have greater leeway to search vehicles on public streets without a warrant. Unfortunately, police have interpreted this exception to mean they can conduct warrantless searches regardless of where the vehicle is located.

Thankfully, the U.S. Supreme Court agreed with our concerns and refused to grant law enforcement yet another loophole to encroach on the rights of citizens to privacy in their homes.

At a time when the Fourth Amendment has been so watered down, battered and bruised (owing to the general complacency of the courts and legislatures) as to provide little practical protection against police abuses, this ruling is a welcome reprieve.

Still, we can only achieve these victories with your help.

Right now, The Rutherford Institute has until June 30 (our fiscal year end) to raise $100,000 for a matching gift campaign, and we are looking to our core supporters to help us meet this critical goal and, at the same time, double the impact of your donation.

To make a tax-deductible donation to The Rutherford Institute, click the link below, visit us online at www.rutherford.org, donate using PayPal, call in your donation to 800-225-1791, or mail your donation to our headquarters at PO Box 7482, Charlottesville, VA 22906.

Thank you, in advance, for your support of The Rutherford Institute's efforts to stand strong in defense of the Constitution and the principles on which this nation was founded.

For freedom,
John W. Whitehead
President