Just one of those days ...
Watch how this dog knows just what a rope rescue is all about. ... And notice how he isn't letting go of the rope until off the ice.
Smooth move, dude!!!!!!!!!!!
Sunday, February 11, 2018: This gully-washing rain is just what the sand-cleaning doctor ordered. The stained sands of south Beach Haven and the people-populated portion of Holgate should be a lighter shade of pale after this two-inch dousing. Now to get a beatdown sun to offer some bleaching action.
I hope to once again be doing Holgate Refuge time, after taking a driving hiatus to tweak the aching transmission on my 2011 Silverado. It desperately needed an overhaul, considering the absolute hell-and-back I've repeatedly put it through. Knock on chrome, I hope to wrest a solid 50-gran worth of additional mileage out of the old girl, who is already showing 92,000. It is far-and-away the finest 4WD and all-purpose vehicle I have ever owned … by a country/beach mile.
As work was being done on my granny tranny, I drove a 2018 Chevy Yukon loaner. Oh, that is so NOT for me. Pristine white and yet to know sand beneath its feet, the smooth-sailing Yukon was simply far too cultured for the likes of my rough-roving ways. It also drew attention, as other motorists took long and languorous looks at the large, somewhat imposing machine. As a working vehicle, it was far closer to what a meddling boss arrives within than what a mere ditch-digger like myself drives about in.
I pictured me owning such a $55,000 buggy and driving it down narrow Pine Barrens sand roads, as fingernail like squeaks from scratchy tree branches issue forth along its side. I'll take fingernails on a blackboard any day. And how about plowing through wet, paint-hungry Holgate muds and sands? No thanks, though I did like the Sirius radio and that backup screen showing what I was about to run over. It was kinda fun putting stuff behind me just to see what it was like to run over it. Please, don't tell the dealership I did that.
Anyway, my hummin' new tranny is begging to meet the beach. That's my kinda mechanism. Thus, I'll soon be going beachline, to either break in the tranny -- or break it, seeing it has a 100,000-mile guarantee. Now there's a guarentte that's a big mistake to give the likes of me.
TH'ING STUFF: I'm just now beginning to come back to friendly terms with the weather. With no deep freezes on the nearing-spring horizon, I can finally think in terms of catching up on a load of treasure hunting ventures missed during the mini-Ice Age.
I did get in a couple digs twixt freezes. Here's a look at previously mentioned Tuckerton RR-related buttons I found.
Then, a day after these button finds, I had a sinker detecting session. here's a quick Android vid.
https://www.youtube.com/watch?v=advgxxJ_9ug&feature=youtu.be
================================================================
As I was digging amid a midwinter grayness of both ground and sky, I came across this stand-out neon green larvae. I re-buried it to assure its survival.
+++++++++++++++++++++++++++++++++++++++++++++++++++++++++++++++++++++++++++++++++++++++++
Below is a fairly in-depth initial story about the disappearance and likely sinking of a fishing vessel out of Pleasantville, the 46-foot Queen Ann's Revenge, formerly the Virginia Sue.
Eric Herner, a former crew member of the Queen Ann's Revenge, told NJ Advance Media writers Spencer Kent and Sophie Nieto-Munoz that he had enough doubt about the seaworthiness of the vessel to part ways with wooden fishing boat.
"A boat like that shouldn't have been out in that weather," Herner said. "One wrong wave can set off the whole thing."
While the story makes due mention of rough weather and sea conditions at the time of the suspected sinking, it was far from ominous out there, adding more importance to a possible problem with the vessel's integrity.
Coast Guard Search for Missing Fishing Boat 40 Miles off N.J. Coast Grows Desperate
SEAFOODNEWS.COM [NJ Advance Media for NJ.com] By Spencer Kent and Sophie Nieto-Munoz - February 9, 2018
The families and friends of two missing commercial fishermen are holding on to a sliver of hope that the men will be found after their boat began taking on water and vanished early Thursday about 40 miles off the New Jersey coast.
Paul Alexandre Matos, 30, of Bayville, and his crew member, Dennis Smalling, were aboard the 46-foot Queen Ann's Revenge when one of the men sent out a distress signal at about 1:20 a.m.
Matos' sister, Milene Oliveira, told NJ Advance Media Thursday afternoon that family and friends were becoming increasingly worried that the men wouldn't be coming home as hours rolled by and darkness approached Thursday.
"At this point, everybody has lost any hope that they'll be found alive -- it's been so long and the weather is cold, we're completely devastated," Oliveira said. "He was in the Navy (and) if there is a person who has extensive training with all of this, it's him -- which is why some of us are still holding on to some hope."
According to Matos' girlfriend, Amy Romano, Matos set out with Smalling late Monday night, leaving from what's locally known as "the clam dock" in Point Pleasant.
A pair of fishermen who know the two men said they were out "dragging nets" and likely either fishing for fluke or porgies. They said the "whole fleet" was likely going out Thursday night to aid in the Coast Guard search for the missing fisherman, and that the boat was equipped with a life boat.
The Coast Guard was out searching the waters as of about 4:45 p.m. Thursday, according to Petty Officer 1st Class Seth Johnson, a spokesman at the Coast Guard's Atlantic City station.
Johnson said Coast Guard rescue crews were searching from the air and sea. He was not able to comment on how much longer rescuers would be searching.
Hours before the boat left on Monday, Matos and Romano -- who have a 5-month-old daughter -- went over the weather forecast, which concerned Romano because it showed a chance of high winds and waves later in the week.
"He promised me he wasn't going to stay out when the winds picked up or (when) the waves got bigger," Romano said.
After he left, the couple stayed in touch through email, and she wrote him on her concerns about the potential weather ahead.
Their last communication was at 2:36 p.m. on Wednesday, when Matos wrote, "I'm hauling back my gear now and heading home -- it's starting to get nasty," Romano said.
She said she emailed again that evening, but received no response, and said panic began to set in.
Around 4 a.m. Thursday, she woke up to a missed call from the Coast Guard and a text message from Matos' sister saying that his boat had gone down.
Eric Herner, a former crew member of the Queen Ann's Revenge, said that he left the crew just three weeks ago out of concern about the seaworthiness of the wooden fishing boat.
"A boat like that shouldn't have been out in that weather," Herner said. "One wrong wave can set off the whole thing."
The vessel previously operated under the name Virginia Sue, and was placed into service in 1957, according to Coast Guard records. It's officially owner is Matos' Black Beard Fishing LLC, which registered the boat in October. It weighs 32 tons.
The National Weather Service issued a small craft advisory at about 12:45 p.m. on Wednesday, effective through noon on Thursday, warning boaters about the potential for rough seas and gusty winds.
Waves off the coast of New Jersey were forecast to rise as high as four to seven feet, according to the advisory with winds 17 to 23 mph and gusts of 35 mph.
Oliveira, of Tinton Falls, said that family and friends were gathered at her mother's home in Brick on Thursday afternoon, waiting to hear from the Coast Guard.
Weather radar images from late Wednesday night into early Thursday show some light rain showers were occurring off the coast of Ocean County up through about 1 a.m., and then the rain had stopped, said Lance Franck, a meteorologist at the National Weather Service's regional office in New Jersey.
Waves off the coast of New Jersey, from the shore out to 20 nautical miles, were forecast to rise as high as four to seven feet, according to the small craft advisory.
The Coast Guard asked any mariners who found "items related to the fishing vessel" to call its Sector Delaware Bay installation at 215-271-4940.
Staff writers Jeff Goldman and Len Melisurgo contributed to this report.
+++++++++++++++++++++++++++++++++++++++++++++++++++++++++++++++++++
NAME CHANGE DANGERS: I absolutely promise I'm not making light of this awful missing-boat incident by bringing up a longstanding maritime maxim that changing a boat's name is seen as tempting fate. In fact, there is an entire and involved procedure that should/must be done if one is hellbent on going through such an ominous (to mariners) name change.
At boatsafe.com, an article entitled "Ceremony for Renaming Your Boat" offers:
"Everyone knows that renaming your boat will bring nothing but bad luck and make your boating experience something that you will want to forget.
"Renaming a boat is, of course, not something to be done lightly. Since the beginning of time, sailors have sworn that there are unlucky ships and the unluckiest ships of all are those who have defied the gods and changed their names. So, is there a way to change a name and not incur the wrath of those deities that rule the elements? Yes, Virginia, there is.
"According to legend, each and every vessel is recorded by name in the Ledger of the Deep and is known personally to Poseidon, or Neptune, the god of the sea. It is logical therefore, if we wish to change the name of our boat, the first thing we must do is to purge its name from the Ledger of the Deep and from Poseidon's memory….
"This is an involved process beginning with the removal or obliteration of every trace of the boat's current identity. This is essential and must be done thoroughly. …
"Do not under any circumstances carry aboard any item bearing your boat's new name until the purging and renaming ceremonies have been completed!"
The article includes more advice on renaming a boat.
+++++++++++++++++++++++++++++++++++++++++++++++++++++++++++++++++++++++++++++++++++++++++
After spending so much time and energy getting the house back to normal after Irma, we got to do some fishing. A lot of small stuff and a big sheepshead and puppy drum will make some good fish sandwiches for dinner.
++++++++++++++++++++++++++++++++++++++++++++++++++++++++++++++++++++++++++++++++++++++++++++
APPLICANTS SOUGHT FOR HUNDREDS OF PEAK-SEASON JOBS AT STATE PARKS, FORESTS AND HISTORIC SITES
JOBS AS LIFEGUARDS, VISITOR SERVICE ASSISTANTS, EDUCATORS AND MAINTENANCE WORKERS PROVIDE REWARDING EXPERIENCE
(18/P13) TRENTON - The New Jersey State Park Service is seeking applicants for hundreds of peak-season jobs at parks, forests, recreation areas and historic sites throughout the state, the Department of Environmental Protection announced today.
Each year the State Park Service hires hundreds of people to fill peak-season jobs These jobs are essential to the operations of the State Park Service and include lifeguards, visitor service assistants, nature and history educators, and maintenance workers.
"Seasonal workers serve an important function at our parks, forests, recreation areas and historic sites, helping us to showcase our natural and historic treasures at our busiest time of year," said Mark Texel, Director of the Division of Parks and Forestry. "Equally important, these jobs provide rewarding learning experiences."
The number and types of positions available varies depending on activities at each location in the State Park Service system. The busiest part of the season is Memorial Day through Labor Day.
Some parks are hiring to fill positions from April through October, particularly those with camping. The Park Service will work with applicants, such as students and teachers, whose availability may be limited to weekends during certain months of the year.
Applicants must be 16 or older. They are encouraged to check with the park office of their choice about specific positions, scheduling and other job-related inquiries by Thursday, March 1.
Seasonal employees are required to work weekends and holidays because facilities are open seven days a week. Most jobs are outdoors.
Lifeguard positions are anticipated at 14 swimming areas across the state, such as Island Beach State Park, the Atsion Recreation Area in Wharton State Forest and the Spruce Run Recreation Area in Hunterdon County.
Candidates must pass running and swim tests prior to employment. The Park Service will train lifeguards in cardiopulmonary resuscitation/Automated External Defibrillators, first aid and other medical matters, and help applicants obtain U.S. Lifesaving Association certification.
Office workers and visitor service assistants provide customer service functions such as registering campers, answering phone calls, providing recordkeeping, handling sales transactions, and other duties as required.
Nature and history educators work with park naturalists and historians at interpretive centers and work with the public. Typical activities include giving tours, demonstrating or explaining a craft, and preparing materials. These positions may also be assigned specific projects by their supervisor.
General maintenance workers help to maintain grounds and buildings, and keep areas free of litter. Seasonal visitor service workers provide information to visitors, report emergencies and direct traffic and perform visual inspections of facilities and grounds.
The New Jersey Division of Parks and Forestry oversees some 50 state parks, forests, recreation areas, battlefields, historic sites and marinas that annually draw millions of visitors and are a key contributor to the state's tourism economy.
To learn more about which locations are accepting applications or to apply for a specific position, visit: www.njparksandforests.org/parks/jobs.html or visit your local park office.
To learn more about New Jersey's Parks, Forests and Historic Sites, visit: www.nj.gov/dep/parksandforests/
Like the New Jersey Division of Parks and Forestry page on Facebook: www.facebook.com/newjerseystateparks
Follow the New Jersey State Park Service on Instagram @newjerseystateparks
========================================================================================
CNBC to Broadcast 'Oceans of Crime' Program Slamming the Seafood Industry on February 17th
SEAFOODNEWS.COM [SeafoodNews] February 8, 2018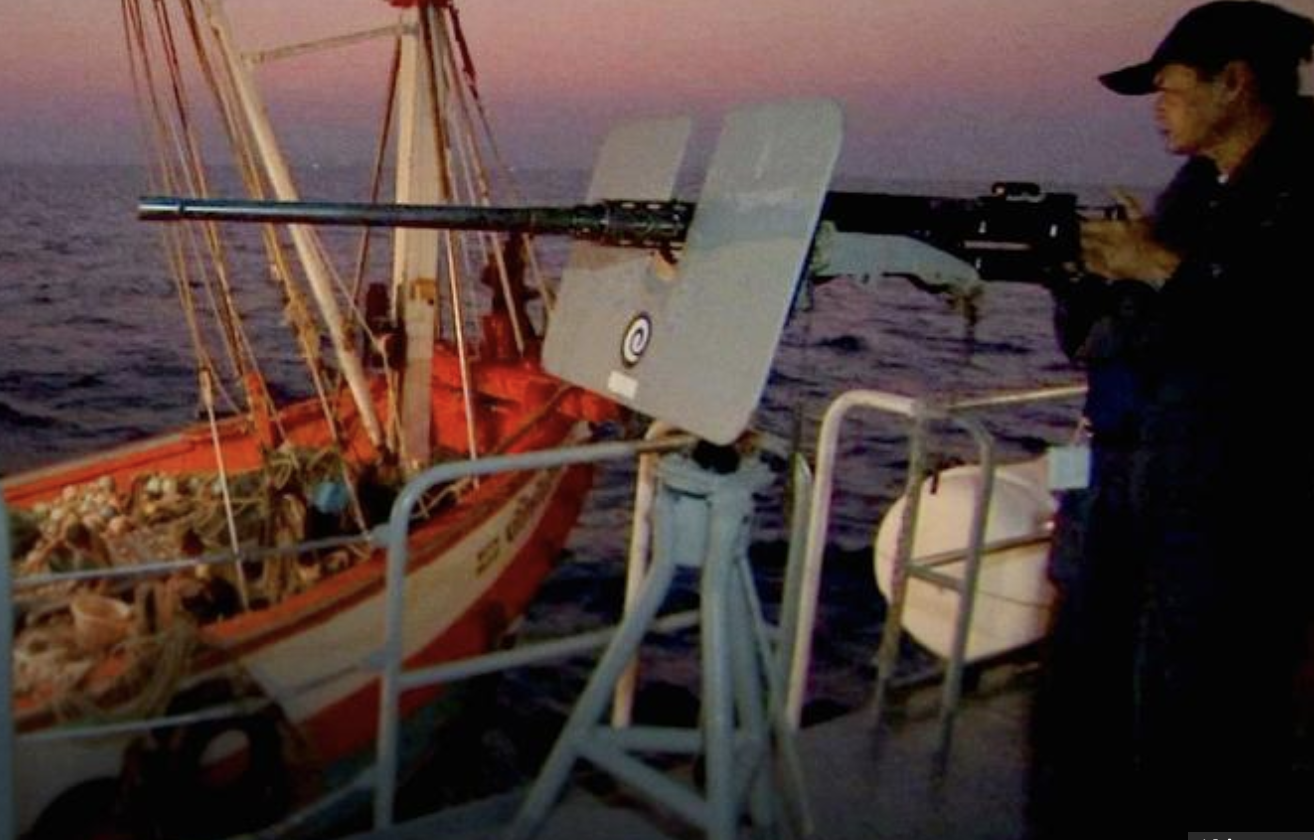 The documentary "Oceans of Crime," will be broadcast on CNBC on Saturday, February 17th at 8pm ET/PT. The program looks at IUU fishing and human trafficking and will likely be highly inflamatory towards the seafood industry.
CNBC's publicity says the "documentary reported by Ted Kemp uncovers a fascinating and disturbing crime story set in in one of the most lawless places on earth: our oceans, where perpetrators feed an illegal seafood supply chain and victims of human trafficking are forced to serve aboard commercial fishing vessels for years at a time. It's all part of a multi-billion dollar outlaw industry funded by the global appetite for salmon, tuna, sushi, and other seafood. Americans alone consume nearly five billion pounds of seafood every year, though many are unaware of the massive human and environmental wreckage left by illegal, unreported, and unregulated (IUU) fishing."
"CNBC investigates the little-known and sometimes shocking means by which seafood arrives at our grocery stores and restaurants. Viewers will get a first-hand look at how some of the seafood supply moves from the waters of Southeast Asia to American shores, fueled by a dangerous black market. Along the way, they'll follow an eco-activist and ship captain who's chasing rogue Chinese fishing vessels in the South Indian Ocean; a satellite sleuth in landlocked West Virginia who culls signal data to help patrol the world's seas; an American aid worker fighting to help former fish boat slaves in Thailand; an American fishing fleet owner who defends U.S. industry practices; federal agents who patrol our ports in search of illegal seafood shipments; and conscientious retailers and restaurant owners trying to make sense of a shadowy supply chain, including executives from Whole Foods who talk about their commitment to ethically sourced seafood."
"Oceans of Crime" is an eye-opening investigation into the true cost of the seafood we eat – a gripping account that begins half a world away and ends as close as your kitchen table.
+++++++++++++++++++++++++++++++++++++++++++++++++++++++++++++++++++++++++++++++++++++++
Japan Fishermen Petition Government for More Closures on Bluefin Tuna, Say Fish Have Disappeared
SEAFOODNEWS.COM [The Nation] by Yuta Yagishita - February 8, 2018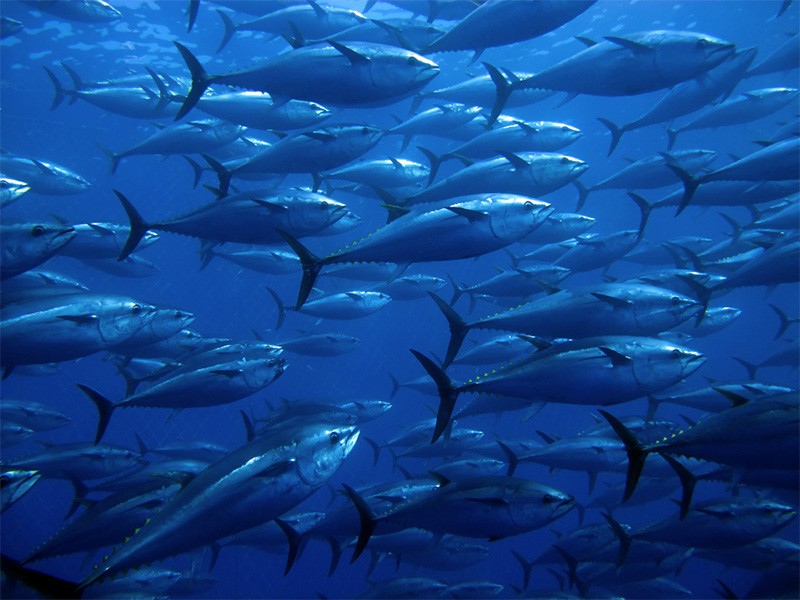 Minoru Nakamura, a fisherman from Iki Island, recalled the biggest tuna he had ever caught, back in 2013. "It weighed 319 kilos. It was so big I couldn't get it into the boat, and I had to lash it to the hull." A fish this size being rare, it made the front page of the local newspaper. A photograph showed Nakamura next to his enormous catch, 2.7 meters long, hanging from a crane. He looked proud, but not ecstatic: Their precarious livelihood makes these independent fishermen humble. "I can go for ten weeks without catching anything," he said at the time; today that sounds like a prophecy. This remarkable fish was one of the last Pacific bluefin tuna over 300 kilos to be caught off Iki.
Iki (population 27,000), in the Sea of Japan between Korea and the Japanese city of Fukuoka, is a pleasant subtropical island with green hills, hot springs, rice paddies, and white sand beaches, but its fishing community is facing an existential crisis. The annual catch of bluefin, highly prized by sushi lovers, has plummeted: It fell from 358 tons in 2005 to less than 23 tons in 2014. Nakamura said: "The little fish, weighing 3-4 kilos, were the first to go, then the bigger ones, and now there are none at all."
Nakamura and his colleagues have petitioned the Fisheries Agency, part of Japan's agriculture, forestry, and fisheries ministry, several times. The agency maintains that falling catches are due to climate change. "They say the tuna have moved to the waters off Korea, where we're not allowed to fish," said Nakamura, who doesn't believe it. The fishermen blame the powerful industrial fishing vessels operated by big companies like Nippon Suisan Kaisha (Nissui), which has 10,000 employees. These come from Sakaiminato, a mainland port 400 kilometers northeast of Iki. They started catching adult tuna in the Sea of Japan in 2004, the year Iki's fishermen began to see their catch fall. Sakaiminato vessels seek out schools of tuna with sonar, then encircle them with a purse seine more than 1 kilometer in circumference. They catch up to 50 tons each time they deploy the net, and a total of 1,500 tons in June and July, when they fish most intensively. The Iki fishermen, who use pole and line, rarely catch more than 1.2 tons a month per boat.
Such intensive fishing is "a heavy burden on the environment," says Kazue Komatsubara, an ocean campaigner with Greenpeace Japan. "It allows them to catch large numbers of fish of all sizes and species." According to a report by the International Scientific Committee for Tuna and Tuna-like Species in the North Pacific Ocean (ISC), nearly 60 percent of all tuna landed by Japanese vessels in the last three decades have been caught by this method.
Many of the bluefin that roam the Pacific Ocean return to the Sea of Japan every summer: This area and the northern part of the Philippine Sea are their spawning grounds. All the fishermen of Sakaiminato have to do is wait with their nets. Their methods anger environmental activists and researchers, who blame them for the decline of the species. "Intensive fishing of tuna during the spawning season is very harmful to the health of the species," said Toshio Katsukawa of the University of Tokyo's Atmosphere and Ocean Research Institute. "It's the complete opposite of sustainable, and if it continues, it will lead to the collapse of the fishing industry in the region. The government should ban the practice."
"THREATENED" SPECIES
The impoverishment of the species has been confirmed across the Pacific. In April 2014 the ISC published shocking figures: In 2012 only 6 percent of all bluefin were old enough (three to five years) to reproduce; by 2016 the ratio had fallen to only 2.6 percent. Japan, responsible for 75 percent of all bluefin catches in the Pacific between 1980 and 2014, is now under pressure to introduce serious measures to stem the decline.
The Pacific Rim countries, including Japan, South Korea, and the US, agreed in 2014 to limit fishing of bluefin, at a meeting of the Western and Central Pacific Fisheries Commission (WCPFC), established in 2004 to protect highly migratory fish stocks in the region. Every country now has a quota. Japan, as the biggest bluefin consumer, agreed to reduce its catches by half compared with 2002–04 levels, to a maximum of 4,007 tons for fish under 30 kilos and 4,882 tons for larger fish. Meanwhile, the International Union for the Conservation of Nature (IUCN) has moved the Pacific bluefin to the "vulnerable" category in its Red List of "threatened" species (the stage before "endangered").
The 314 fishermen of Iki are fighting their own way. In 2013 they set up the Iki Association to Think About Tuna Resources (Nakamura is president) and decided to suspend tuna fishing in June and July until 2017. A member of the association said: "The idea was to pressure the Fisheries Agency to introduce a permanent moratorium during the spawning season." Another said: "We wanted to show people that if they went on consuming tuna at this rate, they would soon have none." The association works with fishermen from other parts of Japan, organizing discussions and continuing to negotiate with the authorities and industrial fishing companies in Sakaiminato. In 2016 it was among the finalists at the Seafood Champion Awards, hosted by SeaWeb Seafood Summit, an international conference on the preservation of marine ecosystems.
Things have not turned out as the Iki fishermen hoped. Purse seine vessels out of Sakaiminato continue to operate in the Sea of Japan, under the noses of the Iki fishermen. Restrictions were imposed after the WCPFC agreement, but the quota system takes no account of fishing methods. Greenpeace's Komatsubara said: "The Fisheries Agency allocated quotas on the basis of catches for 2002–04. The issue of sustainability was not taken into account." The fishermen of Iki face the same quota reductions (in percentage terms) as the Sakaiminato industrial fishing companies, which is neither logical nor fair. Nakamura said: "Why should we have our quotas cut by as much as the Sakaiminato firms? By rights, they should have to accept bigger cuts than us."
LOW PRICE FOR A LUXURY FISH
To make matters worse, industrial fishing companies are selling tuna at the shockingly low price of ¥1,000 ($9) a kilo. Katsukawa explained that it's hard to get a good price for tuna caught during the spawning season because their flesh is less fatty. At Tokyo's prestigious Tsukiji fish market, some of these tuna fail to find a buyer. These strangely low prices for a luxury fish have escaped the attention of Japanese consumers, though they are attached to sushi, which uses 62 percent of the tuna catch.
To the Japanese, who have been eating tuna since at least 5,500 BC, the idea that the species could vanish because of overfishing seems incredible. Komatsubara said: "People have a hard time accepting that it's a threatened species, especially as every supermarket sells tuna fillets." Though there are no official statistics on bluefin, consumption of tuna of all species has fallen from nearly 1.5 kilos per person in a decade, to barely more than 1kg in 2015. Imports of tuna doubled between 2010 and 2016, to 5,000 tons (53 percent of consumption), while tuna farming grew by 40 percent.
Some Japanese fear that stringent measures against overfishing will lead to high-quality tuna disappearing from their diet. "Many people, and businesses, feel that if tuna are going to become extinct, they might as well consume as much as possible while they still can," said Komatsubara. The Sakaiminato fishermen's approach—catching large numbers of fish and selling them cheap—reflects this.
This is particularly distressing to the fishermen of Iki because they take every possible care to enhance the flesh of their catches, killing the fish in the traditional way and immediately draining their blood. Kazunari Ogata, general secretary of the association, is proud of the sustainability of their methods: "We don't catch so many tuna using our poles, but we try to maximise the value of our catch." Tuna caught and killed this way can cost as much as ¥40,000 ($355) a kilo, and most is bought by smart Tokyo restaurants.
Last July, Iki was battered by storms. The fishermen, unable to put out to sea, gathered in Nakamura's office and talked about the weather, the closing of their children's school and, of course, tuna. Since deciding that they would no longer fish in summer, they have been urging the Fisheries Agency to extend the moratorium to all. But the agency maintains it's better to protect small fish than big ones. Shingo Ota, an adviser to the agency, said the fishermen's moratorium makes no sense: "Bluefin produce a huge number of eggs—more than a hundred million in some cases—and the vast majority of young fish die before reaching sexual maturity. So the key to the survival of the species is the environment in which the young fish grow. Protecting mature fish that are capable of reproduction will have no impact on small fish numbers."
"ALLOW THE FISH TO SPAWN"
The Sakaiminato fishermen see no reason to stop fishing around Iki. "We've been complying with the quotas for the last two years," said a senior official of a Sakaiminato fishermen's cooperative. "The authorities have assured us that fishing during the spawning season has no negative impact on stocks, so we've got a clear conscience."
But the agency's position does not have unanimous support among researchers. Katsukawa said: "Nearly all tuna today are caught before they are five years old, because of overfishing, which means they only spawn once or twice in their lifetimes. If we're going to protect this resource, it's very important that we allow the fish to spawn." The Iki fishermen have asked for studies to determine the effects of their moratorium. The Fisheries Agency has refused, claiming it has no budget for such work.
The Iki fishermen complain of favoritism towards the big purse seine vessel operators. "They regularly give jobs to civil servants retiring from the Fisheries Agency, and that's why it tries to protect them," Tominaga said. In the last decade, at least five former senior officials have become advisers or even presidents of fishermen's cooperatives with links to purse seine vessel operators. Ota admitted: "It's true. Some former members of our institution are working for them." But he denied any collusion.
In Iki, exasperation is growing. The independent fishermen get by as best they can by catching less profitable species, notably squid and butterfish. Their incomes have fallen by at last half in the last 12 years. Today, they earn between $1,500 and $3,000 a month; the regional average is $3,400. Forty fishermen have already sought other work. Those who remain are disappointed at how little they have achieved in three years. "Nothing has changed," said Ogata. Nakamura warned that "if people go on catching tuna during the spawning season, a whole section of Japan's food culture will disappear." Given that Japan currently imports more than half of its tuna, there's a risk the shortage will spread across the world.
+++++++++++++++++++++++++++++++++++++++++++++++++++++++++++++++++++++++++++++++++++
Speak Up for the Ocean and Coast!
Secretary of the Interior Ryan Zinke recently announced the 2019-2024
National Outer Continental Shelf Oil and Gas Leasing Program
. The proposal could expose the entire U.S. coast to economic and environmental catastrophe by permitting drilling in virtually all U.S. continental shelf waters, including those off the coast of New Jersey.
Fight to protect what you love!
Join the American Littoral Society, other environmental organizations, elected officials and concerned citizens at a public rally and citizen hearing on February 14. These events will take place at the same time and place as the Bureau of Ocean Energy Management New Jersey Public Meeting on the oil and gas leasing program.
New Jersey Citizen Hearing & BOEM Public Meeting
Hilton Garden Inn in Hamilton
A Citizen Rally will be held before the BOEM meeting in a reserved advocacy room. The rally will take place at 2:30 p.m. and those in attendance will have the opportunity to testify on the record. Although public testimony will not be allowed at the BOEM meeting, a professional transcriber will be in the advocacy room and citizen comments will be recorded and then sent to BOEM. The BOEM meeting begins at 3 p.m.
Can't make the meeting? You can still take action.
2. Submit comments over the internet or by mail. Official COMMENTS on the proposal ARE DUE by MARCH 9, 2018.
Ms. Kelly Hammerle, Chief
National Oil and Gas Leasing Program Development and Coordination Branch,
Leasing Division, Office of Strategic Resources, BOEM, (VAM-LD)
Click here to learn more
about the
National Outer Continental Shelf Oil and Gas Leasing Program and how it endangers the economy and environment of the Shore.
The Murder of Caleb Fithian
Victim:
Caleb P. Fithian (21)

Accused:
Jacob W. Stiles (74)

Date of Incident:
June 21, 1901

Offense:
Murder

Verdict:
Not Guilty by Reason of Insanity

Sentence:
Committed to the Trenton State Hospital for the Insane until such a time as he
shall have recovered sufficiently to prepare his defense
The first case of cold-blooded murder that occurred in Ocean County after the turn of the 20th century was rooted in a territorial struggle between the clam diggers of Parkertown and the oyster farmers of Tuckerton Borough, and was fueled by the insanity of an elderly man whose mental breakdown culminated in the death of a young clammer. The victim was twenty-one year-old, Caleb Fithian, who had been out on the bay working his clam rake when he was suddenly shot from behind by seventy-four year-old, Jacob W. Stiles. The murder of Fithian was a reminder to all just how serious the animosity had become between the baymen and the oyster farmers, and it also brought to light the consequences of mental illness left unchecked.


Clamming and oystering in the early years of the county were important commercial industries, but a major conflict had developed over the years between the two camps because the baymen, who harvested the bulk of their yield from the brackish waters of the mud flats, would all too often encroach on the staked-out oyster beds and pull up the oysters that had been seeded there. The oystermen considered that an act of theft on the part of the clammers and contended that raking up their product was no different than picking produce from a commercial farmer's land without his permission. Conversely, the clammers accused the oystermen of "staking up more ground than they can plant," which severely diminished the area upon which they could ply their trade. Normally there would be some sort of redress, but proving their case in courts always seemed elude the oystermen, causing frustration and anger, and opening the door to threats, violent retribution, and eventually murder.


"Cale" Fithian was one such clammer who plied his trade out on the oyster beds despite the controversy that came with it. He was a well-liked young man, popular around town and amongst his fellow baymen, but likely understood that his actions could bring trouble.


"Uncle Jake" Stiles was also well respected, having spent most of his life in Tuckerton area, moving away only once for a short time to Chincoteague, Virginia. His wife, Marcia, had died in 1890, and his children had either died, or had left the home and married, leaving Stiles alone with his ever-growing mental illness. The Stiles family was well-known in Tuckerton, their ancestors having moved there from Burlington County prior to the American Revolution, and many of them, including his father and a brother, had become reverends, a religious background that would figure significantly in the murder of Caleb Fithian.


Although he himself was not a minister, Jacob Stiles was a prominent member of the West Creek Methodist Episcopal Church, where he was considered a "conscientious and upright" man. He would often be seen reading his Bible, participated in every church event that he could, and always honored the Sabbath by refusing to work on Sunday. By 1901, however, Stiles love of his religion had become obsessive, as did his fanatical need to stop the clammers from encroaching on the oyster beds, so much so that he had taken to living out on the meadows where he could keep a better eye on the mud flats and protect his stakes and that of his fellow oystermen.


On the day of the murder, Stiles had been sailing around the bay in his sneakbox, a flat-bottomed sailboat invented locally for the expressed purpose of navigating the shallow mud flats of Barnegat Bay. Before long, Stiles spotted Fithian in his garvey heading towards Stiles's oyster bed. Stiles immediately set sail in that direction and, reaching the flat just as Fithian was getting ready to drop his rake, he circled the garvey and came up behind the clammer about twenty feet away. With his back towards the sneakbox, Fithian never saw Stiles bring up his double-barreled shotgun and was completely taken by surprise when the gun boomed and the lead shot hit him just under and back of his left armpit. The wound forced his left arm to drop, but Fithian somehow managed to stay on his feet while holding on to the rake with his right arm. Turning around supported by the rake, Fithian was able to see who his attacker was just before receiving another round in the face that "crumpled him up like a dead leaf," and dropped him into the boat. Completing his duty, Stiles reloaded his weapon and very calmly set sail for shore "as cool as though nothing had happened," ignoring the shouts of the other clammers who had witnessed the shooting, yelling back to them that "no one should arrest" him.


Fithian had left the dozen or so other baymen just prior to sailing over to Stiles's oyster bed, and as they were not very far away, they all heard the first shot and turned just in time to witness the second. Two men closest to the scene, Isaac Horner and Harry Chamberlain Parker, immediately rowed over to Fithian and got there just in time to see him gasp his last breath as the blood gush from his wounds. Realizing that their friend was dead, they covered the corpse with a sail cloth and headed back to shore with the body to telephone Prosecutor Brown. Raising the rake into the boat before leaving they found that Fithian had died over three clams.


Fithian's body laid out on the Parkertown landing in the hot June sun for hours before the prosecutor and the coroner could arrive, and it was not long before word of the murder spread "as if by magic." It was said that nearly every bayman came off the water and joined the dozens of men, woman and children who had arrived in wagons, on bicycles and on foot to witness the body of the murdered man. Eventually, Constable Charles Cox arrived on the scene and began to question witnesses. Before going after Stiles, however, he called on Job Edwards, the local undertaker, and had the body taken to Ben Fithian's house, the father of the victim. Doing so was not an uncommon practice in those days as funerals were still generally held in the home of the deceased. Fithian's father then gave the body over to Theophilus Townsend Price and John Lewis Lane, both doctors hailing from Tuckerton. The men examined the body after stripping it of its clothes, which they gave to Constable Cox, and found gunshot wounds in the front and left side of the face and under back part of the left armpit. They determined that first wound to the armpit was not immediately fatal, although potentially so, and that it was the second shot, which was scattered about the face, that killed Fithian. The pellets from the second round knocked the victim's two front teeth out and also hit the left eye. Other shot from the same round penetrated the skull, traveling three or four inches into the brain and delivering the fatal blow.


In the meantime, the townspeople's mood had gone from shock to anger, and as they began to discuss the murder, some talked about finding Stiles and lynching him, but the mob did not act on that threat. Fithian's mother became so distraught that she had to be put to bed, and his father grabbed his gun and swore to "shoot the man had who killed his son." Stiles was located by Tuckerton Borough Marshal George Grant as he was walking into town to surrender himself to authorities. Grant brought the suspect to Squire Steelman where, after officially surrendering, Stiles asked to be to be allowed to change his clothes. Steelman had Grant drop the old man off at Stiles's son's house, where he changed into a "decent suit of Sunday black" and then waited for Constable Cox to come and pick him up. Cox nervously drove Stiles through the village in an open wagon heading north to Toms River after Justice of the Peace Richard A. Wood ordered that the prisoner be committed to the county jail. Along the way they met Prosecutor Brown, when Stiles calmly said to him, "Well, Mr. Brown, they are taking me where they send transgressors."


For the rest of the 30 mile route to Toms River, people lined the streets and watched Stiles go by with morbid curiosity, which did not seem to faze the suspect in the least. Soon after beginning the trip, however, an eerie event occurred that was described by the papers as some sort of an omen. Cox's wagon at some point crossed paths with the wagon that was carrying the box that Fithian was to be buried in. Just as they began to pass, the horses on Cox's wagon shied away from the casket cart and bolted, nearly spilling the constable and his charge onto the ground. Luckily, Cox was able to gain control of the horses, but the incident only added to his already nervous state of mind.


Prosecutor Brown, having taken the train down to Barnegat with Coroner Moses L. Johnson and former Sheriff John Hagaman, had secured a wagon and completed his trip to Tuckerton after meeting with the prisoner along the way. He then empanelled a Coroner's Jury consisting of Clarence A. Seaman, forman, Micajah M. Willits, J.S. Seaman, Charles S. Shinn, John W. Holman, and Theodore B. Cranmer, whose job it would be to determine the cause of death, and to identify the culpability of Stiles, if any, which would in turn establish the need for a Grand Jury. The panel first viewed the body and all agreed to meet for a Coroner's Inquest the following Monday, June 24, 1901, which was to be held at the West Creek Hotel. The witness list included Harry Parker, Kelly Parker, Isaac Horner, John Cranmer, Charles Parker, Emory Parker, Darnell Parker, John L. Parker, and Joshua Parker, all of Parkertown, James Brown of Tuckerton, and Harry Chamberlain Parker, and Asa Parker. All of the witnesses told the same story and implicated Stiles as the murderer. For as many men were sworn, the inquest lasted only an hour at which time the jurors brought back a verdict charging Jacob Stiles with "willfully and feloniously killing and murdering Caleb Fithian."


Fithian's funeral was held the same day as the inquest at the West Creek Methodist Episcopal Church at two o'clock that afternoon, and his body was laid to rest in the churchyard across the street. It did not go unnoticed that both the clammers and the oystermen from the area all came to show their respect.


Isaac Wilson Carmichael, counsel for the defense, was hired by Stiles's son, Elias, but not before the accused had related his guilt to anyone and everyone that would listen. Authorities cautioned to him that anything he said could be used against him, but that did not hinder the man at all. The rumor mill was in full swing as well, as people began to relate stories of their own concerning the old man, stories that Carmichael planned to use as a basis of a plea of not guilty by reason of insanity during the trial. Among the town talk was that Stiles had become "very queer" in his old age and was often referred to as "cracked" or "crazy." The newspapers also reminded the public that one of Stiles's daughters had died in an insane asylum, and that one of his brothers had once suffered from temporary insanity. Carmichael, an experienced jurist who defended Elson Rockwell in the Wainwright murder trial, knew that such talk could only work to his client's advantage, and that even if he could not prove that the man was completely insane, he could at least show that he was a "mono-maniac" on the rights of oyster farmers, who believed that they had the right to protect their property. During his ranting confessions, Stiles had solidified that sentiment by claiming that it was "his duty" to shoot and kill Fithian, and that he was justified in doing so. He reminded everyone that his "mind was as clear and his head as level as any man's."


After freely admitting that he went out for the expressed purpose of killing Fithian because oyster planters had no protection from the clammers, he said that he took the second shot to make sure the job was done right. "I am a man who doesn't go into a thing until I'm sure that I am right, and when I start, I finish it. When I saw that the first barrel did not kill him at once, I thought perhaps it would only cripple him, and I didn't want to leave him a cripple, I shot to kill, and so I gave him the second barrel." It was at this point that his preoccupation with religion began to show, gaving the murder a premeditated slant as Stiles remarked that he had "prayed about it for a long time before he fired the fatal shot," meaning that he had obsessed over idea for quite awhile. He later told a psychiatrist that he had "done his duty to God," reminding the doctor of Sodom and Gomorrah, where God had justifiably punished those people, and that he, being a man of God, "had the right to do as God had done." When asked if he understood the consequences of his act, he told the doctor that he would "meet him in Heaven."


Over the course of testimony it was made clear that Stiles had been getting increasingly out of control the older he got, and he showed his temper to just about everyone that he came in contact with, especially the clammers, who some said were run off by Stiles with his gun. One clammer testified that just days before the shooting occurred he was approached by Stiles, who raised his shotgun up at the man. The clammer asked him, "if you were to kill me, what would happen to you?" To which Stiles replied, "They'd hang me, I suppose, but I ain't got much longer to live anyway." While in jail the prisoner became even more irrational where he constantly paced the cell, some assuming that the small space did not sit well with a man who had spent most of his life on the open meadows.


The murder indictment came down as expected on Tuesday, September 3, 1901, at which time Carmichael and his co-counsel, former judge, William T. Hoffman of Englishtown, requested that a competency hearing be held to determine whether their client was able to assist in his own defense. Judge VanSyckel, who had presided over the Wainwright trial, agreed with the defense, and set the hearing date for September 13, 1901. At the hearing, two expert witnesses testified as to Stiles's competency, one for the State, and one for the defense, but both men came to the same conclusion: that Stiles was indeed insane.


At one point Sheriff Adam W. Downey was directed to bring Stiles to the stand when it was noticed that the old man's physical condition had drastically changed since his first day of incarceration. Most noticeable was his "trembling palsy and shrill voice," and that his actions resembled that of a child or a "senile imbecile." After a short questioning, VanSyckel ruled Stiles was legally incompetent to stand trial and committed him to the Trenton State Hospital for the Insane, "until such a time as he shall have recovered sufficiently to prepare his defense." That day never came, as Caleb Stiles died in the hospital in 1907 at the age of 81 years.


In an ironic twist to the story, Fithian's father drowned on December 8, 1901 after leaving his home at Parkertown in a sneakbox. His vessel was found adrift with the sail still hoisted and his hat, mittens and a bottle of whiskey inside. It was assumed that Ben had fallen from his boat in a drunken stupor while trying to break his way through the ice, and that once in the frigid waters, he was pulled down by his heavy clothes and rubber hip boots. His body was found a few days later by Al Stratton on the flats off of Shelter Cove with both eyes "out of the head," and the face "somewhat cut up," all thought to be caused by floating ice. By the time Coroner Hagaman had made his way down to West Creek, the body had already been buried, which raised some controversy over who was legally allowed to issue a burial permit. Additionally, Fithian's friends demanded a Coroner's inquest because it appeared that the body had been robbed of $16 known to be in his pockets and a watch and chain. They did not make a claim of foul play, but they did want to know who stole the items. Two weeks later the watch and thirteen of the sixteen dollars were secretly returned to Mrs. Fithian.