(Above: Nicely applied plastic tails. No humps or hunchbacks.)
Saturday, Oct. 26, 2013: Bigger plastics mean bigger bass, for me anyway. While surfside jigging yesterday, I upsized to larger, plastic, sand eel lookalikes and right at dark in Holgate I once again got into sundown stripers -- but they were up a solid size from the previous day.
Of the four bass I caught in short order last night, three were 28 inches or just beyond. Actually 28, 29 and 30 – in that order. The fourth one was tiny. The previous evening I had been using smaller Lunker City sand eel plastics and the four bass I got were right at the 22- to 24-inch mark. Now I have to ponder buying those jumbo plastic eels, the ones with only two to a package. As I've noted before, with no bluefish around, those plastic last and last.
By the by, I've had absolutely had no luck on swimming or diving plugs of any size or color. I have not been using teasers. Had I been, I'll bet I would have had some late-day shorty action. Some of the other sharpies plugging around have had some luck with plugs, including just after darkness.
I heard of a second 40-pounder taken on a plug, north end, though I still haven't gotten it straight. Maybe it was the same fish (weighed in at Fish HDQ) being reported from two different locales. That oft happens with better fish, as folks try to mask the exact hookup location.
With the water in the surf so clear and boredom running rampant among the folks fishing the suds, you might want to grab a tog for fun. Grab yunz a jetty, dig a few sandcrabs, put a 1/0 hook (it doesn't have to be one of those blackfish hooks) on a dropper loop, tie a one-ounce bank sinker to the tag end and flip it out as close to the rocks as possible. At low tide, do some rock-hopping to get further out on the jetty. (This is a bit different set-up from boat fishing blackies. The droppered hook holds the bait a bit off the bottom, where beachfront jetty tog swim."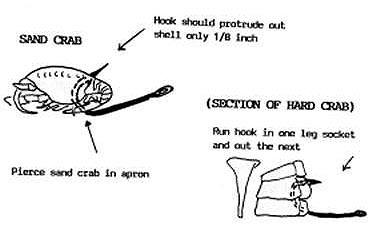 If you're nor familiar with blackfishing, a pickup is often a super subtle tap, very equivalent to a nibble in freshwater fishing. You have about 1.23 seconds to set the hook. Practice at it. Often tog will keep biting until you hook them. You can only keep one tog but just getting some hits can perk up a comatose angling day, Like so many other fish, late day is markedly the best time to fish beachfront jetties for blackies.
JIGGING GAB: I have a feeling the jig thing is going to remain productive, possibly right through the bassing season. I'll admit here and now that it is not the premier way to go after trophy fish, though anything is possible – and boat jigging has frequently sucked in 50-pounders-plus off Maryland/Virginia (winter), per buddies of mine down that way.
Jigging the surf is kinda tough, especially with spinning gear. Conventional set-ups allow for a smoother jumping of a jig and also offer a better feel for a hit – picking up that subtle rap of a hit during a "drop" – when the jig is falling.
As I menti

oned yesterday, I'll bet anything the GULP! tails and such add to the hold time of a fish grabbing a jig. That said, I've been using straight plastic and during my current microburst of bass luck I haven't come close to missing most of the hits. The flavored plastic factor didn't enter into it. In fact, the problem has been the stripers do the proverbial inhale on my "sand eel" jig. Three times out of the 8 or so fish I've had the last couple days, I've been forced to do one of those kinda yucked out things where I reach my hand all the way down the fish's throat to unhook the jig – using my forefinger to push the bend of the hook further toward the belly to dehook it.
Below: Example of finger placement to get out a throat hook. Picture cloth as fish's throat.
Oddly, I have not had much luck with the Wildeyes in "bunker" shades. It could be because they require more of a steady retrieve (to activate the tail motion) which I seldom do when jigging – thus the term "jigging."
Jig tip: Since fish get a close-up and personal look at a jighead, it's the only artificial I melt the tag then of the monofilament knot. Look closely at an unmelted tag end and it really does poke out, easily enough for fish to notice. Using braided and Spiderwire? Clip it close. Besides, it doesn't stand up and salute the way mono does.
What's the difference between round, bullet, cone, dart, etc. shapes in jigheads? I couldn't even begin to tell ya. I like the cone shape just for its seeming hydrodynamics. My guess in saltwater fishing the shape doesn't matter all that much, providing the leadhead is equipment with a ferociously sharp hook. If you wonder why some jigheads are a couple bucks each and others you get a whole bag of 'em for that same price – it's the hook-age. If it isn't painful trying to tie on a jighead, the hook is too dull.
One other thing for any newbie jiggists. Whatever tail you're using be it plastic tail or even natural bait, no bunching is allowed. The tail has to run smooth and even without a hunchback effect, even if it means making a small slice in front of where the hook comes through the plastic to relive the tension of a hump, to smooth it out. A jammed on tail/plastic/bait destroys the look and jump of a jig. It can actually spook a fish.
Speaking of spooked, I was plugging and jigging the rocks today and saw a couple small pods of corncob bunker absolutely flying by. There were bubbles coming off their tails they were hauling ass so fast. Now, I've seen more corncobs swimming past than the average Joe so I can tell you these were moving at a pace far beyond their standardly brisk migratory speed. I first joked to myself, "Man, they're late for something," meaning they're running behind, migration-wise. Then it hit me that it's quite common to see them passing by right around now so lateness wasn't spurring them on. . Then my inborn optimism kicked in. I'll bet anything those over-accelerating fish had seen something just north of here that scared the socks off them, so to speak. Make's sense. Almost getting sucked in by 50-pound bass or 20-pound blues? Those buggers aren't going to slow down until they hit Lauderdale. They were actually letting me know what was coming right behind them. Thanks guys – and sorry about all those years of netting you.
It's time for my annual begging session, seeking donations to show support for this site. While I don't use donations as an indicator of reader appreciation, I sure use the donations to cover the site's sundry expenses. I accept Paypal at jmann99@hotmail.com. For mail-ins: Jay Mann, 222 18th Street, Ship Bottom, NJ, 08008