Got out early Sunday morning. Fished the outgoing tide along the north jetty and had two short bass and one bluefish.
Headed all the way up to the bathing beach and fluked off and then in tight to the beach with not a touch from desirable
or undesirable fish. Did not see one bunker but did see a lot of baitfish pods hanging the bottom. Water was 73.
Returned to the inlet and fluked the inside of the jetty and had one short fluke and one snagged cow nose.
Even without a breeze there were a lot of disorganized waves in the ocean and inlet. WP
==================================================
Although fall is 5 days away, Mother Nature has shown enough signs to signal the fall run is about to begin.  Bait from micro ¼" fish fry to 5" peanut bunker and mullet.  With the weather not so ideal to fish around the inlet and ocean recently, I have spent some time in the back bay creeks targeting small blue and schoolie bass. Though these fish are small and young, I can tell you they are surely wise. For example, the other evening my BFF and I watched schoolie bass consistently blowing up with the feed bag on.  While it looked like it was going to be like catching fish in a barrel, it was far from it! Throwing everything at em we could not connect. Even live peanut bunker drifted in the tidal outwash drew little attention. They were feeding on the smallest of small fry. Think about the smallest Sabiki rig you have seen and that is how small the fish were that the bass and blues were feeding on. Wait a minute……….Maybe I should have used a Sabiki rig! Next time J
I was out with the Tindall gang Saturday. First off, making bait was hard to do. The bunker were all down in the lowest part of the water column making it impossible to get a cast net on them. We fished the back creeks to the bridges to the Island Beach sedges and came up with a snapper and a small blue. Hey that's fishing sometimes. The incoming water was dirty and warm.  Most of the bay was still a little turbid although we found some spots with clear water mid bay.
 With the down time I was able to get back to the video editing room and put together this video from 9/7/18's magic hour trip. We slayed the blues that night and the magic hour lived up to its name. You can view the video here Bluefish Slayfest
If you like please subscribe to my YouTube Channel.
 On the nature side of things: this past weekend some unfortunate person lost their life when attacked by a great white shark in Cape Cod. What is going on here is, we are seeing Mother Nature rebound from decades of over harvesting species to the brink of extinction. Once hunted to almost extinction, our seal population is finally coming back.  Their comeback is attributed to protection granted under the  Mammal Protection Act of 1972. Well, once the seal numbers started to increase so did their primary predator, the great white shark. Predator/prey relationships, it's ecology 101. 
With the best fishing of the year about to unfold, if you are thinking on getting on board the Debbie M you better think quick as my days a filling in. 
Screaming drags,
Capt. Alex
******************************************************
A SURF/SWIM THING: While the following is more in the watery waveriding domain of my SP columnist partner Jon Coen, I feel obligated to bring it up due to my work in developing the local rip current program.
"dear mr mann: i have been a frequent (every summer) lbi visitor since circa 1950 - a resident of ship bottom since 1993. i don't recall being prohibited from swimming in the ocean due to high surf until relatively recently - maybe the last 5-10 years. i understand the safety aspect of the policy. however, i have formed a bond with the surf and respect it's reality and resent "big brother" dictating what has previously been an individual's decision. i swim in san diego waters these past several years each winter and encounter surf far more intense than the storm surf of lbi almost an a daily basis without interference from "big brother." i welcome your thoughts." mike murphy
Mike, more frequent red-flagging could very well align with the birth of rip current forecasts via the National Weather Service, not to mention drastically increasing drownings and near-drownings along NJ's coastline. Having been an LBT lifeguard in the Sixties, I recall we would simply cross our everyday flags in front of our stand to designate closed swimming conditions. It was a very rare occurrence, indeed. Which ushers in a more cosmic angle.
Having surfed my entire life here -- and around the world, I should add -- I have never seen NJ surf as consistently large as it has become, beginning roughly 30 years back. Growing up in the daily surfing realm, there were entire summers when the ocean never left the lake mode. Something has changed, to the appreciative delight of waveriders. I should add that rip current also love the hell out of it, too.
Today, souped-up waves break on replenished beach sands, famed for having sudden swash drop-offs, known to make swimming a prohibitively hazardous undertaking the instant one steps in. Whereas I would guard beaches with bottom conditions that barely changed year after year, nowadays can't step into the same ocean twice. Imagine trying to safely lifeguard with that variable under foot.
I, too, lived/surfed/swam in San Diego. I believe there is simply a better understanding of big waves and cool-water ocean conditions thereabouts. In fact, think about the day-tripper factor on our coast, where literally millions of folks a day come in from suburbia and city regions. Many are dangerously unacquainted with in-over-head surf conditions. It's a Right Coast thing.
One final but fearful factor is the growing likelihood of "big city" legal action leveled against municipalities should a bather suffer even a minor misadventure. One of my cringeworthy favorites was a lawsuit accusing a town of failing to warn swimmer of, and I head-shakingly quote "rouge waves." There was a bloody hurricane swell that day and the injured swimmer in question had been unadvisedly  mis-riding gnarly shorebreak – with arms straight out and riding straight in -- for over 30 minutes before the unreported rogue wave somehow polished off him … and kinda broke his back. He still managed a huge out-of-court settlement.
Anyway, red-flagging a borderline-swimable beach is now a more practical and people-protective option, especially if sea rise is as crushingly real as some say it is.
=====================================
            Whew!!!!!!!!! That was a close one. Milkbone time. 
A woman walking her dog was attacked and killed by an alligator Monday morning in Sea Pines on Hilton Head Island (NC), according to a Beaufort County Sheriff's Office news release.
Witnesses say the woman was walking her dog near the lagoon when she was attacked and pulled under by the alligator, the release said. The alligator was eight feet in length.
The dog was unharmed.
=========================================================
Below: This is truly bizarre. As if his hundreds of millions of dollars from drugs wasn't enough ... 
Sinaloa Drug Lord Responsible for Totoaba Smuggling Captured
SEAFOODNEWS.COM [San Diego Union-Tribune] - September 14, 2018
Authorities in Mexico's Baja California state say they have arrested a drug gang hit man who also allegedly ran fish-harvesting operations that have endangered the rare vaquita porpoise.
Baja state police identified the suspect only by his alias, "El Parra," and said he was allied with the Sinaloa drug cartel.
Police said he and two bodyguards were arrested Thursday on a highway with drugs and assault rifles. He had an outstanding warrant for homicide.
Vaquitas have been decimated by nets set for the totoaba fish, whose swim bladder is considered a delicacy in China and commands high prices. Criminals equipped with go-fast boats and apparently allied with drug gangs catch and sell the bladders, which can fetch as much as $30,000 each. The nylon gill nets used to catch totoabas also snare and suffocate other species of wildlife, including whales, sharks, sea turtles - and the imperiled vaquita.
Fewer than 20 critically endangered vaquitas remain in the Gulf of California, the only place they live.
Mexican and U.S. officials have called the totoaba bladder "aquatic cocaine." It's often more expensive, with about two pounds of dried bladder routinely selling for as much as three and a half pounds of the powder drug.
Wildlife trafficking in general is big business, with an estimated annual value of $2 billion in the U.S. and up to $23 billion globally, according to a 2015 report from the nonprofit Defenders of Wildlife in Washington, D.C. It is routinely ranked among the top illicit trades worldwide.
Authorities have taken steps aimed at saving the species, but have seen little success. In 2017, wildlife experts tried to capture
In July, an international trade court judge ordered the Trump administration to ban all seafood harvested with gill nets in Mexico's northern Gulf of California - a bold move with significant political and economic consequences.
A ban on gill net fishing in Mexico's upper Gulf of California, decreed in 2015, was made permanent last year by the Mexican government, but the practice persists.
Late last year, a high-risk plan to capture the remaining animals and hold them in human care was suspended after an adult female died.
Spearheaded by Mexico's federal environmental secretariat, SEMARNAT, the month-long operation known as VaquitaCPR marked an unprecedented effort to capture these animals - with the aim of repopulating the species. It involved more than five dozen experts, including some of the world's top marine mammal scientists, veterinarians and technicians.
The expedition's first capture, a female calf, was quickly released after she showed signs of stress. The team caught a second vaquita - and at first the experts saw no signs of trouble. But after being transported to a sea pen she slowed down and became limp, prompting the team to release her. She swam off, then swam back toward the pen. She went into cardiac arrest and died.
The program was suspended shortly after.
The Associated Press, Los Angeles Times and Union-Tribune contributed to this report.
===========================================
Fatal Shark Attack Off Cape Cod Is First in Massachusetts Since 1936
SEAFOODNEWS.COM [The New York Times] by Sarah Mervosh - September 17, 2018
A man was killed by a shark off Cape Cod over the weekend in the first fatal shark attack in Massachusetts since 1936.
The man, Arthur Medici, 26, of Revere, Mass., was attacked at Newcomb Hollow Beach in Wellfleet on Saturday, according to the National Park Service. He was pulled out of the water and taken to Cape Cod Hospital, where he was pronounced dead, officials said.
Officials were investigating the attack, but they suspect that Mr. Medici was killed by a great white shark.
Great white sharks, which can be up to 20 feet long, do not hunt humans but may mistake them for prey because they are about the same size as seals and other marine mammals, experts said.
"Pretty much every shark bite is an accident," said Gavin Naylor, director of the Florida Program for Shark Research at the Florida Museum of Natural History. "It's mistaken identity."
The chance of being bitten by a shark is statistically low. Last year, there were 88 unprovoked shark attacks worldwide, including five fatalities, according to the program's International Shark Attack File. The United States, with its long coastlines and busy beaches, has historically had the most attacks — overwhelmingly in Florida — followed by Australia, South Africa and Brazil.
Experts say a new risk area is emerging in Massachusetts, where a thriving marine life population is colliding with tourists in ways not seen in almost a century, since a teenage boy was fatally bitten while swimming in 1936.
The state, which has had just a handful of attacks since the 1800s, has now had at least two in a matter of weeks. Another man was bitten off Cape Cod last month near Longnook Beach in Truro, but he fought off the shark and survived.
Experts point to a thriving community of seals off Cape Cod, noting that as its population has grown, so has the population of its predator, the great white shark. Both marine mammals and sharks are protected by federal law, which has contributed to their resurgence.
"If you ask us if we're surprised that this happened, well, we hope it doesn't, but honestly, the probabilities go up when there are more sharks in the water," Mr. Naylor said.
He said researchers had seen lots of sharks in Massachusetts waters in recent years, including many that are not full-grown. "When you see a very high percentage of young ones, then it's usually a sign the population is coming back," he said.
It is unusual, however, to see sharks traveling and attacking close to the shore. Sharks typically like to hunt in deeper water, according to Mr. Naylor, who questioned whether the larger population of sharks has forced smaller, less experienced sharks away from prime hunting grounds and closer to the beach.
Mr. Medici was attacked while he and a friend were boogie boarding, The Associated Press reported. Research shows that most victims are bitten while surfing or doing other water sports, which can attract sharks.
Mr. Medici had been a part-time student at Bunker Hill Community College in the Boston area, the school said in a statement. A GoFundMe page set up to raise money for funeral expenses said he was an engineering student who was active in his church and loved outdoor activities, including biking and surfing.
"Our lives are never going to be the same without him," according to the page, set up by family and friends. "His laughter filled our home and he will be greatly missed by us all."
Beaches in Wellfleet were closed for swimming on Sunday.
======================================================
Where Battle to Curb Shark Fin Consumption is Being Won and Lost
SEAFOODNEWS.COM [scmp.com] by Kylie Knott - September 17, 2018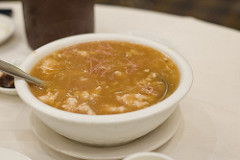 Though waning in Hong Kong, the appetite for shark fin soup is still strong among overseas Chinese communities. A new report has now put out an urgent call; the trade and consumption of shark fin must stop immediately, it warns. Demand for the product from wealthy consumers is largely responsible for reducing populations of some species such as hammerhead and oceanic whitetip sharks by more than 90 per cent, it says.
Researchers from the University of Hong Kong, the Sea Around Us initiative at the University of British Columbia and environmental group WildAid Hong Kong, found that annual shark catch levels had more than doubled to 1.4 million tonnes since 1960.
The findings were published last week in Marine Policy, a leading journal of ocean policy studies.
Over-exploitation is "threatening almost 60 per cent of shark species, the highest proportion among all vertebrate groups", says Yvonne Sadovy, lead author of the study and professor at the School of Biological Sciences at the University of Hong Kong.
The fin is the main ingredient of shark fin soup, a dish considered a delicacy among Chinese both in China and abroad. It's a popular dish at banquets, Lunar New Year celebrations and high-end restaurants.
"The exclusiveness linked to the product combined with its limited natural supply increases its price and makes it an attractive trading good for business networks, particularly for those with shady or illegal practices," says Sadovy.
The study highlights both legal and illegal fisheries and the difficulties in enforcing sustainable fishing practices. It says 25,000 tonnes of dried shark fins come from unsustainable and illegal fisheries, while only 4,300 tonnes of dried shark fins are produced sustainably every year.
"The global shark fin industry is rife with criminal activity and cannot be trusted to police itself effectively," says study co-author Alex Hofford, wildlife campaigner for WildAid in Hong Kong. "Around a quarter of all shark species are hurtling towards extinction. As our paper clearly shows, the only way to protect sharks is to halt the consumption and trade in all shark fin."
Just last week eight tonnes of shark fin worth US$6.2 million en route to China and Hong Kong was confiscated in India.
Hofford says Hong Kong's irresponsible restaurant sector should stop selling and serving shark fin immediately.
In January, a survey by Hong Kong Shark Foundation found 85 per cent of 300 Lunar New Year banquet menus from Chinese restaurants in the city had shark fin dishes.
Hong Kong's consumption of shark fins is down due to awareness and its shark fin imports have halved since 2007, thanks to tighter regulations and shipping bans. But the city is still the entry point for about half of all globally traded dried shark fins, importing around 6,000 tonnes per year in recent years, where many are re-exported to China.
The study published in Marine Policy also found that rising demand for shark fin among an expanding middle class in less economically developed places such as Vietnam, and Indonesia where unsustainable fishing practices exist.
Pressure is particularly high in Indonesia, where annual catches exceed 100,000 tonnes of shark a year. India, Spain and Taiwan also play an important role in the catching of sharks and the subsequent sale of their fins in international markets, particularly in Hong Kong. Thailand has been the top exporter of shark fins since 2016.
"Shark finning and the mixing of catches tend to take place in the open seas or in remote ports, where there is little to no oversight," says study co-author Daniel Pauly, principal investigator with Sea Around Us at University of British Columbia.
Pauly says the problem is heightened by a lack of interest from authorities in controlling illegal wildlife trade, including that in shark fins: "They also have limited enforcement capabilities, with authorities unable to conduct DNA tests of every fin that arrives via customs to determine where the shark was caught or to determine the species."
Pauly says consumers must decide what is acceptable and what is not when it comes to vulnerable and controlled species.
"Traditions change all the time according to new knowledge and shifting values. So while the appetite for shark fin soup is growing in places like Thailand and Macau, it is slowly declining in Hong Kong and China, where young people are starting to see it as a cultural practice that is worth abandoning," Pauly says.
ASC Salmon Standard Recognized by GSSI
SEAFOODNEWS.COM [SeafoodNews] - September 17, 2018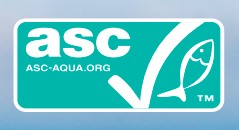 The Aquaculture Stewardship Council (ASC) announced on Monday that their Salmon Standard has been recognized by the Global Sustainable Seafood Initiative (GSSI).
ASC's Salmon Standard, which launched in 2012, "requires producers to demonstrate responsible aquaculture to minimize both environmental and social impacts, and requires an unprecedented level of transparency and traceability." The Standard met all of the components of GSSI's benchmark, which aims to give clarity on seafood clarification schemes. According to the ASC, their Salmon Standard achieved 100% of the components in governance and operational management, in addition to 25 supplementary components for the requirements of standard.
"With the ASC's commitment to constant updates and stakeholder engagement, our standard has been a driving force behind improvements in salmon aquaculture," Michiel Fransen, ASC's head of standards and science said in a press release. "Achieving the GSSI benchmark is further evidence of the strength and the credibility of the standard. The ASC's market-driven approach to improving standards in aquaculture means we are acutely aware how important it is that the industry and consumer understand and have confidence in the certification schemes behind the logos on their seafood."
GSSI managing director Herman Wisse added that ASC's Salmon Standard is in line with the United Nations Food and Agriculture Organization's guidelines for aquaculture certification.
"The ASC recognition bolsters the GSSI Global Benchmark Tool in providing the seafood industry with clarity, credibility and choice in certified seafood, and we look forward to extending the scope of recognition and including other ASC Standards in the future," said Wisse.