Monday, September 07, 2020: It was quite the summer here at the office. That's a good thing considering  how many businesses bit the bullet.
It won't be a shock when it's officially announced next month that we saw the hottest summer on record.
Having done a decent bit of beachgoing thanks to volleyball, I must admit the sands this entire summer seemed, to use Talking Heads lingo, "Same as it ever was." I often heard beachgoers basking in the brightness of simply getting away from all that's going on. "I've learned not to even bring my cellphone to the beach," said one HC resident I've known for many years. That said, I did hear some political banter while heading to the water to rinse off. 
ALL THAT FLOATS DOES NOT FISH: The immense showing of boats for the Barnegat Bay parade in support of law enforcement – and, rather obviously, Donald Trump – was quite the sight, allegedly a Guinness Book of Word Records candidate.
With no political innuendos, it was a stellar example of peaceful parading. There was, however, one tad of fallout that roused a troubled reaction on my part. Two separate people linked the boat showing with fishing, one gal saying to me, "Well, it looks like you fishermen are fully behind Trump." I did a "Whoa!" asking her to not instantly relate all boaters with fishing. There are way-many mariners who have no links to angling, using party shoals as an example of fun boating sans rods and reels. I also tried to impress upon her that boat anglers can surely have powerful opinions and political preferences, but boat parades – including an insanely large vessel overload gathering atop a Texas lake -- are mariners first and foremost.
ABOVE: Headlined at the trendswide.com: "Several boats sink and multiple are in 'distress' at Trump Boat Parade on Lake Travis, Texas."
(((((((((((((((((((((((((((((((((((((((((((((((((((())))))))))))))))))))))))))))))))))))))
UPDATE: PARTIAL REPRIEVE ... 
The authority originally stated that all flags, including the American flag, would be removed from the Port Reading Bridge. But many opposed this plan, leading to a rally attended by hundreds of people on Sunday.
RELATED: Woodbridge residents rally for American flags to be put back up  Gov. Phil Murphy said Tuesday that he called Turnpike officials and that the flags will stay up.
Turnpike officials claim that the situation started after complaints about the Thin Blue Line flag, which supports police officers. They said that they wanted all the flags removed because they are a distraction to drivers.
But the flags will all stay put for now following the governor's call.
ORIGINAL POST .................
I was very troubled to read that the NJTP has begun taking down overpass signs placed to commemorate Sept 11. An article in www.mycentraljersey.com states: "Now, as we approach the anniversary of that horrific day, we are extremely disappointed to announce that the NJ Turnpike Authority saw fit to remove all flags on overpasses covering the N.J.T.P. last week, replacing them with signs citing N.J.A.C. 19:9-1.13." 
I'm not sure this ban ends there. Will the NJDOT follow the lead? As we all know, the Big Bridge had hosted an eelgrass roots flag for years, placed by a family living in Beach Haven West. I haven't seen it lately, but think it should rise again.
Staying as impartial as possible, I'm admittedly not certain the latest department-level "no flags" mandate applies to the Causeway.
Below: Photo from 2012 SandPaper story. 
(((((((((((((((((((((((((((((((((((((((((()))))))))))))))))))))))))))))))))))))))))))
Now things get interesting. I'll share the intro to my weekly column since it's hype time for one of the longest-lived events still in play hereabouts....
This year, fall is readying to take on a whole different off-season Island look, possibly filled to the rafters with late-stayers. Having a slew of unseasonal people here is fine by me since I'm something of a people person -- despite my being scared to death of them. Hey, I can enjoy the enhanced hoi polloi from a safe distance, which means I should have plenty to distantly scrutinize as we all watch with interest and intrigue as to how this new breed of highly populous off-season plays out.
Predictions of a fall filled with sundry folks is based on reports of few if any post-season rentals available. There are also confirmable reports of hanging-in property owners who usually bolt before September even comes of age. They're staying put until some sort of all-clear sounds. 
If I had to venture a guess at the look and feel of fall 2020, I see a huge emphasis on ultra-long weekends, based on hybrid virtual schooling, which can be done just as efficiently hereabouts as thereabouts. Look for the Island to repeatedly flare up with folks from late Wednesday through Sunday, though Mondays could also be a hang-around day. Indeed, that's a long-ass weekend!
I say, "Welcome one and all." May you live the olden slogan "It's Better in September" -- leaving open space to write in "October … November … December …"
This all leads to an open invite to become part and participant in the longest-lived tradition on our angling books, the Long Beach Island Surf Fishing Classic.
Those of us long-toothed in this once Striped Bass Derby thoroughly enjoy new faces, knowing full-well a first-time entrant can easily walk off the beach with grand cash prizes for bluefish and striped bass, along with cash for this year's fun entry, kingfish.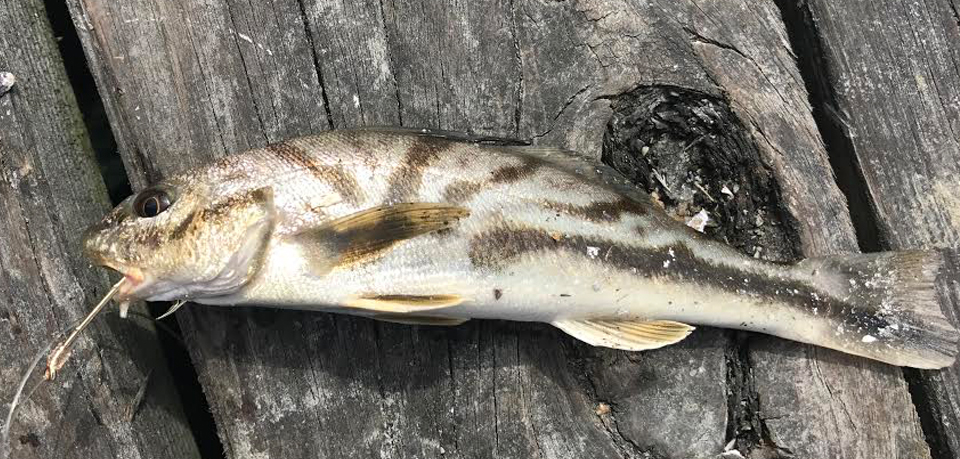 Once signed up  for the Classic, all it takes to take part is a rod, reel, bait and a willingness to spend some of the highest quality outdoor time the Island has to offer. Also stepping in to assist Classic newcomers are the participating weigh-in shops: Jingles Bait & Tackle, Beach Haven; Fisherman's Headquarters, Ship Bottom; Surf City Bait & Tackle, Surf City. They're ready go the extra mile to set you up to be an instant Classicist.  
(((((((((((((((((((((((((((((((((((((((((((((((((((())))))))))))))))))))))))))))))))))))))))))))
WHAT COULD I SAY!?: Where were you in May 1997, generally speaking? That was far from ancient history. In fact, some of you might even recall having enough spare income to have invested Amazon.com shares at its initial public offering (IPO) on the Nasdaq. It launched at $18 a share.  
Now to the rub-in. Had you invested a measly $1,000 at Amazon's arrival, your investment would be worth $1,341,000 as of last week.
If you feel a tad sick about that missed opportunity, I must bring up why I'm bringing this up to begin with. I chatted with a fellow churchgoer last weekend who spoke of panicking during the .com bubble burst of 2000, during which he dumped a short-held 1,000 Amazon share. He came out of it losing a few bucks on his investment – at the time. "I kept telling myself don't sell, wait it out," he told me, as if needing to confess to someone, seeing it was church and all. I took a quick guess at the cost of his dump. "I guess you lost quite a bit," I tried to consolingly offer, instead proving my total lack of Bloomberg-grade knowledge. He then knocked the mick out of my consoling approach by saying, "Those shares are worth over $2 million today." I stood there in substantiated shock, as he explained a single Amazon share is selling for $3,200.
"I'm traumatized. There's not a day goes by that I don't think about it," he told me, so dejectedly that I abandon suggesting he might have sold it before it reached its current near incompressible value. Instead, he took my empty gaze as living proof that his stock market fiasco was enough to stun even someone with a "Minster of Hospitality" church badge. I couldn't help but notice when he later drove off in a sub-modest sedan, half wondering what he'd be diving if he had stayed the course with Amazon. com
I truly felt bad for him but redirected my thinking to how I failed to invest in Sony stocks … or even original Beatles dolls. I also can't shake the fact I recently filled out a form asking what my retirement account looked like. All I could honestly put down was "Go Fund Me."
((((((((((((((((((((((((((((((((((((((((((((((((((((((((((())))))))))))))))))))))))))))))))))))))))))
Capt. Alex <lhsportfishing@comcast.net>
As the unofficial end to summer passes, we are in what some think as a transitional month for the local fisheries. IMO, there is nothing transitional about it. Fluking remains strong with the best catches inside coming around high tide and in the ocean when the conditions are more favorable for ocean fluking.  Blues from a pound to four pounds are cruising the inlet and jetty haunts and can pop up at any time chasing rainfish (bay anchovies). Speaking of rainfish, the amount of rainfish in and around the inlet is like the flood gates opened up and rained fish. LOL. Schoolie bass are still making a showing with the low light conditions more favorable, but I have been able to put my clients on a bass or two during most trips recently.  Weakfish are around in enough numbers to target and while fishing for weaks you are bound to catch a few other species of fish. Anchor in the bay and let out some clam chum and your rods will contently be bent with species like blowfish, smooth dogfish, baby sea bass, kingfish, snappers, and more. Intel speaks of false albacore and Spanish macks real close (a few miles off) to the inlet. Will let you know if I get a chance or have a trip wanting to chance down those speedsters. Attached are two pictures from recent trips, kids and fishing. Gotta love it! I'm presently running trips full time, so I am available to fish when you are. So if you're thinking about going fishing give me a call.
On the nature side of things: lots of brown pelicans around lately, maybe the most ever. Being an avid birder, naturalist, and citizen scientists, I kind of keep track of birds sightings amongst other things. Things such as when and where a bird is see, and how many. APPs such as EBird run by Cornell University allows citizen scientists to record their bird sightings into a global database. There are literally thousands, if not tens of thousands of sightings, reported and put into the EBird database every single day. Data that years ago took scientists years to collect, is now being collected every minute of everyday thanks to technology and citizen scientists. So back to brown pelicans in our area. Over the last two decades the frequency and the number of brown pelicans in our area has been on the rise. Thirty years ago they were a southern species and very rare to see in Ocean County. As our climate changes, some animals take advantage, or one may say benefit, from such changes. Brown pelican being one.  A few years ago they started nesting in Chesapeake Bay, the furthest north ever recorded. Will they one day nest in Ocean County? Only time will tell and only Mother Nature knows…..
Screaming Drags,
Capt Alex
Lighthouse Sportfishing
Below: Jim Hutchinson Sr. report ... 
Labor Day Weekend has arrived on Long Beach Island, but the fishing action in the Beach Haven area has not slowed down for the boats of the Beach Haven Charter Fishing Association. There are fluke and bottom fish to be had on inshore structure in the ocean, and the bay waters offer a wide variety of fish including panfish, weakfish, kingfish, and even some schoolie sized stripers. 
All signs are pointing to a top Fall fishing season. 
The head boat "Miss Beach Haven" with Captain Frank Camarda has been scoring well for its anglers on the inshore artificial reefs. Max, the first mate, reports several fluke limits have been caught by some of the sharpies aboard. There have been multiple fluke over 6-pounds with the largest to date weighing in at 6.5-pounds on the scale at Jingles Bait and Tackle. Over the past week or so, there have been at least five days with double digits in keeper flounder. When big black sea bass are added to the total, some of the trips have been pushing 30 keeper fish. 
Captain Gary Dugan on the "Irish Jig" has been finding plenty of action working inshore structure off Beach Haven. While the action is good, he has been working hard for keeper fish. On one recent trip his crew brought in four for dinner while another trip was all small fish despite his efforts to find keepers. The next day brought another big catch of small fish but two big fluke of 21 and 24-inches did make their way into the fish cooler. 
Captain Brett Taylor of Reel Reaction Sportfishing has been fishing both in the bay and ocean. On a recent trip he had Julie and Bart Toms out for a 5-hour ocean trip. Despite some strong northeast winds, he managed to locate
quick limit catches on black sea bass. The crew finished the day in the bay for some panfish and one keeper fluke along with some short ones. 
Additional information on the Beach Haven Charter Fishing Association can be found at www.bhcfa.net.