Monday, January 28, 2019: Despite being a weather buff, there are times I wish I wasn't seeing what I'll soon be feeling. We could be matching that last ferocious cold snap with a colder and longer one, as in tomorrow onward. Sure, it's perfect conditions to carve decoys. The only problems is I don't carve decoys. I do artwork that lends itself to being outside, where I can make a painty mess – or weld freely in the wind. Maybe I'll begin dotting horseshoe crab shells like back in old hard-frozen winter days.
I'm getting so many seal spotting reports I don't even take location notes any more. Since a couple rescues of sick seals last week, none of the seals now being seen are anything short of being fat and obviously highly healthy.
One north end photo showed a harbor seal eating what looked like a flatfish. Shot was too distant to be sure, though I'm betting winter founder is always on their menu, along with any nearshore hake-like fish. Easily broken surf clams are a common foodstuff, though, around here, these large clams have been far and few between. Hard shell clams are a tad tough for seals to open. Effort is not worth the energy gained. I'm not sure if it applies in the winter, but seals routinely eat 5 % of their body weight … daily.
Oddly, I haven't seen many seals popping up in Little Egg Inlet, usually a popular winter hangout. Not sure if that means anything significant.
The piledriving of the Holgate Terminal Groin steel sheets is underway. Thanks much for the photo and video sent my way. When I'm working, I can't stay on top of things. I'd be impressed if the company doing the work can persevere through the upcoming heavy icing. 
Below: Photo by Timothy Brindley
10th st. Barnegat Light Boat docks 01/25/19
FIRE IN THE HOLE!: This is one of those only-in-America tales, weirdness-wise.
I can do it no better immediate justice than the opening sentence from an Orlando Sentinel article. "A fisherman found a World War II hand grenade on Saturday and drove to a Taco Bell before calling authorities, who evacuated the restaurant."
Now, maybe that's nothing weird down in the Sunshine State but by my reckoning it's worthy of a Mannly "Say what?!"
Reading on, this story pulled right up my driveway since it included both angling and treasure hunting.
It seems the angler, during slow rod-tip times, had taken to the latest thing in treasure hunting, something called "magnet fishing." As the name succinctly implies, a powerful magnet is roped up and cast into high-potential waters, especially around bridges and piers. It is slowly retrieved along the bottom, "fishing" for any iron or steel objects. I started doing it last year, with a magnet possessing 300-pound pull. I now have a huge collection of some dang nice fishing pliers. The stainless steel ones clean up like new. At this time, I won't get into the more treasuresque stuff I have hauled in since I'll be doing a story on them this spring.
Returning to the Floridian angler's find of a "pineapple," as olden grenades were nicknamed. It came out of the water well-rotted. The Sentinel story had a photo of it.
Having experience with such fun-loving explosives, I can unnervingly assure that even a corroded grenade can be "live." Worse still, it no longer gives a rat's patootie about the safety pin, which keeps the grenade from displaying its explosive inner essence.
Age alone does not disable a military explosive's detonation potential. I believe some of the possibly century-old munitions dredged up and beached during the Surf City sand replenishment had powder that was still dry; a wry way of indicating they could have blown sky high. Tragically, a very nice fellow I met at a treasure hunting show was later killed when an 1860s Civil War cannonball exploded when he as cleaning it up. Per Fox News, "Virginia relic collector Sam White was killed when the Civil War cannonball he was trying to restore exploded."
Below: Surf City dredged up munitions.
As to the Taco Bell grenade, it's a momentary mystery – I intend to further research the event – as to what possessed the magnet-dragging fellow to nonchalantly place the explosive in the trunk of his car and then drive to a fast-food joint. Yes, I fully understand the far-reaching call of burritos. However, had that been me, all I would have needed was a glance of the clinging explosive. The grenade, magnet and rope would all be instantly been heading back to the bottom, followed by me walking off, all, "Well that was certainly an interesting former hobby." Then I'd go for burritos.
"The bomb squad removed the grenade without incident and later disposed of it safely, the police department said. The Taco Bell eventually reopened," per the Sentinel.
**********************************************
To My Holgate Friends: I'm not big on flinging crap about – figuratively speaking -- but the now-heavily-used sand walkway stretch onto the Refuge beachline (West Ave) is being insufferably shat upon. There are five – count 'em – dog plops … of recent vintage. Someone with a medium- to large-sized dog is openly and seemingly defiantly not scooping after Fido does his significant business. It's above-average disgusting. I now fully sympathize with all those who rallied for the pooper-scooper signs placed on local telephone poles thereabouts. Sadly, this abuse is being done by one or more LOCAL dog owners. The day-after-day persistence of the plops in the same small area proves that. I might just have to place a trail cam out there. By the by, I have an idea about who one of the crappy culprits might be. Yes, my rant is the result of having stepped in evidence, as it were. Weirdly, I took pics of all the crap, should someone want smoking-gun evidence. Better yet, check it out.
*************************************
The following message was sent by the NJDEP Division of Fish and Wildlife to e-mail list subscribers. Press inquiries related to this message should be directed to the DEP Press Office at 609-984-1795.
---
It's time to submit your spring turkey permit application. Periods A and E in some areas, particularly in central and southern Jersey, sell out in the first or second lottery. Applicants should study the Permit Quota Table to determine application strategy for the best chance at getting the Period/Area wanted. Applications need to be submitted by February 22 - but don't wait! Applications can be reviewed and edited after submission and before the deadline.
Application Information
Permit Quota Table (pdf)
Turkey Hunting Area Map
*****************************************************
*********************************************************
Long Beach Township Police Department

On January 27, 2019, the Long Beach Township Police Department Detective Division, Patrol Division and K-9 Unit executed a search warrant in the Holgate section of Long Beach Township. Further investigation revealed that Michael Klimowicz (28 years old) was distributing quantities of narcotics from his residence. Probable cause was found to charge Michael Klimowicz with possession with intent to distribute LSD, possession with intent to distribute over one half ounce of cocaine, possession with intent to distribute over twenty five pounds of marijuana, possession with intent to distribute a schedule four narcotic (Xanax), possession of Adderall and possession of drug paraphernalia. Michael was placed in custody and transported to Ocean County Jail where he was lodged pending a future court date. Please contact the Long Beach Township Police Department Detective Bureau 609-361-2073 if you have any further information pertaining to this incident.
*************************************************
(You can't let some Asians anywhere near fish ... )
California Convicts Commercial Fisherman in White Shark Shooting Case
January 28, 2019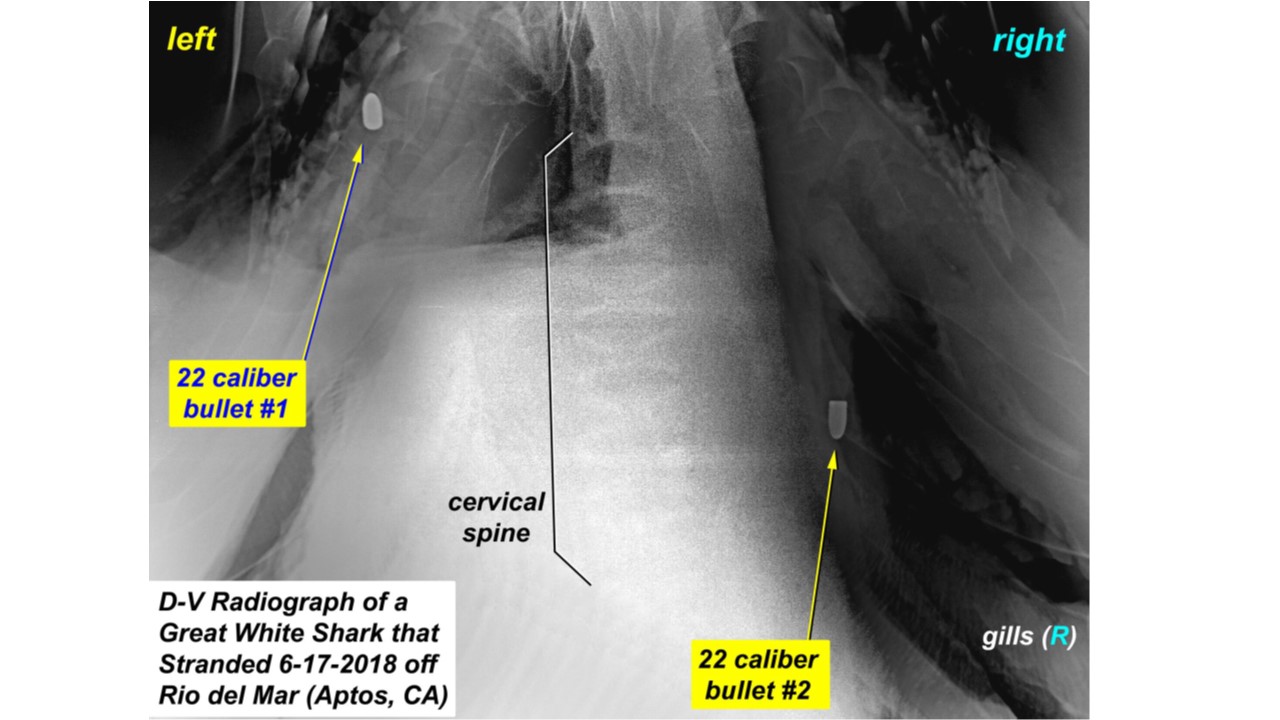 A San Jose man was recently convicted in Santa Cruz Superior Court for unlawfully killing a great white shark (also known as a white shark) in Santa Cruz County last summer, according to a press release.
Vinh Pham, 41, was fined $5,000 and placed on conditional probation for two years. The court also ordered his firearm to be destroyed.
Wildlife officers from the California Department of Fish and Wildlife began their investigation on June 17, 2018, immediately after the 9-foot male white shark washed up on Beer Can Beach in Aptos, according to the CDFW press release. A necropsy performed on the shark confirmed it had been killed by multiple shots from a .22-caliber firearm. Soon after, CDFW received a tip on its CalTIP reporting line that a member of a commercial fishing boat crew may have been responsible for the shark's death.
Officers investigated the tip that night and observed the vessel fishing after dark near where the shark was discovered. Two wildlife officers contacted the crew as the vessel returned to Santa Cruz Harbor early the next morning. A regular commercial fishing inspection uncovered multiple violations involving their catch for that day, including possession of undersize halibut, no landing receipts, failure to weigh their commercial catch and failure to turn in landing receipts. During this investigation, the officers located a fully loaded .22 caliber rifle concealed behind the seat of the truck the suspect was using to transport his commercial catch to markets. Officers seized the rifle as evidence, then submitted both the rifle and the .22 bullets extracted during the shark necropsy to the California Department of Justice crime lab to see if they matched.
As the investigation progressed, Pham confessed, claiming he shot the shark after seeing it swimming near the wings of his deployed fishing net. On Jan. 14, 2019, Pham pled to multiple charges including wanton waste of the white shark, possessing a loaded rifle in his vehicle, possessing undersize halibut, failing to accurately weigh his catch, failing to complete landing receipts and failing to submit landing receipts.
CDFW thanked Assistant District Attorney Ed Browne of the Santa Cruz County District Attorney's Office for prosecuting the case.
***********************************************
Emissions from Fishing Vessels have Quadrupled Since 1950, UBC Study Shows
Copyright © CBC/ Radio Canada
By Bethany Lindsay
January 28, 2019
Even as the volume of seafood caught worldwide declines, greenhouse gas emissions from fisheries continue to rise, hitting levels much higher than previously thought, according to new research from the University of B.C.
The study estimates marine fishing vessels released 207 million tonnes of carbon dioxide in 2016, about 30 per cent higher than previously estimated. That's despite the fact that overall catch has been dropping since the 1990s.
"I would say that it is concerning," said Krista Greer, the study's lead author and a researcher with the Sea Around Us initiative at UBC.
"We're actually increasing our emissions even though we have technology that's more efficient and our catches are declining."
The paper, published in the journal "Marine Policy" this week, suggests that overall emissions from the world's marine fisheries more than quadrupled between 1950 to 2016. The scientists looked at each boat in fleets around the world and used their engine capacity to calculate how much carbon dioxide they release by burning fossils fuels.
It builds on another UBC study published last year that estimated emissions from the industry in 2011, resulting in a significantly lower number of 112 million tonnes of carbon dioxide.
According to Greer, the difference in the two estimates can likely be attributed to more precise numbers from African and Asian fishing fishing fleets in the latest study.
Increased fuel use in small-scale fisheries
About three-quarters of the 207 million tonnes released in 2016 came from industrial operations, according to the new paper. The remainder came from small-scale, artisanal and subsistence fishing.
And therein lies one of the most surprising findings in the research, Greer said.
Over the 66 years included in the study, the carbon dioxide emissions burned by industrial fishing boats per unit of fish caught dropped by about 10 per cent. For small-scale operations, that emissions intensity actually increased by a factor of 2.3.
"The industrial sector seems to be stabilizing more so than the small-scale sector," Greer said. "It means that possibly, where we have good infrastructure and where we have policies in place, they tend to target those industrial sectors."
She described the contrast as a socioeconomic problem for small-scale fishers in parts of the world that are especially vulnerable to the effects of climate change and declining fish stocks.
"We really do need to draw attention to the fuel use in these small-scale fisheries, because they are using a lot of fuel that is very costly to them, and we're not really paying attention to them from a management perspective," Greer said.
She added that the overall increase in emissions from the fishing industry may have something to do with the fact that vessels have to travel farther and farther offshore as stocks are depleted closer to land.
Past research has also suggested that increasing appetites for seafood like lobster and shrimp, which require more fuel to harvest, is also driving the rise in emissions.
"My parents ask me, 'What kind of things can I do then at home? How can I help this problem?'" Greer said.
"What I say is, when you're selecting which seafood to eat, try and think about where it's coming from, what kind of species is it."
That can mean choosing more small pelagic fish like herring, sardines and anchovies if possible — harvesting these fish requires relatively little fuel use.
Envisioned Octopus Farms Would have Destructive Environmental Impact
January 25, 2019
A team of researchers have concluded that commercial octopus farming, currently in developmental stages around the world, would have negative effects on animal welfare and sustainability. The analysis, which mentions that nearly 190 countries currently farm approximately 550 aquatic species, is co-authored with Peter Godfrey-Smith of the University of Sydney, Becca Franks, an NYU research scientist, and Walter Sanchez-Suarez, a postdoctoral researcher from Spain working at the University of Sussex.
Spain, Mexico, Japan, and China are increasing scientific efforts to build knowledge in commercial octopus farming. For example, Nissui, a seafood company located in Japan, is predicting a fully farmed market-ready octopus by the year 2020.
Given such developments, the research team began to study the potential impacts and outcomes of octopus farms. Through their studies, the team found that the majority of farmed aquatic species are carnivorous, such as salmon, carp, and catfish. Feeding these farmed species puts extra pressure on wild fish and invertebrates for fishmeal. About 30 percent of the global fish catch is made into feed to support aquaculture needs, which has motivated over fishing. Since octopus is also a carnivore, farming this species would only aggravate current conditions. Additionally, octopus farming would produce immense levels of nitrogen and phosphorous pollution from uneaten feed and waste, contributing to oxygen depletion. Research has also shown that octopus have cognitive capabilities and behavioral complexities that would make farming difficult. Farming, in which the octopus are placed in enclosed environments, is incompatible with their genetics. As a result, high mortality rates, increased aggression, and parasitic infections found in existing aquatic farms are likely to be much more pronounced with octopus.
Due to the results of the team's exploration, necessity of these octopus farms are in question. If society were to decide octopus cannot be farmed, relatively few people will continue to eat them. However, this would not pose an issue for food security. The main markets for octopus, which includes Japan, South Korea, China, Australia, and the United States are all food secure. As of now, farming octopus is constrained by the technology, but the technology may be available to farm the species at an industrial scale. If such an opportunity arises, the research team hopes that serious welfare and environmental issues associated with projects such as octopus farming is discouraged or prevented.