\uap>
After days of being snowed in, Al decided he better look out to see if things had melted at all ..
\uap>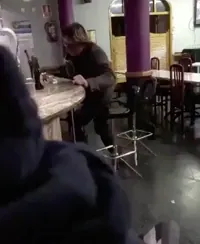 \uap style="text-align: center;">
__________________________________________________________
\uap style="text-align: center;">
In nothing flat, Simone squelched the myth that wine testers never swallow ...
\uap>
\uap style="text-align: center;">
"And then it froze solid for my entire vacation!"
\uap>
\uap> \uap>
Monday, January 08, 2018: I'm back at work. Alert the media. Oh, that's right, I am the media.
\uap>
As I continue to reel, make that slip and slide, from my winter-ruint vacation, I need to get my head back on a news swivel -- so much so that I'm raptly attentive to any story ideas you might have, including local folks of interest or odd and curious goings on hereabouts. To be sure, we harbor some fascinating folks and curious happenings within The SandPaper's readership range.
\uap>
OK, so maybe this is a tad too "curious" ...
\uap>
\uap>
While our recent snow is an obvious story, it will take quite a while before towns are able to access how much it cost to clean up after the January Blizzard of 2018. Come on, it's fun to name things. Notice I didn't add "Great." I recall a blizzard back in the mid-70s that was greater. You recall that one, right?
\uap>
\uap>
\uap>
As to those cleanup expenses, I wonder how much a single dump truck of road salt costs, though I have no doubt that fuel costs and overtime for public works folks will be the meatiest part of the costs for municipalities. Blizzards don't come cheaply.
\uap>
\uap>
Quietly outdoing the high-speed snowflakes were below those numbing below-zero night temps. I heard of an official -4 in the Pines; a bank sign in Little Egg Township sported a recordish -8.
\uap>
Bill Bonvie
\uap>
\uap>
BUG ME: I was asked if those negative night readings might be enough to finally kill off the remarkably destructive southern pine beetle (SPB). Close … but no dead-beetle cigar. I was told by a Pinelands cranberry farmer that it must hit -10 before it's positively lights out for this indigenous bark beetle. No, the southern pine beetle is not invasive. It has simply perpetuated, mightily, in recent years, -- moving northward out of its main haunts in the southeast US. Our area's overall warming seems to be at the root of its ravenous expansion.
\uap>
In the East, SPB have destroyed $1.7 billion worth of timber between 1990 and 2014.
\uap>
Below: Pitch tube sap caused from boring beetles.
\uap>
\uap>
Not much larger than a rice grains, a southern pine beetle saps the life out of pine trees by feeding on the tissue immediately under the tree's bark. When dining by the thousands, even old-growth pines can be victimized, as was the case along Hilliard Boulevard, Stafford, where even massive pine trees were killed in recent years by the tiny buggers. I've collected bark specimens from those fallen trees and the inside of the bark looks like some complex inner-city road system, with crisscrossing bore trails, showing where the beetles bored away to their appetite's content.
\uap>
But it's not just the beetle that puts pine trees to rest. The crafty insects employ a nasty form of biological warfare to fight the natural insecticidal defenses of the trees. Part and parcel to the SPB tree-chewing process is a group of cooperative fungi, cover termed blue stain fungi. These fungi – which, in fact, leave a bluish stain behind -- live harmoniously with the beetles, forming a cozy so-called symbiotic relationship between the two. The fungi neutralize the pine's defensive chemistry, allow the fungi and the beetles to dine freely – before moving on to other nearby tree stands.
\uap>
\uap>
With southern NJ containing an estimated 440,000 acres of pinelands, this destructive duo has become a gnawing-away nightmare, one that might be damaged by this current deep freeze but likely not neutralized.
\uap>
++++++++++++++++++++++++++++++++++++++++++++++++++++++++++++++++
\uap>
\uadiv class="_1dwg _1w_m _q7o">\ua
\ua
\ua
\ua
Above: Brendan Byrne (1970s), aka "The man the mob couldn't buy,'
\ua
I am saddened by the passing of one of the greatest New Jerseyans I have ever had the pleasure of knowing. The late Gov. Brendan Byrne as much as single-handedly saved the "Pine Barrens." I was there, in the midst of things. I saw both the Governor's astoundingly aggressive action to drape a "building moratorium" over the "core Pinelands." I heard and saw, firsthand, the violent, death-threat-laden reactions of developers, who were in the midst of moving into the Pinelands with all plows firing. "Impeach Byrne" stickers popped up on the bumpers of many a dump truck.
The most amazing and improbable part was how the moratorium stuck – and, in doing so, soon gained muscular momentum as green groups came out of the unbuilt woodwork in powerful support of the moratorium. In fact, the people of New Jersey quickly backed the salvation of the Pinelands in both voice and vote. Had Byrne not made that fateful anti-buildout proclamation there is little doubt our outback would be nothing but backyards by now.
\ua
\ua
\ua
\ua
\ua
\ua
\ua
\ua
\ua
\ua
\ua
\ua
\ua
\ua
\ua
\ua
\ua/div> \uadiv class="col-md-12">\ua \ua/div> \uadiv class="col-md-8">\ua
\ua
Seafood traders are now required to provide more documentation for fish and fish products they wish to sell to American consumers. As of January 1, 2018, importers have new recordkeeping requirements for proving that seafood products entering the United States are legally and sustainably caught, and truthfully represented.
\ua
The new rule, known as the Seafood Import Monitoring Program, marks a significant step in the global effort to prevent Illegal, Unreported and Unregulated (IUU) fishing and seafood fraud from entering U.S. markets. IUU fishing and seafood fraud threaten valuable natural resources that are critical to global food security and put law-abiding fishermen and seafood producers here in the U.S. and around the world at a disadvantage.
\ua
The rule applies to the following priority species: Atlantic and Pacific cod, blue crab, mahi mahi, grouper, king crab, sea cucumbers, red snapper, sharks, swordfish and tunas. In the future, the U.S. plans to add other species to the list, including shrimp and abalone.
\ua
Over the past year, NOAA Fisheries has worked with international importers to bring their operations into compliance with the new requirements. Learn more about this rule and NOAA's efforts to crack down on global fish crime.
\ua
\ua/div> \uap>+++++++++++++++++++++++++++++++++++++++++++++++++++++++++++++++++++++++++++++++++++++++++++++ \uah1>Laine Welch Gives Her 27th Annual Fish Picks and Pans, Plus Biggest Fish Story of 2017 \uap> \uadiv id="storyBody">\ua
SEAFOODNEWS.COM [Fish Factor] by Laine Welch Jan 4, 2018
\ua
For 27 years this weekly column has featured news for and about Alaska's commercial fishing industry. It began in 1991 in the Anchorage Daily News and now appears in more than 20 news outlets across Alaska, nationally and in the UK.
\ua
Today, Alaska fishermen and processors provide 65 percent of our nation's wild-caught seafood, and 95 percent of the wild salmon. The industry puts more people to work than oil/gas, mining, timber and tourism combined.
\ua
Alaska's diverse fishing fleet of nearly 10,000 vessels is made up mostly of boats under 50 feet. Each is a small business that supports several families. For towns like Kodiak, Cordova, Homer, Petersburg and Sitka, where 500 to 700 vessels are homeported, boats are the majority of our downtown store fronts.
\ua
Here are my annual Fishing Picks and Pans – a no holds barred look back at the best and worst fish stories of 2017 in no particular order, and my choice for the biggest fish story of the year.
\ua
Best fishing career builders: University of Alaska/Southeast for "on the go" iPad training for fishery technicians, boat hydraulics, electronics, vessel repairs and more. Kodiak College merits honorable mention for same.
\ua
Biggest new industry potential: Seaweeds. Kelp alone is a $5 billion global industry. Gov. Walker will unveil a statewide mariculture plan in March for producing more seaweeds and shellfish. The US Dept. of Energy already is eyeing Alaska for bio-fuels from macroalgae.
\ua
Biggest fish break: Electronic Monitoring Systems replacing fishery observers on small boats to track what's coming and going over the rails.
\ua
Best Fish Entrepreneurs – Salmon Sisters of Homer – even Xtra-Tuffs came calling for the sisters' flair on its boots!
\ua
Best fish visionaries: Tidal Vision LLC of Juneau – their list of Alaska crab shell-based filters, fabrics and an eye-popping list of other products continues to grow.
\ua
Best Fish Legislators: Rep. Louise Stutes, (R) Kodiak; Rep. Jonathan Kreiss-Tompkins (D-Sitka)
\ua
Best fish knowledge sharers: Alaska Sea Grant and its Marine Advisory Agents
\ua
Best Fish Giver – Sea Share, for donating more than 225 million fish servings to needy Americans since 1994. The program began as a bycatch to foodbanks effort by Bering Sea fishermen and processors.
\ua
Trickiest fish conundrum: Protecting transboundary waters shared by Southeast Alaska and British Columbia. More than a half dozen huge mines are operating or being built directly upstream in B.C.; some straddle headwaters of the Panhandle's most important salmon rivers.
\ua
Most earth friendly fishing town – Kodiak, for generating nearly 100 percent of its electricity from wind and hydropower, and for turning its fish gurry into oils and meals at a plant owned by local processors.
\ua
Biggest fish WTF? Over 70 percent of active fishing permit holders call Alaska home, but most of the gross earnings go out of state. In 2015 Alaska fishing residents and crew grossed more than $602 million at the docks, while 6,580 Washington-based fishermen took home over $904 million.
\ua
Scariest immediate fish threat: warming water temperatures are throwing fish behaviors and diets out of whack.
\ua
Scariest imminent fish threat: ocean acidification. The corrosion of shells and skeletons in sea creatures is already documented in the Pacific Northwest.
\ua
Best fish ambassadors – Alaska Seafood Marketing Institute (ASMI). The Alaska seafood "brand" is #1 on US restaurant menus. Seafood sales are Alaska's top export by far, topping $3 billion. ASMI, funded primarily by the industry, promotes Alaska seafood in the U.S. and in more than 120 countries.
\ua
Most counterproductive fish cut – Alaska legislators zeroing out the $1 million state ASMI budget in FY 18. (see above) In contrast, Norway's Seafood Council, funded by a tax on seafood exports, has a $55 million marketing budget.
\ua
Best daily fish news sites: Seafoodnews.com; SeafoodSource
\ua
Town that best promotes fishing futures: Sitka. Training young fishermen, marketing local catches, fish quality studies, supporting buy-in options for new entries – the Alaska Longline Fishermen's Association helps lead Sitka's investment in future fishing careers.
\ua
Best fish watchers: Cook Inletkeeper, Trustees for Alaska
\ua
Most encouraging fish talks: The Stand for Salmon and United Fishermen of Alaska educational outreach on the push to update salmon habitat and permitting laws for the first time since statehood (1959).
\ua
Most unacceptable fish story: Nearly 60 million gallons of detergents, road run off, human wastes, pharmaceuticals and other Anchorage effluent being legally piped into Cook Inlet every day thanks to decades long waivers from the Environmental Protection Agency.
\ua
Best fish economist: Andy Wink, Senior Seafood Analyst, McDowell Group
\ua
Best go to bat for their fishery: The Bristol Bay Regional Seafood Development Association, funded and operated by the Bay's roughly 1,800 driftnet fishermen
\ua
Best fish mainstream move: Trident's Fork and Fin food truck that is taking the message to the streets that overlooked Alaska pollock (aka "cod's cousin") is what's for dinner.
\ua
Most ill-timed fish story – U.S. Navy war games held again in May as Alaska's salmon season gets underway. The area covers 60,000 square miles off the tip of the Kenai Peninsula. The Navy is reportedly considering moving the training exercises to September.
\ua
Biggest fish unknown: Every Alaskan benefits from higher fish prices.Half of the taxes from all fish landings go into the state general fund and are distributed at the whim of the Alaska legislature.
\ua
Biggest fish pipe dream: Pebble Mine. "Wrong mine/Wrong place."
\ua
Best fish booster – Alaska Symphony of Seafood by theAlaska Fisheries Development Foundation. For 25 years AFDF hasshowcased tasty new Alaska seafood products with a level playing field for the majors and small mom and pop's. A new category highlights items made from byproducts, such as pet treats and salmon skin wallets. (Teaser: the 2018 Symphony winners will be announced at a gala soiree in Juneau in February.)
\ua
Best veteran fish writers: Margie Bauman, Jim Paulin
\ua
Best new fish writer: Elizabeth Earl
\ua
Best fish mixer: Pacific Marine Expo/Seattle, which has topped the half-century mark and continues to grow each year.
\ua
Saddest fish story: King salmon returns to Southeast Alaska at their lowest levels since the 1970s.
\ua
Town that celebrates its fish best: Cordova. Helicopters and hand delivered salmon herald the salmon season's kick off! Chefs and media tours, restaurant revels, First Fish delivered to elders.
\ua
Town that celebrates its fish least: Kodiak. Fishing starts Jan. 1. No shout outs. Halibut opens in March, salmon in June. Ditto. No "first of the season fish" featured on Kodiak menus.
\ua
Most important fish study: Turning the Tide, which offers hope and guidelines for Alaska's next generation of commercial fishermen. Find it at Alaska Sea Grant.
\ua
Fish story of the year:
\ua
The cod crash in the Gulf of Alaska, where annual surveys showed stocks of one of Alaska's largest fisheries are down by more than 80 percent. The cod shortfall, blamed on warm waters over an extended period, is expected to last for three or more years. Alaska typically produces 20 percent of global cod catches.
\ua/div> \uap>