Pooch suddenly realizes his owner is also a dogcatcher ...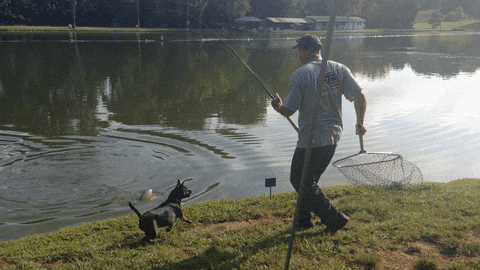 In an incomprehensibly ironic turn of events, two protesters rallying against the need for the new Claireborn Brain Injury Clinic went around back and ... 
Monday, February 19, 2018: Welcome back to all you warmbirds.
No, I don't mean snowbirds, which comprise a whole other flock, a flock not all that ready to return from tropicalish climes. Brats.
Warmbirds, which can just as easily be called nearbyers, tend to arrive with the first signs of winter-relieving mildness, like this week's 70s. They zip in from sundry parts of NJ -- or from the edges of nearby states. They do a proverbial hop/skip/jump to the shore, seeing the coastline for the first time since those early-on snowflakes flew and the freaky cold set in.
Most often, warmbirds are property owners doing the first, oft-spooky house checks of the year, having weathered back-home worries of busted pipes down at the "shore house." Among the warmbirds, often seen flocking together in local breakfast feeders, are nearby mainland-based folks, taking drive-overs to see how places like LBI have weathered the winter.
Having always been a people person, albeit from a safe distance, I enjoy the feel of this annual thaw-out, what we refer to in winter fishing terms as ice-out.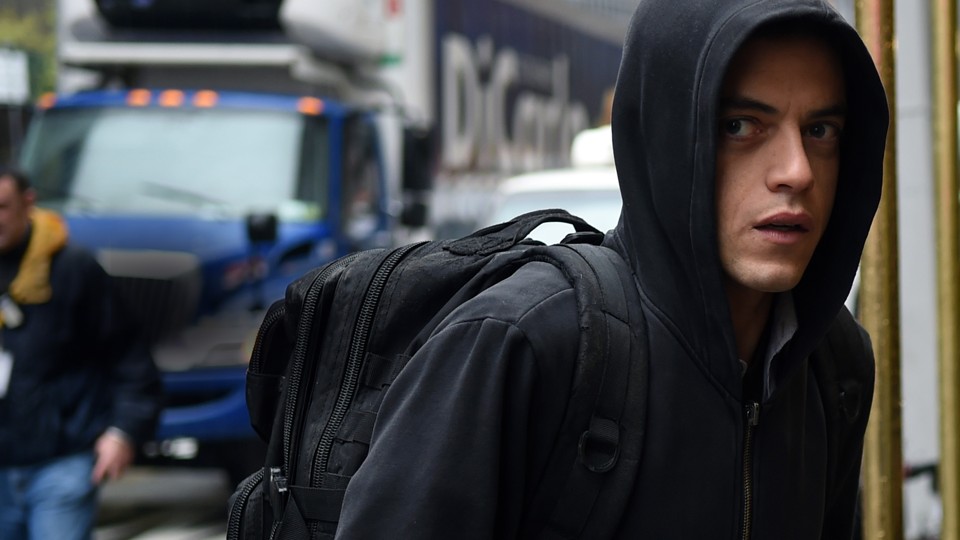 To be sure, this prespring surge of folks isn't big on fishing, considering our near-beach waters are far from surfcasting friendly -- and not particularly conducive to boat fishing, even though we only have until February 28 before the March-long closure of tog kicks in.
World Record Striped Bass and Bluefish
StriperSpace.com
Pending World Record Tautog
FLOUNDER DOWNER: March 1 offers the start of the winter flounder season, allowing us two keeper fish at 12 inches or longer. That bag limit is hardly worth the effort, especially for boat fishing in the bay – where things can get rough real fast this time of year.
Not many years back, I was among the many who approached winter flounder season in a rich and traditional manner. I'd make meaty chum logs, buy cans of cheap cat food, thaw out bags of corn niblets, and even break out the old bottom plunger – a mud-sucking toilet plunger mounted on a long piece of bamboo.
https://www.youtube.com/watch?v=3Oraj37GHd8
Those wonderful first-fishing days of the year are dead in the water, due to the two-fish limit and the increasing lack of blackbacks, the old name for winter flounder.
In last week's SandPaper, the premier professor on local fisheries, Kenneth W. Able of Rutgers, offered a sneak peek at his upcoming book on popular local fish species. It was a segment on winter flounder – and it offered some black news on blackbacks.
If you missed Ken's piece, I've included it down below.
Ken notes, "Given their preference for cold temperatures, it may not be surprising that as temperatures have warmed in our area over the last several decades, winter flounder are becoming less abundant."
He then goes on to appropriately explain that their disappearing act is likely a complex issue. "While the decline in abundance corresponds with increasing local water temperatures, the effect may not be direct. Instead it may be that predators, which may be becoming more abundant due to the increasing temperatures, are eating more of the winter flounder than they used to. But it is not the large predators that we typically think of, but very small ones that may be having the most effect."
I'm very excited about Ken's book-to-be, considering he's simplifying and condensing a lifetime of study into a highly readable treatise. I'll keep you posted on the book's progress.  
I SECOND THE "PREDATION": Acknowledging that the good Dr. Abel is the maestro of marine fisheries, I will humbly add that I doubly support the predation factor, elevating it  beyond planet-based water temp increases.
I have it on sound authority that other fish species have become critical killers of winter flounder populations. By way of anecdotal example, I have heard of three separate instances where anglers found striped bass with winter flounder literally jam-packed into their bellies. The anglers telling me about those in-belly findings used the same "stacked like pancakes" expression. Such vivid proof of striper binges mean this over-beloved gamefish species commits carnage upon blackbacks. Spookier still, two of the flounder-stuffed stripers were in the mere 29-inch range -- the most common size-class within the bass fishery. It's mind boggling to think how many flounder a single school of bass can scarf up.
StripersOnline ...
Add in the impacts of always-ravenous blue claw crabs, dining on tiny flounder, and end times for NJ winter founder are nigh. 
I'll also mention the distinct possibility that the rapid shallowing and human-caused water chemistry changes in the expanded Barnegat Bay system have likely led to worsening overwintering and spawning conditions for remaining flounder in our area.
Note: The aftereffects of increasing amounts to nitrites and nitrates in the bay water, mainly during the summer, aren't simply washed away with the tides. Suspended particles/particulates carrying pollutants often sink to the bay bottom, settling in the mud, right where winter flounder overwinter. Not only does settled pollutants become insidious chemical intruders, impacting spawning, but they surely leave an awful taste in the mouths of blackbacks, eventually forcing them to seek new digs -- exposing themselves to greater predation or pollution.
It should be somewhat depressingly recognized that Barnegat Bay must have once offered a  reason-to-return desirability – and promise of survivability – for countless generations of winter flounder. I fear there is a very low chance of Barnegat Bay's remaining winter flounder successfully relocating. That would entail a genetic de-encoding, i.e. a countering of innate homing instincts, drawn toward the unique chemical signature of Barnegat Bay waters. Such an inborn tatse for home is seen in the diamondback terrapin, which instinctively return to the same nesting beaches, annually, despite mankind having built to the hilt thereabouts – and the chances of nesting success being crushed by humanity. Unfortunately, we can't manually protect returning/nesting winter flounder like we've begun successfully doing with growingly beloved terrapins. Flounder will simple dwindle down -- and disappear. 
===============================================================
Where Have All the Winter Flounder Gone? Digging for Answers
Where are the winter flounder going? Is the decline due to rising water temperatures?
As one might expect, "winter" flounder prefer colder temperatures. These fish, which are important in commercial and sport fisheries, come into bays and estuaries such as Great Bay and Barnegat Bay in the fall or winter in anticipation of the cold temperatures found in these shallow waters at this time of year. They also lay their eggs there, on the bottom, at the coldest time of the year, usually around February. Because the temperatures are so cold, the eggs take a long time to develop, often 20 to 40 days, and then the just-hatched larvae continue to develop in the cold temperatures. 
Given that the adults do not like warm temperatures, it is not surprising that they leave and move back into the ocean as the bays and estuaries warm up in the spring, typically around April. We know this from our tagging of winter flounder with acoustic tags that allow us to track them from boats with underwater receivers that can listen for these tags.
Given their preference for cold temperatures, it may not be surprising that as temperatures have warmed in our area over the last several decades, winter flounder are becoming less abundant. The observation comes from several sources. We have measured increasing temperatures at the mouth of our boat basin daily since 1976 and every 15 minutes since 1996, through the efforts of the Jacques Cousteau National Estuarine Research Reserve.
Certainly the fyke netters that fish for the adults in winter in Barnegat Bay know there are fewer around than there used to be. Also, sport fishermen who used to fish off the bridges along Great Bay Boulevard in the Great Bay Wildlife Management Area, and elsewhere, are no longer there in the winter because the fish are not. 
Our own studies at the Rutgers University Marine Field Station, just inside Little Egg Inlet, have seen the same decline. This comes from efforts by graduate students and fresh Ph.D.s led by myself, Tom Grothues and colleagues from other institutions. This includes declines in the abundance of adults in the ocean and the estuaries as well as fewer larvae and juveniles in the estuaries.
All this is to some degree not surprising because winter flounder are near the southern limit of their range in New Jersey. In general, it seems that they are "moving" north as temperatures increase. In reality, it may be that successful reproduction in each bay is becoming less common in the southern part of their range while still viable in the northern part. All this begins to make sense when scientists compare their separate pieces of data from their own areas of expertise. This is one way that science works.
While the decline in abundance corresponds with increasing local water temperatures, the effect may not be direct. Instead it may be that predators, which may be becoming more abundant due to the increasing temperatures, are eating more of the winter flounder than they used to. But it is not the large predators that we typically think of, but very small ones that may be having the most effect.
Our field and laboratory studies have clearly shown that sand shrimp, which reach only a couple of inches in length, are important predators. This makes sense because during the winter and spring when the winter flounder larvae leave the mid-water and settle to the bottom, the shrimp are most abundant. This typically occurs, as we have observed over the last 30 years, in shallow coves on the back bay side of Holgate, for example. As a result, the shrimp predators and the winter flounder prey are occurring at the same time and place, which makes the chance of being eaten much more likely. 
The possible role of predation can be extended because laboratory studies have also demonstrated that small juvenile blue crabs can effectively prey on larger size winter flounder from the spring into the summer. We also wonder whether increasing water temperatures might be shortening the duration of the season for growth of the juveniles. For example, if juveniles grow slowly, they may remain at small sizes longer, and thus are vulnerable to shrimp and crab predators for a longer period of time.
As a result of these studies, we are beginning to gain important insights into how increasing water temperatures, due to climate change, are influencing the number of winter flounder in New Jersey. Unfortunately, the interactions are simply more complex than we would like them to be.  This complexity may be especially so in estuaries where variable temperatures, salinity and dissolved oxygen occur and where tides, day-night variation and human effects are even more typical influences. Of particular importance for this flatfish, and others, is their ability to bury and avoid detection by fishermen and scientists.
All of this continually reminds me of how little we know and how far we have to go to effectively manage winter flounder and other fish populations, especially during a period of warming temperatures.
Kenneth W. Able is a marine biologist and director of the Rutgers University Marine Field Station in Little Egg Harbor. This story is part of an upcoming book by the author on the natural history of the Mullica Valley.
 +++++++++++++++++++++++++++++++++++++++++++++++++++++++++++++++++++++++++++++++++++++++++++
The following near-national Interstate Wildlife Violator Compact effort meant to ratchet up the strength of fish and wildlife laws is both warranted ... and frightening. It combines the enforcement resources of nearly every state in the nation, with only three non joiners: Delaware, Massachusetts and Hawaii. The compact offers a numbing punishment capacity against the most serious violators of wildlife laws. Whereas violators of fish and game laws in NJ received little more than a hand slap, even when facing the revocation of fishing and hunting privileges, what now befalls a violator is damn close to a national revocation of such privileges ... in 47 states! Ouch. 
The compact is also no bargain for small-time slackers failing to pay fines and such.
Here's the new Interstate Wildlife Violator Compact, per the NJDEP. Read it closely. 
NEW JERSEY JOINS INTERSTATE WILDLIFE VIOLATOR COMPACT EFFECTIVE DECEMBER 1
(17/P110) TRENTON – The New Jersey Division of Fish and Wildlife will have a new tool to use in its ongoing efforts to enforce wildlife laws as the state joins the Interstate Wildlife Violator Compact, Department of Environmental Protection Commissioner Bob Martin announced today.
The compact – first developed in western states in the mid-1980s – recognizes the importance of deterrence through the suspension of hunting, fishing, and trapping licenses and privileges in all member states resulting from violations concerning the pursuit, possession or taking of a wide range of wildlife, including mammals, birds, fish, reptiles, amphibians, mollusks, shellfish, and crustaceans.  New Jersey's membership will begin on December 1.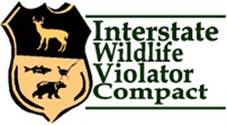 "This cooperative and proactive interstate strategy will greatly enhance our Division of Fish and Wildlife's ability to protect and manage our wildlife resources," said Commissioner Martin. "Any person who has their license privileges suspended in one member state may now also have them suspended in all other member states. In addition, the compact prevents convicted poachers who are under revocation in one state from hunting, fishing, or trapping in other states."
For the purposes of the compact, the term "license" means any license, permit, or other public document which conveys to the person to whom it was issued the privilege of pursuing, possessing, or taking any wildlife regulated by statute, law, regulation, ordinance, or administrative rule of a participating state.
In New Jersey this definition includes but is not limited to: all-around sportsman, firearm hunting, trapping, bow and arrow, freshwater fishing, recreational crab pot, non-commercial crab dredge and shellfish licenses, various hunting and trapping permits, pheasant & quail and New Jersey waterfowl stamps, striped bass bonus tags, and saltwater registry certificates.
License and privilege suspensions resulting from wildlife violations committed on or after December 1, 2017 in New Jersey may result in the reciprocal suspension of license privileges in member states.  If a person plans to hunt, fish, or trap in another state, and has a license privilege suspension in New Jersey, it is their responsibility to contact the other state to verify if they may legally hunt, fish, or trap there.
New Jersey residents who fail to comply with the terms of a citation or summons issued for a wildlife violation in another member state may face a $50 fine and the suspension of all privileges to take or possess wildlife in New Jersey until the citation has been satisfied. Failing to appear in court or to otherwise answer a ticket or summons issued for such violations will also result in license, permit, and privilege suspension.
"Our agency has been charged with managing New Jersey's wildlife resources for 125 years and we take this responsibility very seriously," said Division of Fish and Wildlife Director Larry Herrighty. "Joining the compact protects New Jersey's wildlife resources and that of member states by deterring violators from continuing their illegal activities and sends a clear message to all that such behavior will not be tolerated." 
The concept of a wildlife violator compact was first advanced in the early 1980s by member states in the Western Association of Fish and Wildlife Agencies. In 1985 draft compacts were developed independently in Colorado and Nevada. Subsequently, these drafts were merged and the Interstate Wildlife Violator Compact was created.
More information on the Compact, including which states are members and which violations with prescribed suspensions will be recognized in New Jersey and shared with member states is available on the Division of Fish and Wildlife website at: 
www.njfishandwildlife.com/violators_compact.htm
++++++++++++++++++++++++++++++++++++++++++++++++++++++++++++++
Coast Guard Pilot Praises Actions of F/V Sea Star Crew
SEAFOODNEWS.COM [Cape Cod Times] by Kristen Young - February 16, 2018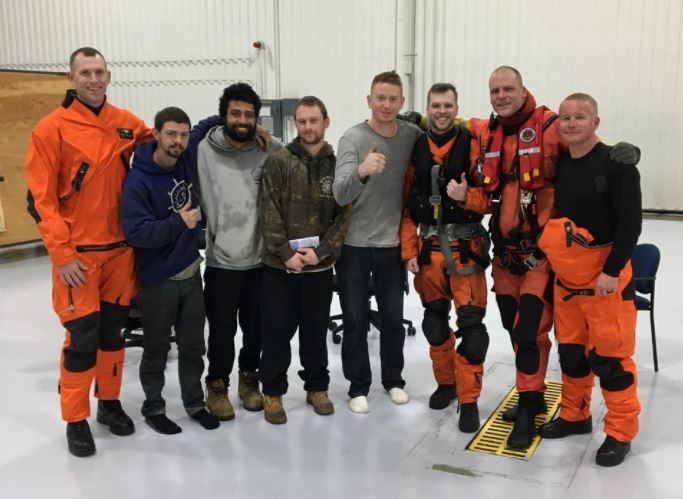 CG AIR STATION CAPE COD — A Coast Guard pilot who helped save four men from a sinking fishing boat off Martha's Vineyard on Wednesday night said decisive action by the rescued crew members played a pivotal role in their survival.
"Their ability to identify the emergency and get themselves ready was tremendous in aiding our ability to help them out," Coast Guard Cmdr. Brian McLaughlin said of the fishermen Thursday. McLaughlin is second in command at Air Station Cape Cod.
The captain of the vessel Sea Star radioed the Coast Guard at around 6:20 p.m. Wednesday, saying the boat was taking on water and listing heavily, and crew members were putting on their immersion suits, according to a statement from the federal agency.
McLaughlin and three other officers were conducting a helicopter training flight at the time and responded to the boat about 18 miles off Martha's Vineyard, he said. When they arrived at the scene just before 7 p.m., about 60 percent of the boat was underwater and crew members were driving it forward in an attempt to keep it from sinking completely.
The water temperature was 37 degrees, seas were at 5 feet and the wind was up to 25 knots, according to the Coast Guard statement.
"It was very cold and very windy," McLaughlin said. "The fact that the boat was sinking and moving made it a little hectic, to say the least."
According to McLaughlin, crew members stayed calm.
"The four crew had survival suits on and were standing on the starboard side, waiting for us. They were actually doing really well," he said, adding that "for any rescue like this, the crew has to help themselves, and these guys were on top of it."
As co-pilot, McLaughlin said, he talked the crew members through the rescue over the radio, while flight mechanic Jeremy Reed operated a hoist that lowered rescue swimmer Justin Munk down to them with a sling. Lt. Joshua Rice piloted the helicopter, he said.
But after the first two men were pulled to safety, the boat's engine died, McLaughlin said. He instructed the remaining two crew members to jump off the boat into the water and to link arms. As rescuers pulled them out of the water, the boat sank.
"As soon as the engines died and it lost propulsion, it just went right under," he said of the boat.
The entire rescue took about 15 minutes, he said. Aboard the helicopter, the mood was celebratory.
"When we got them into the cabin they were high-fiving and hugging like they had just won a football game," McLaughlin said of the crew. "They were in very good spirits and very good condition."
Crew members were taken back to Air Station Cape Cod and were deemed in good health, according to the Coast Guard statement.
McLaughlin stressed the important role that preparation played in the rescue.
"I talked to the captain of the ship, and he said they did regular safety and emergency drills donning their survival suits," he said. "They knew how to put them on and they maintained them well."
"The most important things the crew did was activate their EPIRB (Emergency Position Indicating Radio Beacon) and don their immersion suits," Scott Backholm, a command duty officer at Sector Southeastern New England, said in the statement.
The Sea Star sank, and a marine bulletin was issued Wednesday to alert mariners of the potential hazard, according to the statement. The bulletin was no longer active Thursday because debris had cleared, a Coast Guard spokesman said.
Photo: Courtesy of the U.S. Coast Guard. 
===========================================================================================