Monday, Dec. 2, 2013 ...
Working on tons of things, fishing and what-not. Below are a slew of stories off the angling and seafood wires.
I have to mention some conflicting reports about the huge cougar photo I passed on, said to have been taken by a Trail Cam up near Atco. I'm trying to get any more specifics on the pic, namely, where it was taken. Not the exact trail but close enough for me to track. I have some time Wednesday and would love to give the region a look-see. I have no doubt I can find the tracks of a predator that large.
While many a fun "cougar hike" has been sponsored by state and private Pinelands organizations, nary an "organized" sighting or a decent photo has been forwarded -- until this latest photographic glimpse of a cougar ... hangin' out somewhere.
I will reference this incident by noting that the only truly "odd' sightings I've made after 50 nonstop years cruising every nook and cranny I can find in the Pines have both been huge cats; one in Manahawkin (the "Hilliard Boulevard Cougar") and another in Bass River State Forest, not far from Lake Absegami, maybe 20 years ago.
That Absegami cat, seen just after dark in my truck's headlight, was utterly massive. However, its paw prints were in super soft sand and nothing more than nondescript craters. Also, I was not overly anxious to head into the pitch-black bush looking for more tracks. I did go back a couple days later -- in the light -- but nary a sign, though my tracking skills were very entry-level then.
I'll add that I once clearly saw a black bear in the Quail Fields off Route 539, Lacey. That sighting had no mystery at all to it. Neither did the undeniable paw prints it left behind. That was before I became a photo/video nut or I'd have vivid paw print pics as proof.
(((((((((((((((((((((((((((((((((((())))))))))))))))))))))))))))))))))))))))))
On a far more somber note, we're heading to the height of deer hunting season – shotgun, buck and such. I just want to remind folks hunting Zones 22, 23 and 24 that the search is still on for lost fellow outdoorsman Barry Zeldin, who went missing on October 7, after heading into the woods to put bait at a tree stand near Chatsworth. He was last noted at the Audubon Gun Club, Route 563, where he signed in on the clubhouse ledger but was not seen by anyone. Searches, some large and well organized -- containing top trackers – not only failed to find Barry but, somewhat surprisingly, found few signs of the man's presence. However, you don't realize how large and complex the inner Pinelands can be until you're looking for a lost person. Knowing how many folks were searching the prime zone near the clubhouse, I worked (drove roads and hiked fire lines) along the outer parameters (24), where he might have wandered if really lost or disoriented. During my searches, I was made doubly aware of the low likelihood of finding a lost soul, especially in swamp areas.
Do not touch or move any evidence should it be found. Contact NJ State Police. Use GPS, if possible, to mark location of evidence.
((((((((((((((((((((((((((((((((((((((((((((((((()))))))))))))))))))))))))))))))))))))))))))
To any willing tackle stores, charter business's, guide services, tackle manufacturers, and saltwater fishing magazines. Looking for sponsors to help support and promote the 1@32 pledge for striped bass. Looking for a few dollars to cover the cost of making shirts, banners, and informational brochures all for a important cause. Your companies name will be posted on the shirts and possible the banner. Thank You for your consideration.

(((((((((((((((((((((((((((((((((((((((((((((((((((())))))))))))))))))))))))))))))))))))))))))))))))))))))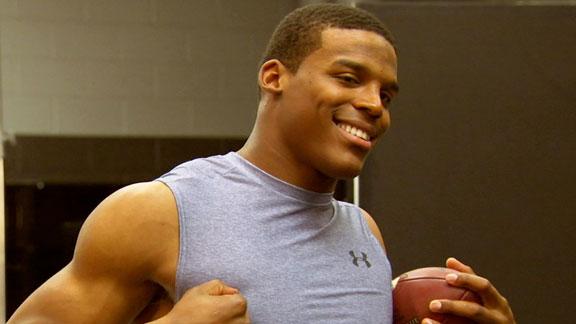 [Saving Seafood] December 2, 2013 -
Cam Newton is crediting his newfound pescetarian diet with spurring his bounce back year this season.

According to TMZ, Newton has been on a fish-only diet for eight months now, refraining from turkey, ham and even chicken. This year marks the first Thanksgiving he will be celebrating without meat.
"It's kind of challenging my parents and my grandmother to think outside the box to try to incorporate fish," Newton told reporters Monday night as he hosted his 2nd annual 'Cam's Thanksgiving Jam' in his native North Carolina, where he helped serve more than 700 underprivileged kids and family members.
((((((((((((((((((((((((((((((((((((((((((((((((((((((()))))))))))))))))))))))))))))))))))))))))))))))))))))))))))
Bad eiders!
[Cape Cod Times] By Doug Fraser - December 2, 2013 -
CHATHAM, This spring could see one of the biggest mussel harvests in recent memory – if the ducks don't get them all first.
Chatham fishermen and the shellfish department believe an extensive mussel set in Chatham Harbor survived their most vulnerable seed stage and are now about 3/4 of an inch in size. They could reach market size by March, Shellfish Constable Renee Gagnee said, if the town can protect them from the flocks of eider ducks that are now feasting on them.
Selectmen recently approved Gagnee's proposal to use various methods to scare ducks away from three areas of the harbor. The areas only represent a small portion of the harbor and the ducks would still have extensive areas to feed on mussel beds both inside and in a large area off North Beach, he said.
Selectmen approved a plan that included mooring a barge east of Strong Island that would have an acoustic cannon firing at 30-minute intervals. The noise would be dissipated by the distance of the island from residential areas and dunes on the island would also block much of the sound, Gagnee said.
Sound measurements will be taken at landings closest to the area. Recent testing already showed the sound at 120 decibels at less than 5 feet from the cannon, lower than the 165 decibels of a shotgun blast.
Also, an ultrasonic bird repeller that emits sounds, including the calls of predatory bird species that can't be heard by the human ear, will be mounted on a dinghy anchored in the channel off Minister's Point.
The boat will also use visual deterrents such as eyes that mimic predators and holographic foil tape that disturbs the birds when it blows in the wind.
The Harbormaster Department also agreed to moor a vessel in the channel east of Tern Island that will be equipped with similar visual deterrent devices.
This isn't the first time the shellfish department has sought to protect mussels for local harvesters. In 2011, the department proposed setting up acoustic cannons at mussel beds in three areas of the harbor but the Chatham Bars Inn and other shoreline abutters protested, saying the repetitive blasts would diminish their quality of life.
This year's efforts are focused in areas further from shore, said Gagnee, who believes the cannon noise will not be an issue for residents.
With more than 90 percent of mussels imported from other countries like Canada, the market is wide open for domestic producers. Gagnee said.
((((((((((((((((((((((((((((((((((((((((((((((((()))))))))))))))))))))))))))))))))))))))))))))
SEAFOOD.COM NEWS [Journal Sentinel] By Lee Berquist - November 27, 2013 -
Marinette, The venerable Lake Michigan whitefish - a favorite of ice anglers and commercial fishermen - is turning up on inland waters where it hasn't been seen in a century.
Adult fish populations are leaving Green Bay and have been found in at least four rivers in northeast Wisconsin, possibly due to improving water quality of those rivers, says the Wisconsin Department of Natural Resources.
It's a surprising turn of events for a species that rebounded on Green Bay and Lake Michigan in the late 1980s despite the loss of its main food source due to the spread of invasive species.
With a decline in perch populations, whitefish has become the prime fish for commercial harvest. It's also standard fare for fish boils and restaurant menus across Door County.
The fish spend their lives in the lake, but a small number - scientists don't know how many - are leaving Green Bay and swimming into the rivers to spawn during November and early December.
Historically, some whitefish populations migrated into Wisconsin rivers to spawn. But logging added silt in the rivers and sawmills contributed further contamination. Biologists believe whitefish runs on the Menominee River, which separates Marinette and Menominee, Mich., ended by 1870.
Until this fall, spawning populations of whitefish had only been found here on the Menominee.
The migrating whitefish are an allure to some anglers, but their arrival in the late fall comes at an inopportune time to break out the tackle.
"The guys are more focused on hunting," said Jeff Phillips, an owner of River Road Bait and Tackle. "They say they were here years ago, but I'm 55 and I've only seen them the last four or five years."
Now, the inland invasion is spreading: This month, DNR biologists confirmed evidence of spawning whitefish to the south in the Peshtigo and Oconto rivers.
And most surprising, spawning whitefish also were found on the Fox River in the city of Green Bay - home of the nation's largest toxic cleanup project.
Scientists are still trying to understand why whitefish are returning.
A leading theory is that four decades after passage of the Clean Water Act of 1972, water quality is improving.
"It's a feel-good thing about the ecology of the rivers that they can actually support spawning whitefish," Scott Hansen, a fisheries biologist with the DNR, said during a break Nov. 18 while crews captured the fish in big nets and jotted down data from the catch.
(((((((((((((((((((((((((((((((((((((((((((((((((((())))))))))))))))))))))))))))))))))))))))))))))))000
No radiation danger in fish ...
[The Oregonia] by Rob Davis - December 2, 2013
Andy Norris keeps putting it off. But he plans to stop eating his twice-a-week tuna sandwich. He's worried about the traces of radioactive particles from Japan's Fukushima Daiichi nuclear disaster detected in local albacore.
Norris is a 42-year-old documentary filmmaker with graying hair tied back in a ponytail. The Manzanita resident already eliminated local seaweed from his diet after reading about radiation found in California kelp post-Fukushima. He's raised $750 in pledges for a community Geiger counter to share between Tillamook and Clatsop counties so residents can test fish and tsunami debris.
He's not Chicken Little, he said. He just wants his diet to be safe.
"We're not going to grow three legs," he said. "But we could get sicker and have a gradual loss of vitality. That's my concern."
Along the Oregon coast, while reservations like Norris' aren't unheard of, they aren't common, either. A pocket of doubt persists despite reassurances from scientists and federal health regulators that Pacific-caught seafood is safe to eat.
Health officials say Fukushima radiation doesn't pose a public health threat in the United States.
That hasn't stopped lingering concerns. Christina Mireles DeWitt, director of Oregon State's Seafood Research and Education Center in Astoria, said she's noticed an uptick in worries recently.
She receives about a call a week from concerned residents who've relayed second-hand reports of contaminated fish. Their stories aren't specific, though, and Mireles DeWitt (who still eats seafood) hasn't pinpointed what's causing the increased chatter. "They're kind of secretive," she said. "They don't want to give up their sources."
Jan Dawson, owner of Mother Nature's Natural Foods in Manzanita, said the worries wash in with the tsunami debris that appears on the town's windswept beaches. "Local people think about it because they see the trash," she said.
Laura Anderson, owner of Local Ocean Seafoods in Newport, said she's gotten a handful of questions from customers. She's told them what Oregon State University's researchers have said: Albacore is safe.
More than two years after a 9.0 earthquake and estimated 45-foot tsunami crippled the Fukushima Daiichi nuclear power plant in northern Japan and caused a triple meltdown, Oregon State scientists have continued finding a slight fingerprint of radioactive particles in local albacore, which migrate throughout the Pacific. (Tests on sardines and herring haven't shown any traces.)
The levels are so infinitesimally low, the researchers say, that a person would need to eat 4,000 pounds of albacore a year just to increase their average annual dose of radiation by 1 percent. "It's not going to be anywhere close to being a food safety impact," said Delvan Neville, a radiation health physicist at Oregon State, who's testing the fish. (He still eats seafood.)
The radioactivity measured in fish is far too slight to register on a Geiger counter, Neville said. Its detection says more about the sensitivity of scientists' testing equipment, Neville and other researchers said, than it does about the threat to public health.
Concerns along the coast have come as the recovery at Fukushima has haltingly advanced, plagued by accidents, contaminated water spills and leaks. While Tokyo Electric Power Company workers on Monday began removing fuel rods from one reactor that didn't suffer a meltdown, the cleanup is expected to take years. Miscalculations and other mistakes at Fukushima have left Norris doubtful that the problem is fully understood. Scientists haven't tested all fish, he said.
"It is scary," Norris said. "They're not close to containing it. It is not over."
Radiation naturally surrounds us. We're exposed to it from cosmic rays, from naturally occurring radon gas. We receive doses from medical and dental X-rays. Migratory fish in the Pacific have been exposed to it for decades from the fallout of post-World War II nuclear weapons testing.
Fish in the 1980s and 1990s were actually more radioactive because of those weapons tests than those found today with traces of particles from Fukushima, Neville said.
The trace radioactive particles found in albacore are cesium isotopes, most likely released during the meltdowns immediately following the earthquake and tsunami, said Kathryn Higley, head of Oregon State's nuclear engineering and radiation health physics department. (She hasn't stopped eating fish, either. "Oh God no," she said.)
Though a hastily built system of storage tanks holding contaminated cooling water at the plant has been leaking into the ocean, Neville and Higley both said the radioactivity escaping is much, much lower today than the spike that followed in the meltdowns after the earthquake and tsunami. "That slow leak is incredibly small compared to what was in the initial release," Neville said.
Albacore with measurable traces of radioactivity either picked it up by swimming through a plume moving through the Pacific with "very, very, very diluted" levels of cesium, Higley said, or by eating some other fish with measurable quantities of cesium.
Both the Nuclear Regulatory Commission and federal Food and Drug Administration say the leak won't impact public health in the United States, based on existing evidence. Though testing shows more radioactive particles in seawater near the plant than before the accident, the NRC said, levels are still well below federal drinking water standards.
(((((((((((((((((((((((((((((((((((((((((((((()))))))))))))))))))))))))))))))))))))))
[ The Globe and Mail] by Mark Hume Dec 2, 2013
©2013 The Globe and Mail Inc. All Rights Reserved.
<

<

<

<

<

<"It is apparent that he is a man without a conscience," Justice Gouge said. "I impose a 10-year prohibition against the issuance of any new fisheries licenses or permits to Mr. Steer … [he] is not to be found on board any vessel which is licensed to engage in any commercial or aboriginal fishery in Canadian or American waters."

<

<

<

<"Mr. Steer is not a danger to society. If permitted to fish, he would be a danger to the fish," Justice Gouge said in his ruling.

<

<

<

<"If it was four years in jail, I'd say it was tough enough," he said.

<

<

<"We're glad he's off the grounds for 10 years," he said.

<(((((((((((((((((((((((((((((((((((((((((((((())))))))))))))))))))))))))))))))))))))))))