Today's "Oh, screw it."
++++++++++++++++++++++++++++++++++++++++++++++++++++++++++++++++
Uh, could someone please remind me of the original intent ...
+++++++++++++++++++++++++++++++++++++++++++++++++++++++++++++++++
First they talk you into it ... then they're all heroic putting out your face ...
Monday, August 28, 2017: Last week I mentioned, in passing, how long-term east or northeast winds seem to eventually spawn low pressure systems. Sure enough, TS-to-be Irma sure seemed to develop in the Eastern Seaboard instability – albeit, and luckily for us, at the far south end.
The gusty winds we're seeing on LBI are now being enhanced by the atmospheric draw of that storm. It won't intensify or move far enough north to cranks up the gusts more than 30 mph.
Interestingly, our onshore wind conditions are both the creator and the destroyer … again, as far as we're concerned. The same cool and unstable air mass over us might have egged on Irma but also represents prevailing northern steering currents certain to turn her out to sea the instant she brushes past Cape Hatteras.
As to the surf from the both our sky set-up and Irma ... it could get loud, with waves to 10 feet being highly likely.
Those waves will foil everyday surfcasting, though hardcorers will prevail.
On that surfcasting subject, many of us are already doing stretching exercises – readying equipment and such – with the fall fishing season on the near horizon … and feeling even closer with all this cool air.
By the by, baitfish like mullet are first sparked into a southward migration by bayside water temps. Eventually, they move based more on sun angle, especially during hotter falls when the waters say "Stay, little mullet, stay."
The chill we're now seeing could lead to what I call a "false start" to the migration. That's when the mullet misread the cooler water and make southward forays into the ocean – crapping themselves clean and hard, making the perfect bait.
That said, I'll assure we'll see some very mild – if not hot – weather before fall officially begins. In that case, the on-the-move mullet feel the warmth and zip back into the bay, via the nearest inlet. Once back in the bay, they once again settle in and fill themselves on bottom algae and phytoplankton -- possibly uncertain if that short run was the entire migration thing, having never experienced it before.
The colder water of autumn, along with a more compelling lower angle of the sunlight, sparks a truer migration for the mullet.
I believe there is also an overwhelming destination-based impulse within that drives them toward an unknown place where subtle signals in water chemistry tell them they're finally home. Even if New Jersey were to suddenly become Florida-like in temperature and sun-angle, the mullet would eventually move onward toward their assigned water chemistry homeland to the south.
Don't balk at that chemistry thing. It has been fully proven that anadromous fish species follow the minutest chemical signals – and only those chem signals -- back to rivers and even creeks of their origins.
By the by, since Florida has gotten stricter with the netting of adult mullet for the Japanese market, some amazing showings of migrating finger mullet have been showing down there in the late fall. For us, mullet migration have been way off for a few years now.
Below: Palm Beach.
+++++++++++++++++++++++++++++++++++++++++++++++++++++++++++++++++
Here's a fun pic of a juvenile brown shark caught in Manahawkin Bay.
"Hi, We live in Surf City and thought I'd share this cute picture of our daughter, Stella Blanchard, age 9, who caught a baby shark in the bay off the dock in Ship Bottom. He was about 18 inches long and she caught him using squid as bait. He swam away after posing for a few pictures! Take care, Nicole Blanchard."
+++++++++++++++++++++++++++++++++++++++++++++++++++++++++++++++++++++++++++++++++++++++++++++
++++++++++++++++++++++++++++++++++++++++++++++++++++++++++++++++++++++++++++++++++++++++++++++Cain Ernest — with TJ J.
Amazing day on the water
++++++++++++++++++++++++++++++++++++++++++++++++++++++++++++++++++++++++++++++++++++++++++
Just a little something for thought as I sit at the airport waiting for my next flight.
I'm sure some who read this and don't know me will be quick to judge of my jealousy for missing out on such an amazing bite. But I can assure you I'm content with my micros as I am with any other fish. With that said.
I'm not against people keeping Striped Bass by no means as long as it's within the law. I myself hadn't always been a catch and release guy. Though I only kept what my family could eat. There came a point where I awoke. The dream I was living in was that their was no shortage of fish and I myself didn't or couldn't make a difference. The reality was that I was wrong. Sometimes we think of ourselves and not of others. I will admit I was guilty of that. They say good things are contagious. I find that true. The good, releasing a fish back when you could've kept it! (I'm not talking about letting the 20 you caught after you've kept your limit go) not only gives that fish life, but it sends a message to those watching. In today's era of social media and digital images we ourselves have so much power to teach and encourage with out words. This action is contagious and noble. A sign of respect for not just the fish but for the sport. It's what the definition of sportsman is. I still say If we practice it, preach it and encourage it enough. Then maybe we can all enjoy what you're experiencing not only in the ditch, but everywhere else it once was. So I plead you all who read this. Take a step forward in becoming a better sportsman. Im not saying you have to let every limit go. But take a step forward by showing the Fish you catch respect and respect for the fishery. Get away from the driveway photos of a stiff fish or trophy you kept and take a second to take a photograph while it's still alive and vibrant with color. Capture the moment and be creative for one. Challenge yourself and help keep these fish strong so that we all can enjoy them and the next generation to come!
Thanks for reading!
- The Fish Whisperer
++++++++++++++++++++++++++++++++++++++++++++++++++++++++++++++++++++++++++++++++++++++++++++++

NOAA Fisheries Announces Final Rule for Unmanaged Forage Omnibus Amendment
August 25, 2017 - The following was released by NOAA Fisheries:
NOAA Fisheries announces a new rule to protect unmanaged forage fish. Forage fish are small schooling species that serve as prey for larger commercially and recreationally important fish, as well as for marine mammals and sea birds. Anchovies, herring, chub mackerel, and sardines are some common forage fish.
Commercial fisheries often catch forage fish, but we know little about the amount of forage species caught in Mid-Atlantic waters. Because of their importance to the food web, the Mid-Atlantic Fishery Management Council wants to protect the ecological role these species play in the Mid-Atlantic and to collect more information on catch. This new information will help inform future scientific assessments and management decisions.
This is the first rule in the Atlantic to list forage species as ecosystem component species. This action would set landing and possession limits for 17 species and species groups to prevent the expansion of directed commercial fisheries on these species in Mid-Atlantic federal waters (see map below).
Read the rule as filed in the Federal Register and the permit holder bulletins for commercial fishermen and for dealers. Mid-Atlantic fishermen will receive a copy of a forage fish identification guide, which is also available electronically on the Mid-Atlantic Council's website.
Questions? Contact Colleen Coogan, (978) 281-9181 or colleen.coogan@noaa.gov
For additional background information about this action, please visit http://www.mafmc.org/forage
++++++++++++++++++++++++++++++++++++++++++++++++++++++++++++++++++++++++++++++++++++++++++++++++++
You Can Now Have Sushi Delivered By a Drone
SEAFOODNEWS.COM [Washington Post] By Peter Holley - August 28, 2017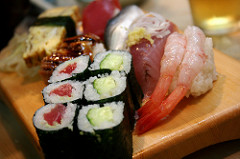 You're lying in bed, hung over from a night of excess, and nothing sounds better than filling your belly with a plate of greasy food.
But nothing sounds worse than leaving the house to go and find it.
Sigh.
In the past you may have summoned the pizza delivery guy, but in Reykjavik, Iceland — a city divided by inlets and waterways — traditional delivery by vehicle isn't necessarily the quickest way to satisfy your cravings. These unique conditions, and the increasing demand for food that can be ordered online, have inspired one company to map out a drone delivery route.
Flytrex — an Israeli drone logistics company — claims to be the "first ever drone delivery system deployed in an urban environment."
More like one of the first.
Amazon made its first autonomous drone delivery — an order for an Amazon Fire TV streaming device and a bag of popcorn — to a shopper in the United Kingdom in December. (Amazon chief executive Jeffrey P. Bezos also owns The Washington Post.) An Estonian company is also testing a drone delivery system for cold drinks.
That said, Flytrex was recently granted permission by the civil aviation authority in Iceland to make commercial drone flights. To satisfy its customers' cravings, they've partnered with AHA, an online marketplace that offers deliveries for restaurants and grocery stores lacking the resources for selling their food online.
"The delivery infrastructure will totally change shopping as we know it today," AHA chief executive Maron Kristofersson said in an video produced by the company. "Now that we have seen this system in operation we realize that the most important part is the aviation safety and the autonomous control of the drone."
Flytrex and AHA are using a hexacopter (a modified DJI Matrice 600) to deliver food orders. Videos show the drones being controlled by a human via a smartphone, which means they're not fully autonomous.
The drones have a cargo compartment about the size of a mailbox that can transport packages up to 6.5 pounds a distance of six miles, according to Flytrex. The weight restrictions probably pose no problems for the hamburgers, sandwiches and snack food that make up much of the daily restaurant deals available on AHA's website.
Kristofersson said Flytrex's drone system operates alongside AHA's traditional delivery network, but drone delivery offers at least one significant advantage: time.
"If you look at our city, it's full of bays and difficult traffic routes. Delivery from point A to B — even though it might only be two kilometers [about one mile] by air — might mean that you have to drive seven kilometers [about four miles] and it could take you up to 20 minutes to drive that distance," he said. "For that particular route, I think we can save 20 minutes of work per delivery, and … that means a huge benefit for us."
++++++++++++++++++++++++++++++++++++++++++++++++++++++++++++++++++++++++++++++++++++++++++++
"Ghost Poachers" Are Still At Large after the Biggest Shark-Smuggling Bust in Galapagos History
SEAFOODNEWS.COM [Quartz] by Katarina Zimmer and Sarah Blaskey - August 28, 2017
On Aug. 13, Ecuadorian authorities intercepted a Chinese ship crossing the Galapagos Marine Reserve, one of the most heavily protected nature reserves in the world. In its freezers they discovered 300 tons (270 metric tons) of fish, of which more than half were sharks—mostly illegal hammerheads and threatened silky sharks.
Yet the Fu Yuan Yu Leng 999 was not a fishing boat. Its crew, who now face jail time in Ecuador for environmental crimes, were likely not the fishermen. To fish commercial quantities of shark, you need tens of thousands of meters of thick fishing line, big, motorized winches, and piles of hooks, each the size of an adult finger. That sort of gear was not on board.
Rather, the Chinese ship was a carrier vessel, whose job was to collect and deliver to port the illegal catch of other fishing boats. Its capture, likely one of the biggest seizures of illegal sharks in recent years, opens a rare window into the murky world of maritime poaching. And it has triggered an international hunt to piece together the puzzle: Where was it heading? Who was making money off of the smuggling? And, most of all, who were the fishermen and where did they catch the sharks?
Tracking the smugglers
The Galapagos islands are nearly 600 miles (960 km) west of the Ecuadorian mainland. The waters around them, the Galapagos Marine Reserve, are a UNESCO World Heritage Site known for the largest abundance of sharks in the world. They are part of a marine corridor spanning the Eastern Tropical Pacific, all the way up to Cocos Island in Costa Rica.
Many sharks migrate along the corridor, leaving them exposed to fishing fleets waiting outside the reserve's protected waters.
Throughout the corridor, shark fishing is driving local species like hammerheads towards extinction, according to a Costa Rican marine biologist, Geiner Golfin. "The illegal markets continue to grow in order to satisfy the expensive Asian dish, shark fin soup, which is made up of tasteless strips of cartilage or noodles from the fins," he wrote in an email.
Shark fishing outside of the Galapagos Marine Reserve is not always poaching: shark fishing as bycatch is legal in most of Ecuador's Exclusive Economic Zone, extending 200 nautical miles (370 km) from its coast. So is selling the meat and fins on national and international markets. But fishing or even transporting scalloped hammerheads (Sphyrna lewini) in Ecuador's waters is always illegal.
Ecuador's environment ministry identified hammerheads in the haul from the Fu Yuan Yu Leng 999, and several experts independently verified from photos that the catch included scalloped hammerheads, which are an endangered species. Under Ecuadorian law, hunting, fishing, transporting, or possessing an animal in danger of extinction can carry a three-year prison sentence.
The ship was caught because the authorities spotted a signal from its Automatic Identification System (AIS)—a type of GPS transponder that, by international convention, all large commercial ships must carry. Ships are known to turn AIS off (pdf) to evade detection, and nobody knows why the Chinese vessel had its system on. ("To us that seems like madness" given the marine reserve's security systems, says Jorge Durán Herrera, an Ecuadorian navy captain, who spoke to us by phone.) This video from the Galapagos National Park authorities shows the path it took through the reserve:
However, the AIS data from the Chinese ship shows no evidence that it stopped to take on a transshipment of fish while it crossed the reserve. So where could the sharks have come from? There are a couple of theories.
The "ghost poachers"
After the Chinese ship was seized, aerial reconnaissance missions by the Ecuadorian navy found a fleet of more than 100 foreign fishing vessels—many of which were too small to have AIS systems—in international waters just to the south of the reserve. Pelayo Salinas, a marine ecologist from the reserve's Charles Darwin Research Station, wrote to us that, "based on the trajectory of the boat" and locations of those fishing boats, he thinks the sharks were likely fished near the Galapagos.
Bolstering that theory, the shark species on board are abundant in the waters around the islands, and there were young and baby sharks in the haul, said Ecuador's environment minister. That shows the catch could have even been from within the Galapagos reserve itself, since it is an important hammerhead breeding ground.
But there are other possibilities. "This ship sailed from Asia in April," Walter Bustos, Director of the Galapagos National Park, said in a phone interview. Sharks, which tend to be solitary hunters, congregate in two primary spots along the Fu Yuan Yu Leng 999's route: off the coast of Asia and near the Galapagos. The transfer to the Chinese ship could have happened anywhere on that route, Bustos said, and only DNA testing will reveal for certain whether the sharks came from the western or eastern Pacific.
Entities such as the Galapagos Park Rangers and the non-profit organization Global Fishing Watch have access to historical AIS data and could feasibly map the journey the smugglers took before reaching the Galapagos. It might show the vessel pausing to rendezvous with other ships. But since many fishing vessels are too small to carry AIS, they themselves wouldn't be visible.
Wherever it took place, such a transfer at sea, known as transshipment, would have been unauthorized. Under multi-national conventions in the western (pdf) and eastern (pdf) Pacific, only certain vessels may receive transshipments of fish from fishing boats. The Fu Yuan Yu Leng 999 is on neither treaty's list. In fact, as China is a signatory of the Convention on International Trade in Endangered Species, for a Chinese vessel to even carry scalloped hammerheads that have been transshipped is illegal without a "non-detriment finding" (NDF), a permit for exporting species that the convention lists as threatened. The crew of the ship didn't present such a permit when they were boarded.
And a look at the vessel's ownership suggests that the Fu Yuan Yu Leng 999 may be involved in a wider nexus of fishing.
The question of ownership
The ship is registered to a China-based company, Fuzhou Honglong Ocean Fishing, according to International Maritime Organization records. In 2013 Hong Long sold 46 ships and licensed 20 more to a larger company, Pingtan Marine Enterprises, according to a 2013 SEC filing as well as a 2014 class-action lawsuit (pdf). Pingtan's CEO and majority shareholder, Xinrong Zhuo, and Hong Long's majority shareholder, Ping Lin, are husband and wife, according to those documents. Pingtan's website lists more than 140 Fu Yuan Yu vessels that it owns or leases from Hong Long, though the Leng 999 isn't on the list.
A Pingtan representative reached by phone denied that Pingtan owns the Fu Yuan Yu Leng 999, that Zhuo or any subsidiaries have an economic interest in it, or that Hong Long is a related company. "Your databases are wrong," he said.
A report by research firm Aurelius Value in May suggests Pingtan is implicated in human trafficking and shark poaching in East Timor, as well as fraudulent financial activity in which it purchased the CEO's own vessels for inflated prices. Earlier this year, a class-action lawsuit (pdf), which cites the Aurelius report, was filed in the US against Pingtan on behalf of investors, alleging that the company made false and misleading claims about the value of its shares.
No matter who owns the Fu Yuan Yu Leng 999, the Ecuadorian authorities say its capture provides an example to the world. "We demonstrated that we have the capability to capture that kind of vessel," said Bustos. "Ecuador was the first country in the world that declared not only human rights, but nature rights, since 2008, in our constitution. So we are obligated to protect the lives of these fish."