***************************************************************
************************************************
Monday, August 05, 2019: Summer is having its way with me, again, as it swiftly and silently glides past like a snake in the night. I had vowed to cash in on Summer 2019 for goodly amounts of rest and relaxation, while still accommodating an enhanced summer call to journalistic duties.
I must now once again call upon the poignant Pink Floyd lyric, "No one told you when to run, you missed the starting gun." While those words spookily apply to much larger life issues, I have yet to begin running toward my goals of long ocean swims, pre-sunrise bass pluggings, treading clams on my old stomping grounds (Little Egg harbor), and diving the Barnegat Inlet jetty rocks. Instead, times pass as I tap the keyboard until my eyes blur upon walking outside. I blame my lack of summering on, let's see, the heat, the crowds, the lightning, the sharks … and that quiet starting gun.  
I offer this touch of Future Shock syndrome in hopes of sparking fellow lollygaggers into fulfilling summer plans before the LBI season of sun bids its traditional early Island farewell, as happen this month, when families overnightedly depart in the name of kids readying for school – which begins, uh, near to now.
BLOWFSH AND SASHIMI: Blowfish just aren't quitting. At church, I got two reports, one was 50 fish taken and the other almost that many, i.e. uncounted. I was also told of folks now freezing bag after bag of tail for winter dining. I hear that works fine with puffers, though I've never done it.
I routinely bring up the fact that some of the finest fish you'll ever eat comes from thawed products. The industry sometimes calls such products "individually quick frozen" or just "quick frozen." It truly freezes in flavor and freshness.
Many cities no longer allow "fresh fish" to be sold by sushi restaurants. Only thawed fish can be sashimi-ed, testament to the quality of fast-frozen seafood and the high questionability of "Fresh" labeling.
Please don't call me out on this, Mr. Local Restauranteur. I know how insanely picky you are when it comes to what you serve hereabouts. That comes from the luxury of being right here in fresh seafood land. At the same time, I'm constantly cautious – but not overtly suspicious – of local groceries with elaborate seafood counters. When going chain store for seafood, it all comes down to trust, a close look-see of a product and the tell-all sniff test. That system offered, I would never make sashimi out of fish that isn't documentable as utterly fresh, just out of the sea. I have eaten proven quick-frozen products for sushi.
Below: Frozen salmon for sushi.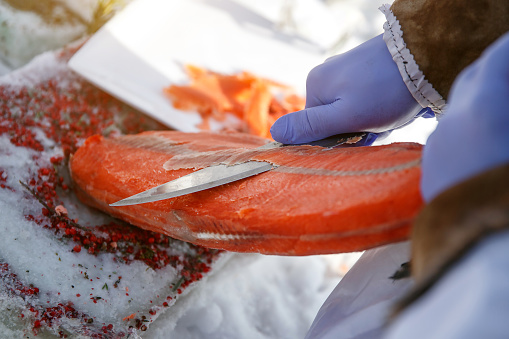 By the by, a buddy in the industry – forced by regulation to use only frozen seafood for sashimi and sushi – slices the fish when frozen … on a meat slicer!  Say what!? He says the pieces are see-through thin, as a fine sashimi cut should always be. He swears the high-speed frozen sashimi slicing technique is becoming common.
I can only cringe at this sacrilege, while recalling the brutally embarrassing time I once spent at a "Sushi Class" at the Shirokiya shop in Hawaii, painstakingly learning how to properly and traditionally take razorous blades to seafood. I stunk up the place. I passed the course – still have the diploma somewhere -- only because the totally crazed instructor from Tokyo said I somehow – whatever the Japanese word is for "blind luck" – managed to consistently make amazing sushi rice. (It was the extra sugar I'd use.) As to my perfecting steeped-in-tradition sashimi cuts, I got swacked behind the head by his spatula on too many occasions, none of which did one bit of good. Hey, bulky American fingers just weren't meant to make those ridiculously precise Japan-hands cuts. He never returned to Hawaii, many of my fellow student blaming me. To me, he was a perfect example of why Japan should keep its psychiatric hospitals well-funded.
I am keeping an eagle's eye – or is it a peregrine's eye – on the refuge area of Holgate and its soon reopening, circa late this month.
DOGGONE IT! SHUT UP AND WALK!" Dubbing dogs "Man's best friend" is profound understatement. Dogs are more like adoring fans of humans. Often the feeling is mutual, with dogs becoming more of a family member than many other souls in the family. It's therefore disturbing to witness otherwise loving dog owners now letting down their canine kin … at a time when mutuality is most needed.
Follow me here. Using my deepest canine instincts, I can assure that the walking of a dog is huge to Rover. It fulfills a need to experience the most enthralling and bonding pack behavior known to canines: the run, primordially marked by charging forward with pack peers, dashing across hill and dale. Yes, domestication has taken much of the zip from those primitive pack jaunts. Still, for a dog, an everyday walk is always far more than a mere dump-and-go session. It is what remains of the pack bonding effect of the run.
Focusing on the vital psychological importance of the walk, let's now go on to recognize the remarkable ability of even an everyday Rover to pick up human energies -- to the point some pets know when their master is driving home when still many miles away. Seriously. Tests have shown this energy-reading ability even when the arrival times are varied to eliminate the possibility the dogs sit around looking at Rolexes to keep track of regular arrival times. They know, somehow, they know. Those same canine instincts allow a dog to easily know when the bonding aura and the energy of a walk have gone awry.
Enter the killjoy effect of cellphones.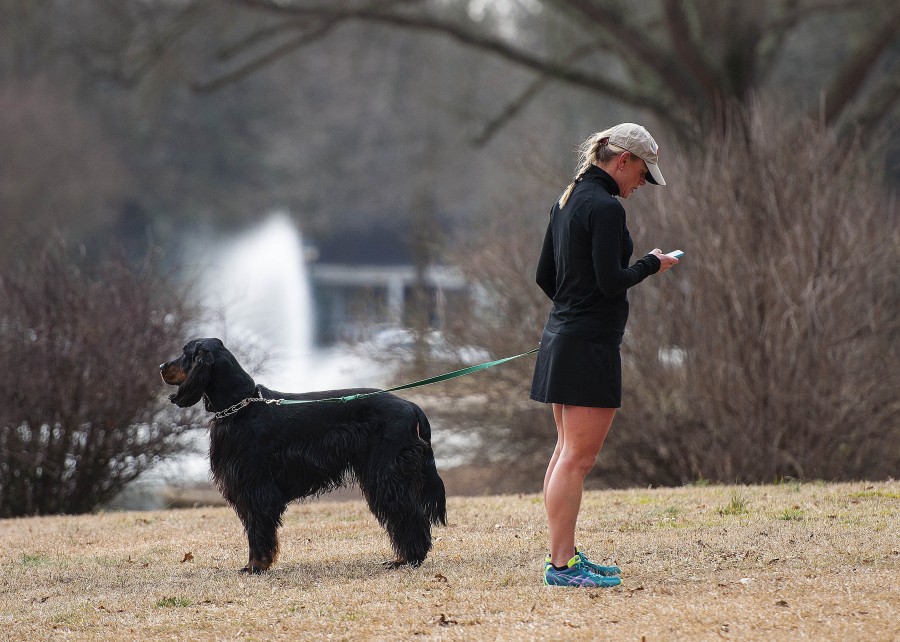 Mixing cellphone blather and walks is one of the cruelest blows to the usual positive energy exchange twixt man and pooch. It has the capacity to instantly make walk time suddenly a lonely affair on the flour-legged end of things. "Blah, blah, blah, blah."
Balk all you want but I promise you the pooch fully knows when personal bonding time has been compromised, reduced to mere leg movements -- no interplay, no energy exchange, no passion. What's more, the dog is made even more uneasy by its once-best friend … talking to himself. Think about it. A dog has no idea what a cellphone is all about. All it knows is life has gotten frighteningly weird. Such aberrant behavior by the pack leader can spell doom in nature.
For so many pooches, cellphone-dominated walks have gone from feelings distantly akin to running with the pack to an odd and confusing disconnect with their favorite human.
You can disagree all you want but check out the expressions of dogs being walked by gabbing owners, so many are missing something in their gait and expressions. Better yet, check how your pooch acts when you're on the phone and when you stop and focus full attention on the walk. A discernible uptick can be seen … on both sides.
***********************************************
This website is mesmerizing: Bet you can't look at just one image!
https://www.boredpanda.com/forensic-arts-reconstructions-history-sc...
****************************************************
My first snakehead and what a beast!
****************************************************************************
*****************************************************************
Another good day of fishing yesterday with a lot of short fish in the mix with some nice keepers. The pool winner was about 5.5 lbs! Nice fish! Come aboard!!!
*********************************************************
Joe Addorisio caught this 19", 3.08lb fluke off the surf in Beach Haven using a bucktail and white gulp!
From the fishing hole flounder and weakfish
Our Meesh with Damon w/2 in the box today off the surf. 18" & 18 1/4. South End, on artificial. ~Jerry
*************************************************
Below: Taking in-water release of sharks seriously. Had it been a white and not a nurse? 
On Sunday, August 4, 2019, Massachusetts Environmental Police Officers conducted uniformed and plain-clothes patrols of the Cape Cod Canal area, targeting striped bass violations. Throughout the early morning and into Sunday night, Officers seized in excess of 50 striped bass, issued nearly $8000 in citations, and made one arrest. All salvageable fish were donated to the Plymouth Area Coalition - For the Homeless.
*********************************************************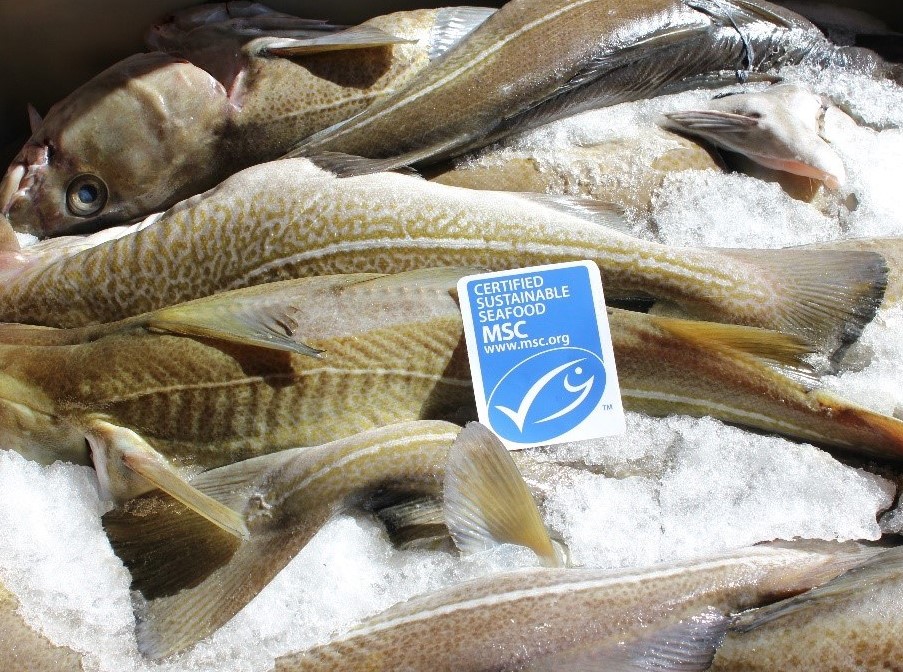 Seafood lovers around the world believe that the biggest threat to the oceans is pollution, followed by overfishing. Those are some of the top takeaways from a recent survey of over 25,000 people in 22 countries.
The survey was done by the public opinion research firm GlobeScan for the Marine Stewardship Council.
The non-profit MSC led the movement starting 20 years ago towards certifying fisheries that are managed sustainably. Sourcing seafood from 'earth friendly' fisheries has become a requirement of doing business by most seafood buyers around the globe.
The study found that 72 percent of seafood consumers want sustainability verifications at their supermarkets, but price is still the biggest motivator for buying decisions. A surprising gender divide showed that men are more motivated by price while women regarded seafood sustainability as more important. 
Seventy-two percent also agreed that buying seafood from sustainable sources will help save our oceans; 70 percent said people should switch their purchases to well managed fisheries.
Eighty-three percent of global consumers agreed that seafood needs to be protected for future generations, and 70 percent said they would like to hear more from companies about their sustainability purchasing practices.
In what the survey called "a climate of persistently low consumer trust in business globally," trust in the blue MSC label has remained high at 69 percent, and understanding of the label has increased to 37 percent, up from 32 percent in 2016.
Younger consumers are even more tuned in to choosing sustainable seafood, with 41 percent of 18-34 year olds understanding what the Marine Stewardship Council label means.
That younger group also showed a slightly different profile, eating less seafood on average and worrying more about the effects of climate change on the oceans than their older counterparts.
Alaska uses a Responsible Fisheries Management) model based on the Food and Agriculture Organization of the United Nations for its third party seafood certification.
Global consumers rated certification organizations third for their contribution to protecting the oceans, after NGOs and scientists. Governments and large companies rated as contributing the least to protecting the world's oceans.
Awesome 1957 Jeep FC170. A ton of time, parts, and expense has been poured into the truck to make it an awesome driver. Clean NJ title, registered and insured in NJ without any problem. Short list of mods:
- SBC making 400hp with 4500 miles on the rebuild
- TH400 trans
- Dana 70 rear
- conversion to power steering...
See More
By Doug Fraser
Real-time buoys to be placed off 3 beaches.
WELLFLEET — With little fanfare, shark detection technology on Cape Cod took a small step forward last weekend off Newcomb Hollow Beach, the site of last year's fatal shark attack on bodyboarder Arthur Medici.
Cape Cod and regional public safety officials have been hoping for years to employ a kind of souped-up version of what they already have, an acoustic receiver attached to a buoy that can not only detect signals from tagged great white sharks but relay an instantaneous alert to lifeguards and beach administrators.
One such device was deployed off Newcomb Hollow on Saturday, state shark researcher Gregory Skomal said, and two more will be placed offshore next week, one at Head of the Meadow Beach in Truro and the other at Nauset Beach in Orleans.
"The basic premise is that anytime a shark swims within range of a receiver it is detected. Only in this case, the data is forwarded as quickly as possible via a cellphone signal to whoever you want notified," said Skomal, a senior scientist for the Massachusetts Division of Marine Fisheries.
Related content
Shark proclamation divides Barnstable County officials
July 31, 2019
Shark sighting briefly closes Head of the Meadow Beach in Truro
July 24, 2019
Great white shark leaps in front of fishing boat off Cape Cod
July 20, 2019
A total of 171 sharks have been tagged since 2009 with acoustic devices that broadcast a unique identifying signal that is picked up by a necklace of receivers attached to buoys off popular Cape beaches. The distance at which the receivers can detect shark signals depends on water clarity and other factors affecting underwater sound transmission, such as wave noise and vessel traffic, but Skomal estimates a shark passing within 330 to 660 feet of the buoy would be detected.
"This is somewhat of an experiment," Skomal said, as he is working with engineers in Germany and in Canada to make the best use of buoy performance. Buoys from two companies are being tested: VEMCO, a Nova Scotia-based firm that already supplies the acoustic receivers used by Skomal, and Customized Animal Tracking Solutions, a firm based in Germany that makes the accelerometers that Skomal has put on some sharks to investigate fine-scale movements.
These buoys are powered by a solar panel, and each unit, along with data processing charges, will likely cost between $10,000 and $14,000, Skomal said. The Atlantic White Shark Conservancy, a nonprofit organization that raises money in support of Skomal's research, bought one of the receivers to be tested at Nauset.
The goal is to have the shark alert go out immediately after the signal has been received, but the Outer Cape's poor cellphone reception has caused lag times in notification. Emailed alerts from the Wellfleet buoy were received two to seven minutes after the shark detection, Skomal said, from a half-dozen sharks. He hopes the Nauset buoy, with an upgrade to a faster modem and better cellphone reception thanks to improvements that Orleans and Verizon made to enhance the signal, will reduce the gap between detection and alert.
"The good news is that CATS engineers are following every aspect of this and they are seeing places where it could be improved," Skomal said. He believes the testing will result in a newer version with improvements.
The Wellfleet buoy is positioned in 20 feet of water a couple of hundred yards offshore to compensate for the poor reporting times and in the hopes of getting a better signal.
"We didn't want to put it in where people were swimming and have the notification be late," Skomal said, but he thinks reduced lag times would result in placement closer to beaches and the swim area.
"We'd like to see the notifications be almost instantaneous," he said.
Wellfleet Beach Administrator Suzanne Grout Thomas said they were connected to the system Tuesday with email alerts about three sharks sent to her and to head lifeguards at town beaches. Skomal said towns would have to determine for themselves whether an alert merited closing a beach to swimming. Thomas said a shark detected in 20 feet of water, even at 300 feet from shore, could make it to shore fairly quickly and would result in a beach closure, which did occur Wednesday at Newcomb Hollow.
She was encouraged that viable technology was at last becoming available to towns.
"It gives me some hope that we'll be able to do something solid for people," Thomas said. This is not a panacea: The real-time buoys detect only tagged sharks, and researchers have identified more than twice the number tagged. It will take a matrix of technologies and policy to actually make people safer, Thomas said.
"At least we're moving toward something," she said.
— Follow Doug Fraser on Twtitter: @dougfrasercct.
Less overfishing, more overfished: NOAA report reveals environmental impacts to stocks
The 2018 NOAA report on the status of U.S. fisheries has been released, and reveals that environmental factors are having the most impact on stocks that are overfished. 
The report, which NOAA puts together every year, indicates that less species were subject to overfishing in 2018 than in 2017 – 28 versus 30 – a year that saw all-time low numbersof overfishing and overfished stocks. That means more than 90 percent of stocks are being fished at a sustainable level. 
However, the number of overfished stocks has increased, with eight more stocks on the list. While one of those stocks – the Atlantic mackerel fishery in the Gulf of Maine/Cape Hatteras – was previously un-assessed, almost every other stock added to the list was likely the result of environmental factors. 
Chinook salmon, in both the Sacramento and Klamath river fall runs; coho salmon, in Puget Sound Snohomish area and the Washington coast Queets and Straight of Juan de Fuca areas; and blue king crab were all added to the overfished list. All six fisheries have been impacted by multiple environmental factors from droughts to the "the Blob," an area of Pacific waters feature higher-than-average temperatures.
"Some of the salmon stocks listed there have been subject to disaster determinations under recent years," Alan Risenhoover, director of the NOAA Fisheries Office of Sustainable Fisheries, said during a press conference on 2 August. "Overall if you think of things like salmon along the west coast, where we have five stocks that have been added to the overfished list, there's a number of things going on."
Coupled with the warmer Pacific water, droughts along the coast can affect how well salmon can reach their spawning areas. Lower river levels can lead to higher water temperatures and more difficult passage for salmon. 
"There's a variety of general environmental conditions that are affecting the stocks," Risenhoover said. 
The last of the eight stocks added to the overfished list, Atlantic bigeye tuna, was largely related to factors outside of NOAA or the eight regional fisheries management council's control. International harvesting, the report states, has a large impact on the fishery, but the U.S. only accounts for 1 percent of the total landings of the species. 
In terms of fisheries management, however, the report reveals that the Mangusson-Stevens Act has been successful in curbing the amount of overfishing occurring, Risenhoover said. For 2018, eight fisheries – bigeye tuna, Western Central Pacific; coho salmon, Puget Sound: Stillaguamish; Caribbean spiny lobster, Puerto Rico; Puerto Rico triggerfishes and filefishes complex; greater amberjack, Gulf of Mexico; gray triggerfish, Gulf of Mexico; and red grouper, Southern Atlantic Coast – were taken off of the overfished list. 
One stock is now considered rebuilt. The Gulf of Maine smooth skate fishery is now considered rebuilt, after a nine-year rebuilding plan – including a prohibition on landings – successfully boosted the population to sustainable levels.
Of the species added to the overfishing list, Atlantic mackerel was added after the first assessment ever in the fishery. The other four were: Chinook salmon, Columbia River Basin: Upper River, summer; gray snapper, Gulf of Mexico; lane snapper, Gulf of Mexico; and yellowfin tun, Eastern Pacific.
Overall, according to Risenhoover, the report highlights that the science-based approach to fisheries management is working, but it also needs to adapt as environmental factors affect where the majority of stocks are distributed. 
"The places we've done our stock assessments and gotten our data from in the past may need to adapt as well," he said. "There's a number of places where I think our environment is having an effect, and we need to make sure our management is keeping up with it."
Photo courtesy of NOAA
R.I. Fishermen Critical of Wind Farm Plan
Copyright © 2019 Tribune Content Agency
By Alex Kuffner
August 5, 2019
The nation's first major offshore wind farm won a key approval from Rhode Island regulators in February, but only after stirring acrimony within the state's fishing industry.
Now, amid an atmosphere of suspicion created by the 84-turbine Vineyard Wind project, the next offshore wind proposal in line is being considered for a key approval by the state Coastal Resources Management Council. And there are concerns that the project, the South Fork Wind Farm, will lead to more difficulties for commercial fishermen who ply their trade in the waters between Block Island and Martha's Vineyard.
Just like with Vineyard Wind, the potential complications arise from the orientation and spacing of the project's turbines.
Developers Ørsted U.S. Offshore Wind and Eversource Energy say that they've taken into account the concerns of fishermen by configuring the wind farm's up to 15 turbines from east to west with rows that are 1 nautical mile (about 1.2 miles) apart. The spacing from north to south, however, would be smaller, with either 0.8 or 1 mile between turbines.
And that, according to fishing industry leaders and the Rhode Island coastal council, isn't good enough. They want minimum spacing of at least 1 nautical mile in all directions to make it easier not only for boats to fish within the wind farm but also to navigate safely through it.
They made their recommendations clear to the developers months ago, yet the companies have made no commitment so far to amend their plans.
"I do have concerns. Hopefully this won't turn out to be Vineyard Wind, part two," said Lanny Dellinger, chairman of the Fishermen's Advisory Board, which advises the Rhode Island coastal council.
The fishermen's board was set to hold a hearing on the South Fork proposal last Thursday, but its members asked for a continuance to review new information submitted by Ørsted and Eversource. The meeting has yet to be rescheduled.
The South Fork proposal is the second offshore wind project to come before the coastal council seeking what's known as a "federal consistency certification." Vineyard Wind was the first. (The five-turbine Block Island Wind Farm, which was built in state waters three years ago and is so far the only offshore wind farm in the nation, was approved through a different process.)
Because both the South Fork and Vineyard Wind projects are located in federal waters, the council does not have final permitting authority over them. That responsibility rests with the federal Bureau of Ocean Energy Management, an arm of the U.S. Department of the Interior.
But the council does have the power to decide whether the wind farms are consistent with Rhode Island coastal policies, mainly because the projects would impact the state's fishing industry.
In February, after a months-long dispute with Rhode Island fishermen who complained that the layout of its wind farm — namely the tight spacing of the turbines — would effectively block access to fishing grounds rich in squid, lobster and Jonah crab, Vineyard Wind agreed to a compensation package worth $16.7 million. The coastal council awarded the project a consistency certification following the agreement.
Vineyard Wind is still awaiting final approval from the federal government. The Bureau of Ocean Energy Management was expected to make a decision weeks ago on the $2.8-billion proposal, but it has delayed a ruling amid reports of continuing concerns from federal fisheries officials and others. The U.S. Environmental Protection Agency has expressed support for turbine spacing of 1 nautical mile in all.... The Coast Guard has also advocated for wider spacing.
The impasse spurred Vineyard Wind to take the unusual step of releasing a public statement last month saying that it is "resolutely committed" to working with the bureau.
"As with any project of this scale and complexity, changes to the schedule are anticipated," the company said.
Construction, however, must begin soon for Vineyard Wind to qualify for federal tax credits that it has said are crucial to the financial viability of the project.
It was in the midst of the tense negotiations with Vineyard Wind that the South Fork Wind Farm filed its application for a consistency certification last October.
The 130-megawatt project would be located in waters in Rhode Island Sound about 19 miles southeast of Block Island near the underwater geographic formation known as Cox Ledge. It's the same general areawhere Ørsted and Eversource are planning the 400-megawatt Revolution Wind Farm that would supply power to Rhode Island through a contract with National Grid.
The developers have a contract to send power from the South Fork Wind Farm to Long Island through a buried transmission line. The project is targeted to come on line in 2022.
Under an extension agreed to by the coastal council and the developers, a decision on the South Fork application is due Oct. 25.
In a January letter that was sent before the two sides agreed to the extension, the council detailed some of its concerns with the project. In the letter, Grover Fugate, executive director of the council, made clear that the layout of the turbines as proposed by Ørsted and Eversource would be an obstacle to approval. He urged the companies to increase the north-south spacing between turbines "to avoid potential adverse impacts."
"Furthermore, from a risk management perspective it is imperative that wind turbines be installed by all renewable developers throughout southern New England waters in a consistent grid pattern of east-west orientation with a minimum 1 [nautical mile] spacing between turbines to enhance safe navigation and operations of all recreational and commercial vessels," Fugate wrote.
The letter also points to possible problems with the transmission cable. Because the ocean bottom around Cox Ledge is rocky, there are concerns that the developers won't be able to bury the line deep enough in the bottom and would instead have to protect it with concrete mats. That could be a problem for trawlers that could snag their nets on the mats. Some of the new data received by the fishermen's board this week relates to the cable.
The stakes are high, because Cox Ledge is known to be spawning habitat for scallops, lobster and other species.
In interviews, Fugate and Dellinger said that the north-south spacing is important because fishing boats would travel in that direction to head back to port. In bad weather especially, they would need consistent spacing to minimize the chances of hitting a turbine.
Fugate said that the council's concerns go beyond the South Fork proposal. He said that Ørsted and Eversource are planning to file a permit application with the Bureau of Ocean Energy Management in August for another, much larger project that it is working on, called Bay State Wind. The 800-megawatt wind farm would be built in waters between the South Fork project and Vineyard Wind.
Fugate has had preliminary discussions with Thomas Brostrom, CEO of Ørsted U.S. Offshore Wind, about the configuration of the Bay State project. Of most concern, Fugate said, is that the turbines in the project also would not be spaced consistently from north to south. Fugate likened the northernmost portion of the project, where turbines would be installed closer together, to a fence.
Eversource vice president Kenneth Bowes said that his company and Ørsted believe that the larger east-west spacing is more critical because boats traditionally fish in that direction in southern New England. The north-south spacing in the wind farm would vary depending on the geology of the sea bed, he said.
As for the cable, he said the companies are confident that they'll be able to bury it five feet under the ocean floor along most of its length. Concrete mats are a possibility, he acknowledged.
"At this point we think it is a very low percentage that would require that," Bowes said. "We think with the techniques we have we can minimize that."
The Block Island Wind Farm was developed by Providence-based Deepwater Wind, which was acquired by Ørsted last fall. Matthew Morrissey, head of New England markets for Ørsted, pointed to the generally positive outreach efforts with that project as evidence that the company can work with fishermen and other users of the ocean.
"It cannot be a situation where one industry injures another as it develops," he said.
Vineyard Wind's 84-turbine array and the the Ørsted/Eversource projects are not the only offshore wind proposals in the works off Rhode Island and Massachusetts. Vineyard Wind is planning more phases of development and two other developers — Equinor and Mayflower Wind Energy — have secured leases in the region.
The Rhode Island congressional delegation raised concerns about the pace of development in a letter to the Bureau of Ocean Energy Management that was sent after the delays with the Vineyard Wind application came to light.
They reiterated recommendations first made by the Rhode Island coastal council in April that would slow down the permitting process for offshore wind. The recommendations include requiring at least two full years to collect fisheries data before construction starts and requiring developers to set aside funding for fishermen to hire experts to evaluate the impact of wind farms on their businesses.
They also urged the bureau to set up a regional office in Rhode Island to improve communication with fishermen and other ocean users.
"Stakeholder engagement and public participation in the governance of these projects will enable their success and decrease the likelihood that projects will be impeded by avoidable obstacles," the letter said.
It may be too late for Vineyard Wind on that front, but, says Dellinger, there's still time for other developers to do better.
"Let's just slow this down and try to get it right," he said.