"More progress this week with the hotly anticipated arrival of more striped bass. The spring fishing is really starting to strengthen both locally and the early season out of town spots.
"The back waters of Long Beach Island offer striped bass action both day and night. The day time is a primarily bait (clam or worm) thing; however at night the fish are hammering artificials. On the late night shift Thursday evening store staffer Kelly and shop ambassador Swag got on it. They were both into fish using Kettle Creek Paddletail Softbaits. Also in on the night action, Professor Fish Head (Dave W.). He had some late night striped bass bites too. While most of the bass roaming the bay are small there are some better ones in the mix. Keeper size fish were caught."
I'm looking at some pics of beachfront anglers -- scenic but striperless looks. How about letting me know if you've scored any suds bass. I won't even hint at the exact locale, though I will pass on take methods, especially exacting info on lures or jig specifics. 
There continues to be very frantic near-beach bird showing now and again, mainly gannets. These amazing diving birds are far more common in fall so it remains interesting/mysterious as to what bountiful forage has them bombarding so close in when their summer haunts will be way far out at sea. 
Below you'll see raw -- but highly informative info -- on catch and release in the striped bass realm. It includes the now much ballyhooed dnr.maryland.gov info info: "A study examining a striped bass catch-and-release fishery on the Roanoke River, North Carolina determined the mortality rate of released fish to be 6.4%. Because of high levels of fishing effort and high catch rates in this fishery, this relatively low mortality rate accounted for 46% of the allowable annual harvest for that river."
As I feared, things are getting testier and testier every time an angler keeps even a smaller sized bass. Keeping a trophy fish? Forgetaboutit.
I'll persist with the provable genetic science that stripers of any spawning size, or age, are highly proficient reproducers. Sure, larger female bass of a trophy ilk, contribute more eggs, numerically -- possibly twice that of a smaller spawner. However, the fertility of those trophy-bass eggs is being deeply questioned by researchers. Organ damage from long-term exposure to chemicals most severely impacts older fish. 
I stand by my supposition that medium-sized bass (32- to 40-inchers) have a higher fecundity potential. They are the healthiest contributors to a successful spawn. A Maryland scientist I've talked with takes it a step further, believing those striped bass just coming of spawning age (under 25 inches) may offer the purist genetic input during a multi-fish spawn.
What does such pureness bring to the table? A higher chance at survival. In fact, a trophy fish's higher sperm and egg production might even be increasing the possibility of zygotes harboring toxin-damaged DNA. This is being intensely studied. 
I'll repeat myself (from previous writings) that careful catches and releases of smaller stripers best assures the future of the entire biomass, numerically. For every trophy fish, there are likely hundreds, maybe thousands, of smaller spawners. You do the math -- while recognizing any spawning striper offers genes for trophy fish development. Reminder: Huge cow bass do not have any greater (or lesser) propensity to spawn other fish of their own ilk. It's a gene pool of the highest order during spawns. The genetics of long-term survival of the species dictates spawns bear bass of assorted sizes. What it comes down to is the overall healthfulness of spawns, which is why greater attention is being aimed at toxic or hormonal chemicals invading the spawn waters.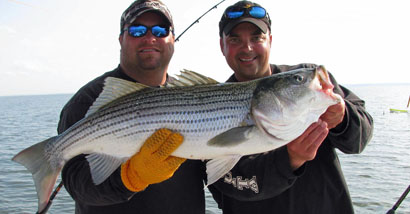 baker's dozen to 28" tonight, some nicer fish in the mix. They wanted that Pinky!
https://storage.ning.com/topology/rest/1.0/file/get/1836770824?profile=original"; target="_blank" rel="noopener"><img src="

https://storage.ning.com/topology/rest/1.0/file/get/1836770824?prof...

; class="align-full"/></a></p>" style="padding: 0px; line-height: inherit; font-size: 1em; text-overflow: ellipsis; overflow: hidden; margin: 0.7em !important 0px 0.7em !important 0px;">

Those Gannets are diving on adult Bunker as the Party Boats up here in Monmouth County out of Belmar are into the big Stripers already in between fishing for Blackfish. Raritan Bay has been on fire lately with bass up to 40 lbs from shore and boat.

This is one of my fellow Surf Club members this past weekend with just one of many he caught late on artificials*