Below: After losing his captain's licence for 120 days, Hank was anything but deterred ...
Below: Doctor Lewis was convinced Lucas could lose some weight by wade fishing ...
******************************************
After alluding the orderlies, Jerald found the rod he had stashed away ...
************************************************
It's always good to have a buddy who quickly has your back in a bad situation ...
Below: Adapting new Trump standards for upcoming election .......
===========================================================
Friday, September 21, 2018: Mullet run has been hemming and hawing, with bursts that make it look like it's fully underway to half-day lulls with nary a mullet in sight.
The spearing run is moderate but when it gets caught near the Rip in Holgate it's lights out craziness from above …
Here's a video showing the wild water-top action ... Caution: Wind noise. I don't have time to embed music.
https://www.youtube.com/watch?v=QH5wdLYbycc&feature=youtu.be
Not that they're talked about much but this year's crop of hardhead minnows, sometimes called s***head minnies, (striped mummichog ... Fundulus majalis) is massive, both in number of hardheads and also the size of some of them, easily (accidently) taken with a 3/8-inch castnet. A buddy threw an S-head on a fluke rigs and nabbed a flattie right away. They can catch fish, though you won't be seeing them for sale at a bait shop anytime soon -- on a Japanese menu? That's a whole other matter.
Below: Fundulus majalis
It is also an explosive year on the snapper bluefish front. They are everywhere. No bait is safe. Even larger bunker chunks get slowly ripped apart, in a very piranha like way. In the above birdplay, I had one on most every cast using a small metal … and I wasn't casting anywhere near the heavy action.
Only oddity to speak of comes from the same Rip area during the daily birdplay seen above. On to occasions I've seen huge fins show on the surface. I'm talking major fish, in the five-foot-plus category. Very likely sharks, even though it's daylight hours, high sun and on the surface. All I had was light saltwater gear. It would have been fun to use a meat rod and heave out a big chunk of something meaty.
GET CLASSY: It's time to get seriously Classic. I'm talking the upcoming Long Beach Island Surf Fishing Classic which will run nine weeks and will rocks daily with an enhanced slew of cash and prizes. Then there's the bennies of simply signing up. Upon entry you get a thoroughly cool t-shirt, a famed hat, a decal suitable for placing wherever and a certificate for a slice of pizza. Are you kidding me?! That alone is worth the price of entry not to mention the appreciative collectability factor in times to come. I should note it's first come/first get. There is a goodly number of abovementioned bennies but they could run out so get joinin'.
All the participating shops are now awaiting entrants and their family, friends and relatives.
I always like to note that this event is highly geared to award fish of many a size. In recent years, we have seen what I'll call modest-at-best sized fish win big money, being the biggest and best on a given day. That levels the playing field for every entrant.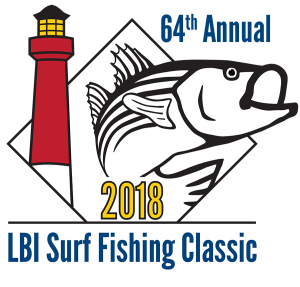 =====================================
Jim Hutchinson Sr.
Beach Haven was spared Hurricane Florence, and the strong winds and large seas which have been present for over a week have begun to subside. The captains of the Beach Haven Charter Fishing Association are ready to catch fish despite the closure of the summer flounder season on September 22.
A recent uptick in bluefish action has been stirring interest the past few days. Naturally, the bay waters are filled with snapper blues, some grown to a pound already, but good numbers of bluefish in the 2-6 pound class have been making their appearance in the ocean.
Captains choosing to troll in the waters not that far off the beach have been finding some pretty good action on these bluefish, Spanish mackerel, albacore, bonita, and small mahi-mahi.
The reports coming from the offshore waters indicate that there is a decent bite on tuna when the ocean conditions permit boats to make it there. Captain Lindsay Fuller of the "June Bug" reports some of these fish can be caught on the troll, but he recommends overnight trips to the canyons with a combination of trolling and chunking through the night hours.
A plethora of bait in the bay and inlet waters is a positive sign, and eyes are already looking to the north awaiting the arrival of the fall run of striped bass. There are small, "schoolie" sized bass in the bay which are being caught casting lures around the sod banks, especially during the hours of low light.
Complete information on the boats of the Beach Haven Charter Fishing Association can be found at www.BHCFA.net.
=======================================================
hiflierfishing@verizon.net
If you have never fished with live grass shrimp in Barnegat Bay, it's something you might want to check out. This fishery has a lot of history in Barnegat Light, especially. This is my 40th season of shrimping Barnegat Bay (that was painful to see in print). Whenever we buy this bait, weakfish are the target, but every fish in the bay eats shrimp. Right now we are catching 12 to 18 inch weakies on 6 pound spinning tackle. In the mix also are too many snapper blues, silver perch, sand sharks, fluke, juvenile sea bass, and more. If you can get your bait through the snapper blues, there are weakfish waiting to inhale it. You can either flatline a weightless baited hook into the chum slick or use a little jig tipped with shrimp. Both techniques are working. If you go with the baited hook you need to let the line out faster than the tide is taking it. Your reel should have the bail open and the line should never get tight to the hook. If it even starts to get tight your hookbait will rise in the chum slick instead of sink and it's the only shrimp the weakies won't eat. The snappers will tear you up. Get it to sink naturally and you will still get attacked by snappers but if you endure and keep re-baiting you will be rewarded with the weakfish that are mixed in. The ultralite tackle and the mix of species make this a really fun trip.

Sailing Open Boat or Charter Sat, Sun, and Mon, Sept 22, 23, and 24. 6:30 AM to 11:30 AM. $125 person.

4 people max. All fish are shared.

Pics: Capt. Dave with a nice weakie caught recently on shrimp in the bay.

Dave DeGennaro

Hi Flier Sportfishing

732.330.5674 cell

Dave DeGennaro

Back Bay Adventures

732.330.5674 cell

Politics at the back cut ... Holgate
**********************************************************