Even dogs have morning-after-partying bouts with reality, thinking the old, "She looked so much hotter at last call."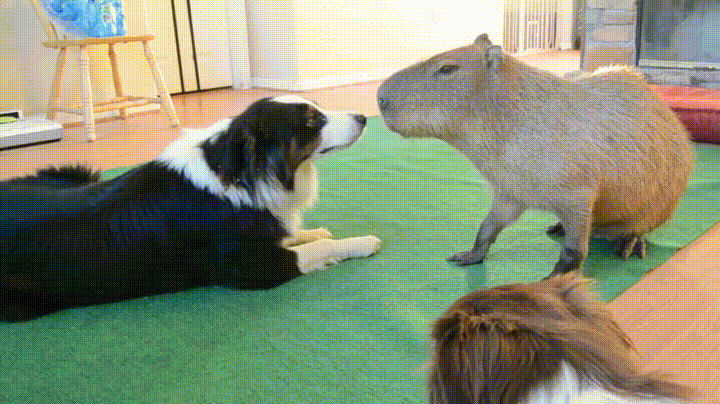 Below: It is suspected that the screw-ball-playing gene might run through entire dog families.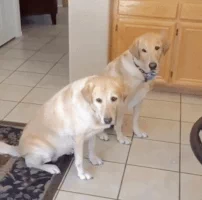 Friday, May 05, 2017: You'd think, on a pretty much washed-out day, I'd have plenty of time to write blogish stuff. And I do. I just don't feel like it. Hell, I slept in until after 9:30 a.m. as the rain beat down … and I heard that lone applause of thunder. Wait, better make that a clap of thunder. I told you, I just don't feel up to writing.
To wake myself up, I began mulling over weather maps and saw something very disturbing for next week. No, it's not the earliest hurricane ever. That honor remains with the little-known "Civil War Hurricane," which hit the Deep South in late May, 1863, per a 2013 study published in the Bulletin of the American Meteorological Society. For those Bible Belt folks, it seemingly indicated the Civil War had some earth-shattering significance.
But back to next week.
I know I previously talked about us needing some cool weather to hold the migrating blues in place, hereabouts. Well, there is forever such a thing as too much coolness.
I, along with far more talented and insightful professional weather folks, see the potential for some nighttime near-record chills for a couple/few nights in succession. In fact, I can see the Pines getting way too close to freezing -- you read right … freezing -- for the liking of famed crops therein..
This chill is dismal news for my personal blueberry plants, hidden in the outback. They've seen a few bad years in a row, mainly due to late coldness messing with the spring blossoms. Also, there is that depressing decline in insect pollinators, due to honey bee decline/disappearance. Bring on the killer bees.
While my secret patch of blueberry real estate is just getting past blossoming time, the emerging fruits are just as vulnerable to thermal shock.
MY FERAL PICKINGS: As recently as a decade back, my site would readily offer me five-gallon buckets worth of feral low-bush blueberries, stemming from formerly worked fields, dating back to the 1930s and earlier. That fruit can technically be called "heritage," possessing what might be called the legacy genes of plants from the first days of production blueberries in early 1900s.
Here's a video of a decent recent year. https://www.youtube.com/edit?o=U&video_id=Yk-Yauq8L3Q
New Jersey is the documented birthplace of blueberry bushes, a human offshoot of former huckleberry bushes, which still exists, plentifully, but have been renamed "wild blueberries."
Elizabeth Coleman White, considered the "Blueberry Queen," introduced the very first blueberry crop to New Jersey, utilizing her family's ideally-suited Pinelands property in Whitesbog. Yep, Whitesbog, NJ, is the birthplace of modern blueberries.
White's experimental blueberry venture was a collaborative effort between her and Chief botanist of the United States Department of Agriculture, Frederick Coville. Coville was also the honorary curator of the United States National Herbarium.
White had read Coville's 1910 USDA booklet, "Experiments in Blueberry Culture." Her and her father, John, offered their land, as the perfect testing grounds for what amounted to a crop of hybrid huckleberry plants.
The Coville/White hybrids offered a far larger fruit. Maintaining the huckleberry's flavor, it ridded the fruit of the unappealing seedy crunch of the indigenous berries. That original huckleberry crunch is readily experienced in the wild, via tiny "wild blueberries," which hang around long after cultivated blueberries have vanished. I've dined on them summer long.
(Though White is known as the Blueberry Queen and an important part of her family's cranberry operations, blueberries and cranberries were not White's only horticultural interest: she was also intrigued with plants native to the Pine Barrens and the concept of using these native plants in home gardens. In fact, she styled her own garden at Suningive using native Pine Barrens plants; and, after her ideas had become more widely known through publications and on the radio, many visited Suningive to see her garden." www.whitesbog.org/elizabeth-c-white.)
White's first marketable blueberry crop hit mainly NJ markets in 1916. To say they were a success has been beyond proven in the long run. The world's annual production of blueberries is now approaching one billion pounds, with the US leading the way and Canada on its heels. Those numbers don't include massive amounts of privately-owned plants, a segment of blueberry production growing in leaps and bounds, as high-bred plants become more and more suited for all climates and soil conditions.
1 United States 239,071 tons
2 Canada 109,007 tons
TEMP TALK: The forecast lows for next week are what might be called human values. Official temperatures, via the National Weather Service and the likes, are taken between four and six feet off the ground. They are also taken in the shade, which greatly understates summer high temperatures. The low are also deceptive when taken in an agricultural sense. Predicted temps in the upper 30s could easily be well below freezing at ground level. In fact, one of the most fascinating weather factoids for NJ: Only two month of the year -- July and August -- are positively going to be frost-free. Again, that's based on the ground-level temperature factor, along with the small mountain corner of the state.
This might prove interesting for backyard-minded folks:
Below: A Stevens screen to get a proper temperature read.
Installing a thermometer
A thermometer should be mounted so that air can pass freely over the bulb or sensor while being protected from direct sunlight and rain. The Stevenson screen (pictured right) is an instrument enclosure that meets these requirements and is the standard at official Bureau sites.
The instrument enclosure should be located in the open, over a locally natural surface (for example grass, but not concrete), unaffected by nearby obstructions such as trees and buildings (at a distance of at least twice the height of obstructions, and preferably four times), and not placed in a hollow (which would render conditions unrepresentative). The screen door should face south in the southern hemisphere to avoid direct sunlight on the thermometers when making an observation. The thermometers should be placed in the shelter at about 1.2 m above ground level.
A compromise for those unable to construct or purchase a shelter would be to hang a thermometer from the branch of a tree with thick foliage, not too close to the trunk. It is important that the bulb is never in direct sunlight or close to buildings (which can radiate heat, particularly overnight).
++++++++++++++++++++++++++++++++++++++++++++++++++++++++++++++++
Beach wash-up, BL today, via Mike Sweeney.
+++++++++++++++++++++++++++++++++++++++++++++++++++++++++++++++++
Recreational Fishing Alliance
Contact: Jim Donofrio / 888-564-6732
For Immediate Release
May 5, 2017
RFA is Encouraging Its Members to Take Action on E15!
RFA is asking all fishermen that fish on a boat with an outboard engine to participate in the Action Alert being circulated by the National Marine Manufacturers Association (NMMA). Please read the alert from NMMA below and take action by clicking the link provided.
ACTION ALERT!!
We need your help TODAY! Let your Senator know that adding more E15 in the marketplace is unacceptable for the 12 million boats and millions of other off-road engine equipment in the marketplace.
A deal is being pushed in the Senate that would overturn a rule on methane emissions in exchange for the ability to push more E15 into your gas pumps nationwide. This backroom deal by pro-corn Senators, would put millions of boaters at risk. We know that E15 is destructive to marine engines and the 97% of boaters who fill up at gas stations. With more E15 in the fuel supply, the risk of misfueling your marine equipment increases and the ability to find ethanol free fuel will diminish. Politicians should not be gambling on recreational boating and putting more consumers at risk.
It's time to tell Congress no more E15, and once and for all, fix the broken Renewable Fuel Standard (RFS). Let your Senator and Representative know that boaters and the boating industry won't stand for more E15 and want the RFS fixed now.
Click here to take action now, and urge your Senator to say NO more E15.

+++++++++++++++++++++++++++++++++++++++++++++++++++++++++++++++++
<
Looking at the marine forecast, the Hi Flier is going to be fishing Barnegat Bay for at least a few more days. Not that there's anything wrong with that. Big gator blues on topwater lures in shallow water are a lot of fun on light spinning tackle. It's just, ...How many weeks in a row are we going to get blown out of the ocean fishing? It's likely those 25 to 40-plus pound stripers are staged off of Island Beach State Park in 50 to 60 feet of water just waiting for a big spoon and we can't get to them. It looks like Sunday night, and at least all day Monday, the wind is supposed to swing NW. That will flatten out the ocean and at least get us out to try.

<

The big blues seem to be picking up momentum in our part of the bay, so we will continue to throw lures and bait at them through the weekend. I struck out on my first three bay striper attempts last week, anchored up clamming in Oyster Creek, so, it only makes sense that's where I will be, doing the same exact thing, each high water slack this weekend, as well. Last year's May bite was the best run of quality size fish I ever had clamming in the bay so I'm not ready to give up on that, yet. We will fish for the blues before and after each striper effort.

<

Running Open Boat or Charter Saturday, May 6, 6AM to Noon and 1PM to 6PM.

<

Sunday and Monday, May 7 and 8, 1PM to 6PM.

<

$175 person for the AM 6 hour trips and $150 person for the PM 5 hour trips. 4 people max. All fish are shared.

<

Capt. Dave DeGennaro

Hi Flier Sportfishing

732.330.5674 cell

hiflier.com

+++++++++++++++++++++++++++++++++++++++++++++++++++++++++++++++++
Anyone hot for sharking? Having a great great white time.
++++++++++++++++++++++++++++++++++++++++++++++++++++++++++++++++++++++++++++++++++++++++++++++
(...Until the first time you forget and it reaches the wash ...)
Back pocket bunker. I have an addiction. It's for fresh bunker. Anytime I can get it. Anywhere I can get it.
++++++++++++++++++++++++++++++++++++++++++++++++++++++++++++++++++++++++++++++++++++++++++++++
(Check out the thinness and the color)
__________________________________________________________________________________________________________
Good times and sore arms!
++++++++++++++++++++++++++++++++++++++++++++++++++++++++++++++++++++++++++++++++++++++++++++++
++++++++++++++++++++++++++++++++++++++++++++++++++++++++++++++++++++++++++++++++++++++++++++++

+++++++++++++++++++++++++++++++++++++++++++++++++++++++++++++++++++++++++++++++++++++++++++

Japan Exceeds Their Bluefin Tuna Quota by One Ton; In Breach of International Accord
SEAFOODNEWS.COM [The Yomiuri Shimbun] - May 5, 2017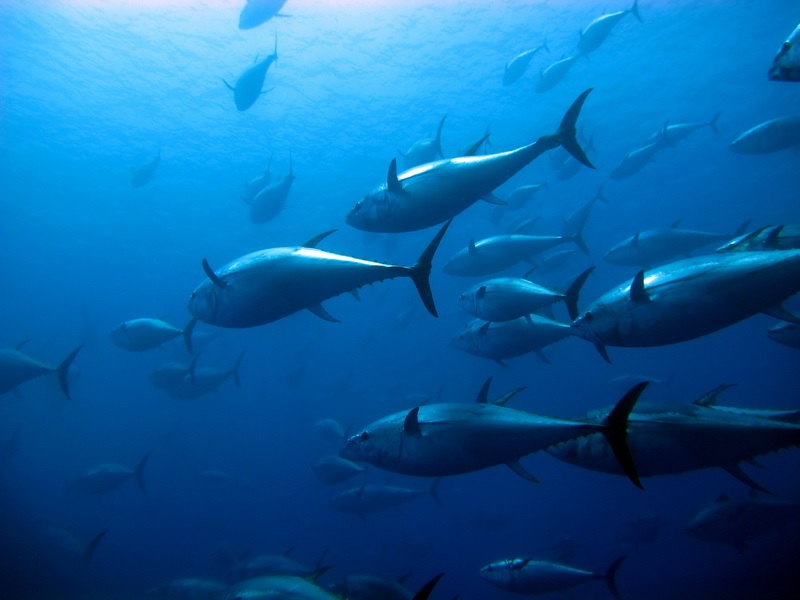 Japan is facing a dilemma after it was disclosed that the nation's bluefin tuna catches topped the annual limit set under an international accord on resource conservation — evidence of its poor management of marine resources.
Observers are calling the violation of the regulation by Japan, the world's largest tuna consumer, a serious breach of conduct. It will likely result in growing calls from Europe, the United States and other countries for Japan to improve its resource management of Pacific bluefin tuna, which are popular as sushi.
At the Pacific Bluefin Tuna International Stakeholders Meeting in late April in Tokyo, member countries discussed restrictions on bluefin tuna fishing.
Japan's annual catches of small Pacific bluefin tuna weighing less than 30 kilograms will likely exceed the ceiling set for the period from July last year through June this year, a senior official of the Fisheries Agency said at the meeting. The ceiling for Japan's annual catches of bluefin tuna is set at 4,007 tons.
"We take this matter seriously," the official said. "We'll analyze the cause of the problem and take various preventive measures."
It was unusual for a participating nation to apologize at a meeting attended by the fishing authorities of foreign countries.
The Commission for the Conservation and Management of Highly Migratory Fish Stocks in the Western and Central Pacific Ocean (WCPFC) will hold a meeting in August in which member countries will negotiate new fishing restrictions. Japan is a member of WCPFC.
Some Fisheries Agency officials are increasingly concerned about the negotiations. "Japan topped the limit, which will affect the negotiations," a senior official of the agency said.
Pacific bluefin tuna stocks topped 160,000 tons in 1961, but plunged to as low as about 10,000 tons due to excessive fishing, among other reasons.
Japan took the initiative over the need to raise bluefin tuna for breeding purposes to increase stocks, introducing international restrictions on smaller fish. This year, however, a series of illicit practices have come to light, with some fishery operators failing to report their catches to fisheries cooperatives and unauthorized fishermen catching bluefin tuna.
On April 27, Japanese fishermen's catch of bluefin tuna reached 4,008 tons, topping the annual ceiling for the first time since the restriction was introduced.
"We intend to observe the catch quota, but it's also true that we can't make a living without catching [bluefin tuna]," a senior member of a fishing cooperative said.
Japan has been trying to aid the recovery of marine resources while refraining from imposing excessive restrictions such as a fishing ban, and is trying to minimize the impact of restrictions on fishermen and consumers. Now that Japan's Pacific bluefin tuna catches have surpassed the upper limit, however, it is unclear whether it will be able to secure understanding from other countries for such an approach.
The Fisheries Agency plans to impose penalties for ignoring catch limits on the threatened fish from 2018 as part of efforts to seek understanding from the international community.
Fishermen who ignore an order to stop tuna fishing would face up to three years of imprisonment or a fine of up to ¥2 million.
However, the current annual limit system adopts a "first come, first served" approach that gives an advantage to those who fish earlier and catch a large volume of tuna. In addition, the restriction would be ineffective even with the introduction of penalties unless the amount of catches is accurately recorded.
"Japan failed to even observe the catch quota, which other countries called lenient," said Toshio Katsukawa, associate professor at Tokyo University of Marine Science and Technology.
"As a result, it's now difficult for Japan to object to moves to strengthen restrictions. Japan needs to review its system for having fishermen observe regulations."
Decades of data on world's oceans reveal a troubling oxygen decline
May 4, 2017
Global map of the linear trend of dissolved oxygen at the depth of 100 meters. Credit: Georgia Tech
A new analysis of decades of data on oceans across the globe has revealed that the amount of dissolved oxygen contained in the water - an important measure of ocean health - has been declining for more than 20 years.
began to climb.
"The oxygen in oceans has dynamic properties, and its concentration can change with natural climate variability," said Taka Ito, an associate professor in Georgia Tech's School of Earth and Atmospheric Sciences who led the research. "The important aspect of our result is that the rate of global oxygen loss appears to be exceeding the level of nature's random variability."
The study, which was published April in Geophysical Research Letters, was sponsored by the National Science Foundation and the National Oceanic and Atmospheric Administration. The team included researchers from the National Center for Atmospheric Research, the University of Washington-Seattle, and Hokkaido University in Japan.
Falling oxygen levels in water have the potential to impact the habitat of marine organisms worldwide and in recent years led to more frequent "hypoxic events" that killed or displaced populations of fish, crabs and many other organisms.
Researchers have for years anticipated that rising water temperatures would affect the amount of oxygen in the oceans, since warmer water is capable of holding less dissolved gas than colder water. But the data showed that ocean oxygen was falling more rapidly than the corresponding rise in water temperature.
"The trend of oxygen falling is about two to three times faster than what we predicted from the decrease of solubility associated with the ocean warming," Ito said. "This is most likely due to the changes in ocean circulation and mixing associated with the heating of the near-surface waters and melting of polar ice."
The majority of the oxygen in the ocean is absorbed from the atmosphere at the surface or created by photosynthesizing phytoplankton. Ocean currents then mix that more highly oxygenated water with subsurface water. But rising ocean water temperatures near the surface have made it more buoyant and harder for the warmer surface waters to mix downward with the cooler subsurface waters. Melting polar ice has added more freshwater to the ocean surface - another factor that hampers the natural mixing and leads to increased ocean stratification.
"After the mid-2000s, this trend became apparent, consistent and statistically significant—beyond the envelope of year-to-year fluctuations," Ito said. "The trends are particularly strong in the tropics, eastern margins of each basin and the subpolar North Pacific."
In an earlier study, Ito and other researchers explored why oxygen depletion was more pronounced in tropical waters in the Pacific Ocean. They found that air pollution drifting from East Asia out over the world's largest ocean contributed to oxygen levels falling in tropical waters thousands of miles away.
Once ocean currents carried the iron and nitrogen pollution to the tropics, photosynthesizing phytoplankton went into overdrive consuming the excess nutrients. But rather than increasing oxygen, the net result of the chain reaction was the depletion oxygen in subsurface water.
That, too, is likely a contributing factor in waters across the globe, Ito said.
Read more at:
https://phys.org/news/2017-05-decades-world-oceans-reveal-oxygen.ht...
China Wants Fish, So Africa Goes Hungry
SEAFOODNEWS.COM [The New York Times] - May 5, 2017
Of all the stresses that humans have inflicted on the world's oceans, including pollution and global warming, industrial fishing ranks high. For years, trawlers capable of scouring the ocean floor, and factory ships trailing driftnets and longlines baited with thousands of hooks, have damaged once-abundant fisheries to the point where, the United Nations says, 90 percent of them are now fully exploited or facing collapse.
The damage is not just to the fish and the ecosystem but also to people who depend on them for food and income. This is particularly true in Africa. In 2008, in two striking articles, The Times reported that mechanized fleets from the European Union, Russia and China had nearly picked clean the oceans off Senegal and other northwest African countries, ruining coastal economies.
It's still happening, but now, according to a report by The Times's Andrew Jacobs, China stands alone as the major predator.
With its own waters heavily overfished, and being forced to forage elsewhere to feed its people, the Chinese government commands a fleet of nearly 2,600 vessels, 10 times larger than the United States fleet, all heavily subsidized. As Zhang Hongzhou of Singapore's Nanyang Technological University observes, "For China's leaders, ensuring a steady supply of aquatic products is not just about good economics but social stability and political legitimacy."
The result: The Chinese government is basically snatching fish out of the nets of poor fishermen in Africa in order to keep fish on plates in China. A new study published by the journal Frontiers in Marine Science says that most Chinese ships are so large that they scoop up as many fish in a week as Senegalese boats catch in a year, costing West African economies some $2 billion.
Further, many Chinese ships don't hesitate to break the law to meet soaring demand. In 2015, Greenpeace found numerous cases of illegal Chinese fishing in West African waters, including ships that misreported their coordinates or underreported their tonnage: known ploys to fish in prohibited areas. Yet this presents nations like Senegal with a difficult choice, because China is also pumping $60 billion into African development. As Alassane Samba, the former head of Senegal's Oceanic Research Institute, put it, "It's hard to say no to China when they are building your roads."
China isn't the only player in this drama. The European Union cuts deals with African nations to catch fish to meet global demand it can no longer satisfy with fish from its own waters. American companies, which have seen some remarkable recovery of once-threatened coastal fish stocks after limiting catches, buy fish taken from far-off waters by Chinese and other vessels, much of it processed into pet food. Russia and Japan reap the world's fish bounty as well.
The good news, such as it is, is that some nations whose waters are at risk are rebelling, and the Chinese may slowly be getting the message. Indonesia has impounded scores of Chinese boats caught poaching in its waters, and Argentina sunk a Chinese vessel after it tried to ram a coast guard ship. There have been clashes between Chinese fishermen and the authorities in South Korea.
China has pledged to cut fuel subsidies to its fleet by 60 percent by 2019. "The era of fishing any way you want, wherever you want, has passed," says Liu Xinzhong, deputy general director of the Bureau of Fisheries in Beijing. In January, China's Ministry of Agriculture announced measures aimed at protecting China's own fisheries, including possible catch limits.
That could eventually take some pressure off African and other international waters. So could the international compact known formally as the Agreement on Port State Measures to Prevent, Deter and Eliminate Illegal, Unreported and Unregulated Fishing, which went into effect last year. The treaty seeks to identify fishing vessels, tracking where they fish and how much fish they are harvesting. The United States ratified the agreement in 2016. As of last week, 44 other countries and the European Union had also signed on.
China, regrettably, has yet to do so. Beijing may be feeling the world's censure. But it has a very long way to go before it becomes a responsible steward of the oceans' threatened and not inexhaustible resources.