Looking at this kiddie book about Noah's ark, one has to wonder how we still have lions ...
Friday, January 26, 2018: So I come out of the woods after a dismally slow treasure hunting day and pull into the Shop-rite parking lot, quickly noticing quite a collection of local and county cop cars around the Wells Fargo Bank. I'm sure you had heard about the bank heist there, but, it was news to me, having been in the woods all day. I missed the police scanner: "Run and get the sheriff. Someone's gone and robbed the Well's Fargo!" Got a nicely Wild West ring to it. "I'll bet it as the Daltons!"
Here's a quick video look, as detectives and such investigate.
https://www.youtube.com/watch?v=bB-6FFmeExo&feature=youtu.be
A bystander said there was a feeling it might have been the same perp involved in another recent stickup in Stafford. That is the definition of brazen.
I'm not sure why but I always suspect some old-timer from one of the nearby rest homes; some poor feller running out of money to stay there, draining the kids' inheritance -- and figuring three-squares a day and a firm bed is the same be it prison -- for free -- or in a rest home. No, I'm not pondering my future, just recalling a couple movies with just such a theme.
After a quick look at the crime scene, I went into Shop-rite to pomnder some seafood. That's when I saw one of the more amazing price tags on seafood I've ever seen. It was Patagonian toothfish, trade-named Chilean sea bass. Check it out:
What you're seeing is the cost of dining on a threatened species. As you'll see below, this fish is not long for the planet if pirates keep stealing them from the sea - and Asia keeps sucking up the stolen fish. I swear the Asian get off on eating things they shouldn't be eating. It seems to be a spice of life that's otherwise missing in a land where sameness is sacred.
Hobart, Australia: An international request that Malaysia and Singapore take action to ensure their ports are closed to blacklisted fishing vessels which are illegally poaching in Antarctic waters has been applauded by WWF.

According to the 25 nation Commission for the Conservation of Antarctic Marine Living Resources (CCAMLR ) vessels known to illegally fish for toothfish have been returning to Singapore and Malaysian ports after filling their holds with Patagonian toothfish in the southern oceans.

"These poachers have been able to continue harming the Southern Ocean ecosystem because they have been able to find ways to get illegally caught toothfish to market", said Rob Nicoll WWF's Antarctic and Southern Ocean Initiative Manager. "These fishers will continue to cause harm to the Southern Ocean as long as some gaps exist."

The fish are repacked for the Chinese market, sometimes in packaging purporting to mark premium legally caught fish.

Check ... wwf.panda.org/media for latest news and media resources
++++++++++++++++++++++++++++++++++++++++++++++++++++++++++++++++++++++++++++++++++++++++++++
I'M CHARGED UP OVER THIS: Might I hereby and preemptively suggest that the US must ban electric fishing for all of eternity …if not longer.
I know, "What the hell is Mann talking about now?!
Follow me here: Imagine being a bottom-lovin' fish and suddenly finding yourself and every living thing around you being, well, tazered, as in, "Let me see you fins, mister!" Then, when you writhe/rise up from the bottom, you get netted. All the instincts you had used to elude capture go up in … shock and awe.
It's called, broadly, electrofishing, though you'll see it's referred to as "pulse trawling" in Europe.
The world is already voicing its displeasure with the concept of electrifying the underseas world to harvest seafood. European Parliament voted just this month to ban this electric fishing technique in European Union waters.
A EU release explains, "'Pulse trawling' uses bursts of electric currents to coax flatfish out of the seabed and into nets and is currently used mainly by Dutch vessels in the North Sea."
It goes on, "The ban is not yet legally binding because the Parliament's fisheries committee must now work with the European Commission and EU member states to revise legislation."
I'll note here that I've researched a bit and the fish-jolting technique is being heavily used in Asia, where – somewhat amazingly – it is also being outlawed in places like Vietnam and a few other nations, places where no-holds-barred type thinking usually prevails in the commercial fishing realm.
In fairness to commercialites, they make a vaguely decent counterpoint by suggesting that shock-fishing the ocean bottom is less harmful than most of the highly deleterious bottom trawling methods. However, I don't think that's gonna hold water in the court of public opinion.
++++++++++++++++++++++++++++++++++++++++++++++++++++++++++++++
DIG-ABOUT: Here's a yesterday video of the not-so-exciting load of dug items -- the stuff I kept -- from a couple-hour metal detecting session. I dumbly keep putting found items too close to the tripod. Out of focus.
Photos: Talk about zipping through the eras ... musketball to .50
https://www.youtube.com/watch?v=RmXXMNfefyc&feature=youtu.be
Juts prior to this late-day video, I found a bat -- a live bat, despite the cold -- in the back of my truck. I have this thing about bats. Not a phobia, by a long shot. I just feel they're somehow mystic ... and portentous. As you look that up, I'll assure you I tucked it safely away in an old piece of shack. That's how you respectfully handle pretentious things.
I've been digging up some hefty pieces of brass, via fittings, related to plumbing and such. It's not all that hard cleaning the stuff if using rock tumblers -- larger tumblers, able to hold some serious poundage.
I have three of these:
Thumler's Tumbler Heavy Duty Rotary Rock Tumbler
And two of these vibratory types (from Harbor Freight) ...
The trick to cleaning copious amount of brass, bronze and/or copper is to get the proper grit and assorted cleaning agents in just the right amounts. It's important to monitor gas buildup -- mainly by opening the barrels slowly when checking for doneness.
If anyone is interested in getting a detector, I use Kellyco (www.kellycodetectors.com) but I've also see some fine, nicely priced machines on eBay, speaking of new detectors. It gets dicey when buying used machines, though the majority of detectors are bought and seldom used so there can be superb deals even on like-new used ones. The trick is to find a model or two you like then go to YouTube to see them in action. By the by, I use Fisher CZ3D. It took me decades to find a deep-seeking detector that can also take a brutal lickin' -- and keep on tickin'.
+++++++++++++++++++++++++++++++++++++++++++++++++++++++++++++++++++++++
More shocking news:
French Fishermen Riot Protesting Electified Beam Trawls
SEAFOODNES.COM [BBC News] - January 26, 2018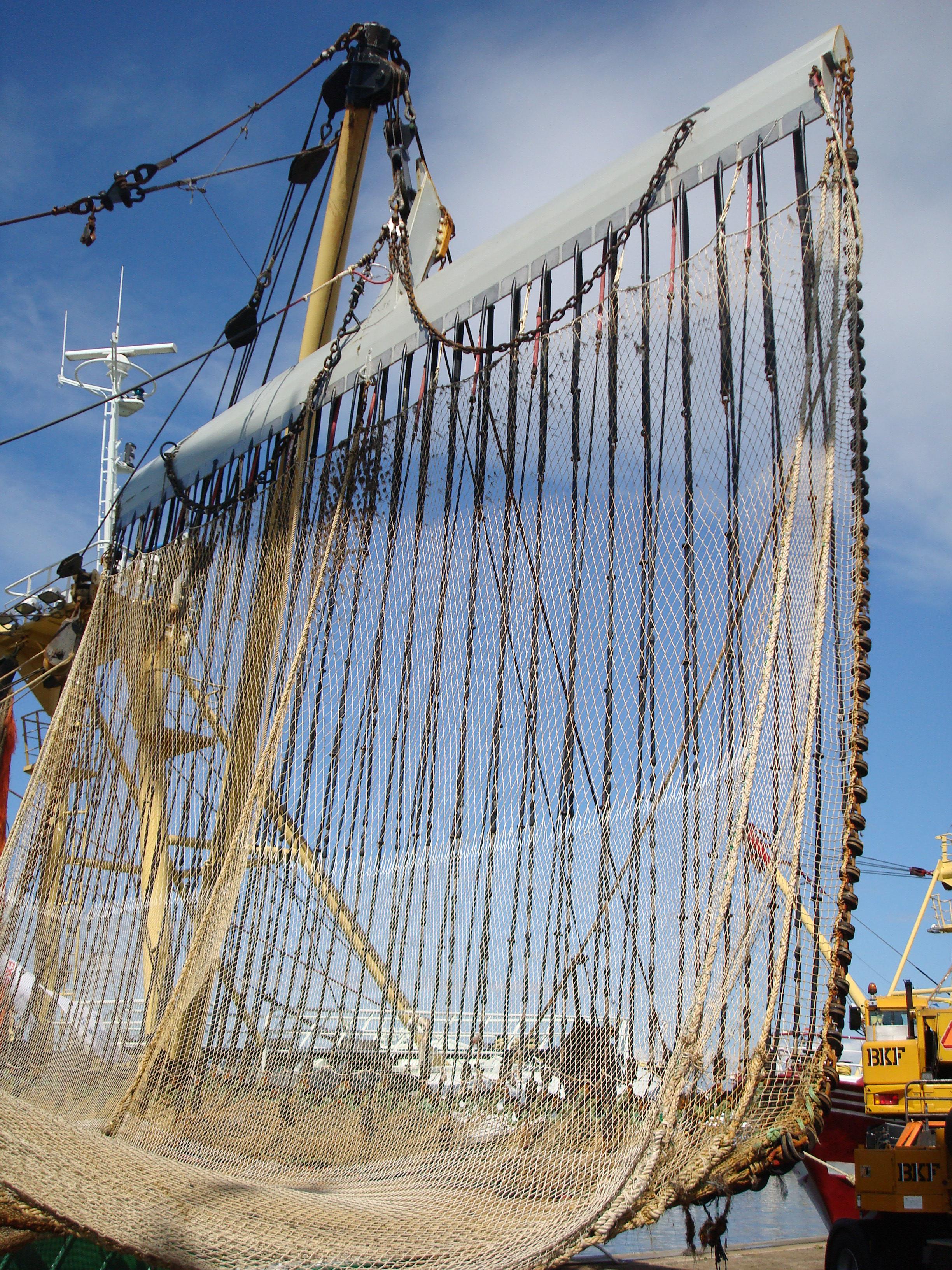 French fishermen have blocked the ports of Calais and Boulogne in protest at so-called pulse fishing, which uses electrified nets to stun fish.
Fishing boats stopped ferries entering or leaving Calais while a roadblock stopped traffic at Boulogne.
Calais is a major link between the UK and France used by thousands of tourists and lorries every day.
The European Parliament recently voted to ban pulse fishing which is mainly used by Dutch trawlers.
The head of P&O Ferries, Janette Bell, said the blockade of Calais was "utterly unacceptable".
It was lifted at 17:00 (16:00 GMT), though the ports were expected to take a while to get back to normal. The fishermen said they would meet government officials on Friday to discuss the issue.
The English port of Dover was also hit by the action, with P&O and DFDS Seaways suspending some scheduled services.
DFDS later rerouted some services through Dunkirk while P&O advised some customers to use the Channel Tunnel.
Fishermen in Boulogne set pallets and tyres alight on an access road while two French boats blockaded an area of the port where Dutch trawlers unload their catches.
Pulse fishing: Is it ok to 'electrocute' fish?
Dover MP Charlie Elphicke called on French President Emmanuel Macron to "get a grip of the situation" and put a stop to the disruption which he said was damaging both the French and British economies.
Stéphane Pinto, vice president of the regional fisheries committee, said a small flotilla of boats had sailed to Calais from Boulogne and other boats from Dunkirk had joined them.
He said the fishermen faced financial losses because of the use of pulse fishing.
"We're at our wits ends. We feel abandoned," he added.
The controversial technique involves trawlers using nets that generate an electric current, stunning the fish and making them float upwards where they are easier to catch.
The Netherlands is the biggest user of this method in the EU, and argues that it is better for the environment than traditional trawling.
However, the practice has inflamed French fishermen who complain it is depleting stocks. The French conservation group Bloom is also campaigning against the method.
Following its vote, the European Parliament will hold long negotiations with the European Commission and member states to agree a package of measures to streamline regulations for fishing.
Dutch trawlers can continue to use pulse fishing until the new legislation comes into force.
Oh, this should do the trick ... Yeh, right?
NOAA Establishes Voluntary Slow Speed Zone in Mid-Atlantic After Report of Right Whale Death
SEAFOODNEWS.COM [Seafood News] by Amanda Buckle - January 26, 2018
The National Oceanic and Atmospheric Administration (NOAA) is investigating a report of a dead, entangled North Atlantic right whale off the coast of Virginia and North Carolina. If confirmed to be true, this would be the first right whale death of 2018.
The North Atlantic right whale is an endangered species with approximately 450 remaining in the world. Last year 17 right whales died – seven of those deaths confirmed to be related to entanglement from fishing gear or blunt force trauma associated with vessel strikes. Photos sent to NOAA suggest that the whale spotted East of Virginia suffered a similar fate.
NOAA received notification of the whale on January 24 and enlisted the Coast Guard's help in finding the carcass and determining whether it could be towed to shore for an autopsy. No update on the carcass has been given, however, the government agency has established a voluntary vessel speed restriction zone (Dynamic Management Area or DMA) after a military ship spotted four live right whales in the area.
Effective through February 7, mariners in the east-southeast of Virginia Beach are being asked to route around the area or transit through it at 10 knots or less.
300 Thresher Shark Carcasses Found On Mexico Roadside
SEAFOODNEWS.COM [Seafood News] - January 26, 2018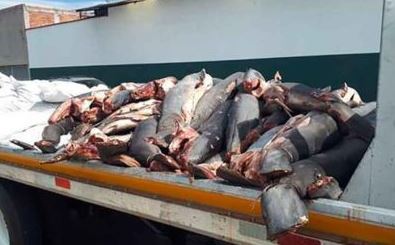 Three hundred thresher shark carcasses were found dumped near Yurecuaro, a western Mexico town.
According to the Associated Press, the sharks were gutted and had their fins removed. However, it doesn't appear to be an issue related to illegal fishing. While shark finning is illegal in many areas, thresher sharks are not a protected species in Mexico. Authorities say that the sharks were legally caught, but ended up on the side of the road after the vehicle transporting them was stolen.
The thresher shark carcasses were headed to Mexico City. They're caught not only for their meat and valuable fins, but also for their liver oil and skin.