Below: Parade photo by Cathleen Pearce Engelsen.

December 7, 2013: Yesterday, I dedicated the day to the Ship Bottom Christmas Parade. It was quite cool – and also downright cold at times – but a glowing success, all things considered. The skies parted just long enough to get a parade day in before a storm system approached for today.
Here's a glimpse at parade. The entire parade, brought to you by SSN (SRHS student network) will begin to air next week on public access channels.
Don't think for a minute today is going to be a serious snow event for us. With winds coming onshore, not only will we move out of the frozen precip range but it'll eventually touch on 50.
look at the quick snow ...
https://www.youtube.com/watch?v=OCqoVejknrU&feature=youtu.be
Longer term, we will be seeing spurts of snow/sleet over the next seven days, based on fast moving systems that will zip by then pull in some cold air after they pass, possibly allowing a spot or two of ground whiteness.
DIEHARD BASSERS: Driving the beach after church today, it was nasty and cold. Nonetheless, I saw a spattering of hangers surfcasting mid-island, going after the prestigious "December bass."
Considering the fully crapafied striper fall we've had to date, I sure haven't got much hope for a dazzling striper start to winter. By the by, it's already officially winter for those of us in the weather-watching realm. Though the calendar persists in attaching winter's start to Dec 21, the meteorological world knows best. It runs winter from Dec. 1 to March 1. We're a week into it already – and it feels it. it also looks like it, as I look out the window at large snowflakes (temporary).
The odds of a traditional Christmas striper are slim, none and forgetaboutit. I'm hoping I just get a chance at scratching up some Holgate Christmas clams. With the erosion problems at the entrance to the beach there (parking lot zone), buggying down might be washed out. I'm not above mountain biking down to the end – letting air out of the bike's tires just the way we do with buggies. Peddling back with a 100 clams in a backpack gets the ticker racing. Kinda fun, though.
IN THE WAKE OF THE CHRISTMAS PARADE: I've already had a number of communiqués over what is the perfect gift for the angler who has everything – of an affordable nature. With Sandy having effected my thinking last Christmas, my cynically suggested gift for anglers was a small ranch in coastal-less South Dakota – a state where they'll pay you to come and live, even if you hale for Jersey.
This year, I've gone trendy instead of contemptuous, throwing plaudits toward GoPro vid-cams, custom-made rods, pricey binoculars (Zeiss, Leopold, Leica, Steiner – and a "Top Buy" the Pentex DCF CS 8x42), and top-shelf reels. On that last suggestion, I still have a van Staal working fine as a fiddle after years and years of abuse. Of course, the price has gone way up since that "introductory" year model. I'll include rod racks here since these vehicle racks have gotten mighty elaborate, which can ring the break-the-bank bell.
When it comes to clever non-bank-busting gifts – though still a pretty penny -- I point to chest waders, L.L. Bean high-top boots, top sunglasses (always as gift certificate, since this is always a highly personalized fit thing), soft tackle bag (rapidly replacing tackle boxes), superior headlamp (thumbs up to Black Diamond series and Performance FoxFury), better penknife (stay out of "China," think Swiss or Buck), handheld flashlight (always a winner if going with a better name, like Surefire, Fenixs, Streamlight), truck seat covers (a sure winner, providing you align covers to year and make of vehicle), heated gloves (advances in design have made these very wearable, though pricey), latest in LED Coleman-type lanterns, and any number of better-grade parkas.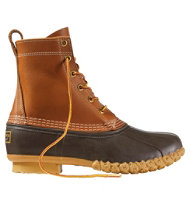 Along the lines of smaller gift, I always point to the likes of handmade plugs, assorted everyday hoodies, tools (Leathermen multi-tools have gotten too cool to touch, so to speak), portable tire inflator (Sears/Craftsman puts out great ones), sand-use shovel (buggy owners always seem to be lacking these), a slew of GULP! items.
Odd but cool gift: special NJ license plates. You can go online to see the selection of specialized plate themes, then, print out that page to symbolize the arriving gift of so-called vanity plates.