Works for me with 
 or 
or
Friday, October 25, 2013: I feel kinda weak this morning since I'm not armed with my usual bitch and moan abilities. I actually had a damn-good late-day striper session yesterday in Holgate, albeit all smaller fish -- though every single one was an utter Spalding football, almost absurdly plumped up. That plumpness was body fat and not just stomach overload.
At the height of my hooking, I was getting a fish-per-cast for a four-fish bass spurt -- before I departed  with the schoolies biting into the dark. It was frickin' cold out here!
I was using (for the umpteenth day in a row), sand-ell-looking Lunker plastics riding the hooks of my beloved Kalin jigs. If you've ever used Kalins, you know the company must also make hypodermic needle tips.
I had been using that jig set-up for days on the Holgate frontbeach and hadn't had a single striper touch, now I start getting a bass per throw. I might have to reluctantly acknowledge the concept that you can't catch what ain't there -- thinking back on past days/weeks when I was sure the bass were there but couldn't raise them. Seeing the way they all but fought over my jigs last night, they simply might not have been on-scene previous days.
By the by, I've gotten so many stomach content reports of bass with sand eels in the bellies that I have to believe that's what had these schoolie stripers so frickin'  plumped out. Due to rampant catch-and-release here in Jersey, those stomach contents are being discovered as much through regurgitation as during the gutting of any take-home-sized fish. I've read studies that show sand eels offer, by far, the richest fat and oil content of any forage fish.
I'm also guessing many fatso bass/blues look like this inside, spearing-wise: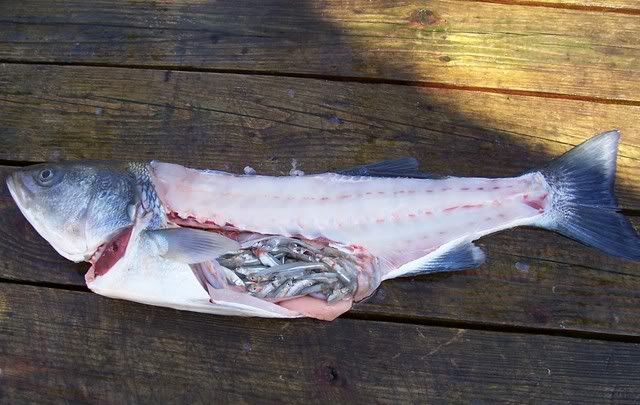 The spearing runs remains very strong. A couple of the bycatch fluke I've threw up spearing. 
So I'm feelin' good about my minnow bass when I see this FB post:
Fisherman's Headquarters Jake 35# 13oz Striper on a plug north end. Not a tournament fish.
((((((((((((((((((((((((((((((((((((((((((((((((((((((())))))))))))))))))))))))))))))))))))))))))))))))))))))))))))
Donation Drive
It's time for my annual begging session, seeking donations to show support for this site. While I don't use donations as an indicator of reader appreciation, I sure use the donations to cover the site's sundry expenses. I accept Paypal at jmann99@hotmail.com. For mail-ins: Jay Mann, 222 18th Street, Ship Bottom, NJ, 08008