Thursday, July 18, 2013:
The ocean is running clean and smooth. The water temp is a sultry 78 degrees. And that was at sunrise, using a high-tech infrared thermometer accurate to one-hundredth of a degree.
You really should try early-day snorkeling near the jetties. Better yet, put on some flippers and swim/snorkel from jetty to jetty to jetty, lookin' down the whole way. Along with fish life, don't be surprised to come upon a ghostly-looking buck or two on the bottom. I kid you not. Back in the days when I regularly swam (for exercise) along the beachline, I often came up with paper money (to $20) lost when men went swimming with bucks in their bathing suit pockets. Paper money escapes in the water very easily.
I have a photo somewhere of three twenties I found near each other on the bottom. All of them so faded out the bank almost wouldn't take them back. They had to have been bottom rolling for weeks but were still together – unless there had been hundreds and hundreds of them lost at sea, in the drug lanes. Believe me, that cache thing entered my mind as I swam around, a lot more attentively, after that find. Nada mas.
Had an email asking if I had ever speared fluke while snorkeling. While I never have, it would be tough. Obviously, they are astounding camouflage artists when buried beneath the sand, only eyes showing. If you happen to spot them via eyes alone, you might conceivably sneak up behind them. But they are insanely observant. I noticed you can spook them in the swash by diving down and probing the sand. However, they swim off in a burst -- well into the distance. If the water is clear enough, you can sometimes see where less spooked ones rebury themselves. But even then, they're wise to you. On a whole, though, they truly haul ass into the deep when scared. However, in the bay, the shooting is a tad easier, as lower visibilities favor the spearer.
Speaking of fluke in the wash, they're there. The clearer water actually works against mugging them. It sure seems they get very wise to anything but the best presentations. Per fishing tradition, very early a.m. offers the best bet at nabbing a biggie or two. With calmer ocean water, killies – not commonly used in the ocean – are the most irresistible fluke bait. As for boat fluking, it comes down to anywhere cool enough to work. Drift have become tougher during periods when land breezes are shifting over to sea breezes. The warm ocean water might push oceanside fluke into (much) deeper water. Also, check for fluke halo-ed around structures, like The Tires. Anyone work the HC Lumps area lately?
Blowfishing is hot – too hot. The zones where the fishing is best have 110 degree heat indices. Seining grass shrimp (for chum) is still a breeze on the eel grass flats but that chore is also heat intensive – then the greenhead flies attack. Something about a greenhead biting on grassy muddy legs that's the worst.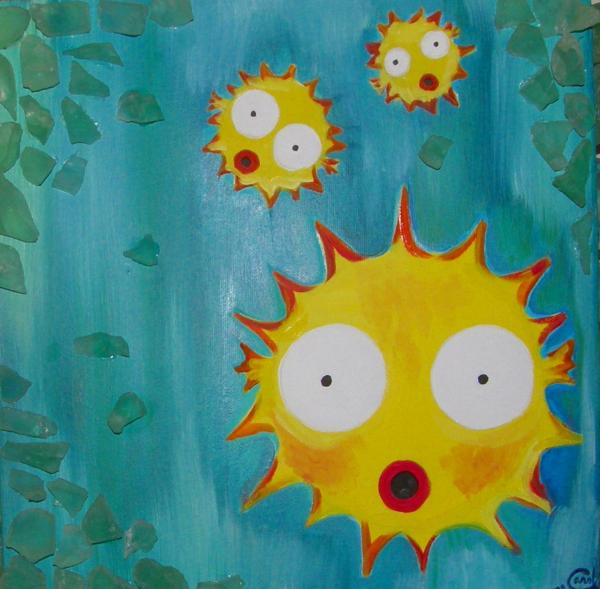 Kingfish are snappin'. While I had one kingfish ecstatic fellow sing the praises of small pieces of bloodworms, another found Bites and GULP way more productive.
(((((((((((((((((((((((((((((((((()))))))))))))))))))))))))))))))))))
Blue crab shortages to our south impact us when commercialites head up this way for crabs, which taste even better than the famed Chesapeake models.
VIRGINIA BEACH, Va., In Hampton Roads, there's always a big demand for crabs, but there's one problem with that: Blue crabs are hard to come by this year.
"I'm down. I'm way down actually from this year to last year," said Mark Sanford, a commercial crabber, "I'm probably catching half of what I usually do."
Restaurants and seafood markets are feeling the effects. In fact, there are days when they run out, and the prices are higher.
"It's all supply and demand. The supply is very, very low and the demand is high and because of that the price increases just like everything else," said Sanford.
The wholesale price has gone up, which means customers are now paying more. At Dockside Seafood Market, a dozen Jimmies, which are male crabs, cost $26. Last year the same amount would have cost about $18.
According to the Virginia Marine Resources Commission, overfishing is not the problem. They don't know for sure what is, but say a poor reproductive year could be to blame.
(((((((((((((((((((((((((((((((())))))))))))))))))))))))))))))