I also have one haunting question: When does one know that a pet jelly has passed on to that great Jellytank in the sky? It's not like there's a massive difference between a fully functioning jellyfish and a deceased one simply being whisked about by the filtration system.
===========================================================================================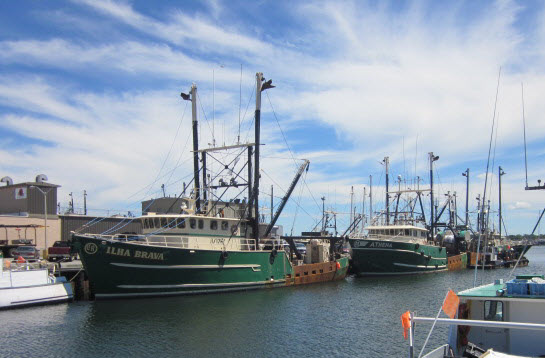 NEW BEDFORD, Mass. — Carlos Rafael, whose initials are emblazoned on boats all over this port city, boasted that his fishing empire was worth even more than official records showed. His trick? When he caught fish that are subject to strict catch limits, like gray sole or cod, he would report that his nets were filled with something far more plentiful, like haddock.
"We call them something else, it's simple," Mr. Rafael told visitors who seemed interested in buying his business. "We've been doing it for over 30 years." He showed off a special ledger labeled "cash." And he described an under-the-table deal he had going with a New York fish buyer, saying at one point, "You'll never find a better laundromat."
But Mr. Rafael's visitors turned out to be Internal Revenue Service agents, and the conversations, caught on tape and described in court documents, began the unraveling of Mr. Rafael, whose reign over a segment of this region's fishing industry gave him his larger-than-life nickname, "the Codfather."
As Mr. Rafael sits in prison, having pleaded guilty to lying about his catches and smuggling cash out of the country, nearly two dozen of his boats have been barred from fishing for species like cod and haddock, grinding part of the centuries-old maritime economy in the nation's most lucrative fishing port to a halt.
Fishermen, ice houses and shoreside suppliers who once did business with Mr. Rafael are anxious, as their own businesses have slowed or stopped. Regulators, who oversee a federal system aimed at limiting what the industry fishes for, want more penalties, raising doubts about the future of the port when it comes to groundfish, the bottom-dwelling species like cod that were once the backbone of the fishing industry in New England.
"There are a lot of people on this waterfront, very hardworking people, whose livelihood depends on Carlos's landings," said Jon Mitchell, the mayor of New Bedford. "They don't deserve to suffer along with him."
Tony Fernandes, a captain on one of Mr. Rafael's boats, said he was collecting unemployment benefits and waiting to learn when he may be able to fish again. "He's putting in his time and he paid his fine," he said of Mr. Rafael. "We are in limbo."
For decades, Mr. Rafael, 65, was a blustery, polarizing figure along these piers. He called himself a pirate, and mocked smaller competitors as maggots or mosquitoes. When he wasn't yelling into his phone in Portuguese, he held court around town, talking politics and fish. The authorities said he owned one of the country's largest commercial fishing enterprises, and analysts estimate that he controlled about one-quarter of New England's landings of groundfish. Mr. Rafael also had boats to harvest scallops, which now make up a much greater share of New Bedford's total landings than groundfish do.
But Mr. Rafael also served as a dealer for the seafood that came off his boats, which prosecutors say made it easier for him to lie about what he was catching and how much he was getting for it.
"Carlos Rafael has been well known in the commercial fishing industry for 30 years," said Andrew Lelling, the United States attorney for Massachusetts, who prosecuted the case. "And, for almost as long, federal law enforcement has heard rumors and concerns about Rafael acting illegally."
Some people in New Bedford saw Mr. Rafael far differently — as a Robin Hood of sorts, with a pack of cigarettes and a dinged-up Silverado. He was a Portuguese immigrant who had started out cutting fish and eventually provided jobs for many people along a waterfront that has been bustling since Herman Melville immortalized its cobblestone streets and whaling ships in "Moby Dick."
He saw an opportunity eight years ago when the government moved forward with a new regulatory system in New England, after Congress mandated that science-based limits be used to prevent overfishing. The cod catch, long a staple of New England's economy, had fallen over the years.
Instead of the former approach of limiting how many days boats could spend at sea, the new regulations by the National Oceanic and Atmospheric Administration set specific ceilings on how many fish could be caught. The rules instantly were contentious, especially when regulators set low limits for dwindling species like cod to help them rebound.
Fishing allocations were divided among 19 regional "sectors" of fishing boats in the Northeast, and boat owners were granted permits based on their fishing history — so those with the most boats seemed primed to win out.
"We were saying, catch shares are going to lead to consolidation, catch shares are going to lead to integration, catch shares are going to lead to corruption," said Scott Lang, a former mayor of New Bedford.
Mr. Rafael came to control most of the permits for groundfish in his sector, but by 2015, he was pondering selling his business. His asking price: $175 million.
So when the I.R.S. agents — who posed as Russian mobsters interested in buying Mr. Rafael's business — came along, Mr. Rafael was quick to talk to them.
Explaining why his business was worth even more than it might appear to on paper, Mr. Rafael laid out all that he had done to misreport what fish he was catching. At points, he seemed to worry that he might be getting set up. "You could be the I.R.S. in here," Mr. Rafael said in one recorded conversation, though he swiftly dismissed the idea, noting that he didn't think the I.R.S. employed Russians. "That would be some bad luck!"
Last year, in a case that married international financial crime with flaky fish fillets, he pleaded guilty to conspiracy, tax evasion, bulk cash smuggling, false labeling and falsifying records. In September, he was sentenced to about four years in prison as he stood before a courtroom packed with fishermen who had worked for him.
"I did it because I wanted to make sure my people kept getting a paycheck," Mr. Rafael wrote in a statement read by his lawyer. "The waterfront is a hard world we work in."
The judge, William Young, of the Massachusetts U.S. District Court, seemed unmoved. "This was not stupid," the judge said, "this was corrupt."
Mr. Rafael's lawyer, William Kettlewell, did not respond to messages seeking comment.
Mr. Rafael's punishment was cheered by environmentalists, regulators, and fishermen up and down the coast who saw him as having muscled out smaller boats and having marred the whole region. The case also raised questions about the effectiveness of a regulatory system that allowed one man to become so dominant and to skirt the rules for so long.
"He's the biggest player in the most high-profile fishery in New England," said Peter Baker, with the Pew Charitable Trust's ocean conservation effort. "They should have been able to detect what he was doing long before they did."
John Bullard, who was NOAA's northeast regional administrator until the end of January, said the regulatory system had worked well elsewhere. He said he had banned ground fishing in Mr. Rafael's sector through at least the beginning of the next fishing season in May because the industry there had failed to accurately report its catches and stay within fishing limits. "They have a very basic job to do, to count fish, and they didn't do it," said Mr. Bullard, who is also a former mayor of New Bedford.
The future of Mr. Rafael's empire is a matter of intense debate. Federal authorities have seized some of his boats and fishing permits, and they are seeking to revoke more permits in a civil action that also asserts misreporting in Mr. Rafael's scallop fleet.
Fishermen in other ports hope Mr. Rafael's permits will be transferred to their areas, while fishermen in New Bedford are fighting to keep them local. Some boat captains worry that they may face scrutiny, even though they say they had no part in Mr. Rafael's crimes.
(Mr. Rafael told the undercover agents that the captains knew of his schemes; Mr. Lelling, the prosecutor, said a decision was made to go after Mr. Rafael, and not the fishermen working for him.)
Some of the piers in New Bedford have settled into an icy unease as the industry sputters forward without Mr. Rafael.
As fog shrouded the port and a single seal bobbed in the harbor on a recent morning, Ian Saunders unloaded redfish from one of the few boats active at this hour. "This is my first boat this week," Mr. Saunders said.
The owners of shoreside businesses spoke of heavy losses.
"I go home, I can't sleep," said Anne Jardin-Maynard, the owner of a settlement house, which handles payroll and accounting for fishing boats, including Mr. Rafael's. "It's the ice plants, the fuel companies, the gear places — everybody's affected by this."
Porfirio Caneira, 60, the first mate on the Green Acres, one of Mr. Rafael's idled, tied-up vessels, looked out at the pier and recalled the scene from an earlier time: welders, painters, workers, all scurrying around on these boats.
"Now," he said, "you don't see anybody."