Wednesday, May 30, 2018: If there's one thing that's consistent about fishing this late-spring is its inconsistency. Many anglers fished their vacationing butts off over the holiday weekend … to no great avail. At the same instant, I dig up word about some super stripers being taken from boats. Same inconsistency with flatties. I hear of fair-ish to absolutely lousy fluke fishing in most waters, of course, I then see a report of a charter bailing keepers toward LEI.
"Don & I fished the inlet and rocks this AM and not a touch. Checked the ocean for some bunker but nothing. 58 deg. Fished double creek and had two 22" fluke and nothing else. 65 deg. Moved over in back of the dike and had one 18" and two shorts."
One fishery that is putting out rather regularly is black sea bass … when conditions allow, which is rarely … if not less. The ones that are getting caught have a nice fillet-worthy size, though sea bass are excellent for cooking in the round, i.e. whole. You get 20 percent more meat that bone-picking way. Sea bass in back bean sauce is ridiculously delicious.
Bluefish are sketchy but occasionally showing in the bay; more to the south. Spotty blues cruising past the South Jetty, BL. Some small stripers also being caught from bank/bulkhead areas of Barnegat Inlet -- and further inside.
There is some absolutely amazing black drum fishing down Cape May way. That massive biomass might/should be moving our way, moving into LEI, Little Egg Harbor, Tuckerton Bay, Grassy and such. It is definitely worth a trip down that way if you enjoy fishing for these little brutes. You can mix black drumming in with fluke-seeking. I'll also note, for the umpteenth time, you truly can hear them bleating/drumming when a load of them are passing nearby. I guess it's part of a spawn song. There are some somewhat affordable underwater listening devices (hydrophones) out there, though a cheap stethoscope pressed to the deck of non-running vessel will offer a decent listen-in.
SEAFOODNEWS.COM [Los Angeles Times] by Michael Hiltzik - May 29, 2018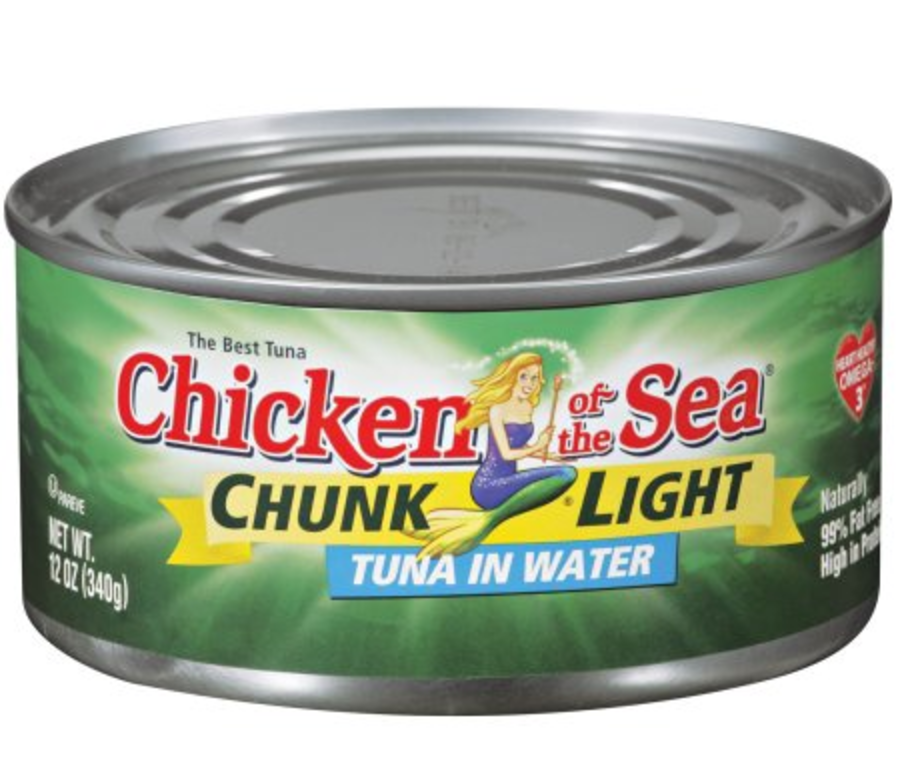 When the roll call is sounded of business deals that looked like a good idea at the time but went massively wrong, special notice should go to the merger of the tuna packagers Bumble Bee and Chicken of the Sea, announced in late 2014.
The $1.5-billion deal would have created a canned tuna powerhouse commanding nearly half of the U.S. market, swamping StarKist, which at the time was the No. 1 brand with 34.6%.
The deal never happened.
In conducting a routine antitrust review of the proposed deal, the Department of Justice unearthed what looked like a massive conspiracy among the three companies to fix canned tuna prices.
The parent of Chicken of the Sea, a Thai company named Thai Union Group, promptly bailed out of the merger and fessed up to the Justice Department in return for amnesty from prosecution. Its deal requires it to cooperate with the government's investigation of the other two companies.
Two top executives of San Diego-based Bumble Bee and an executive of StarKist pleaded guilty to federal price-fixing charges in 2016 and 2017 and turned state's evidence; their sentencings have been deferred at least to Sept. 26, when their cooperation can be assessed. Bumble Bee pleaded guilty to price fixing last year and agreed to pay a fine of at least $25 million and as much as $81.5 million (the higher amount if the company is eventually sold).
So far, 78 civil lawsuits have been filed against the three tuna companies and consolidated into a single proceeding before federal Judge Janis Sammartino in San Diego. They fall into four categories: three class actions for groceries and wholesalers, consumers, and food preparers such as delicatessens; and a fourth group of big tuna buyers such as Walmart and Sysco.
The Justice Department says the alleged collusion lasted from 2011 at least through 2013; some civil plaintiffs say it continues to this day. The lawsuits don't specify how much the companies allegedly squeezed from consumers by colluding. U.S. canned tuna sales, however, come to between $1.7 billion and $2 billion a year.
Then, on May 16, came the federal indictment of Bumble Bee's longtime chief executive, Christopher Lischewski. The Lischewski indictment is what elevates the Bumble Bee investigation into a special category of white-collar crime cases, for he's one of the rare CEOs to be brought to book in recent years for corporate wrongdoing. Lischewski maintains his innocence. "When the facts are known and the truth emerges," says his San Francisco attorney, John Keker, "vindication will rightfully restore his good name."
Before we examine what brought Lischewski and the tuna companies to the dock, let's put the case in the context of federal white-collar prosecutions. To be blunt, they're becoming an endangered species. According to the Transactional Records Access Clearinghouse, or TRAC, at Syracuse University, which compiles federal statistics, white-collar prosecutions have declined every year since 2011, when they peaked at more than 10,000. The April total of 494 new cases was down 14.4% from March and 31.3% from 10 years ago. They're now at their lowest level in two decades, TRAC's analysis shows.
This wouldn't be a surprise to the white-collar defense bar. The Trump administration signaled, both overtly and subtly, a shift in emphasis away from corporate prosecutions and toward immigration cases, crimes of violence and drug crimes, according to an article in the New York Law Journal last February by white-collar defense attorneys Robert J. Anello and Richard F. Albert. Immigration charges have accounted for 53% of all federal prosecutions so far this year, according to TRAC, and drug charges an additional 32%.
Meanwhile, Anello and Albert observed, vacancies in key Justice Department divisions such as the criminal fraud section were going unfilled.
One vital question in corporate crime enforcement is who's prosecuted, and that's where the tuna case may stand apart. Over a period of years, the Justice Department moved away from prosecuting individual executives in favor of extracting criminal pleas, fines and civil settlements from their corporations. That policy reached its climax in the aftermath of the 2008 financial crisis, when top executives of big banks seen to have defrauded investors and customers averted prosecution.
"In the financial crisis, the DOJ decided it was massively easier to win by refusing to prosecute the senior folks," says William K. Black, a former bank regulator who brought cases in the 1980s against numerous individual executives in the wake of the savings & loan crisis. The result of the new policy, Black says, was to sap the government's prosecutors of their power to deter future wrongdoing.
Presumably responding to criticism about executives going free, the Obama-era Justice Department issued a new policy in 2015 over the signature of then-Deputy Atty. Gen. Sally Q. Yates. The "Yates memo" stated that it would henceforth be a priority in corporate misconduct cases to seek "accountability from the individuals who perpetrated the wrongdoing." Investigations should focus on individuals from the start, the memo said, and corporations wouldn't get credit for cooperating with the government unless they fingered individual wrongdoers.
That was proper, Black says, because "almost invariably, white-collar crime comes from the top." But it did complicate prosecutions. That's because "individual responsibility in huge corporations can be very diffuse," says Henry Pontell, a white-collar crime expert at John Jay College of Criminal Justice and UC Irvine. "It's possible in a large organization that a CEO may not know who's doing what."
Moreover, "going after individuals is harder -- they'll put up a defense because they face real consequences," Anello told me. By contrast, "companies look for ways to resolve cases."
The individual guilty pleas in the tuna cases, experts say, suggest that the government must really have the goods. Certainly the circumstantial evidence is strong. According to the indictments and civil lawsuits, the three big processors had emerged from an era of ferocious competition for market share from 1985 to 1999, when more than half the canned tuna sold in the U.S. was subject to promotions that discounted prices by as much as 31%.
This was "an 'unwinnable' war" costing the industry $200 million a year, Lischewski said at the time, according to the class-action lawsuits. Starting soon thereafter, however, prices began rising. The lawsuits allege that officers of the three companies managed this by colluding to reduce standard can sizes to five ounces from six, raising the price per ounce.
The companies allegedly coordinated list price increases, sometimes announcing them within days of each other. And they jointly agreed to cut back on promotional discounts.
Artificially propping up prices was seen as especially important in the face of a marked slide in the per capita consumption of canned tuna. The trend was attributed to such consumer concerns as mercury in the fish and harm to dolphin populations caused by aggressive fishing.
The companies soon were signaling that profits were up, despite stagnant sales. Thai Union declared in its 2013 annual report, according to a class-action filing, that its results were showing "resilient growth" due to "more rational market competition in the U.S." A year later, it noted the "absence of cut-throat pricing."
How the prosecutions and the lawsuits will work out for the people at the top is hard to gauge. Bumble Bee indicates that Lischewski has been at least shunted aside for the moment: "Our board of directors will act swiftly to ensure continuity in the company's leadership," the company said the day of his indictment.
Lischewski deserves the presumption of innocence in court, but his efforts to dodge responsibility will be fascinating to watch. After all, his senior vice presidents of sales and of trade marketing have pleaded guilty to price-fixing, as did the company he has led as CEO since 1999. Could he not have known what was going on?
His attorney calls him "a leader and beacon within the seafood industry for more than twenty-five years," which makes him sound like a man who paid attention to what was happening around him.
As for government policy on white-collar crime, it appears to be evolving. The Yates memo hasn't been withdrawn, though Deputy Atty. Gen. Rod Rosenstein said last year that some of its elements might warrant reconsideration.
As recently as May 9, however, during an appearance at a New York gathering of white-collar defense attorneys, he reiterated its core principle that in white-collar cases "the primary question should be, 'Who made the decision to set the company on a course of criminal conduct?' Our investigations should focus on those individuals."
=====================================================================
How Ropeless Fishing Traps Could Protect North Atlantic Right Whales — and the Fishing Industry
SEAFOODNEWS.COM [CBC Radio] - May 29, 2018
'We have to move now and not wait another 10 years,' says scientist Michael Moore
Tensions between Atlantic fishermen and conservationists escalated this week as the Department of Oceans and Fisheries closed six fishing grounds off the coasts of New Brunswick and Quebec.
The closures were put in place in an effort to protect two North Atlantic right whales that had been spotted in the Gulf of the St. Lawrence. By Friday, the number of whales seen in the area had increased to 12.
The whales' arrival left many Canadian fishermen scrambling to remove their equipment from the affected waters amidst concern over what the closures could mean for their quotas.
But scientist and veterinarian Michael Moore is advocating for a new technology that could appease both groups: ropeless fishing traps.
In the past year, at least a dozen North Atlantic right whales have been found dead in Canadian waters, often as the result of entanglement. The whales are considered endangered, and less than 500 remain.
According to Moore, ropeless fishing traps may well be the key to saving the whales — without requiring any fisheries to close.
While such traps are already used commercially in Australia, they have not yet been adopted in North America.
"We need to increase the volume and reduce the cost of that kind of retrieval mechanism to make it practical and viable for the industry," scientist and veterinarian Michael Moore told Day 6 host Brent Bambury.
Without such interventions, Moore and others fear the species could be extinct within the next 20 years.
'Animals are in chronic pain'
The standard traps used by Canadian fishermen at present are retrieved using a rope that's suspended in the water column with a buoy at the top.
Those ropes are a major hazard for the right whales, which often become dangerously tangled up in them.
"It is very, very severe," says Moore. "The animals are in chronic pain. They have to be, they've got rope that are constricting on their flippers ... such that potentially they are partially amputated and the tails too."
Ropeless traps eliminate the need for that static rope line in the water, theoretically allowing the whales safe passage.
There are several forms of ropeless trap technology in development.
The model used in Australia, developed by a company called Desert Star, replaces the static rope and buoy that are traditionally attached to the traps with a negatively buoyant bag that has a coiled rope tucked inside it, along with a small floatation device.
Other devices forego the rope entirely, relying instead on an inflatable buoy that attaches directly to the trap itself.
"When it's time to retrieve it," Moore explains, "there is an acoustic trigger that enables one form or another of a buoyancy device to either the bring the instrument back up or to send up a buoyant line."
Traps like these are set to be tested by fishermen in the Maritimes this summer, even though they were once considered "crazy," according to marine biologist Mark Baumgartner who spoke with CBC News in March.
Still, the technology has found some resistance among fishermen.
"It's a question of priority and economy and socioeconomic survival of the [fishing] communities versus the biodiversity aspects," Moore says.
Reversing fate
Moore warns that there is not much time left to save the North Atlantic right whales. But he believes it's possible, if pressures are put in place to encourage the fishing industry to adopt this new technology.
The whales have made a comeback before, Moore says. Before whaling was banned in Canada, he estimates that only 250 of the mammals remained — a little more than half of current numbers.
Ropeless fishing, Moore believes, is among the few aspects of the fishery where changes can be made to reverse the loss of right whales.
"If, essentially, the Gulf of St. Lawrence was rope-free along with the Gulf of Maine tomorrow, I think it's very reasonable to assume that we'd start to see a growth rate of North Atlantic right whale numbers of a healthy 3 or 4 per cent," he says.
There isn't much room to maneuver, however.
"We have to move now and not wait [for] another 10 years of the science to tell us that right whales die if they get entangled in rope," he says. "We know that."
Change won't happen overnight
Moore acknowledges it's complicated to overhaul the equipment for an entire industry.
But already, ropeless fishing technology has come a long way.
"It's kind of like looking at cell phones 25 years ago versus cell phones now," says Moore. "Many of us feel that this [adopting ropeless traps] can happen."
Robert Haché, director general of the Acadian Crabbers Association, told CBC News in March that fishermen want to do all they can to prevent entanglements. That's why they've committed testing the modern traps.
But Moore concedes that a complete replacement in fishing gear won't happen overnight.
"This is actively fished gear and it belongs to fishermen; it could belong to my neighbour," he says.
"I don't want to see my neighbour go out of business."
================================================
And here in Jersey??????????
Maryland Tourists Say They Are Willing To Pay More For Crabs This Season
SEAFOODNEWS.COM [WBOC] by Brooke Reese - May 29, 2018
Prices are on the rise for Maryland crabs this year, but especially for picked crab meat after H2B work visas were limited for seasonal pickers.
But tourists traveling to Ocean City say they are willing to pay more for the state delicacy.
"People just, they come here for that. It's just not the same without it. I know the prices are pretty high, especially for crabs, but I think they'll pay it because they're on vacation," Pennsylvania visitor Steve Douglass said.
Dan Falato from New Jersey says his family has to get them every time they come down to the beaches.
"Cause they're better in Maryland than they are in New Jersey so we're definitely willing to pay more," Falato said.
But how much more expensive are crab prices compared to last year? Co-owner of Crabs To Go in Berlin, John Wittmyer says picked crab meat is likely to stay high, while he hopes for the wholesale crab prices to come down as the summer continues.
"[Picked crab meat] went up over last year, it spiked at 45 and came back to 42 and last year was 38. But like everything, insurance, taxes and all its going up so you gotta factor in something," Wittmyer said.
He says most of his jumbo whole crabs are coming from Louisiana right now until the Maryland watermen can catch up. Wittmyer says he can't sell crabs by the bushel right now because of the limited supply. For now steamed crabs are being sold by the dozen at various sizes.
"They're really starting to catch some crabs now that the water has started warming up so you know we're hoping for a drop in prices across the board because we can sell more product," Wittmyer said.
He recommends the best thing to get right now, is soft shell crabs.
"It's crab season now so we're selling soft shells, we're selling crab meat. The soft shells are probably the best thing going right now because they just started popping off," Wittmyer said.
--------------------------------------------------------------------------------
Newfoundland and Labrador Seek Markets for Seal Products
SEAFOODNEWS.COM [The Southern Gazette] by Ashley Fitzpatrick and Kenn Oliver - May 29, 2018
Cull the seals, save the cod.
It's a popular refrain, heard most loudly in Newfoundland and Labrador around this time of year as the Canadian commercial seal hunt is drawing to a close and as the Department of Fisheries and Oceans (DFO) releases quotas for cod and other groundfish species.
Even if the federal government were to put its stamp of approval on a plan to drastically reduce harp and grey seal populations beyond the meagre harvests currently experienced, what would harvesters even do with all those seals in a world that is becoming increasingly opposed to the hunt?
The list of countries banning the import of seal products altogether climbed to 35 on the eve of the hunt last month when India — a country of 1.3 billion — joined the likes of the United States, Russia, Mexico and all of Europe.
Labrador MP Yvonne Jones isn't endorsing a cull, but says Canada needs to take more seals out of the ocean if it hopes to create a sustainable ecosystem.
"We've shied away from the industry because of animal rights groups and greedy (animal) welfare funds that have capitalized on what has been a sustainable, cultural harvest," Jones told The Telegram following a National Seal Product Day event at Confederation Building in St. John's last week.
"In 25 years in Newfoundland and Labrador we have not seen the resurgence of cod stocks in a way we've predicted and, in fact, today the sustainability of other groundfish industries are being jeopardized and so is the sustainability of the shellfish industries. That's because we have ignored the seal."
Recently, DFO research scientist Mariano Koen-Alonso told the Saltwire Network the declines in cod are being seen across the ecosystem and drops in food sources for cod, including shrimp and capelin, need to be considered.
"Looking back through these chains since 2014 we're seeing lower levels of primary production. The plants in the oceans are not producing as much and from there you have this domino effect," he said.
At the same time, weaker fish moving out into more exposed areas in search of food could also be easier prey for predators, including seals.
Despite suggesting that "if we do not deal with the seal populations, we will not necessarily see full recovery of our fish populations" in a House of Assembly committee meeting last month, provincial Fisheries Minister Gerry Byrne is not promoting a cull, but neither is he agreeing to government offering new incentives for seal kills.
Byrne said he would like to find ways to encourage an uptick in demand for seal products.
He is promoting a renewed effort at the federal level to encourage new markets, both foreign and domestic. That includes a fresh push for Canadian seal products into Asia, but also a joint effort for producers from this province, Quebec and Nunavut for more sales within Canada.
"That obviously is the preferred method of reducing the seal population to sustainable levels," he said.
Byrne did not rule out using the Atlantic Fisheries Fund for a marketing effort, but the expenditure there is driven through individual applications.
"(But) I can see a company being produced to stimulate market interest, consumer interest … through those funds," he said.
Jones, meanwhile, said the federal government would like to see more diversity in seal products, suggesting more opportunities for pharmaceutical applications and food uses, like protein powders.
She also says there should be a bigger push on sealskin as leather, as it's still considered a high-priced and heavily traded commodity.
"I really believe that the government of Canada, provinces, territories and individuals need to really start putting more money into researching what those particular market products could be," she said.
"I think we need to look at where the demands are for products and the niche we can create with what we have. That's where we need to spend more energy and more of our time."
Fish, Food and Allied Workers-Unifor inshore director Bill Broderick agreed there is a need for diversification in the quest to find new markets for seal products, and said there needs to be more research done, particularly into the pharmaceutical arena.
"Just fancy where we would be if there was something developed from seal products," Broderick said. "Greenpeace would slide away quickly if the world was after something that was going to save lives."
Even with the federal government showing support for the hunt through the occasions like National Seal Products Day, ultimately, Ottawa would sooner not deal with the seal issue at all, he says.
"They just wish seals would go away, that they could wake up tomorrow morning and the word seal would never get mentioned again," he says.
"That's not only the politicians, that's bureaucrats in Ottawa who deal with industries in this country, who are frightened to death that someone's going to shut them down if they're seen as promoting seals. We're paralyzed by it."
On the contrary, local craftsperson Clare Fowler, one of the artisans displaying a selection of her sealskin and seal fur products at Confederation Building last week, said the event and National Seal Products Day "says, unequivocally, that Canadians support the seal hunt as a really wonderful thing