(Lost almost an entire blog yesterday. I had gathered so many great fishing shots ... all lost. I'll begin regathering. Please get me any fun pics. Thanx)
Wednesday, June 10, 2020: Folks have been asking if I've seen the bear. I better make that THE bear. It is instantly legendary, though there are at least one and maybe two other southward journeying black bears, after Fish and Wildlife confirmed one over in Winslow and have gotten word of a possible third bruin toward Chatsworth, though that last one is based on someone hearing quite the crashing going on in the deep woods last night. Being alphas, bears are not over quiet when cruising about.
No, I haven't seen THE bear, though I'm being decently updated on its whereabouts. Not to worry, I'm not going to bother it by seeking photo shoots. Perish the thought of a selfie, which Fish and Wildlife are worried about folks trying over over in Winslow.
I wouldn't mind checking the tracks of the local bear so I can get a more exacting read on his weight. On sight alone, he's pushing 225 to 250. Some folks say way more. The Winslow bear is apparently smaller and might have some light toning on its back. While that bear might be a female, this is the time of year male bears go exploring, mainly in a territory-seeking effort. That's good news since both of those now South Jersey bears will find more open terrain than they ever had up north. Our bear is likely in Bass River State Forest, which is as wild as it gets. May he settle in, lest he try heading back north with traffic now crazy again.
One final non-small issue about bears settling in the 1.2 million-acre Pinelands National Preserve (it's up in size from that old 1.1 million-acre measurement), namely, it's hotter than hell in there. Bears can't take off their bearskin coats.
Then, there's the scarcity of big-bear food in the core Pinelands. Black bear are dedicated plant and berry eaters, though they prefer deciduous tree ecosystems. Push comes to shove, they'll drive all other scavengers off roadkill, which the Pines have in double abundance. There's no doubt black bears would have their ways with blueberry farms, which are coming into fruit right about now. Trash cans? Trash cans are picnic baskets to bears. There is also a huge temptation from beehives, mainly those apiaries used to help farmers.
The upside to black bears is their very low inclination to go after humans; mother bears always being a threat if cubs are in the picture. That said, becoming the center of attention for a load of nature photographers can lead to hairy situations should the shooters accidentally encompass a startled bear. To break out, it will charge and even clobber anything it assesses as standing in its escape route. Even getting headbutted by a bear hurts, per the few people who have been run over.
WAXING A WEE BIT: I feel normalcy leaking in. I'm not talking about a new normal but a return to the old normal -- albeit with masks on and all that social distancing stuff. I'm running with word today from the governor, who has officially lifted the lockdown, though not a ton of folks are in full quarantine mode anyway.
I'm too micked out (exhausted) to garner any sense of satisfaction over having my longstanding belief that outdoor activities are far less dangerous, COVID-wise, than virtually all other form of social interplay. At the same time, I'll fully agree that there is no living proof of lower transmission when outdoors. It just seems so. Plus, it's hard to monitor viral transmission when nobody is allowed to get out and transmit.
Why not study outdoor transmission now? Well, it might not be as insightful since indications are the virulence of COVID-19 might be diminishing, be it through distancing, masking, seasonal warmup or herd immunity. In other words, it might not be nearly as catchy as it was a month back.
In the name of what might be called seasonal immunity, I can offer highly repeatable studies that show our bodies gain strength in spring, possibly due to getting outside more – not to mention the huge vitamin D burst from the sun. That upswing in our antibodies must make it tougher for any and all viruses to get the upper hand.
Staying COVID-ish, I like many had accepted the seemingly definitive data that even folk without Rona symptoms, aka asymptomatic, could spread the virus with the worst of them. Now, some mighty bright folks with the World Health Organizations begged to momentarily disagree with that premise – though they're now back to rethinking things. Nonetheless, it might be that those showing no signs of C-19 – even when infected – present a low to negligible transmission threat. That would be quite a turnaround – and a relief. It might lessen the tension when intermingling – at safe distances. Now to await the next bombshell from the WHO.
With the governor's increases in the allowable size of gatherings, I think virtually all beach activities are now a go, at least in an everyday beachgoing sense. With as many as 50 folks permitted to gather indoors (within sizeable buildings), there could even be some impartial partying going on, though partiers might want to take notice of five teens from Pa. who contracted C-19 while attending a party at the Shore. I'm never sure if younger minds register risks like that. I'll repeat the concept that partiers can bring bad COVID times back home. Taking proper precautions takes on a whole new meaning for partiers nowadays.
PLEA: Despite the World Health Organization's Greatly downplaying the dangers of COVID transmission by asymptotic folks, it is highly advisable that those of you who participated in local marches -- likely over 2,000 people twixt Manahawkin and Barnegat – consider yourselves possible carriers. All that means is you must, out of the respect for life and limb you marched about, use extreme caution in public settings -- or even self-apply a 14-day quarantine protocol should you feel even a hint of symptoms. If nothing else, PLEASE avoid seniors and other highly susceptible people.
***************************************
Fish Monger II Wed 6/10 Early Seabass Limit / Ling / Bluefish Limit - Dave Daly and crew aboard... beautiful weather... fish were hungry to start the day. Lots of bites but more small stuff to weed thru. Still a good amount of keepers...Prob could have limited out from tbe first couple spots but with the great conditions we bounced around to find some better size. Hit one little spot and found the quality we were lookinh for filling a basket pretty quick. With an early box we
nt looking where we had some ling life the other day but only found 20, few more big seabass n couple tog going back. Looked up and seen a massive birdplay which is rare oceanside occurence in the spring nowadays. To b honest i thought it was Stripers but turned out to b bluefish. Had everyone hooked up... also hooked our first bonito. Filled the box with limit ( now much less than the past). Canceled pm and tomorrow with wind. Then we will b back at it. Thanks again guys
FAO Report: Worldwide Per Capita Fish Consumption Reaches New Record
June 10, 2020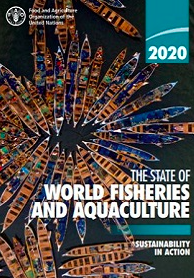 Worldwide per capita fish consumption has hit a whopping 20.5 kilograms (45.2 pounds) per year. According to the latest "The State of World Fisheries and Aquaculture" report from the Food and Agriculture Organization of the United Nations (FAO), this number is a new record— and set to keep going up. 
"Fish and fisheries products are recognized not only as some of the healthiest foods on the planet but also as some of the less impactful on the natural environment," says FAO Director-General QU Dongyu.
Total global fish production in 2018 reached 179 million tons and is expected to increase to 204 million tons in 2030, which is a 15% increase from 2018's numbers. However, fisheries management is more important than ever. FAO reports that around 34.2% of fish stocks are being fished at "biologically unsustainable levels." If improvement isn't made it could become a threat to not only food security, but the livelihoods of the 59.5 million people employed in the primary sector of fisheries and aquaculture.
RODA Nets $150,000 Grant from NMFS to Hold Symposium on Fisheries and Offshore Wind
June 10, 2020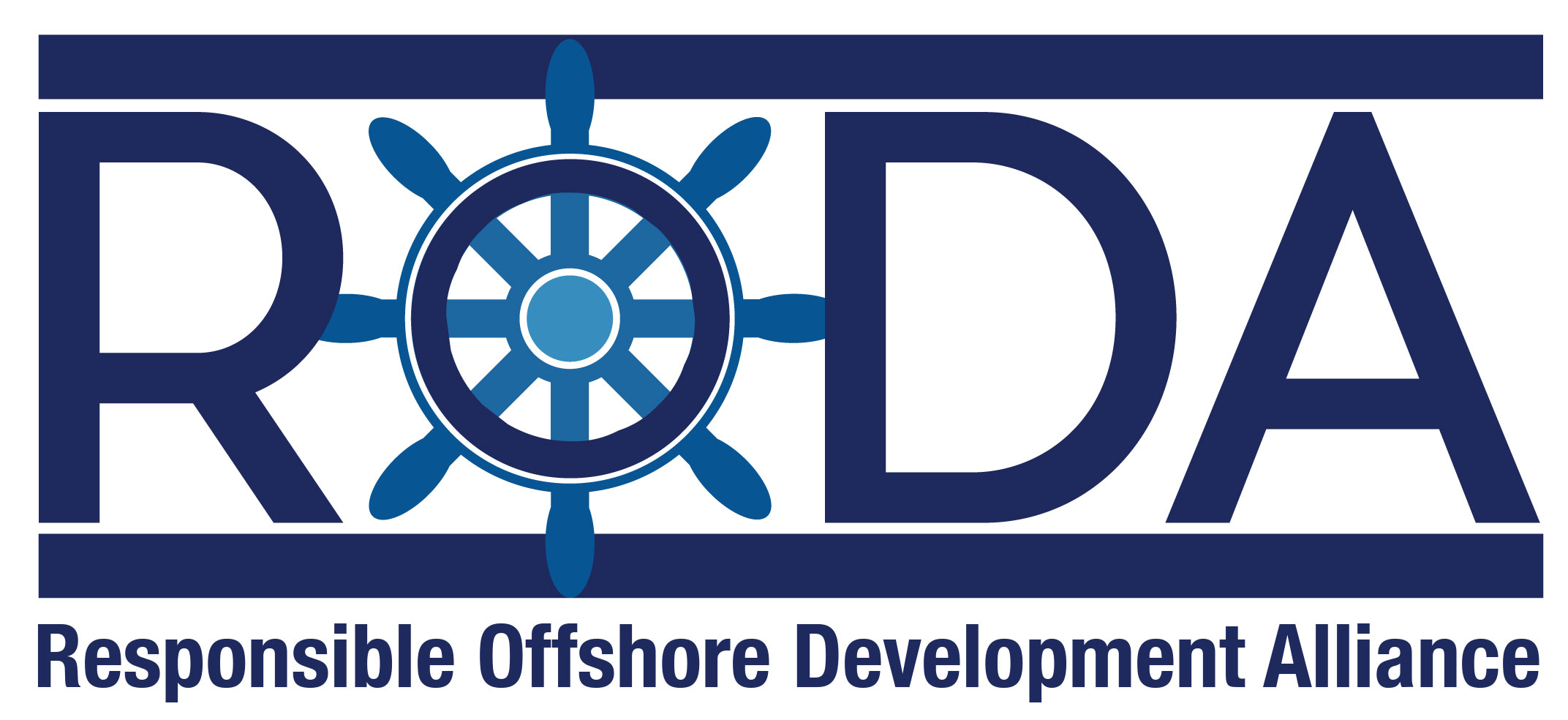 The Responsible Offshore Development Alliance (RODA) received a $150,000 grant from the National Marine Fisheries Service (NMFS) to hold a symposium on current knowledge of fisheries and offshore wind interactions.
The first of its kind project, "Understanding the State of the Science," will advance agency, fishing industry, offshore wind energy developer and public understanding of existing research on interactions between the two industries, RODA said.
"We are thrilled about the opportunity to design a forum that will bring together everything we know, and don't know, about how fisheries and offshore wind energy development interact," said Annie Hawkins, RODA's Executive Director. "Fishermen provide a wealth of knowledge and expertise, and many are involved in research and science efforts. This project is a great opportunity for their participation in informing a strong research and science agenda."
The project will be broken into two parts. During the first phase, RODA will create a summary of scientific knowledge and current research and monitoring efforts. RODA noted the work of fishing associations, academia, government agencies and wind developers' recent efforts to study the impacts of offshore wind. As wind development continues to move forward, this section of the project is expected to provide a new resource for understanding gaps in knowledge and important questions for further research.
The next part of the project will be the symposium and workshop convened jointly with the NMFS, Bureau of Ocean Energy Management (BOEM) and science experts from the state, academic and private sectors. The meetings held at the symposium will identify research and monitoring needs that RODA can implement to develop its work.
"Much of the work on offshore wind is occurring on a development-by-development, state-by-state basis. Yet the science and management of our fisheries, marine mammals, and marine endangered species occur at a regional-scale – North Carolina to Maine," said Jon Hare, director of the Northeast Fisheries Science Center. "Therefore, I am excited to be able to work with RODA and BOEM to support the state-of-the-science symposium with the goal of developing a regional science plan."
Roda explained the project as, "a key step toward jointly building a regional fisheries and offshore science agenda. Participants in the project will include fishermen, fishing industry representatives, NMFS, BOEM, and ROSA experts, wind energy developers, relevant federal fishery management councils, states, and other expert scientists from the U.S. and Europe."
Below are some of the topics the state of the science symposium will cover:
- Physical oceanographic factors: the Mid-Atlantic Cold Pool, currents and vertical mixing, scour and sedimentation, marine winds, waves, coastal upwelling;
- Ecosystem effects: larval dispersal, recruitment, spawning, electromagnetic fields, migration corridors, noise and vibrations, species shifts, invasive species and colonization, entanglement, benthic habitat disruption;
- Fisheries: displacement of effort, displacement of species, increased competition for grounds, safety; and
- Floating wind technology effects: specific effects of floating wind platforms on fishing effort and biological processes.
This project was funded through a memorandum of understanding (MOU) signed in March 2019. The 10-year MOU between RODA, NMFS and the BOEM allows the groups to collaborate on the science, research, monitoring and  process of offshore wind energy development on the U.S. Outer Continental Shelf.
New Start-Up Company Introduces "World's First" Plant-Based Shredded Salmon Product
June 10, 2020
Hooked, a start-up created by Swedish entrepreneurs Emil Wasteson and Tom Johnansson, is looking to target the plant-based market in Europe. Wasteson and Johansson are promoting what they're calling the "world's first" plant-based shredded salmon product.
"With the booming of plant-based foods, we saw a great market potential as well as an opportunity to make a large social impact," Johansson told Food-Navigator.
Hooked's first two products consist of shedded plant-based salmon and tuna. The products were designed to "mimic the real nutritional value" of conventional seafood while also providing good texture and taste - something that Chief Technical Officer Peter Liu says is lacking from the market. 
"Most of the plant-based meat that you see on the market...may have good texture and taste, but the nutrition is not there," Liu explained. "So we want to make our products as healthy and as nutritious as possible."
While Hooked may not include real seafood, the products do include sea-oriented raw materials like seaweed  and sea algae. Similar to real seafood, Hooked's products also provide omega-3 fatty acids thanks to the algal oil included in the ingredients.
The start-up is currently looking to expand their portfolio before entering the grocery sector. And they've got a head start thanks to the ProVeg Incubator, which provides funding to startups working on plant, fungi, recombinant, and cultured food products and solutions. In April Hooked was chosen as one of 10 companies to join the ProVeg Incubator. As one of the chosen startups they received a grant of €20,000, with the possibility of securing further funding of up to €180,000, following completion of the program. The program starts on July 17 and runs for three months, providing start-ups with individual mentoring, expert-led workshops and other exclusive events.
Those COVID-19 Masks, Gloves and Wipes We're All Using are Polluting Land and Sea
Copyright © 2020 CBC/Radio-Canada
By Greg Rasmussen
June 9, 2020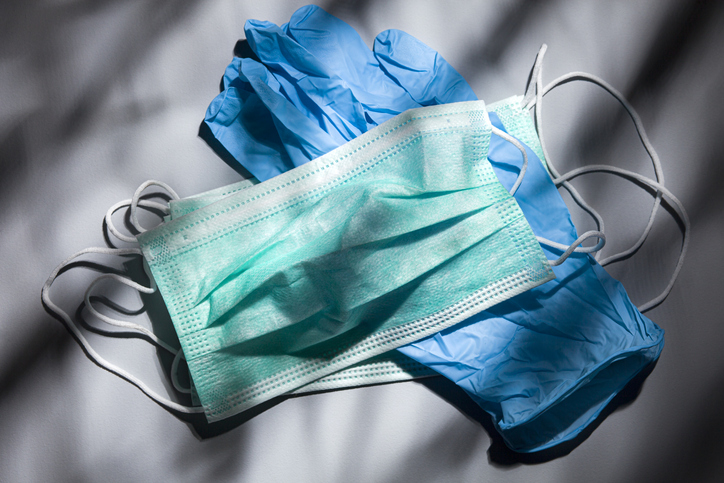 Waste from more than a million toilets flows out of giant sewage pipes, creating a swirling stinky river that has to be processed at the Annacis Island Wastewater Treatment Plant which serves a large section of Metro Vancouver.
It's just one of many facilities across Canada and around the world seeing an uptick in discarded masks, gloves and wet wipes being flushed down the toilet and causing treatment problems since the advent of COVID-19.
"It looks like we saw a few masks going up," said plant supervisor Dave Hoffman, as he pointed to a giant metal mechanical screen that separates items that don't biodegrade from the usual sludgy mass of poop and toilet paper.
Personal protective equipment (PPE) and other items that don't biodegrade are dried before ending up in a large waste pile nearby. At this point, they're matted into a putrid, grey mass, but a few medical gloves and items such as condoms stand out.
It's a problem that's drawn the attention of researchers at the University of British Columbia who are at work on creating a protective mask that biodegrades or can be recycled.
"Whether they're wipes, whether they're masks, whether they're rubber gloves, all of those things can't be treated in the sewage system and, in fact, damage our equipment," said Jerry Dobrovolny, chief administrative officer for Metro Vancouver.
He says there's been an uptick in this type of waste since the outbreak of the pandemic, but it hasn't been quantified.
This adds to the problem highlighted by the infamous fatbergs — wet wipes and kitchen fats clogging up sewage systems around the world after so-called "flushable wipes" surged in popularity.
COVID-19-related personal protective equipment (PPE) is adding to the problem, because even a small percentage of improperly disposed of items can clog pumps, pipes and other infrastructure.
Dobrovolny said colleagues across Canada who run sewer and solid waste systems are seeing a similar rise in improperly disposed of PPE, and taxpayers end up footing the bill.
"What we're finding now with COVID is that those numbers are increasing. Across the country, it can total over $250 million a year in increased maintenance costs," said Dobrovolny.
Masks made from plastic fibre
Metro Vancouver is putting new emphasis on an existing campaign to encourage people to be careful what they send into the sewer system. He reminds homeowners that they, too, can face personal costs if their home sewer system gets clogged.
Disposable masks, for instance, may feel like soft cotton, but they're almost all made from non-biodegradable material such as polypropylene.
In addition to people flushing them down the toilet, cities are seeing personal protective equipment discarded on the street. A spokesperson for the city of Vancouver says that's raising concerns for crews who have to deal with the waste.
Also, something dropped on the street can then get flushed into storm drains, many of which empty straight into streams or the ocean.
Richard Thompson, a professor of marine biology at the University of Plymouth in the United Kingdom, says society needs to understand and deal with what happens to all disposable items after they're used.
"The persistence of litter is incredibly long-lasting — hundreds if not thousands of years — and that's why it's really important that that end-of-life phase is fully thought out," he said.
And he notes that this new waste stream is adding to the already serious problem of microplastics, the tiny pieces of debris now found in every ocean.
"The sea is sort of downhill from everywhere, and so there's a tendency for materials to accumulate there carried by rivers or carried by wind."
Racing to make eco-friendly masks
At a research lab at the University of British Columbia, a group of scientists saw the problem and decided they could put a dent in the growing waste pile.
They recently formed an ad hoc team to come up with less-damaging mask.
"This is all paper — all wood fibre," said Orlando Rojas, a professor at UBC's Bioproducts Institute, pointing to an array of materials and mask prototypes on a workbench.
Canada has a long history of making paper products, and he's confident once the right formula is found, millions of eco-friendly masks and other protective gear can be produced at low cost.
"People are very conscious about sustainability, so this flies really high in people's minds. If we match that interest with the performance of wood fibre, we likely have a winner here," Rojas said. 
It would also help reduce dependency on foreign suppliers, a huge ongoing problem, as demand for PPE far exceeds supply.
The key is creating a soft, durable paper product that can still filter out viruses.
Rojas said many of the initial technical hurdles have already been solved, and talks are underway with manufacturers.
It could be a long-term proposition, with people all around the world now wearing face masks and concern growing over their impact on the environment.
A made-in Canada-solution, with the potential for local manufacturing would also help ensure the country isn't caught short again when it comes to supplies of crucial equipment needed to fight the pandemic, said Rojas.