Atlantic Bluefin Tuna Angling Category Fishery: Northern Area 
Trophy Fishery Closing July 26, 2018
NOAA Fisheries closes the Atlantic bluefin tuna (BFT) Angling category fishery for large medium and giant "trophy" BFT (measuring 73" or greater) in the northern area effective 11:30 p.m. local time, Thursday, July 26, 2018, through December 31, 2018.  The northern area is the area north of 39°18'N (off Great Egg Inlet, NJ).  Note that the Angling category fishery for school, large school, or small medium bluefin tuna (27 to <73") remains open in all areas except for the Gulf of Mexico, which is designated as bluefin tuna spawning grounds and where NOAA Fisheries does not allow targeted fishing for bluefin tuna. 
Based on reported landings of 1.8 mt from the NOAA Fisheries Automated Catch Reporting System as of July 23, 2018, NOAA Fisheries has determined that the codified Angling category northern area trophy bluefin tuna subquota has been reached and exceeded and that the trophy fishery should be closed in that area.  Retaining, possessing, or landing large medium or giant bluefin tuna north of 39°18' N. lat. by persons aboard vessels permitted in the HMS Angling category and the HMS Charter/Headboat category (when fishing recreationally) must cease at 11:30 p.m. local time on July 26, 2018.  The intent of this closure is to prevent further overharvest of the Angling category northern area trophy bluefin tuna subquota.  NOAA Fisheries closed the 2018 Angling category trophy fishery for the southern area and Gulf of Mexico effective March 17 and May 13, respectively.  Therefore, as of July 26, 2018, the Angling category trophy bluefin tuna fishery will be closed in all areas for 2018.  Catch-and-release fishing is permissible as described below.
This closure applies to vessels permitted in the HMS Angling category and the HMS Charter/Headboat category fishing in the northern area (defined in bold above).  Fishermen may catch and release or tag and release bluefin tuna of all sizes, subject to the requirements of HMS catch-and-release and tag-and-release programs.  NOAA Fisheriesregulations require that all bluefin tuna that are released be handled in a manner that will maximize their survival, and without removing the fish from the water.  For additional information on safe handling, see the Careful Catch and Release brochure.  HMS Charter/Headboat and Angling category vessel owners are required to report the catch of all BFT retained or discarded dead, within 24 hours of the landing(s) or end of each trip, by accessing the HMS Permit Shop, using the HMS Catch Reporting app, or calling (888) 872-8862 (Monday through Friday from 8 a.m. until 4:30 p.m.).
This notice is a courtesy to BFT fishery permit holders to help keep you informed about the fishery.  For more information on BFT fishing regulations, including recreational size and retention limits, please go to the HMS Permit Shop or call (978) 281-9260.  Official notice of Federal fishery actions is made through filing such notice with the Office of the Federal Register.
==================================================
Below: This impacts us since crab declines in the Chesapeake means the market look to NJ next: Where crabs on par with the famed Maryland type can be gotten. 
Blue Crab Population Declines by Almost 18%
SEFOODNEWS.COM [Record Observer] - July 24, 2018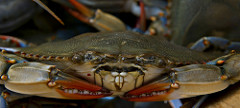 ANNAPOLIS — The annual Blue Crab Advisory Report, released June 27 by the Chesapeake Bay Program and developed by the Chesapeake Bay Stock Assessment Committee, finds that the overall Chesapeake Bay blue crab population decreased by almost 18 percent from 455 million in 2017 to 372 million in 2018.
The report provides scientific analysis of the Bay's blue crab population to help Bay resource managers as they set blue crab fishing regulations. The Chesapeake Bay Program's Sustainable Fisheries Goal Implementation Team recently approved the 2018 edition of the report.
According to the report and the scientific reference points that resource managers follow for "target" (healthy) and "threshold" (border between safe and unsafe) levels, the Chesapeake Bay blue crab population is currently not depleted, and it is not being over-fished.
"Through the science in the Blue Crab Advisory Report, resource managers around the Bay have information and analysis they need to make informed decisions about blue crab fishing regulations. This year's Report indicates we're on a solid path and, thanks to the science involved, can enjoy eating crabs with friends and family this summer," said Sean Corson, Acting Director, NOAA Chesapeake Bay Office and Chair, Sustainable Fisheries Goal Implementation Team.
Notably, the estimated 2018 population of 147 million adult females was lower than the target of 215 million. Scientists place a special focus on females as they develop the analysis because they are key to future success of the species. In the 2017 blue crab fishing season, 21 percent of all female blue crabs were harvested—safely below the target (25.5 percent) and threshold (34 percent) levels.
"Despite the harsh winter and last year's poor recruitment, the abundance of spawning-aged females, although down from last year, remained at a reasonably healthy level. The abundance of juveniles improved from 2017, but was below the long-term average and remains an area of concern," said Glenn Davis, Maryland Department of Natural Resources and Chair, Chesapeake Bay Stock Assessment Committee.
The blue crab fishery in the Chesapeake Bay is managed by the Maryland Department of Natural Resources, Virginia Marine Resources Commission and Potomac River Fisheries Commission. The Blue Crab Advisory Report includes expert analysis of data from the annual Bay-wide Winter Dredge Survey and harvest estimates from recent years.
The number of juvenile crabs — which will grow to be harvestable size this fall — increased by 34 percent from 2017 to 2018, while adult males decreased 23 percent from 76 to 58 million. Overwintering mortality — the measure of crabs that die between fall and spring, due to factors including water temperature — was 6.37 percent, slightly higher than the average of 4.6 percent.
The Advisory Report recommends:
Jurisdictions should maintain a cautious, risk-averse approach in 2018; no adjustments to management are suggested.
Jurisdictions should implement procedures that provide accurate accountability of all commercial and recreational harvest to enable more accurate future assessments of the Bay's blue crab population.
======================================
Ocean Acidification to Hit Levels Not Seen in 14 Million Years
SEAFOODNEWS.COM [Electronic News Publishing] - July 25, 2018
The world's oceans are likely to become more acidic than at any time in the past 14 million years, scientists have found.
New research led by Cardiff University has shown that under a 'business-as-usual' scenario of carbon dioxide (CO2) emissions, ocean acidification is likely to hit unprecedented levels.
Ocean acidification occurs when CO2 from the atmosphere is absorbed by seawater, resulting in more acidic water with a lower pH.
Around a third of the CO2 released by burning coal, oil and gas gets dissolved into the oceans. Since the beginning of the industrial era, the ocean has absorbed around 525 billion tons of CO2, equivalent to around 22 million tons per day.
The rapid influx of CO2 in to the oceans is severely threatening marine life, with the shells of some animals already dissolving in the more acidic seawater.
In their new study, published in the journal Earth and Planetary Science Letters, the researchers set out to reconstruct levels of ocean acidity and atmospheric CO2 levels over the past 22 million years.
They did so by studying the fossils of tiny marine creatures that once lived near the ocean surface, specifically using the chemistry of their shells to monitor the acidity of the seawater in which the creatures lived.
Based on this information, the researchers were able to put their new records of pH and CO2 levels in context of the range of future carbon emission scenarios that are recognised by the Intergovernmental Panel on Climate Change (IPCC).
Under a 'business-as-usual' future scenario where we continue to emit CO2 at the same rate as we do today, atmospheric CO2 would be near 930 parts per million in the year 2100, compared to around 400 parts per million today.
Similarly, the pH of the oceans would be less than 7.8 in 2100 compared to a pH of around 8.1 today. This is very significant as the pH scale is logarithmic, meaning a drop of just 0.1 pH units represents a 25% increase in acidity.
These levels of atmospheric CO2 and ocean acidity have not been since the Middle Miocene Climatic Optimum period around 14 million years ago, when global temperatures were around 3-degreeC warmer than today as a result of the Earth's natural geological cycle.
Lead author of the study Dr Sindia Sosdian, from Cardiff University's School of Earth and Ocean Sciences, said: 'Our new geological record of ocean acidification shows us that on our current 'business as usual' emission trajectory, oceanic conditions will be unlike marine ecosystems have experienced for the last 14 million years.'
Professor Carrie Lear, co-author of the study, added: 'The current pH is already probably lower than any time in the last 2 million years. Understanding exactly what this means for marine ecosystems requires long-term laboratory and field studies as well as additional observations from the fossil record.'
The study was funded by the UK's Natural Environmental Research Council (NERC) and also included researchers from the University of Southampton, University of St Andrews and the University of California.
==========================================
Fish Body Shape Reveals Geographic Origin of Landings in Small-scale Fisheries
SEAFOODNEWS.COM [SeafoodNews] - July 25, 2018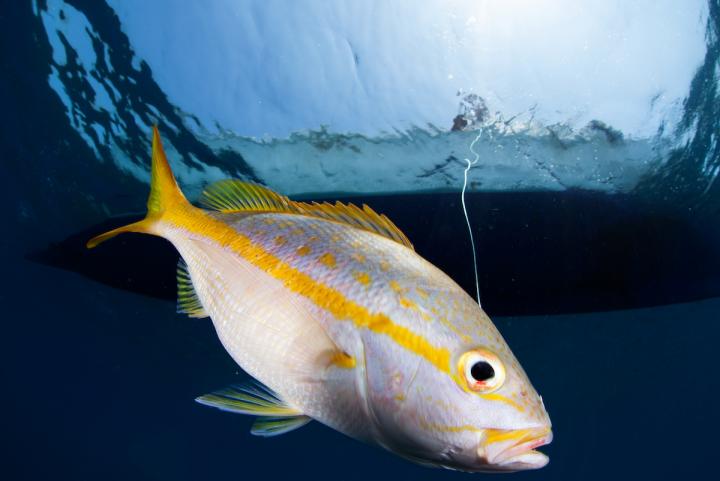 Body shape analysis of fish may help managers know where the fish was caught, making catch data more accurate for small-scale fisheries around the world.
The research, published in the July 25 edition of the Journal of Applied Ecology, showed that simple body shape measurements can reliably discriminate between yellowtail snapper caught at Caribbean fishing grounds just 5 kilometers apart. The technique worked more accurately and with less cost than two other technology-intensive techniques.
The results could make fishery management in small-scale fisheries around the world far easier and less costly.
Small-scale fisheries feed and employ millions of people around the world. Individually, these fisheries remove modest amounts of fish from the ocean, but cumulatively their impact is profound. In 2010, for example, artisanal fisheries in Honduras caught nearly 10,000 metric tons of fish--more than twice the catch of industrial fleets in the same country.
The wide distribution and diverse nature of artisanal fisheries have made it difficult to track catches on a timely, accurate basis. 
"We really need to start including small-scale fisheries into management," said lead researcher Steven Canty. Canty is program coordinator for the Marine Conservation Program at the Smithsonian's National Museum for Natural History and researcher with Manchester Metropolitan University.
"A big part of that is knowing where your fish has come from. If you don't know that, how do you know how productive one bank is, especially over time or over seasons?" The data is needed to understand the importance of different fishing grounds to local communities and to identify overfished areas that need time to recover.
The research was conducted in collaboration with scientists at Stanford University, Manchester Metropolitan University, the British Geological Survey and Rare Inc., a conservation organization in Arlington, Virginia.
Seeking a practical tool that could be easily implemented even where resources are limited, Canty and his colleagues assessed three different methods for identifying the geographic origins of fish. They focused their study on yellowtail snapper, an economically important species for Caribbean fisheries, and gathered samples from three fisheries located off the coast of Honduras, between 5 and 60 kilometers apart.
The body shape, or morphometric, analysis was the simplest, cheapest and most accessible method included in their study. For every fish, researchers measured the distance between various anatomical landmarks--making 21 measurements in all--and compared these to the overall length of the fish. Because a fish's shape is influenced by the conditions in which it lives, such as ocean depth, currents and diet, this method detected subtle differences in body shape between yellowtail snapper caught at each of the three locations. The team was able to use the method to correctly identify the origins of about 80 percent of the fish in their test sample.
The team also used genetic and chemical testing--in the first case, analyzing the DNA at 15 different genetic markers, and in the second, analyzing the composition of fish otoliths. These methods were not only more time-consuming, technically demanding and costly, they were less accurate.
The outcome was encouraging because there are few barriers to implementing morphometric analysis in small-scale fisheries. 
"You can train anyone to do it," Canty said. "You take a pair of calipers, record measurements and give the fish back to the fisher. They can then sell it, and you can tell where that fish was caught from."
The Smithsonian team and their collaborators are now working with fishers throughout Honduras and Belize to collect body-shape data on yellow snapper from additional fishing grounds. Their hope is that fisheries managers can begin to apply what they have learned sometime next year.
Funding for the study was provided by the European Union 7th Framework Programme, the Summit Foundation and the University of Manchester Sustainable Consumption Institute.
Yet another reason to hope red drum return to NJ ...