The NJ Marine Fisheries Council meeting and public hearing on Draft Addendum XXX to the ASMFC Black Sea Bass Fishery Management Plan scheduled for tomorrow, Thursday January 4, has been rescheduled to Thursday, January 11.

 

The Marine Fisheries Council meeting begins at 5:00 p.m. The public hearing begins at 7:15 p.m.  Both will be held at the Stafford Twp.

 Municipal Bldg., 260 East Bay Ave, Manahawkin, NJ 08050.
In a message dated 1/3/2018 12:43:52 PM Eastern Standard Time, anglerpmh@aol.com writes:



JCAA Alert - Important Sea Bass Meetings on 1/4/18 – New Times

By Paul Haertel



The New Jersey Marine Fisheries Council (NJMFC) will meet at 5 PM on Thursday, 1/4/18, at the Galloway Township Branch of the Atlantic County Library, 306 East Jimmie Leeds Road, Galloway, New Jersey. Then at the same location, at 7:15 PM, our Bureau of Marine Fisheries (NJBMF) in conjunction with the Atlantic States Marine Fisheries (ASMFC) will have a public hearing pertaining to Addendum XXX for black sea bass.
            At the NJMFC meeting and amongst many other topics on the agenda, the council may consider opening the sea bass season in February. However, based on public sentiment against it at the last council meeting and now with the recently released preliminary wave 5 (September – October) MRIP numbers showing that we harvested more fish than projected, it is unlikely that they will vote to do so. The problem is that we would have to subtract our state's allotment for February from our target quota for the rest of the year which could result in fewer days to fish during the regular season. Still, it would be good to be on hand at this meeting to voice your opinion.
            However, JCAA believes it is extremely important to attend the meeting that begins at 7:15 PM as it will only be about sea bass. Addendum XXX will be explained and the public will be allowed to comment on it. We are facing a coast wide reduction in quota from 4.29 million pounds in 2017 to 3.66 million pounds in 2018, despite the fact that the spawning stock biomass is at 230% of its target. It is time to let the ASMFC know this is not acceptable and that we do not want any more stringent regulations forced upon us for the upcoming season.

Specifically, regarding the addendum JCAA supports:

1.      Regional management as opposed to coast wide management as the fisheries in the various states/regions are quite different.

2.      Regional allocations should be based on both exploitable biomass and historical harvest as this method would better address the changes in the resource's abundance and distribution.

3.      New Jersey should become its own region as we are a transitional state in which our sea bass fishery doesn't really fit in with the states to our north or to our south. This option would also allow spatial variation in size and abundance to be taken into account.

4.      The ten year timeframe of 2006-2015 should be used to establish allocations. This option includes a more historical average of our harvest as well as accounting for the northward shift in biomass during recent years. The other option of only using the five years from 2011 to 2015 would be very unfair to those in New Jersey as its share of the harvest was at historic lows during that period of time.

5.      Provided our recommendations are followed, we support a 3 year management program, otherwise we would prefer just the two year plan.

JCAA encourages all fisherman to come to this meeting and comment. It does not do much good to just attend the meeting and sit there. Please get up and speak even if it is just something simple such as saying you support the JCAA position. For those who choose not to comment at the meeting or who are unable to attend, written comments will be accepted until 5:00 PM (EST) on January 22, 2018 and should be forwarded to Caitlin Starks, Fishery Management Plan Coordinator, 1050 N. Highland St., Suite 200 A-N, Arlington, Virginia 22201; 703.842.0741 (fax) or at comments@asmfc.org (Subject line: Draft Addendum XXX).
Dumb as ice, or what?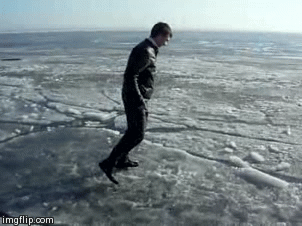 Wednesday, January 03, 2018: Way back in my dumber days, I was into boxing and full-contact martial arts nonsense. It hurt. Sure, I was good … until I ran into someone gooder. That really hurt. I got out, bloodied and bowed … though I slipped away undefeated -- and hopefully sporting none of that stinkin' chronic traumatic encephalopathy. I'd hate to have to pronounce that every time someone asks what the hell is wrong with me.
Anyway, I bring up those battersome days as they relate to my current vacation. Yes, I have taken just such a beating, speaking figuratively ... instead of disfiguratively.
"Never get into fights with ugly people, they have nothing to lose."
I came into the vacation ring with almost 20 days to freely and relaxingly get out to do wonderful things like metal detecting, finding old bottles, doing some archaeological digs, tossing magnets into streams (a form of treasure hunting), clamming/fishing/birdwatching in Holgate – just for starters. I was on the mark to run with the creatures of the outback. Then, no sooner had the bell rung to start things off, than I ran into a temperature opponent so ice cold I feebly wilted away. Dropping the metaphor, all I could do was sit in my kitchen, watching the Keurig drip oddly flavored tea and listening to the faucet run at pencil thickness to keep the pipes from freezing.
Oh, I also made tons of wampum pieces. As if I really needed them. I shoulda carved ducks, you know, sat them around the table and served them tea. "A dab of honey with that, Daffy?" "Don't call me daffy, mister, you're the one serving tea to pieces of wood." You see where sitting in a kitchen for too long can go, right? 
Back to my metaphor, every frozen-away day was body blow after body blow being delivered to my vacay. But the knockout blow – and the greatest parallel to getting battered in the gym and ring -- will be the arriving haymaker in the form of a likely blizzard … followed by below zero temps – and those are true below-zero thermometer readings, not some hypothetical wind-chill computations. "Medic!"
The arriving white-and-arctic blow will perfectly flatten the last of my time off. Then, rubbing it in -- like an opponent standing over me screaming down in victory -- my return to work next Monday will be marked by air temps climbing well above freezing, followed by rains to wash away any vestiges of snow. In other words, conditions will return to where I can go out and have fun – but I'll be back at work then, won't I?
Long ago I created the word suckacious. In the words of the Chambers Brothers 60's song  "Time has come today" … Suckaciously.
I envision myself figuratively assuming that frozen-solid Jack Nicholson look in "The Shining."
++++++++++++++++++++++++++++++++++++++++++++++++++++++++++++++++++++++++++++++++++++++++++
And it never ends ...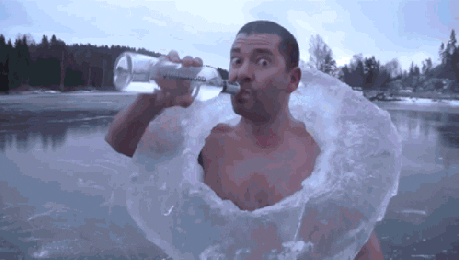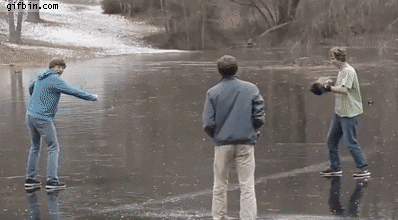 +++++++++++++++++++++++++++++++++++++++++++++++++++++++++++++++++++++++++++++++++++++++++++
Blue Crab Tagged in Maryland Turns Up in Florida Two Years Later
SEAFOODNEWS.COM [UPI News] By Ben Hooper - January 3, 2018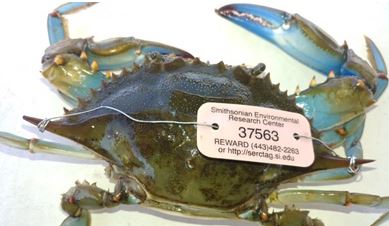 A Florida fisherman's catch surprised scientists when the blue crab was found to be bearing a tag from researchers in Maryland.
Thomas Cochran of TJE Seafood said he was shocked when he was emptying a crab trap in the Crystal River and discovered it contained a blue crab bearing a tag from the Smithsonian Environmental Research Center in the Chesapeake Bay.
Cochran used a number listed on the tag to contact researchers, and they determined the tag had been fitted on a crab they caught July 17, 2015.
"I didn't know what to expect. I ran up to a bunch of colleagues in Kings Bay. They hadn't seen anything like that either," Cochran told WFTS-TV.
Robert Aguilar, a biologist at the Smithsonian Environmental Research Center, said the blue crab is the furthest-traveled crustacean since the center started tagging them in 2006. He said the closest was a crab reported off Flagler Beach.
"We've tagged a number of crabs in the Chesapeake Bay. Some of them get captured as far south as North Carolina," Robert Aguilar told cable station Bay News 9.
He said researchers think it unlikely that anyone would have removed the tag from the original crab and replaced it on another, but scientists are curious as to why the male crab didn't lose the tag while molting.
"Unlike the females, they don't have a directed migration, and also males in theory should continue to molt, to continue to grow, so when they molt they shed their exoskeleton and in theory they will then shed any tag that is attached to the carapace," he said.
Cochran said biologists have asked him to keep the crab safe until they can collect it for study in early January.
"I got it secluded away in its own little trap with bait to keep him fed," Cochran said.
He said the mystery of the crab has him fascinated.
"That crab traveled over 2,000 miles," Cochran told the Citrus County Chronicle. "That's the mystery -- how the heck did this crab get down here?"
+++++++++++++++++++++++++++++++++++++++++++++++++++++++++++++++++++++++++++++++++++++++