Hmmmmmmmmmmmmm...
Wednesday, February 10, 2021: Well, there's officially a chance of snow, sleet, freezing rain, rain and assorted combination of all – right into next week! This stretch of mixed precip weather is odd even by our measures. There is really no planning on anything outdoorish, just play it by sight. This storminess is making always tricky March look downright spooky. This gets me in storm-talk state of mind.
It might have been because I was smaller then, but I swear the beaches were seemingly way more crowded, umbrellas as far as the eye could see. Obviously, we've never had so many people on the Island as in recent summers. However, when it comes to day-hoppers back when, the beaches were free, badges unimaginable. That all-welcome atmosphere could make for some insanely jam-packed hot summer days.  
As to the upcoming summer, I'm getting somewhat dramatic reports that there are already next to no rentals available. OK, so maybe there are a couple openings in the $10,000-a-week oceanfront mansion category but that's not going to help essential summer workers who will likely find lodgings wholly unobtainable.
A lack of manpower might be further ruinous to businesses already struggling to stay afloat. Last summer, even with the highly limited business freedoms, many mom and pops couldn't find help. If you've secured summer quarters on the Island and need work, it will be there, for sure.
Fortunately, a number of LBI beach patrols have dedicated housing for their guards. Nonetheless, I'll throw an appeal toward folks with larger houses who might be willing to rent a room to a worker or two.
((((((((((((((((((((((((((((((((((((((((((((((((((((()))))))))))))))))))))))))))))))))))))))))))))))
As a youngun, I was among those who saw that even an epically destructive March Storm of '62 could put a dent in the June arrival of beach packing people.
Below is a rough isobar look at the March Storm. Doesn't look all that impressive next to Sandy. But the duration of the Great '62 storm -- also-called Ash Wednesday Storm of 1962 -- is all telling. It carried on from March 5–9, thus it's more technical weather nickname "Five Tide Storm." Sandy was over and done in under 36 hours. For pondering sake, imagine SS Sandy hanging around for five high tides instead of just two. It's almost inconceivable what would have resulted.
Here's Sandy, a whole different type of tightly wrapped low pressure system.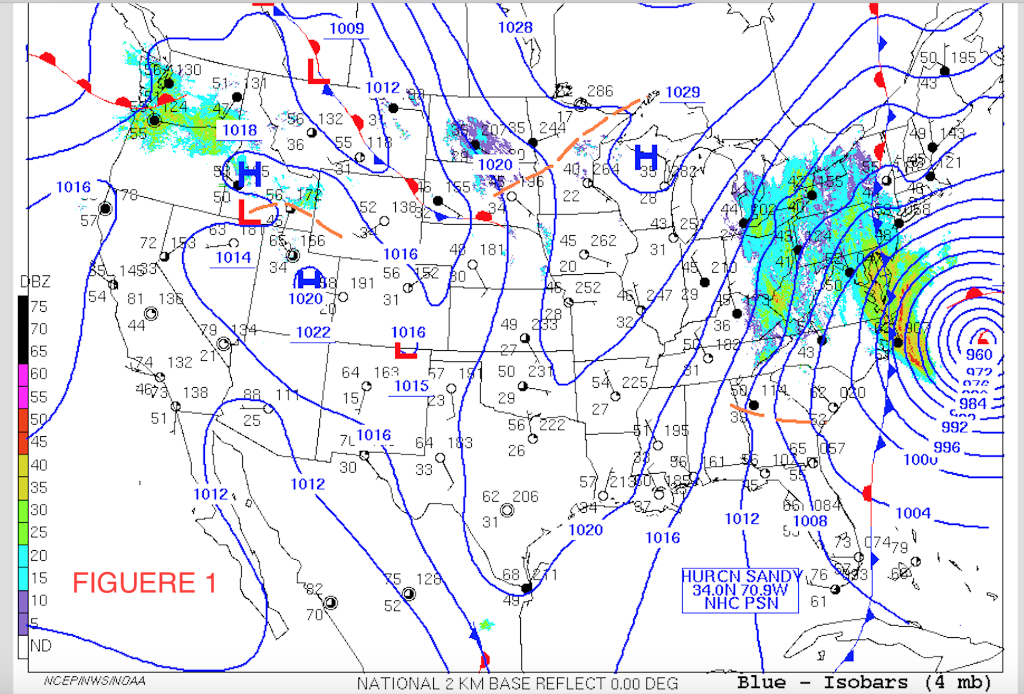 Comparing the two storms barometrically, the Great March Storm's barometric pressure bottomed out at 979 mbar, equal to a moderate hurricane. Sandy took the cake, though, registering a record-breaking 946 mbar, the lowest barometric pressure ever recorded north of the Outer Banks (NC). Again, these were two different types of low pressure systems with Sandy having the heart of a hurricane and the March Storm a totally unforecasted cold-core of a nor'easter juggernaut. 
The reason the March Storm went nowhere fast was a blocking high pressure ridge off the Canadian maritime. It was stuck for the long run, with tidal flooding beginning with the second high tide. It also hosted onshore winds of 90 mph, creating blizzard conditions. It's rarely noted but there was serious snowfall with the March Storm, especially over on the mailand, where nearly a foot would fall as nearby as the Burlington/Ocean county line.  
BRACE FOR A RECALL SESSION: 
Showing my age, I was around during (or just after) both storms and there is absolutely no question that the March Storm blew harder, longer and was a ton scarier. It blew Sandy away when it came to full blown fury. 
I was never even remotely concerned staying here during SS Sandy, mainly because the hardest winds petered out very quickly, within 12 hours. The March Storm just wouldn't quit.
That is not to say the second/worst of Sandy's two high tides wasn't fully freaky, taking place in the total no-power darkness. And it was pitch black out! As I chest-wadered around at the height of the flooding, there was this fully spooky slapping, slapping, slapping sound of record-high flood water hitting the foundations groundlevel of houses, not unlike the sound of waves slapping docked boats. I also recall odd creaking sounds of houses under the strain of incoming water. 
At daybreak after Sandy's most ruinous tide, I headed out and was thoroughly shocked to see virtually all houses in my Ship Bottom and Surf City area still standing, not realizing that many/most had been internally ravaged, if not destroyed. It still bothers me to this day that I horribly mislead so many evacuees by excitedly reporting over the phone that their houses made it through just fine. Virtually every "Thank God" soon became "Oh, my God!"
The extent of internal injuries to homes didn't dawn on me until I literally sloshed across the wall-to-wall carpeting in my own house, which had been fully spared during the March Storm. 
First reports to evacuees after the March Storm were apropos to the era, i.e. "Well, the good news is your house is still sorta standing. The bad news it's about block down from where it used to be. Sorry, but you're no longer an oceanfront homeowner."  
((((((((((((((((((((((((((((((((((((((((((((((((((((()))))))))))))))))))))))))))))))))))))))
ID'ING THE VICTIM: I've gotten quite the flow of feedback regarding the nature of the prey in the mouth of that north end coyote photographed near the beach. The photo is included on my fishing page in this week's SandPaper, meaning more opining to come. Guesses at the victim cover the full gamut of nearby coyote edibles, including squirrel (not a coyote favorite), hare (too long a tail for that), bird (too furry for that), small fox (distantly possible) large rat (wrong tail), small possum (totally wrong tail), racoon (right tail look but not furry enough), otter (in the running since they can get mildly striped tails in winter) and finally the most likely winner/loser, a cat.
By the by, do not underestimate the number of otters hereabouts – and they readily come fully out of that water, as bayside folks know all too well after finding otter tracks on decks and even on the hoods of vehicle.
While everyone is free to venture a guess at this coyote's grab du jour, I balk at the over authoritative guessers from a couple folks who claim to have utilized advanced photo enhancement to prove their guesses. I employ some pretty advanced photo clarification apps and the photo is simply too low-rez to offer more than a slightly enhanced look at the prey's color – which is likely thrown off (darkened) due to the photo enhancement.  
My final kinda-sure guess: A cat with a striped tail, with an otter a very distant second possibility. 
Here's a detail from the pic ...
Here's a look at a cat with a ringed tail (not the victim cat). Pretty compelling match to photo. 
(((((((((((((((((((((((((((((((((((((((((((((((((((((((()))))))))))))))))))))))))))))))))))))))))))))
Some outdoorsy tidbits: 
For those who target shoot over at the Stafford Forge and Colliers Mills rifle and shotgun ranges, you'll have to wait even longer for those to get through the upgrading process. Think Shooters in the meantime. 
The range upgrades include new covered shooting stations, parking access and handicap access. "The project is potentially delayed 2-4 weeks due to COVID complications with staff and supply of materials. There was also a burglary of the contractors' tools and supplies. It is now on schedule for completion by the end of March," per Fish and Wildlife. 
The Division of Fish and Wildlife is exploring the possibility of offering a mentored turkey hunt for women in the spring. I'm likely being a bit sexist here but women can't drive a hook into a squirming worm but they'll be willing to blast the bloody feathers off a turkey? But then there are many gals of this ilk: 
 (((((((((((((((((((((((((((((((((((((((((((((((((((())))))))))))))))))))))))))))))))))))))))))))
It's easier than ever to acquire permits to make an off-road motorcycle legal for riding the Pines, nonetheless radicalized dirt bikers still prevail. On just one recent Sunday afternoon in the Greenwood Wildlife Management Area, Lacey Twp., conservation officers issued 30 summonses for illegal ATV/dirt bike/off road vehicles being operated there. Two motor vehicles were impounded. Imagine if there was steady enforcement?  And the dirt bikers wonder why people get pissed at them.
 ((((((((((((((((((((((((((((((((((((((((((((()))))))))))))))))))))))))))))))))))))
The Striped Bass Bonus Program
Applications for 2021 are currently not being accepted.
If you require additional information concerning this program or any other striped bass issue, please contact the Division's Nacote Creek office at 609-748-2020 or sbbp@dep.nj.gov.
One fish per permit 24" to less than 28"
Although 2020 saw the highest "bonus tag" bass take since 2004, NJ anglers still only harvested 33,524 lbs (5,189 fish). That is only 15.5 % of the allotted quota, which comes from the state's commercial allotment, which is not available to our professional fleets. 
Jersey's recreational anglers have never put more than minor dent in the number of bonus bass we could take annually. Fishing organizations have long tried to devise ways to make that annual allotment more accessible. It's not like we get reimbursed when not fully utilizing the allotted poundage. It goes into a black hole that drains into the allotments granted to other states.  
(((((((((((((((((((((((((((((((((((((((())))))))))))))))))))))))))))))))))))
It has been quite noisy overhead afterdark. That's due to some heavy airplay over at the Warren Grove Bombing Range. I'll gladly side with those saying it's the sound of freedom. 
"The 177th Fighter Wing will be conducting required night-flying training starting today, Feb. 9, through the end of February, 2021, to maintain mission-capability and combat-readiness. 
Thank you for the continued support of your Jersey Devils."
((((((((((((((((((((((((((((((((((((((((((((((((((((((()))))))))))))))))))))))))))))))))))))))))))))))
This story is gerund to us in a bycatch way ... 
North Carolina Fisheries Association Intervenes in Conservation Group Lawsuit Against State
February 10, 2021
The North Carolina Fisheries Association announced it had filed a motion to intervene as a party defendant in a lawsuit alleging the state of North Carolina is violating the state Constitution by allowing the use of gillnets and shrimp trawls.
The lawsuit was filed against the state by the Coastal Conservation Association (CCA) of North Carolina on November 10, 2020. The CCA argues that allowing the aforementioned fishing methods violates the constitution and/or the public trust doctrine.
According to the Fisheries Association, the CCA claimed that the state has shown a bias to the fishing industry, by "allowing the commercial fishing industry to dictate or exert a disproportional influence on the States coastal fisheries resources management policies and plans."
"They assert that this alleged bias has, in part, resulted in the mismanagement of our marine resources, violating the public trust doctrine and recreational angler's constitutional rights," the NCFA wrote. "The CCA's view – that recreational fishing is a constitutional right which cannot be infringed upon, while commercial fishing is a narrow, limited privilege afforded only by statute – is not a view shared by the NCFA."
The NCFA said it felt "obligated" to get involved in the lawsuit out of the interest of its members and those who rely on the commercial fishing industry to get NC seafood.
"Along with our motion to intervene we have filed a proposed motion requesting the dismissal of the CCA lawsuit against the State," the NCFA wrote. "Regardless of the outcome of these motions the NCFA will address, in court or publicly, each false claim put forward by the CCA."
As the Oceans Become More Acidic, Threat to Sealife and Industry Grows, New Study Finds
Copyright © 2021 The Boston Globe
By Gal Tziperman Lotan
February 9, 2021
The ocean's growing acidity, which goes hand in hand with climate change and other human-driven factors, could have a devastating effect on the state's coastal waters and the shellfish industries that rely on their ecosystems, according to a new report.
The study, written by a group of state legislators, scientists, conservationists, and representatives of the commercial fishing industry, estimated that if current trends continue, the US shellfish industry could lose more than $400 million a year by the end of the century.
"Our coastal waters are incredibly valuable, and they're under increasing stress," said Steve Kirk, coastal program manager for The Nature Conservancy in Massachusetts and a member of the commission. "I'm hopeful that if we address ocean acidification now, we will give those coastal communities a better chance of thriving in the future."
Oceans can become more acidic as they absorb carbon dioxide that is released into the atmosphere. Another major factor is nutrient runoff — wastewater, fertilizer, and other materials that make their way to the ocean and feed algae blooms that create a vicious cycle. Those blooms soak up large amounts of oxygen in their environment, depriving other organisms of it. As a result, those organisms can suffocate and die, producing more carbon dioxide as they decompose and making the water around them more acidic.
Changing the way wastewater is treated to remove some of those nutrients, like nitrogen, could make a big difference, Kirk said.
"We understand those processes and we know how to address them," Kirk said. "So I'm looking forward to those recommendations being taken up and addressing those challenges."
While some species, like algae and some sea grasses, adapt better to more acidic waters, certain mollusks, like eastern oysters, sea scallops, and Atlantic surf clams, become more vulnerable. The acidity and higher bicarbonate levels — a byproduct of increased carbon dioxide levels in the ocean — interfere with how the mollusks form their protective shells.
Those added stressors mean fewer mollusks live past the larval stage of their lives, and those that do are typically smaller. And if mollusks are vulnerable, so are the fishing economies that depend on them.
The commission was created by the Legislature to determine how acidification along the coasts might affect the environment and ocean industries.
"If left unaddressed, our state's $688 million-dollar fishing industry will face unprecedented disruption and our blue economy will suffer," state Representative Dylan Fernandes, a Falmouth Democrat, said in a statement.
Lobsters and crabs, both critical industries in New England, appear slightly more resilient to acidification. But some researchers believe exposure to acidic environments might make spider crabs less able to thrive in warmer waters, another danger they face in a changing climate. Not enough research has been done on how the animals fare with the dual effects of warming and acidification.
But quick action can help mitigate some of those consequences, the report said. That includes more comprehensive studies of the impacts of acidification and temperature changes on shellfish species that keep the fishing industry afloat and organized efforts to limit nutrient runoff.
"If we work together, there are innovative solutions that we can implement, such as repurposing waste shells to improve the growth and vitality of shellfish in the wild," said Kelly Kryc, director of ocean policy at the New England Aquarium. "That's the wonder of science."