Tuesday, October 26, 2021: My weekly SandPaper column gets very deeply into the North Jetty. I do quite the history number on what was a mindboggling build between 1937 and 1940. The entire one-mile North Jetty went through Barnegat Light -- Barnegat City at the time. All the jetty makings were also slung across the inlet. I'll put a link to that story once it's published. It's a mindblower.
My North Jetty research came about after a very fine sailboat ran onto the submerged part of the jetty at the far east end. That weir portion has damaged more vessels than can be easily counted since many mariners don't report damages that don't sink them. There's even a touch of embarrassment on the part of those captains misreading the maps showing the hazardous rocks down below.
I can attest that the water over the submerged rocks can read like a quick entryway into the inlet until the bottom falls out – more exactly, gets torn out.
As I mention in my upcoming column, all I've ever heard as to why the submerged rocks can't be built to the height of the rest of the jetty are esoteric hydrological rationales, having to do with tidal water exchange into and from the inlet, along with deferring sediment movement from around the end of the jetty – and into the mouth of the inlet.
As to the many requests to at least place a slew of warning markers and buoys outside the submerged "jetty," I was once told they would only confuse navigating matters. Sometimes you just have to go with the flow and accept the theories of the design experts, though I'll bet the future will see that weir section raised – and inlet-entering sand removed the way it is now done by hopper dredgers.
Below: For those of you unfamiliar with the North Jetty, see if you can make out the forbidden passage way at the east end of the North Jetty from above. Now imagine trying to distinguish it when boating at water level. Just can't be done. Mariners are expected to know the hazard ahead of time, even if you're new to the waters.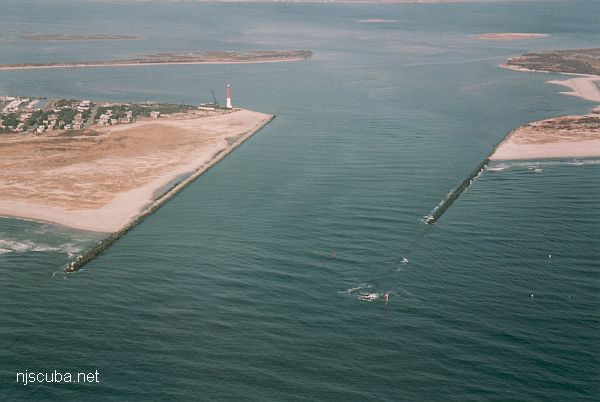 Not to worry ... Per the 
Imagine looking out over Barnegat Inlet from one of the two state parks on either of its shores. The waterway which separates Ocean County's northern barrier island from Long Beach Island is well-known to boaters for both its productive fishing and its navigational idiosyncrasies that have developed many a Jersey Shore boater's superior skills at the helm.
One day, the maritime landscape may look different. Among several proposals discussed at a meeting last month organized by the U.S. Army Corps of Engineers is a flood gate system that would come in the form of a massive structure crossing the inlet, from about the start of the north jetty at Island Beach State Park to an area just past the elbow-shaped turn on the public walkway along the Long Beach Island shoreline. The flood gate system, known in federal parlance as a "storm surge barrier," is the most ambitious of 26 studies within a large effort to combat the consequences of sea level rise and storms like Superstorm Sandy from devastating the New Jersey coastline.
Below: Down New Orleans way: 
***************************
BAY GOES BASSY: It took a slew of reports before I finally grasped the magnitude of the striper bite in our bay. It is some of the most fevered bassing in many a bayside moon, mainly schoolies.  
The early reports of such serious hooking on LBI's other watery side had me wary of some, let's say, numbers amplifications. One email spoke of bass "on every drop." Hmmm. Then, at a recent Classic meeting, I got worthy word of the same hyper hot bassing in LEH shallows, off Beach Haven. Further, when leaving Holgate on Sunday, I chatted with a fellow who also nabbed a slew of stripers in under an hour, same bayside flats region. He was using "bubblegum" Fin-S Fish. He also had an unkept keeper or two.
I have written for weeks that once the striper bite breaks loose, it'll be a bass blast. I never expected to be so bay oriented.
Hint: 
As to why the bass mass is hovering near the sedges and eelgrass flats, it's likely the call of grass and sand shrimp, crabs of many colors – with blues much beloved – along with what have become parades of spearing and clouds of rainfish, also toeing the flats. Another bayside draw is departing fluke and soon arriving winter flounder, among striper scarfables.
Below: A sand shrimp. Larger than grass shrimp, has gritty splothcy plastron (shell) and prefers sand bottoms. Tough to capture in larger numbers, Inedible due to crunchiness. 
Below: Grass shrimp, the most common crustacean on eelgrass beds. They are soft-bodied and transparent. Can be seined in huge numbers.  Unbeknownst to most, they are highly edible when prepared as a dried item, as is very commonly done in Japan. 
Since so few stripers are being kept, it's tough to get a read on what's in the belly of these bass. It should be noted that there have been keeper bass in the mix. Also, it's remotely possible that folks working any bayside banks from Beach Haven to Holgate might be able, at least in theory, to put a cast out toward where the bass abound. 
I mainly want the Classic to get off the striper snide. I'll volunteer to break the ice, though I can only do it via plugging. Dang you, AD/HD. No sitting and watching a baited rod for me, though circle hooks would allow me to wander pretty far from my spiked stick, providing I have the drag set just right. See, already there's all that extra work. A plug, ya just throw it out and see what salutes.  
 Top Striped Bass
When might these thousands of bay bass move into the beachline? Here's hoping they do just that -- and resist moving just off-beach to hang with the adults dining on bunker pods aplenty.
The Classic allows bayside bass as entries providing they're NOT boat fish. That includes kayaks and standup paddleboards boards, the latter now being rigged for angling.
Also, the surface of the Hochstrasser Causeway bridge – the trestle bridge adjacent to Ship Bottom – is off limits for the Classic. I've been seeing guys x-treme fishing on the south side (!) there – made x-treme by vehicles doing 55 passing within inches. It is not legal for pedestrian to tred there -- even those bearing rods.
The bay banks on the Ship Bottom side of the bridge can be fished with Classic intent. I'll be the first to suggest you garner a witness to any bass caught that close to the bridge -- to attest to it being taken in a Classic manner.
It's rare I get to talk catching in a fishing sense. Yesterday evening, I got three small bass at the Holgate back cut. All were taken on a very fine somewhat limited edition popper from Jingles. The odd part of my catching experience was how I could time the hookups with the bait spray, along with the wakes from the bass chasing the baitfish. When the water in the narrow cut (low tide) was calm, there was nary a swirling bit of interest in  my popper. When the water surface lit up with jumpers, including some corncobs that could easily be seen in flight, my popper was soon to get blasted, but not before I saw V-wakes from the popper-stalking bass. It was very similar to the wakes made by pickerel after a plug.
My one got-away story is legit. My popper got exploded upon, creating a surface splash that freaked out the entire waterway. It was surely a keeper bass by my thinking. It knocked the plug two feet out of the water – and knocked me out of my bare feet. Yes, I let the plug lie where it landed, but no second blast. I think I was that close to the first Classic striper, though the popper was a three-incher so its smaller hooks would have been sorely tested had they found that tough piece of striper mouth skin.
Below: Finger mullet get last minute instructions on becoming bluefish fodder. 
******************************************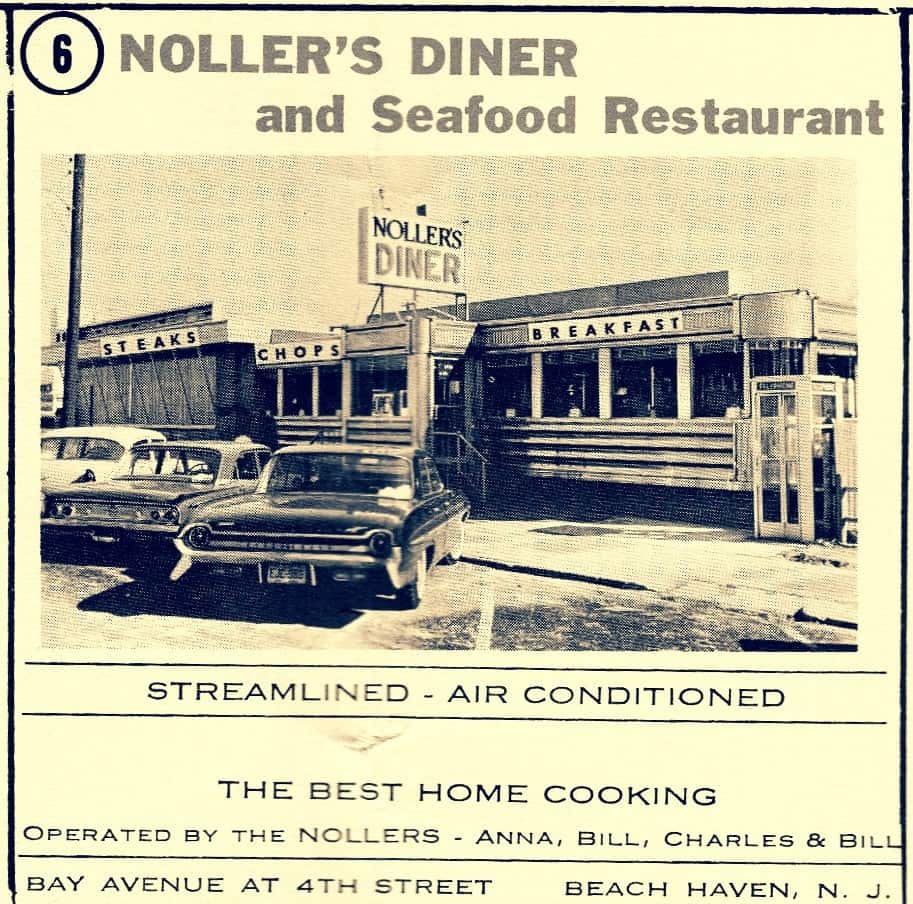 A fond and nostalgic goodbye to Noller's Diner, aka Fred's, in Beach Haven. I was a breakfast cook there back in the Sixties -- and learned a ton about cooking and restauranting in general, including how to shoot whipped cream straight from the can and into the mouth .. without touching the tip to my mouth, sanitation considerations and all.
Most importantly, I learned enough eggsmanship to switch from mass cooking egg orders on the big grill to using small cast iron skillets placed on separate gas burners. I didn't use a spatula once after that.
I parleyed my Noller's multi-skillet knowledge into becoming a saucier chef in Hawaii, followed by a stint as a sous chef.
For those who might not have spent time in the restaurant realm, cooking is as blue collar as work gets. Those seemingly sincerely created dishes that reach the table are the result of grinding work. Forget those cooking shows and their delicate handling on ingredients. Despite all the food I wanted, kitchen work would quickly sweat me down to fighting weight.
(((((((((((((((((((((((((((((((((((((((((((()))))))))))))))))))))))))))))))))))))))))))
REST IN PEACE, RIP: T'was a time the far south end of LBI would attract great flocks of autumnal mobile fishermen. The entire beachfront, with a heavy emphasis on the Rip at the inlet, was a Mecca for striped bass anglers seeking the finest of linesiders. Forty-pound-plus bass were decently frequent.
As recently at the late 1980s, the entire beachfront from just south of the parking area out to the far south end would be packed to the gills with anglers of every caliber, though fishing the Rip took some serious casting savvy when top casters were nearly shoulder to shoulder, demanding everyone be a straight shooter/caster.
Looking at some notes I took back then, one October Saturday saw 49 buggies in play along the Holgate beachfront, with the Rip epicenter. That likely meant as many as 200 lines in the water, based on an average of two folks per buggy and each angler sporting two rods.
Back then, the fish admirably responded to all the attention. The Rip rocked. A serious hookup, as a fish used the backing of the current to its escape advantage, demanded an angler fight the unaccommodating fish while adroitly negotiating a dozen or more nearby lines. On the rare occasions I was the chosen hooker, I recall walking my line under some lines and lifting my entire rod over the heads of ducked-down anglers – the whole time doing combat with the fish.
Those were the days – were being a tip-off to where this segment is sadly going.
At some point, angling began going south at the Island's south end. The Rip's pull shook the hook, brought on by a precipitous drop-off in hookups. With catches fading fast, mobile fishermen followed suit.
As it now stands, if you're fishing for scenery and solitude, Holgate beckons. If fish seeking  … it's a dead end.
I can speak in these downturned terms since I'm among the last of the Rip regulars. While there, I often see a couple/few anglers giving it a go, departing in short order due to a lack of action. Feel free to give it a try. You'll surely see some cool birds and take in some wonderful cloud formations, some even looking like fish.
WHY WENTETH THE FISH?: So, how did a prime surfcasting venue fall out of fishing grace? It seems something sucked away the bass by the droveload. But what, pray tell?
I'll dismiss any malevolent effects of LBI's replenishment projects. Holgate's Refuge zone hasn't gotten replenished. Also, the decline in Holgate hooking began long before the sand pumping even began.
It's worth noting that the fishy disappearance was fully aligned with the equally inexplicable disappearance of surf clams, which stripers covet, especially in the fall when storms would uncover them. Still, that doesn't seem enough to seen stripers thoroughly packing.
A loss of forage fish can be considered … to no avail. In fact, the readily available forage in Holgate adds to the mystery. The annual migrations of mullet, spearing, rainfish and peanut bunker are the same as they were dating back to hot hooking times. Now, the migrators swim the banks of Little Egg Inlet with impunity, short of some harassment by snapper blues.
Thinking on a further-out scale, I've long been suspicious of a possibly overly successful effort to preserve bunker along the coastline. Currently, acres of large bunker now hang not that far offshore. Such a beckoning feast could easily draw traditional nearshore stripers from their seasonal surfline haunts. Such a bunker over-availability might also explain the way boat fishermen, easily within sight of the beach, annihilate fall bass. The fish are out there in spades. Last fall, I had numerous reports of the best boat bassing many longtime anglers have ever seen. Photos backed said reports. What a kick in the butt for surfcasters.
Below: Literally acres of big bunker. 
By the by, I'll gladly entertain any other theories on why Holgate angling has bitten the dust.
((((((((((((((((((((((((((((((((((()))))))))))))))))))))))))))))))
Jim Hutchinson Sr. 
As the water temperatures continue to drop in the waters of southern Ocean County, the captains of the Beach Haven Charter Fishing Association look eagerly forward to the arrival of the striped bass migration. In the meantime, the inshore wreck fishing and offshore tuna fishing have really turned on. 
Mate Max Goldman reports the boat "Starfish," captained by Carl Sheppard, had a couple of outstanding wreck trips recently with nonstop action and limit catches of big black sea bass for its anglers. Another trip in calmer bay waters resulted in a good haul of blowfish and small bluefish.
 Captain Jimmy Zavacky had a great trip recently to the Hudson Canyon on the "Reel Determined." Accompanied by his son Patrick and Steve Palmer, along with Sam and Randy, they came home with a 152-pound big eye tuna, 15 yellowfin tuna to 65-pounds, and a large mahi. Most fish were caught chunking. 
Coming up this weekend is the annual Sea Shell Beach Club Striped Bass Derby. BHCFA captain John Lewis reports his captains will be well represented this year and urges all local anglers to participate in this worthy event. Last year's proceeds were donated by the Sea Shell to the BHCFA for its artificial reef program. 
Complete information on the event can be found at http://www.seashelllbi.com. Captain Lewis also said the BHCFA will have an information booth set up at the Derby providing information on the reef program. 
Additional information on the BHCFA and its reef program can be found at www.BHCFA.org.
(((((((((((((((((((((((((((((((((((((((((((()))))))))))))))))))))))))))))))))))))))))))))
U.S. Companies Bet Shoppers Will Keep Paying Higher Prices
Copyright © 2021 Dow Jones & Company, Inc.
By Sharon Terlep
October 26, 2021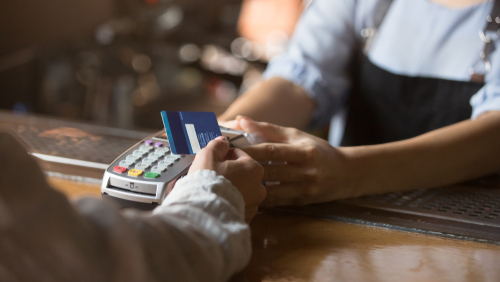 Some of the world's biggest companies are betting consumers will keep paying more for products from coffee to toilet paper.
Corporate giants including Procter & Gamble Co., Nestlé SA and Verizon Communications Inc. say they plan to continue raising prices or pushing customers to buy more expensive products into 2022 to offset fast-growing costs amid a global supply-chain crisis. Gillette razors, Nestlé coffee and Chipotle burritos are among the products that could get more expensive in coming months.
Price increases so far have paid off for makers of household staples as shoppers, particularly in the U.S. and Western Europe, have remained loyal to big-name brands.
Now companies are counting on customers to lift sales and offset higher costs that have stressed their bottom lines, even as broader inflationary pressures mount and some analysts question whether shoppers will start to seek cheaper alternatives.
"We have not seen any material reaction from consumers," P&G finance chief Andre Schulten said last week, referring to a string of price increases that went into effect in September. "So that makes us feel good about our relative position."
Many consumers accumulated savings amid the pandemic and are benefiting from higher wages, leaving them with extra cash as the highly contagious Delta variant of the coronavirus keeps them home and lessens the appeal of dining out, staying in hotels and traveling by air.
Companies benefiting from the dynamics have told investors to expect solid sales and profitability in 2022 even as rising costs tied to supply-chain woes show no signs of letting up.
P&G, maker of Tide detergent and Pampers diapers, last week announced a third round of price increases, which will go into effect over the next few months, and told investors to expect profitability to accelerate as the year progresses.
Nestlé, the world's largest packaged-food company, raised its full-year guidance for the second-straight quarter, as consumers continued to drink more and better coffee at home even as pandemic restrictions ease.
Chipotle Mexican Grill Inc. said price increases haven't turned people off its burritos. Higher menu prices helped net income more than double in the most recent quarter, compared with a year before, despite higher labor and commodity costs.
AT&T Inc. and Verizon, the nation's top cellphone carriers, both told investors that their revenue growth would pick up this year partly by persuading users to trade up to premium plans bundled with streaming-media subscriptions or other perks like low-cost iPhones.
Analysts questioned whether Nestlé's confidence in demand for pricey coffee is overblown. Others wondered if P&G's market-share gains will erode or reverse as more of its price increases kick in and as consumers become increasingly pinched by inflation.
Both companies reiterated their confidence. Nestlé said its coffee category is its biggest contributor to growth, with its Nescafé, Nespresso and Starbucks brands all growing. P&G said investments the company has made over the years into higher-quality products with new features -- such as new razorblades and handles and softer toilet paper -- will keep consumers paying higher prices even if household budgets tighten.
U.S. inflation accelerated in September. The consumer-price index, which measures what consumers pay for goods and services, rose by 5.4% from a year earlier, matching its highest rate in over a decade, the Labor Department said. Many economists expect this stretch of higher inflation to linger.
"As some of the stimulus fades and people start paying their rents, pricing is going to be more of an issue," said Nik Modi, an analyst with RBC Capital Markets.
Mr. Modi said big companies with well-known brands will more likely succeed in raising prices than budget or smaller brands in any given category because they are better able to keep products in stock and shoppers often see well-known names as a safer bet.
"I don't see what else we can do besides just paying it," said Lawrence Tam, 43 years old, of Houston. He said he became alarmed by an increase in meat prices; the cost of bacon has doubled recently at his local grocery store. But Mr. Tam, who runs a ketogenic diet group, said that while he has begun seeking out discounted meat, he and his wife aren't likely to make major changes on other household items.
"We're seeing price increases that are quite shocking, yet consumers have absorbed these prices without a dip in demand," said Ben Reich, chief executive of Datasembly, which amasses granular pricing data on a range of consumer goods.
Price increases at U.S. grocers rose 1.18% on average in September compared with a year ago, nearly three times the average increase at the start of 2021, according to the firm, which this week plans to launch a publicly available pricing index for U.S. groceries.
P&G has largely waited out its rivals on price increases, which started going into effect in September, months after companies such as Unilever PLC and Kimberly-Clark Corp. put their increases into effect.
A misfire on pricing can be costly.
In 2019, Clorox Co. raised prices on Glad trash bags. Retailers pushed back and stocked rival offerings, denting the company's sales and giving an advantage to Glad's chief rival, Reynolds Consumer Products Inc.'s Hefty brand, which added capacity to meet growing demand.
Companies weigh several factors when deciding price. A key determinant: whether rivals are likely to follow suit. Company leaders say the fact that costs are rising across the board for labor, shipping and raw materials is giving them confidence that they won't be undercut by competitors.
Technology and artificial intelligence is enabling retailers to set pricing in a more targeted manner. For instance, they know which shoppers buy only on sale and so might offer those people discounts. Shoppers who tend to buy at full price won't get the discount.
A price increase by a manufacturer might not be immediately evident to consumers.
Often, companies might increase prices by shrinking package sizes or paring back deals rather than make a straightforward increase on a given item.
Retailers don't always pass along increases to consumers. The biggest U.S. grocers say they have been insulating consumers from price increases, but that is starting to change. Kroger Co. and Albertsons Cos. both said they would begin passing more costs along to shoppers to protect their own profitability.
"We've been very comfortable with our ability to pass on the increases that we've seen at this point," Kroger finance chief Gary Millerchip said in a recent call with analysts. "And we would expect that to continue to be the case."
Drew FitzGerald contributed to this article.
New Jersey to Receive $800K for Seafood Processors Through Pandemic Response Grant
October 26, 2021
New Jersey congressman Frank Pallone, Jr. announced that New Jersey will receive $826,807 from the USDA to help support the state's seafood processors that were impacted by the COVID-19 pandemic.
The funding will also head to worker protection against the virus. The grant is from the Seafood Processors Pandemic Response and Safety (SPRS) Block Grant Program which was included in the Omnibus and Coronavirus Relief Bill Congress passed and was signed into law in December 2020.
"The COVID-19 pandemic deeply affected our state's fishing community. Throughout this pandemic, I've fought for funding for the men and women who work hard to ensure that New Jersey's fishing industry is the best in the nation," Pallone said. "This funding will go a long way to support the health and well-being of seafood processors and make sure they have safe and adequate work conditions during this public health crisis."
The SPRS was announced in September and will provide a total of $50 million to p..., according to the USDA. It came alongside the Pandemic Response and Safety (PRS) Grant.
In regard to the Seafood PRS grants, the USDA said in September it will allocate block grant funding to U.S. states and territories based on a formula that considers economic activity as demonstrated through commercial fisheries landings.
In September, Louisiana received $4,229,669 in financial assistance through the Seafood Processors Pandemic Response and Safety Block Grant Program (SPRS), U.S. Congressman Corey Graves announced.
"Louisiana fishers have seen incredible challenges over the past several years – record natural disasters, unfair and illegal fishing practices from other countries, burdensome regulations, and the pandemic. Louisiana has some of the best seafood, best restaurants, and the top commercial fishing sector in the continental united states. This is at risk. These funds will be a lifeline to some of our struggling fishing communities," Graves said.