Tuesday, October 09, 2018: As the day went on, hot and humid brightness prevailed, though the immediate weather horizon holds a high potential for some drenching wetness as tropical moisture tries to insert itself into the region. As we've heavily seen this year, there's no certainty about how much rain makes it this far north from once-hurricanes down south. In fact, it's 50-50 we see anything of a true drenching caliber. Looking much surer is a series of cold fronts through late next week. However, I see no night freezes for many a night to come. You likely know that it cannot officially be an Indian Summer until there's a freeze and, thereafter, day time temps rise back up to near 80. You can guess that the odds of seeing an Indian Summer this fall are kinda high, providing we can even get down to that 32-degree mark for even a single night.
Photo: Just a touch of jolly old weirdness. This is a look at the current heatwave at Crosby Beach, Liverpool, England.
I got word that blowfishing is sizzling, bayside, even into Manahawkin Bay. The puffers must be liking this lingering warmth. Bay water temps are 70 and above. Get this: Pier and dock anglers have been nabbing them one after another ... without chum! That's hot. The sizes have been all over the baord, with minis to jumbos.
Photo: "Oh, wait. I'm supposed to suck in air. Wait, let me try it again."
A bay angler told me he had weakfish from his dock, using small jigs and plastics at night. He keeps none of them but appreciates how hard they fight. "I always hear they have a weak mouth but I don't see that. I can have a hard time unhooking them." Jigs can be like that.
JUST CHILL: Regardless of how it arrives, we need a noticeable air cool-down before the ocean can respond in kind. Even seeing the sea drop into the 60s would be a big help. That temp dip is obviously essential for a bass and bluefish draw. Once they get here, they'll be ecstatic over all the tasty forage. It's just getting them down here … and then drawing them close in.
Overly warm falls have been an angling issue since the once Striped Bass Derby, now LBI Surf Fishing Classic, has been around. Here's a 1956 read out of the Long Beach Island Derby News, Nov. 9. My mentor, the late Dick Clemens, wrote:
Dick also taught me the way out-at-sea forage can pull fish from the surfline, as has been happening to use for a number of years now. I've been focused on the bunker pods as magnets, pulling out big bass. It's all too obvious this is the case when one sees the trophy stripers caught by boat anglers, sometimes well within binocular range of surfcasters. On cure for that lopsided bass preference is storminess to break up the bait balls.
Back in the day, it was the call of sand eels and spearing that pulled bass from the suds and into the deep. Read on:
SEAFOODNEWS.COM [The Boston Globe] by Felice J. Freyer - October 9, 2018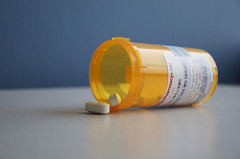 It hurts to be a fisherman.
Tyler Miranda found that out when he started working on a scallop boat at age 18. The son of a lobsterman and nephew of a scalloper, he was prepared for long days of heavy, repetitive work. But he didn't anticipate how much his back would hurt after hours of shucking scallops, hauling buckets, and shoveling debris.
Nor did he foresee the remedy his boatmates would offer: Percocets.
" 'Try one of these. This takes away the pain,' " Miranda, now 33, recalls them saying. He took the opioid pills; they worked.
Then one day, Miranda said, he felt ill when he got home because he had stopped taking them. So he bought painkillers on the street, and in time the pills took over his life.
It's not an unusual story among the men who perform some of the world's most dangerous and physically demanding work. Fishermen are five times more likely to die of opioid overdoses than other Massachusetts workers, according to a state Department of Public Health analysis released in August.
But addressing the addiction problem among fishermen poses unique challenges. The workplace demands that lead to addiction also can thwart efforts to treat it.
Most treatment programs require regular doctor's visits and support-group attendance, something clients can't do if they are out on a scallop boat for 10 or 12 days. For people who rely on seasonal, intermittent work, missing even a single trip will cost them a significant share of their annual income.
Dr. Arnold Hill understood the culture when, two years ago, he took a job as medical director of the New Bedford office of CleanSlate, a national chain of addiction-treatment centers offering outpatient care. He'd grown up in Yarmouth, Nova Scotia, another busy fishing port.
Hill says he immediately saw an unmet need among fishermen in New Bedford, the country's most profitable fishing port, with $1 billion in annual revenue.
He began working with CleanSlate to design a program to accommodate the fishermen's schedules while also enforcing accountability. Inspired by a program for airline pilots, Hill came up with a regimen dubbed the Poseidon Project, after the Greek god of the sea.
It works like this: In the first 10 days or two weeks, participants start taking Suboxone, a drug that controls cravings and prevents relapse; they also attend groups and undergo counseling. Then, when it's time to go to sea, they take a lockbox containing their Suboxone doses for the trip.
When they return, they must report to CleanSlate within 24 to 36 hours, for a urine test and a count of the wrappers from each Suboxone dose — measures to ensure the medication was taken. Then they participate in an intense schedule of counseling and support groups before they ship out again.
Hill said he faced an immediate obstacle when he asked clients to have their captains alert the program when the boat returns. No one wanted captains to know they were in treatment.
Instead, the program consults a public database that tracks every boat, to find out when their clients are back on shore. That can be a risky moment for relapse, because the fishermen leave the boat with thousands of dollars in earnings.
"People have told me, 'Having money right there in my hand often drives me to relapse,' " Hill said.
Those who don't meet the terms of the program can still enroll in treatment at CleanSlate, but they will not be part of Poseidon and its special accommodations for fishermen, Hill said. The program, he emphasized, is for people strongly motivated to overcome their addiction.
"You can only be in the Poseidon program if you're going to adhere to the simple rules," he said. "You have to be really serious: 'I want to be sober.' "
Introduced in June 2017, the Poseidon Project has had a very slow launch. Currently, only six people are participating. None of the six participants wanted to discuss their experiences with a reporter.
Hill attributes the low participation with difficulty getting the word out about the program, a problem fed by the stigma surrounding substance-use disorders, especially on the waterfront. Boat owners have shown no interest in marketing it to their employees, according to Hill.
J.J. Bartlett, president of Fishing Partnership Support Services, a social service organization for New England fishermen and their families, confirmed the problem.
"If you're a boat owner or captain, you don't want to be known as a vessel that allows drug use," Bartlett said. "If you're a crew member, you don't want to be seen as someone who uses drugs."
But the Fishing Partnership has been working to fight stigma on the wharves, as well as training people in the overdose-reversing drug naloxone, often known by the trade name Narcan.
"We have been including opioid awareness any time we have a gathering of fishermen," Bartlett said. "Any CPR or first-aid program that we run, we include Narcan training and send the fishermen home with Narcan." The partnership has also distributed Narcan kits to more than 80 vessels.
Debra Kelsey, a community health worker employed by the Fishing Partnership, said the Poseidon Project is the only addiction program she knows of that is geared toward the needs of fishermen.
"Medication-assisted treatment has not been an option if you're a fisherman," she said. "CleanSlate has tailored the meetings around how a fisherman works."
Tyler Miranda started on his road to recovery long before the Poseidon Project was launched, spurred by a stint in prison (for a domestic incident that Miranda blames on drug use) and a desire to be a good father to his young daughter.
After prison, Miranda started working with a counselor and attending Narcotics Anonymous meetings. Miranda said he's been drug-free since February 2017. At work he has learned to pace himself, working "smarter, not harder," and at home he eases his pains with yoga.
Now, Miranda is training to become a recovery coach — a peer counselor. He said he speaks openly about addiction to friends and acquaintances on the waterfront, where he sees a unique opportunity to make a difference.
"Because I'm a fisherman and I've lived that life, fishermen will be more open to taking suggestions and guidance," he said. "I understand because I've been there."
Photo Credit: Charles Williams/ Flickr
******************************************************
Tactics Used by Research Team to Lure Sharks Worry Scientists and Surfers
SEAFOODNEWS.COM [CBC News] - October 9, 2018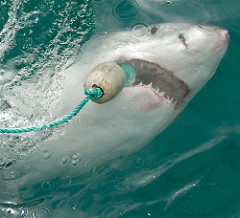 A research team that's throwing bait into Nova Scotia waters in search of great white sharks is worrying some South Shore residents who say they're drawing the creatures way too close to busy recreational beaches.
Ocearch, a team of U.S. and Canadian researchers, has been in Nova Scotia since mid-September as it tries to learn more about the migratory patterns of the elusive sharks.
So far, they've tagged three male sharks, including Hal, caught not far from popular Hirtles Beach, near Lunenburg, N.S., last week.
In order to lure sharks to the boat, Ocearch dumps blood and guts, also known as chum, into the water. It also drops baited lines.
Aaron MacNeil, an associate professor at Dalhousie University, told CBC Radio's Information Morning he's looked at where the sharks have been captured and "was blown away [by] how close they were to public beaches."
"It just should not be anywhere near public recreation areas, and that's very disappointing to see," said MacNeil, who holds the Canada Research Chair in Fisheries Ecology.
The Department of Fisheries and Oceans said while it doesn't believe Ocearch's work will change shark behaviour, it's asked researchers to move away from coastal areas with recreational users.
MacNeil spoke at a meeting in Lunenburg County on Thursday, and said he heard many concerns, especially among surfers who've seen the boat chumming nearby.
Jefferson Muise, a surfer who lives near Hirtles Beach, said he's seen the boat stationed about a quarter mile off the western end of the beach for the past week.
He said his friend was snorkeling off West Ironbound Island recently when he was approached by members of the Ocearch team.
"[They] warned them that's not a good idea, we're actively chumming the waters here, and you should probably get out of the water," Muise said.
Kicked out of other areas
Concerns about chumming by Ocearch aren't unique to Nova Scotia.
MacNeil said the organization has run up against opposition around the world, including in Massachusetts, South Africa, Florida and northern California, where it's been told not to return.
In 2012, a week after Ocearch was chumming in an area off South Africa, a bodyboarder was killed by a great white shark.
Beginning in 2015, Massachusetts's marine fisheries division sent a series of letters to the organization denying their application to tag in Nantucket waters.
MacNeil said he spoke with officials in Massachusetts this week.
"One of the reasons that they were banned from Massachusetts is that they were doing chumming and doing baited activities very close to the beach where people were recreating, and they were interfering with ongoing tagging operations that happen there," he said.
'At the margins scientifially'
He said while chumming is often done during fishing derbies about 30 kilometres off the coast, the standard is to never to put biological material in the water so close to shore, "because you don't want to be changing the behaviour of the animals at all."
CBC News made repeated attempts to contact someone from Ocearch for comment but is still awaiting a reply.
==================================================================
nnovator Wins Award with AI Fish Fraud Detection Machine
SEAFOODNEWS.COM [WRBM Global Food] by Niamh Michail - October 9, 2018
From excess water to illegal antibiotics and even the wrong species, fish fraud is rife. European Institute of Innovation and Technology (EIT) winner TellSpec has developed a tool powered by artificial intelligence (AI) that detects fraud in real time and at a low cost.
"There are four main types of fish fraud that occur in the supply chain," Isabel Hoffmann, CEO of UK-headquartered TellSpec, told FoodNavigator at the E.U.'s European Institute of Innovation and Technology (EIT) INNOVEIT awards in Budapest last week, where she won first prize in the EIT Woman category.
"We are working to address the first three types of fraud right now."
Number one on the list of ways to adulterate fish is by injecting it with water before it is frozen. This can add up to 50 percent to its weight and frozen fish that contains more than 10 percent is considered to have been adulterated.
The second is species substitution whereby fish is intentionally mislabeled. It is estimated that one-third of the fish sold worldwide is intentionally mislabeled. In Europe, the most common form of species substitution occurs with the catfish, pangasius.
"Europe is the largest importer of pangasius in the world," Hoffmann said. "In 2017, we imported 245 million euros-worth of pangasius but it is sold as eighteen different species of fish, from cod to sole to grouper."
The third form is the misuse of antibiotics, where fish are farmed in poor conditions and given antibiotics, some of which are not allowed in Europe, but then sold as wild.
Patent-protected tech
TellSpec's patent-protected tools combine Near Infrared Spectroscopy (NIR) spectroscopy, bioinformatic techniques and artificial intelligence-based algorithms to analyse foods at the molecular level in real time.
After selecting the relevant parameters for the sample – species, fresh or frozen, whole or fillet, with skin or skinless – the user places the NIR spectrometer on the fish sample and pushes a button to begin the analysis.
"It sends light at a consistent energy, which is partly absorbed by the molecules of the fish and reflected back," Hoffmann explained while giving a demonstration. "This information is sent [via Bluetooth] to complex, statistical machine-learning models in the cloud that do the analysis by counting the photons, […] which gives us a fingerprint. Our machines can predict in an intelligent way what that fingerprint represents in terms of moisture, excess water, protein, etc, and then send it back to the app."
The user's mobile phone immediately presents the data in the form of graphs and tables.
'This will be big'
TellSpec predicts significant demand for its sensor, initially in Europe and eventually China, the world's biggest fish market.
"This will be big. Fish fraud and adulteration is the second biggest form of food fraud in the world after olive oil," she said. "Our technology is very disruptive since currently there are no rapid, portable affordable sensors that the fish supply chain can use."
Users can buy different 'kits' that analyse the sample for excess water content, decay, antibiotics and can even detect if a fish is pangasius (although this last kit destroys the fish being tested and so could be used to test one sample in a batch).
"The idea is we will develop many kits, one for pangasius, one for cod and so on."
The tool also gives a breakdown of the sample's nutrient content. "The fat content could probably tell us if a fish is farmed or wild. Farmed fish has a higher fat content as they are fed much faster."
TellSpec already has a number of products on the market, including tools that measure the sweetness or acidity of fruit and vegetables, detect the presence of melamine in infant formula and flour (the chemical responsible for the deaths of six infants in China in 2008) or urea and hair in flour.
Its fish fraud product, which was funded by EIT Food and has been developed in partnership with Spanish Azti, Italian Microbion, UK retailer Waitrose and the Institute for Global Food Security (IGFS) of Queen's University of Belfast, however, is scheduled to launch mid-2019.
"Fish is far more complex than fruit, vegetables, cheese and nuts. There is frozen, defrosted and fresh fish, whole fish and fish in fillets, skin and no skin... and the list goes on. For each category and species, we had to do a model. So the data collections and testing was the intensive part of the project."
According to Hoffmann, the fourth biggest form of fish fraud relates to illegal, unreported fishing where fish and seafood are caught in protected areas by unlicensed boats. "We will address this one next year with blockchain," she said.