Below: There's resilience then there's RESILIENCE.  
How Holgate was boat fished back in the day ... 
Tuesday, October 04, 2022: I will make a yeoman's effort to get this once-regular blog going. It faded due to quite the overload of job-related songs and dances, trying to put it nicely.  
Ian is obviously of prime import today, as I portray in my weekly SandPaper column, where I emphasize how much worse things could have -- make that should have -- been, above and beyond the moderate south end flooding. I'm in no way dismissing the traffic-blocking road immersions the Island has undergone. Quite the pain. I only aim attention at the large freshwater factor as much of the flooding is coming from rainwater.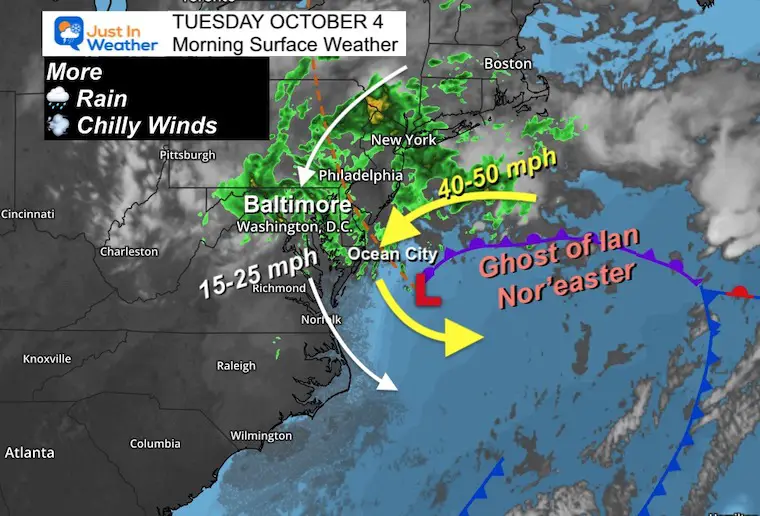 We have seen the bay become far more invasive during smaller storms, considering this is among the longest lived northeast wind storms on record.  
I wrote: "This is not to say the bay didn't rise up to greet folks in areas like Beach Haven and especially along Great Bay mainland shorelines. But we've seen storms of less magnitude and duration cause monumental even house-filling bay-based flooding for all of LBI. I can only venture an educated guess that there was a more northerly tilt to the winds, i.e., north-northeast in nature. Just a slight jog like that can actually blow water out of a large portion of the bay instead of catastrophically stacking it up within, though, as noted, that doesn't help certain mainland shorelines since they get the downwind blow-in effect."
As of today, there is no guessing what the eroded beaches will look like after what should be a rapid sand recovery, which comes about after northeast storms.
Although Ian became a cold core extratropical storm, it doesn't fit the classic nor'easter mold. It did stall off the coast in a nor'easter manner, however, I'll apply a now heavily embraced term by calling it a hybrid storm; a crossbreed, sporting a hurricane heart but assuming the mindset of a coastal low, albeit of a hitherto unheard-of nature and duration.
Thinking in more worldly terms, the impact of Ian on Florida could hit us in more ways than just this remnant manner. The federal flood insurance program, vital to all with a mortgage, might be a casualty of sorts. We might soon be paying out the wazoo for this national coverage.
Don't get me wrong. I want the hurricane-ravaged Florida and South Carolina folks to get every federal penny they deserve. Most of them are just regular folks like you and me. As I bring up in my column, I deeply pity all the Floridan ground-level folks, whose older homes were sitting ducks for a Cat 4. May they rebuild to better (raised) homes and lives.
However, news sources like polico.com sadly report "Hurricane Ian is expected to financially ruin countless people in Florida whose homes were not covered by flood insurance when the storm inundated the region with powerful ocean surges and damaging downpours."
I guess I didn't realize how many people hadn't or couldn't afford to buy federal insurance. Many of those who have lost everything are left with only the shirts on their backs. They lived inland from the coast and hadn't been duly urged to purchase the federal insurance policies the way those living in shoreline communities had been.
As we are asked to contribute to recovery efforts, as we surely will be, I hope to first direct my contributions toward underinsured inland communities, where land values are rock bottom, meaning there's very little collateral for rebuilders.    
WICKED ROAD WOES: Returning to Island flooding issues, the Causeway sucks at the Circle. 
I'm pushing 60 years here and have never seen Ninth Street at Wawa's so frequently wracked by rain flooding. Combine rain and bay flooding there and it's all over, traffic-wise.
I'm anything but an overexcitable soul, but something must be done there, possibly of a radical nature -- maybe going as far as forcing Wawa to move, replacing that area with a raised roadway or a dedicated pump system. I know that's pie-in the-impossible-sky thinking, but it is surely going to take something that radical to assure the safety of all LBI, which must traverse that area.
It should be noted that the north-south Boulevard at The Circle has stayed fairly dry and passable during this and other flood events. An emergency single lane north and south pattern at the Boulevard fronting the 7-11 – lanes separated by cones – would allow modest (but dry) north-south travel twixt Ship Bottom and Surf City. The boulevard north of the Circle has remained relatively passable all the way to BL.
I realize such a pattern would need officers manually directing outgoing Island traffic at Eight Street but in emergency situations it is doable.
Of extreme and applicable import, the new to-be traffic signal system (after the Causeway project is done) will, in fact, have that exact two-way Boulevard traffic setup at The Circle. Maybe those traffic lights could be rushed into service for emergency usages. Hell, they're already up but covered.
Hey, I'm simply looking outside the flooded box. Plus, I hate seeing Central closed down at Eight Street like it has recently been. Southbound traffic is forced down to Barnegat Ave. Once making a left there requires staying south on a badly flooded Barnegat Ave. or turning east on Ninth Street to then contend with that truly dangerous Wawa flood zone.   
By the by, Central and Barnegat avenue traffic lights at the Causeway are totally whacked out for north/south motorists, often requiring ridiculously long consecutive stops at both Eight and Ninth streets. It has something to do with traffic sensors greatly favoring east/west flow. 
CAST AWAY: The 68th running of the LBI Surf Fishing Classic begins this weekend. It tolls nostalgically for me since my sergeant dad and his military buddy, "Manahawkin" Mel Bennett, fished it way back when.
Below: When Classic bluefish blitzes went bananas -- and you had to be careful not to get clothes-lined by a zinging fish-on line ... (Look closely)   
And the little lady was a highly helpful hand ... 
I bring up the past to emphasize this is more than just a long-lived annual Island event. It is a deeply rooted tradition, among the longest-lived annual happenings on LBI.
Keeping the former Striped Bass Derby in fine fettle is a must for me, thus I help the Classic Committee, which has worked its waders off to make the extraordinary contest shine in the 21st Century. It's no easy effort.
We have undergone a shift in the local fishing mentality. While fishing is bigger than ever, it has taken a quantum leap from a shoreline persuasion to a boat fishing emphasis, with too many younger anglers drifting away from dichotomously fishing both shoreline and top water, depending on the time of year.
What a shame! So much top-shelf angling action awaits in the autumn surf -- with tons of prizes and money being dangled by the Classic. In fact, there is no better time to get back into the swing of surfcasting, via the nine-week Classic. The contest has never been so approachable and user-friendly, meaning everyone and their families can enter and have a huge chance of winning, possibly winning big, with four $1,000 cash prizes in the mix. There are also dozens and dozens of other cash prizes.
For more details go to www.lbisfc.com/lbi-fall-classic-surf-fishing-tournament.
Here's the start of the 1989 (?) Classic. 
BELOW: The first day of that event saw these in hand ... scale-bound
Below: Back when, this Shackleton-owned Holgate driveway was as spooky a drive on/off point as you can imagine. The number of toe-to-toe confrontations was nasty, as someone who had driven half way down the one-lane entrance was suddenly cut off by someone using it as an exit. Someone had to give -- with fists occasionally flying to decide whom. OK, there was also a load of gentlemanly give and take -- backdown-style. In the below instance, anyone trying to drive on was highly outnumbered. 
But then the new buggy entrance was opened at the end of the parking lot ... and all was right in the world, right?  (1986-ish) 
 What was being sought ... 
Even I had my Classic winning 50-pound Holgate day ... 
A bit of a Holgate ride ... (last week) 
http://www.youtube.com/watch?v=cp4a-uP0s3w
(((((((((((((((((((((((((((((((((((((((((((((((((((((((())))))))))))))))))))))))))))))))))))))))))))))))))))))))))))))
There is a banner showing of Lafeyette, unhistorically known as spot, a small type of drumfish, a species remarkably prone to big showings followed by periods of total no-show.
In fact, a famed showing occurred back in Revolutionary War times after troops from our Continental Army were victoriously led by French military genius Marie-Joseph Paul Yves Roch Gilbert du Motier, Marquis de La Fayette. I just had to use his full name, while imagining him getting pulled over by nowadays cops and being asked his name –thereafter followed by, "What are you one of those sovereign citizen wise-guy types?" Yes, actually he was … in his day.
Anyway, during a post-war return visit to America, the lengthy-named hero's arrival coincided with a showing of spot like nobody had ever seen. Some sort of spot association was made, and the fish's dedicated French name still sticks in some quarters.  
Spot rarely reach much more than a pound but can be taken on light gear, small hooks, and wormy baits, vis-à-vis kingfish.
Most anglers recognize spot as hugely popular "striper candy." Live-lined, they are possibly the best of all live baits when it comes to drawing in epic-sized linesiders. Even small stripers will scarf up swum spot, which can madden serious bass fishermen who call smaller spots-stealing stripers "rats." Hey, a few of those "rats" could be worth $1,000.
Where were you going in the Eighties?