If ever a Thanksgiving needs a smile, the upcoming one is it. You've heard of dressing a turkey. How about dressing one down. This is real. 
Tuesday, November 17, 2020: I recently got into a bustle of small bass at ye olde back cut at Holgate. They went for my Tsunami holographic "sand eel" swimming jig, proving jigs can be swum straight instead of jumping about, as previously proven by the high catch rate of Wildeyes. If a plastic has a shad tail, it can be straight retrieved and still offer quite the waggle look.
On a role with fish slime still on my hands, I then cockily moved on to work the front beach, all the way back toward Ship Bottom. Nary a dang touch! I even threw well into sunset, when many folks have been scoring stripers when using bait. A double "nary."
As to the handful of trophy bass pulled from the surf, how about that, eh? We could barely get big-ass weigh-ins during last year's LBI Surf Fishing Classic but this year, now that we can't keep the hogs, the bubbas show. Now, it's the slot size that are hard to come by.
Below:  
They're still here! Another big one showing up in SC. Mike G caught & released this 44" striper on bunker this morning.
Below: I'm hoping this young loon was just being a bit dazed due to a mishap. Authorities were contacted but I'm unsure of its fate. 
WHAT'S NEXT, BIG SKY?: Mulling over my forecast formulations, we should be in line for a couple weeks of some mighty fine surfcasting. Boaters have a ton of switching winds to contend with -- and massive bass when the getting is good. 
I'm among the many who don't mind an Indian summer. And it can officially be called an Indian summer when we get warm again.
For fall to officially become a Native American Summer, there must first be a night with freezing temps. While the Island has yet to dip below freezing, mainland bogs saw an upper 20s reading about a month back. This week, the hinterland (mainland) might even see ice on the store-bought pumpkins, which folks now leave out from Halloween to Thanksgiving. Hey, why not? Pumpkins don't grow on trees, you know.  
Since I'm on a bit of a successful role with picking temps 10 days in advance, I'll again prophesize that autumnal normalness punctuated with odd bouts of mildness will rule, right through turkey day -- followed by that Friday of Color, being politically correct. 
My soothsaying about sky matters has a degree of science. I'm a big follower of jet streams. This time of year, I eye polar jet streams with an eye of distrust. Just one plunge of CP air (Canadian Polar air) and we can be frozen overnight. But, for now – with little chance of sudden change – arctic jet streams remain unassertive, unwilling to take that deep southward plunge. However, there will be a couple winterish undulations taking us to near freezing at night, though those will be mere glancing blows of coldness.
Below: A generic look at the polar jet. 
Here's a look at today's polar jet stream flow. It is surely taking a dip our way, however, the air associated with it is far from bitter. Other advancing factors show it will lift back north rather quickly, possibly making way for mild air for Thanksgiving. 
Of weatherly interest: Should any serious blast of high-octane arctic air move across the Great Lakes region there could be catastrophic lake effect snows. Sure, the folks in places like Buffalo know how to handle massive snow dumps. However, the wet snow wrought by frigid air crossing the unfrozen Great Lakes could crush larger cities in the lake-effect zone. At the exact same time, we, on the warmer side of things, could remain fully unfrozen during such Lakes-oriented crusher snowfalls.  
LBI'ers ONLY: Just a cautionary mention to slow down in areas that demand it.
While much of LBI remains quietish except on weekends, two heavy-use areas have yet to hit the business brakes, which means you must be ready to hit your brakes.
Getting site specific, the area of How Ya Brewin' coffee shop N 1st Street in Surf City remains a hot hangout zone, with many customers parking on the Boulevard. Even though the speed limit there is a modest 35 mph, when heading south to north you simply can't go that fast much of the day or into the evening, lest a coffee-seeking curbside parker throw open a door, or even step out onto the road from between a vehicle. Frequenting that area, I've come that close to de-dooring a couple non thinking hurryworts. I do about 25 mph past there, tops.
Also of south-to-north driving concern in Surf City is the Boulevard and 15th Street stretch fronting the Northside Grill. This can still be a hoppin' area during the day. Nights last summer were nuts thereabouts. For now, take it real slow past parked vehicles. 
Another zone of concern is in Beach Haven, where a number of Queen City Boulevard business areas demand a deceleration -- to remain firmly on the safe side. First up is the Bagel Shack, when driving past going north to south. Folks who have angle parked to buy goodies there must blindly pull out just to see if traffic is coming out of the north. If you insist on zipping past at the posted 35 mph, you reduce your chances of swerving to avoid ass-ending a reverser. Again, been there, just barely missed that.
Another extended BH caution zone steps up when driving south to north. It runs from Murphy's, across Centre Ave, past Buckelew's and along CHEG (Chicken or the Egg). The worst backout and wayward pedestrian threat comes at Murphy's and also Centre Street with its sudden crossers. Just slow down and make things a ton safer for all involved.
((((((((((((((((((((((((((((((((((((((((((((((((((((((((((()))))))))))))))))))))))))))))))))))))))))))))))))
QUICK COYOTE MENTIONS: A buddy saw what he highly suspects was a large coyote running the streets toward the north end of Surf City. The odd part was he sighted it during the day. A nearby walker also saw it. And it was hauling ass. While it's always a bad thing to see nocturnal wildlife out during the day, the way the canine was on the move suggests it had most likely gotten suddenly spooked from where it had bedded down for the day, possibly rousted by the arrival of home owners not always down this way.  It was hauling ass north, possibly to North Beach, where a similar German shepherd-sized coywolf has been seen.
Also on the coyote front, among the many dog prints on the muddy side of the Holgate Refuge area, I found markedly undomesticated canine-like tracks, too large for all but the hugest fox. There's a high likelihood it is a coyote of standard size and weight. I followed the tracks until they went into the Refuge off-limits grassy area, further indicating it was not one of the family dogs that are being allowed to romp freely on pet-forbidden federal lands. 
I also saw some medium-sized tracks that have me stumped. It's not like there are that many small mammals thereabout. I won't bet the farm but after hitting the books they look like nutria, a highly invasive nocturnal rodent from South America. The ID'ing problem for me was the tracks were made a tide earlier. Although they were still clear, they weren't fresh. Tracks tend to splay out quickly after becoming wet.  I'm anxious to follow up on the tracks.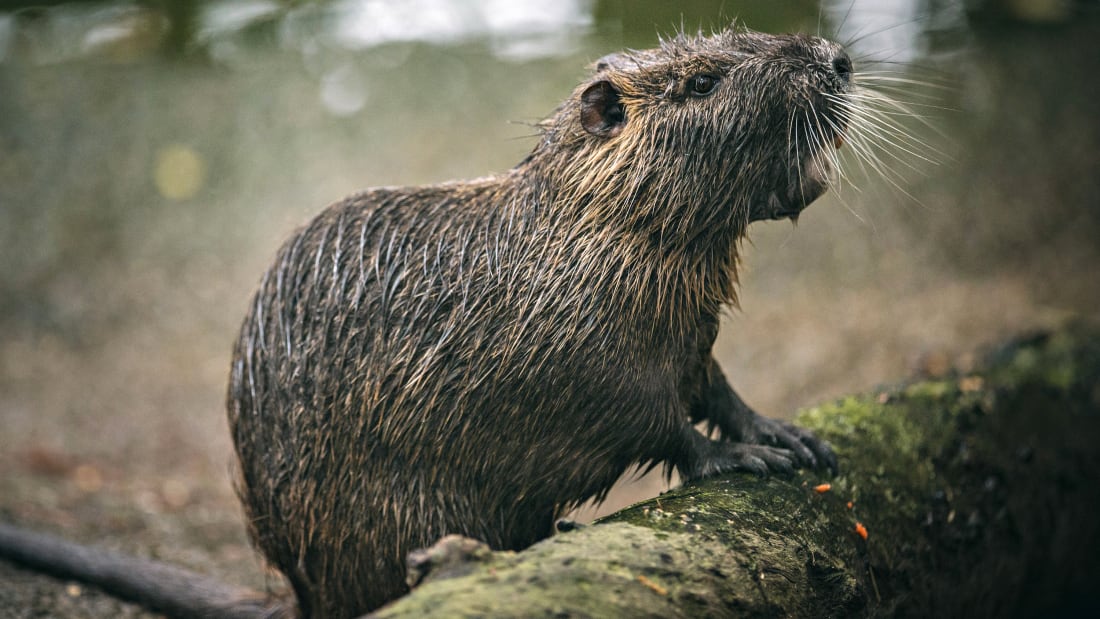 Over 15 years back, a nutria was clearly photographed and identified on a sedge island located not all that far from Holgate, off Beach Haven. That was a quite some time back, beyond their natural lifespan. However, there's no sure lifespan for a nutria with prime digs and eats, especially one that has learned the art of hibernating, which other nutria have mastered in states just to out south.  
((((((((((((((((((((((((((((((((((((((((((((((((((((())))))))))))))))))))))))))))))))))))))))
Wanna check out a fun LBI jetty togging video? Here it is:  
http://www.youtube.com/watch?v=HLYAnei5-OA&feature=youtu.be&amp...
(((((((((((((((((((((((((((((((((((((((((((()))))))))))))))))))))))))))))))))))))
This shot shows a little of a lot: boaters, Rutgers Field Station and even the Fish factory. 
*********************************************************************
Jim Hutchinson Sr.
After days waiting for the start of the fall run of striped bass, the captains of the Beach Haven Charter Fishing Association are now reaping the harvest of their arrival. The bite began first north of Barnegat Inlet and has now reached the waters off Beach Haven. 
Captain Gary Dugan had "Antman" out on the "Irish Jig," and they managed a pair of pretty bass, both over 40-inches. Although both fish had to be released, the action brought big smiles all around. 
Captain Ray Lopez had Joe Nodine and family from Forked River out for a full day charter on the "Miss Liane." Within minutes of getting to the grounds they hooked up with a 46-inch bass which was quickly released after pictures were taken.  After the big fish the group was almost constantly hooked up, at times with 2 or 3 fish at once. The action consisted of many keepers along with dozens of short fish. 
Captain Dave Wittenborn had a group on the "Benita J" for some "lights out" fishing. His party of five had their limit of slot fish along with bonus fish for a total of 10 fish and were back at the dock and cleaned up by 11:30. With good reports of fish to the north of the area, Captain Dave predicts there should be a solid fishery for the next few weeks.  
Captain Brett Taylor of "Reel Reaction Sportfishing" had the Arthur Diebel group on a 5-hour combination striper and tautog charter. After going 6 for 10 on stripers ranging from 26.5 to 33-inches, the spent the last hour catching their limit of blackfish.  
Captain Carl Sheppard and mate Max Goldman have had several successful trips on the "Starfish." One trip trolling for stripers produced a large 49-inch fish estimated to be over 50-pounds. After releasing that big fish, they picked up four more between 25-36 inches. Two more trips were ones targeting bottom fish on structure. One trip resulted in nearly 30 sea bass in addition to countless spiny dogfish. Last Sunday Captain Carl had a local Boy Scout troop out for an action-packed day of bottom fishing. The crew caught nearly 150 fish including keeper sea bass and a 14-inch porgy. 
Additional information on the Beach Haven Charter Fishing Association can be found at www.bhcfa.net.
((((((((((((((((((((((((((((((((((((((((((((((((((((((((()))))))))))))))))))))))))))))))))))))))))))))))))
Dave DeGennaro
Back Bay Adventures
732.330.5674 cell
Really good striper fishing right now. Everything from 5 to 40 pound fish. Trolling, snagging, jigging, and casting are all producing fish. 
Saturday and Sunday we had to troll to put 10 to a dozen fish in the boat, keeping six each day with our bonus tags in play. We did catch a few casting swimming plugs to swirling bass. On Monday we broke the inlet at 4:30 AM and had the lines in before sun up on the hunt for near shore bluefin. Only five miles offshore we trolled for two hours in the exact spot friends of ours had visual fish skying out of the water on Friday, Saturday, and Sunday. Never saw a tuna. Lots of stripers. In fact they were crashing our side tracker bars at tuna speed. Had enough of that, so we headed to the Mud Hole to try chunking. Nothing, no readings, no birds, so I didn't even anchor. I was getting ready to head back towards home when I noticed a cluster of wrecks on my chartplotter. Not being a good wreck captain, I thought maybe with this many so close together, even I could accidentally put the boat over one. I decided to try drift jigging. The drift was perfect and we hovered over the structure drift after drift. All the sea bass were shorts but we caught a ton of huge porgies. Got dinner out of the deal anyway. 
Sunday looks like a southerly blowout, but Saturday and Monday look really good as both have NW and west winds forecasted.  Sailing Open Boat or Charter Saturday Nov 14 and Monday Nov 16 6AM to 2PM. $225 person, 4 person max, all fish are shared.
Available Tues thru Fri for Striper Charters departing at 10AM. 
While patrolling the Raritan Bay, CPO Klitz and Lt. Toppin observed a boat that was trying to avoid  detection before entering port. CPO Klitz boarded the vessel and uncovered several violations. After inspecting a legal limit of fluke, CPO Klitz asked the fishermen if they had any other fish on board. The fishermen responded by saying they only had fluke on board. CPO Klitz then pointed to a bucket he found hidden under the vessel operator's seat containing ten black sea bass fillets. The fishermen claimed they had forgotten about the fillets. CPO Klitz returned to the patrol vessel and wrote the operator a summons for the illegal black sea bass fillets. Upon reengaging the vessel to issue the summons, CPO Klitz noticed summer flounder belly strips stuck to the gunwale of the boat. The operator of the vessel tried to assure the officers that the fluke parts must have been "spit up" by one of the summer flounder they had boated earlier. Since all the summer flounder in fishermen's possession were whole, Officer Klitz issued an additional summons for the violation.
(((((((((((((((((((((((((((((((((((((((((((((((((((((((((((((((((((((((((()))))))))))))))))))))))))))))))))))))))))))))))))
(((((((((((((((((((((((((((((((((((((((((((((((((((((()))))))))))))))))))))))))))))))))))))))))))
Some stripers can't resist an arrogant jighead. Those bad-ass bass will go gonzo over this aggressive chunk of shaped lead, as it all but shouts "Hey, fatso, you muhda wears combat boots."  
(((((((((((((((((((((((((((((((((((((((((((((((((((((((((((((((((())))))))))))))))))))))))))))))))))))))))))))))))))))))))
New Holgate arrivals. While snowy owls, falcons and even eagles mark the winter season's arrival in a raptorous way, these frenetic little snow bunting are wonderful winterites in their own understated right. Often very people-shy, they can be real tough to photograph. This flock of about 40 members is still sporting their darker summer plumage, which tends to get whiter with snowfall. They arrived a tad earlier than usual. 
All the gillnetters are out for spiny dogfish today. This shows how we pack them - this conveyor aka "the spine dog machine" gets the fish off the boat and right into an icy vat. We send these vats to the processors where they break the fish down which results in 97-98% utilization of the fish. With nearly no consumer market for these fish in the US, these fish are predominantly used for fish and chips in Europe. We have been involved in this sustainable fishery for quite some time and enjoy helping these boats warm up for monkfish season. No scallop boats or draggers working at this time.