Ever wonder about the dangers of having extra-long dreadlocks as a running back?: 
Lyle was uncertain why nobody wanted to have his back on the SWAT squad ... 
***************************************
Raptor foam: How to drive off any and all indigenous birdlife: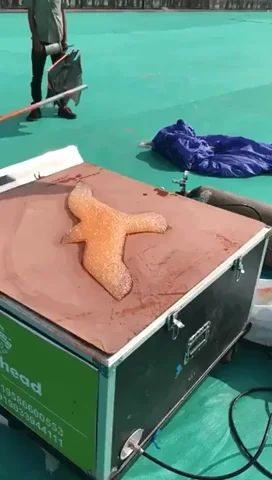 Tuesday, November 13, 2018: Peter Weaver took a 13.24 striper in Ship Bottom using bunker. I fear that might be the most we'll see from the short onshore wind blast. As of now, 6 p.m., the west winds have once again gotten pushy. While the ocean waves had quickly blown up to five to six feet, medium period, they don't show enough groundswell to stand up against the offshores. One surfcasting upside is how clean the near-beach waters have stayed. A blow like that usually knocks the clarity down to a brownish low. While it could still muck up overnight, that's not likely. I'm hoping there will be some plug-chasing schoolies still in the suds come manana in la manana, though even the small stripers seem to now quickly move out to easier eating in deeper water. That move out is why it's best to hang in surfcasting until sunset, when schoolies traditionally inch back in over the sand bars. Those sunset stripers almost always choose plugs over chunk baits.
A buddy who exclusively boat fishes told me he had his best day ever on big bass. While he was only going Boga on them, he said four fish were over 40 pounds. "You couldn't miss. … I was trying for a smaller eating fish and never got one." Oh, geez, tough luck. I think he was using bucktails only because that has become his new favorite. He's now stuck in NYC for 10 days straight:  
(Congrats on getting your USCG Operator's License, cap.)
**********************************************************
(Blog-only exclusive)
In Search of the Missing   
I recently spent another hour or so looking for Bu Quach, a 65-year-old dementia patent who wandered from the Manahawkin Nursing and Rehabilitation Center. He was seen on video at the facility at 11:30 p.m. Friday Nov. 2 and was later spotted in Ocean Acres. He is 5'5", 120-pounds with black Asian symbols tattooed on both forearms.
Sadly, any search heretofore is a likely a body recovery. It is highly unlikely he could have survived outdoors during these recent subfreezing nights.
Organized searches have been going on as recently as this past weekend, when the man's family organized a search.
My look-abouts are purely independent, which isn't always my tracking MO. Over the past 50 years of tracking, I have been involved with some highly-organized searches, some looking for even the smallest pieces of material or physical evidence, i.e. tiny items related to a missing, hiding or possibly abducted person or even animals. Here in Jersey, I've most often tracked missing pets.
I'll be the first to admit that the term tracking is now something of a misnomer. While physical tracks and signs left behind by a victim/target are functionally present for a short time, they are often gone so quickly, especially with leave-fall, that tracking comes down to a coordinated manual search, covering as much of an initial search zone with as many qualified searchers as immediately possible.
Often, early on, help from the public sector is vital when the life of a missing person is in the balance. By the by, the area being hunted for a missing person is not routinely deemed a crime scene unless otherwise indicated. The more volunteerism the better the odds of finding someone. Qualified coordination then becomes key.
During the initial visual searches, the smallest pieces of physical evidence are sought. This can entail looking for even the tiniest of items, which experts can save or dismiss. Many important missing person cases have been solved through seemingly unrelated physical evidence gathered during well-manned searches.
Once the high-potential search areas have been worked, the search parameters are then expanded outward, often with a diminishing possibility of success. This is when volunteers again come in for the grunt work, covering as many acres as manually possible. These hunts can be what I call "shout search," where a subject's name is shouted out in a controlled fashion, followed by a quiet listening period. I'm not big on this method, though I have some powerful bright-orange whistles that can be very effective – and penetrating -- when combined with enhanced hearing devices, aka bionic ears. 
My thing is silent one-man searches, using GPS grids to effectively chart the search area being covered. Obviously, mine is far more a recovery method, though I often simultaneously wear my Walker's Ultra Ear Hearing Enhancers. When I'm out there tracking/searching after other searches have failed, I never use any form of shout out or even whistling – unless I think I might have heard something. My rationale is very simple: My shouting or whistling might be heard and misread as the noises of a victim, leading to an always dangerous emergency response by law enforcement.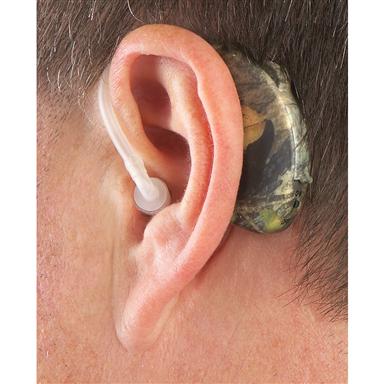 So, have I ever found a missing person? No, I haven't. Nor am I sure I want to. I just think it's my civic duty to search since I'm already out there – and often tracking animals via old-fashioned visual reads.
I have had tracking successes, though. The last three missing pet searches I went on all led to successful ends, at least from my angle. I found two dogs and one cat – all DOA. At least I gave closure to the owners, while momentarily diminishing accusations that coyotes had pet-napped their dearly beloved. Only the road-killed cat was unreturnable. I went all the way to the edge of the Garden State Parkway for the unlucky-at-crossing cat. One dog had seemingly succumbed, naturally, to old age. The other looked so much like poisoning that the owners reported it. Not sure where it went from there, though there was a standing feud between neighbors in the mix.
Back to the missing Stafford fellow, there is always a deepening mystery when highly-trained authorities, search dogs and private searches can't find someone in a relatively small area. It's not so mysterious by my thinking, though. While I fully realize Bu Quach was not in the greatest of health, I know many Vietnamese and they are highly resilient people. If he took to instinctively walking, he could cover far more ground than he's being given credit for possibly covering. I hate to say it but even in a mentally-impaired state, panic might have set in, accompanied by an adrenaline rush that could essentially overcome his overall physical condition. If he crossed over to the south side of Route 72 and got into those thick woods – of which I'm highly familiar, all the way over to Warren Grove (southwest) -- there are miles and miles of sheer wilderness. In fact, I've been searching for the victim on the south side of the highway, not far from the nursing center.
I learned from the missing person/ hunter case involving Barnett Zeldindown, who went missing in the warren Grove area a few years back, the thoroughly overwhelming amount of woodlands where a human could roll into a ball – and all but disappear. 
Per a past story in the burlingtoncountytimes.com:
"... Zeldin, 74, a veteran hunter, went to Bass River State Forest to bait his tree stand for a deer hunt he had planned for a few days later. He signed in at the Audubon Gun Club in Woodland at 9:55 a.m. Then he mysteriously disappeared.
"Four days later the New Jersey State Police, State Park Police, K-9 dogs and helicopters began looking for the Mays Landing resident in the Warren Grove Recreation Area of the 617-acre parcel of wilderness. And today -- nine days after the first search began -- police and a rescue team are scheduled to return to the forest to again try to find the father of three."
That hunt for the hunter, whose dog was found in his vehicle (meaning he likely didn't go off that far), was easily as elaborate as the Stafford search yet neither hide nor hair of the hunter was ever found.  I recall driving the periphery of that search area. Now and again, I would get out of my truck, step into the brier-covered woods and realize, "Finding this guy is totally impossible!"
Still, I'll always put in some search time in a missing-person area. 
Note: I was asked about now looking for circling turkey vultures. Not so much. They're very wary birds and are not inclined to light upon a greatly-feared human, nor are coyotes or coywolves. With cooler weather settling in, other telltale indicators will also be slow in developing. 
***********************************************
A perk related to genetic engineering? Nope, just a butter-dipping freak of nature. (Nova Scotia.) 
************************************************
Good sign for the future not so much for the season... Both shores of the island. Yes I know the larger fish are in deeper water. Just been really tough from the surf the past few years.
**********************************************
Limited out with our good friend Charlie on the Robin Ann!
8 in the box upto 44" and 30+ lbs!
***********************************************
Striped bass, it's what's for dinner. We went 6 for 7 with fish from 33 to 42 inches. Thanks for the trip Joe P., had a great time.
********************************************